Kevin Gray: We've had many clients reach out to us and now we can call them.
Nine advisors have abandoned Goldman Sachs Group. Inc.'s AYCO Co. LP division and are hoping $2.5 billion in assets will follow them out the door to their new firm, Veracity Capital LLC, now that they're done sitting on the sidelines for 90 days.
The Goldman advisers announced last week they were forming their wealth management company, with offices in New York, Texas, Georgia, Florida and California, according to a release. The management team includes CEO Kevin S. Gray, President, Chief Operating Officer John Rogers and Chief Strategy Officer Michael J. Mess.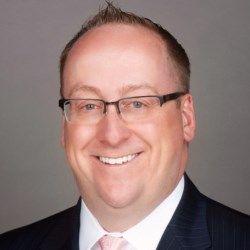 Gray says the newly formed firm, headquartered in Dallas, is hoping to recruit additional advisors, possibly even from Goldman's AYCO division. AYCO, based in Saratoga Springs, N.Y., managed $34.5 billion in assets as of Dec. 31, 2017, according to its ADV.
The firm did everything, to the letter of Goldman Sachs rules, to avoid legal complications, he adds. Goldman is known to be unforgiving in its legal battles against advisors who defect and take assets with them.
Even though clients reached out to the advisors, Gray says none of them were able to return calls until the the 90-day quiet period ended.
"We've played it by the book. There are a lot of clients seeking the same advisor who has worked with their family for a long time. They want to continue those relationships. We've had many clients reach out to us and now we can call them," Gray says.
Clients are likely getting calls from Goldman Sachs Private Wealth Management, as well, he says. AYCO clients tend to be cream-of-crop high-earning Fortune 500 executives that any RIA might want. Why a $2 billion advisor bolted Goldman Sachs' $26 billion, Albany-based RIA and subtracted 12,000 commuting miles
But the clients may not want just any old RIA.
"The relationships are already with us," Gray says. "We think we'll be successful. Everyone in our group has been with AYCO for more than 12 years."
RIA Shopping
Before the advisors left AYCO, they shopped several RIA firms and chose Ohio-based F3Logic, which also provides back-office technology support.
Gray says the advisors were interested in F3's technology. "F3 let us partner and create that fidicuary system. F3 was truly a customized solution that we needed and not just another RIA.
"We needed a customized solution that is fiduciary-focused first. It's not in a box. We go way beyond the investment management process. We look at risk analysis and true wealth planning," he explained.
Right now, the firm will use Fidelity as a custodian, but he says his firm is open to other custodians.
"We don't want to be tied down to just one custodian platform," he says.
His firm has nine advisors and seven additional staffers – all from Goldman.
It's likely the firm will also recruit additional advisors as well. "We'll be recruiting for other advisors. We think there will be many who want the same thing."
F3Logic chief operating officer Richard DeSalvo says his firm's focus on hubs differentiates it from others such as Dynasty.
"We focus on large "hubs" and look to build out their business and recruit for their respective hub. Hub and spoke allows us to offer a bespoke model to a select few so they may support many," he says.
Velvet coffin
Goldman advisors have long considered the firm a velvet coffin because it imposes harsh legal hurdles without protocol protection to prevent them from leaving. Plus, advisors have to abide by a 90-day garden leave, a contract requirement in lieu of a non-compete clause.
But increasingly, they're enduring the hurdles to break free and form their own RIAs.
The giant New York wirehouse, known for its platinum brand, has lost seven other advisors in the past year. See: Yet another Goldman Sachs advisor breaks away, risks its legal ire and stands wordlessly by for three months to become an RIA
According to some who work there, the firm has its shortcomings. One employee says management is disconnected and the firm lacks perks despite its gold-plated reputation for providing them. It's also a cutthroat environment with little concern for work-life balance.
A survey last year by consulting firm Quinlan & Associates found that some banks are spending as much as $1 billion annually to replace employees who leave voluntarily with newcomers, who require training.
"With Wall Street firms bleeding talent to technology firms and compensation on the decline, numerous banks face a brain drain that can only be solved by radically shifting their cultures," the study said. It also warned about a potential future leadership crisis.
Goldman Sachs Group Inc., Credit Suisse AG and Barclays PLC are among banks that have begun promoting analysts more quickly, providing more training and encouraging job rotation programs to keep junior staff in place, the study noted.
Goldman employed an estimated 36,600 employees last year, according to one analysis. That's up from 32,500 employees in 2009 following the 2008 financial crisis and Great Recession.
---
Mariner Wealth buys biggest-ever $2-billion-AUM RIA as $1 billion of liquidity begs investing
---
Marty Bicknell just bought Houston RIA Patriot Wealth Management, the first major acquisition since a corporate house cleaning of epic proportions that freed up $1 billion in cash and his own executive bandwidth for making deals.
"It's a 100% acquisition. We'll become Mariner Wealth Advisors," says the Mariner Wealth Management owner and CEO of the $20 billion RIA.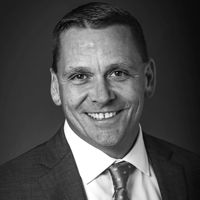 The CEO anticipates three more deals in the coming months. The firms have $500 million, $800 million and $1.2 billion, respectively, in assets under management, but he declined to name the firms.
"It's highly possible these won't happen until the first quarter of 2019. Things can change," he says. See: Marty Bicknell takes a machete to Montage, Mariner Holdings and FirstPoint and carves out a $25-billion RIA and near $1 billion of capital
Bicknell said last month his firm would start an RIA buying spree by year's end and wasted no time making the Patriot deal.
"This is the largest acquisition we've made. Some of the ones we've acquired are now bigger than $2 billion but from a starting point, we've never acquired a $2 billion firm," Bicknell says.
The deal should close the first quarter of 2019. He did not disclose terms.
Founded in 2004, Patriot has 23 staffers and an estimated $2 billion in assets. No layoffs are planned. The five shareholders and all five of principles are also staying. They will have an opportunity to gain phantom stock, he says.
Patriot will give Mariner its first Houston location.
Patriot is also a Fidelity firm, and Bicknell says he's known the advisors for years. Custody will remain with the Boston financial services company.
When it comes to recruiting, Mariner is competing directly with Focus Financial. Even though Focus Financial just went public, Bicknell says he hasn't been able to tell much difference in the firm.
"From advisory recruiting, we do compete with them. I haven't noticed any difference from them going public. They're a quality firm, and they do a good job," he says.
---
Focus Financial stock lags IPO price, no thanks to Schwab giving it an 'F' equity rating
---
Focus Financial stock has weathered CEO Rudy Adolf's rough-edged third quarter conference call. It's holding steady in the face of market volatility that saw the Nasdaq fall near 3% in today's (Nov. 19) trading.
At last check, Focus (FOCS) was at $31.31, up .26%, or nine cents, from its 31.22 opening price.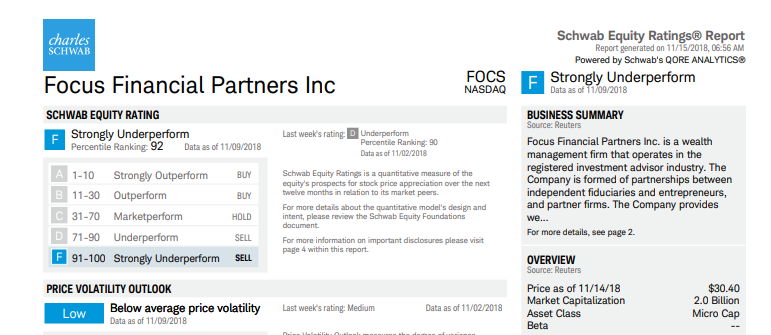 The stock is up from its 52-week low of 29.45, but still well off its high of $49.52. Focus went public in July, opening at $35, with a brisk three million-plus shares trading hands, before closing with a tidy 13.79% gain from the $33 base target. See: Focus Financial IPO pays off for KKR and Stone Point, after all, by hitting price mark, plus an investor 'pop.' Now, on to the less glamorous task of paying down debt
Yesterday, about 108,000 shares changed hands, down from its average volume of 301,778 shares.
Last week, the stock dropped 12% in one day to its 52-week low of $29, but shares have been edging higher since then, despite strong market volatility.
The Nasdaq, on which it trades, was off just over 3% in late afternoon trading.
Not helping matters, a Schwab Equity Ratings Report gives Focus an "F" grade, stating the firm will "strongly under-perform."
The ratings are largely quantitative (hence people can't intervene to counter politics) and Schwab has been famously wrong on some high fliers like Facebook and Apple, which it long gave its lowest marks. Why Schwab handed Facebook and Apple 'F' ratings -- and why advisors seem unfazed
But four analysts have set an average 12-month price target of $39. The high target is $47.00 and the low target is $36, according to The Wall Street Journal.
Four out of seven analysts following the stock have "hold" ratings, one has set an "overweight" rating and two analysts recommend "buy," according to The Journal.
"On the one hand, that's damning them with faint praise, but it is also solidly above the IPO price," Matthew Crow, president of Mercer Capital of Memphis, Tenn. told RIABiz in a separate interview.
Focus 3rd quarter revenues rose to $235.7 million, a 30.8% gain, but fell short of analysts' predictions by $4.3 million. It reported a GAAP net loss of $38.9 million based on adjusted net income of $34.1 million, up 43.4%, according to its filing. The firm put a positive spin on the numbers in a release.
"Third quarter results continue to demonstrate Focus's strength post-IPO. We operate in a highly supportive environment where industry trends continue to move in our favor," Adolf said in the statement. See: Focus Financial shares soar after Rudy Adolf pumps the pipeline and stiff-arms analyst who presses him on a Focus sore point--organic growth, or lack thereof
---
---
Mentioned in this article:
---
---
---