Joshua Pace: Until you have a big brand, it's hard to grab their attention.
Brooke's Note: RIA custody has been as sleepy as technology has been hot for several years running now. But a new breed is rising of aggressive tech-forward RIA custodians, like Apex, DriveWealth, Folio and Trust Company of America. The truth is that these players are still a speck, but with more national players on the scene conscious of every little efficiency -- like an Edelman Financial Engines -- maybe custody is about to get more interesting. Of course it's particularly interesting if you -- as TCA -- are owned by $472-billion E*Trade eager to migrate its HNW accounts to a wealth management offering that won't get poached.
E*Trade Financial Corp. just made its first big news in the RIA business by winning custody of a chunk of assets from a top behemoth.
The New York-based online broker's Trust Company of America subsidiary will have an "expansive custody relationship" with Edelman Financial Engines. Neither side would say what exactly "expansive" means in the context of this deal but they allude to "billions" of dollars.
E*Trade explains the win in terms of securing more than $12 billion in "commitments to its RIA platform" from all of its RIA customers and prospects, not including $2 billion already brought on. Edelman is not part of the $2 billion of growth already experienced.
E*Trade reported having $19.7 billion of RIA assets in custody as of Sept. 30. It had $17.7 billion of RIA assets in custody when it closed on the deal to purchase TCA. See: E*Trade enters RIA custody business by purchasing number five player
There is no timeline when the next $12 billion will be transitioned, or how much Financial Engines's new deal contributes to the total.
Carrot dangled
"Edelman Financial Engines is excited to join E*Trade's national referral program to expand our reach," he said in a release.
The feeling is more than mutual with the E*Trade brand now a fact of life to go along with the intimate, dedicated service and a technology focus, says TCA by E*Trade President Joshua Pace.
"My optimism is outsized," he says. "It's a complete recipe for disruption. Until you have a big brand, it's hard to grab their attention."
E*TRADE Advisor Network will be launched in coming months.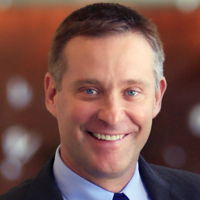 E*Trade has just 30 branches but it has more than $472 billion in total client assets under management and 4 million brokerage accounts (6 million total). The firms says the key will be to get the branch financial consultants up to speed. The process will occur initially in a pilot program in a handful of branches
Though E*Trade has its fair share of play-money accounts, it has some hidden booty, too, that could appeal to an RIA, according to Pace. E*Trade's corporate services division holds assets of Fortune 500 executives who may be ripe for referral.
Asked whether the Edelman Financial Engines assets would consist primarily of existing assets moved from another custodian, or mostly retail assets converted to RIA, Pace declined to specify, but said it would be some of both.
Though Bunch declined to answer questions for this article, he sent a statement prepared for RIABiz about why the referrals made by E*Trade might convert effectively.
"Joining the E*TRADE advisor referral network expands our access to investors who are looking for a more comprehensive financial planning experiences that includes budgeting, estate planning, social security guidance, dedicated planners, and more, to really help them bring together all the financial pieces of their lives," he said in the statement.
"We want investors to feel more confident about their financial futures. Our network of 325 planners in 180-plus offices nationwide provides E*TRADE referrals with a unique personal financial plan and portfolio to help them reach their goals," he added.
April inflection
E*Trade announced it was buying TCA in Oct. 2017 and closed the deal in this past April. See: Ric Edelman's RIA empire to merge with legacy The Mutual Fund Stores in $3-billion deal that takes Financial Engines private
Coincidentally, Financial Engines and Edelman Financial announced their own deal in April and closed it in July. See: Brooke's Bits: Financial Engines begins private life today; Yahoo!'s Wells Fargo take-down may misunderstand branded wealth managers
At the time, Edelman Financial managed $21 billion and Financial Engines managed $12 billion of old "RIA" assets from its Mutual Fund Store purchase. Financial Engines managed an additional $157 billion of retirement assets through its legacy 401(k) business.
Though the deal ostensibly hinges on a treasure trove of retail assets that E*Trade can pass along to its RIA unit by referral, Pace insists it's also very much an issue of the technology investments to streamline workflow that TCA has made over the years.
It was those software capabilities -- particularly around account opening -- that got Mark Matson, CEO of Matson Money to move billons of dollars of assets to TCA. See: How Joshua Pace seized his 'moment' to convince Mark Matson to shift $1-billion-plus of assets to his small RIA custodian after a 20-year tryout
In that case, Schwab Advisor Services saw $1 billion walk out the door in late 2016 or early 2017. The firm, under new technology overseer, Andrew Salesky, has since taken steps to make its account opening more "digital" with help from Orion Advisor Services.
"The advisory space was was ripe for a new scale custodial layer," Pace says.
Capital One, too
E*Trade is on a more aggressive pace in general. It recently completed the buyout and conversion of around one million retail brokerage accounts, with $15.4 billion in customer assets from Capital One Financial Corp.
The deal worth around $109 million was inked with an aim of expanding footprint and increasing client base and presumably many of the clients could end up with "Edelman Financial Engines" on their account statements.
---
Mentioned in this article:
---
---
---