News, Vision & Voice for the Advisory Community
Backed by a $2 million VC injection from JP Morgan and ex-BlackRock execs, the NYC startup appoints wirehouse veteran Robert Deutsch and Acorns' investment guru Chris Jones to board
October 9, 2018 — 8:55 PM UTC by Oisin Breen
Brooke's Note: One of the reason's that Barron's continues to be the arbiter of "Top" advisors is because implicit in its dubious bigger-is-better methodology is the question: Have you got a better way of measuring advisors? Nobody really does. But here come the high tech startups with their data mines who are trying to match investors with advisors. These fledgling firms have an incentive to truly find, qualify and quantify the top advisors by useful metrics. So this Zoe article has nothing to do with Barron's. But it opens the possibility that  the problem of measuring the quality of a financial advisor is being addressed with more than just an ADV. To me it seems that advancement will be good for advisors and investors alike.
With $2 million of VC-seed funding in his pocket, CEO Andres Garcia-Amaya has added 65 years of wirehouse and asset management know-how to the board of his start-up RIA lead-generator Zoe Financial. Acorns' Chris Jones, and JP Morgan Investment Management ETF chair Robert Deutsch have signed on, but not everyone is convinced they've picked a winner.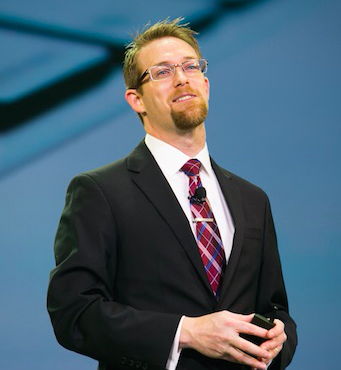 Indeed, for all the fanfare generated by the latest flurry of advisor-client matching services, they're just as likely to fade as their predecessors did, says Bill Winterberg, founder and principal of FPPad.com. 
"After watching these services come and go over the last ten years, I'm skeptical that Zoe can rise above the past failures to be the matching website of choice for consumers seeking advisors," he says.
Zoe will be relying on the expertise of its new board members to avoid that fate. 
Jones, the chairman of Irvine, Calif.-based Acorns Grow's investment committee, joins Zoe as chairman of its advisory committee. Deutsch, chairman of J.P. Morgan Investment Management's ETF board, joins as a committee member. See:Mindful of 'Snapchat' dynamic, BlackRock takes big Acorns stake after the micro-robo wins 2.2 million investors in 12 months.
Both Jones and Deutsch, who stepped down as J.P. Morgan's managing director in August 2017, are seed investors in Zoe. In fact, Jones led its most recent funding round on Sept. 25. For Garcia-Amaya, the draw is the pair's rolodexes, bursting at the seams with seven decades of contacts.
"It's a big deal," the CEO says. "Jones is only involved this much with Acorns ... [also] they're fairly hands-on with helping me recruit talent and connecting me to executives in firms [and] spaces where it would be hard to quickly develop a connection from scratch."
Turf wars
New York-based Zoe, a client referrer for RIAs, gathering leads and selling them in exchange for a cut of the action, is by no means the only start-up sailing the same sea.
Notably, NYC-rival SmartAsset received $28 million in a June funding round led by Focus Financial Partners, bringing its total VC-support to $51.4 million, 25 times more than Zoe's. See: What exactly is it about SmartAsset's Zillow-for-RIAs play that converted Focus Financial from funding seeker to a VC backer of $28-million round?
What sets Zoe apart, it claims, is that it only charges on referrals that advisors close on and vets advisors. (Facet Wealth makes a similar claim.) See:Facet Wealth appoints Mark Tibergien's 'reverse mentor,' Kayla Kennelly, to woo cast-off RIA clients, a boon to a mass affluent strategy that's failed more than once.
It's a real lure, says Garcia-Amaya. "The harder it is to get into something, the more they [advisors] want to get in, so we're very selective ... they know the bar is set too low."
But, where SmartAsset already has a direct-line to Focus, the industry's biggest RIA roll-up, Zoe's customers are typically smaller.
The largest RIA using Zoe has an estimated $10 billion under its management, according to Garcia-Amaya. But only two firms are willing to publicly disclose their involvement: The 2017-founded firm GoalVest Advisory in New York City, which manages $7.8 million on behalf of just three clients, and the 2015-founded firm RLS Wealth Management in Fishers, IN, with $25 million under its management. The latter is a member of XY Planning Network in Bozeman, Mont.
The elephant in the room for both firms is the fact that numerous RIA referral services have bloomed and quickly wilted. See: How one firm is supposedly cracking the lead generation code to the tune of 50,000 advisors supplied -- by, for now, not trying to create referrals.
But it simply isn't the case that firms failed because of the product, they failed because the market wasn't ready for a digital-referral service even five years ago, says Garcia-Amaya. "We're only in the second innings, the idea that only Gen-Z and millennials use the internet is [now] changing."
Founded in late 2016, but not launched until Feb. 2018, most of Zoe's software is built in-house. Zoe has a headcount of just under ten, inclusive of marketing, content production and management. Some of its staff are veterans of the doomed mass-market financial planning vendor LearnVest, which was swallowed up by NorthWestern Mutual. See: Why exactly Northwestern Mutual bought a digital darling for $250 million, shut it down, orphaned its customers and declared progress.
Zoe's seed-funding two weeks ago is not its first influx of funds. It received an undisclosed, although "very small" investment to get off the ground in 2017. Garcia- Amaya declines to reveal investors in his firm, or any names beyond Jones and Deutsch.
Market angles
Zoe and SmartAsset may be in the same business, but their go-to-market strategy is different
SmartAsset's angle employs a level of data-crunching on its leads designed to raise their quality above other lead-generation services, Zoe is trying to outdo its rival by involving a more old-fashioned human element. The idea --more eHarmony than Match.com -- is to vet advisor competence, so consumers need only concern themselves with whether they like them.
Zoe, however, charges more than its rivals. "We've more skin in the game, we take more up front in costs, but as a result advisors don't mind paying [more]. Quite frankly they need it," Garcia-Amaya says.
As well as its upmarket approach, Zoe sells no products, nor do advisors have a minimum threshold of business to guarantee. Indeed, most Zoe users are part of the 20% of RIAs that mange their own investments. Any firm using a TAMP must ensure that it too is vetted.
Those advisors that do use TAMPs are using "long-established ones," according to the firm, although no names are forthcoming, nor is an answer to whether any have failed the vetting process.
Typically, Zoe rejects advisors when their financial planning, or how they manage investments are not up to scratch, says Amaya-Garcia. "It's scary ... practices with a billion dollars [can have] a very rudimentary understanding of investments and no process whatsoever, but they're very good at sales. Consumers can't screen this."
It's where existing services suffer, Deutsch told Financial Planning Magazine. "Most today are simply tossing potential client names to advisors without any process for qualifying their leads," he said.
Zoe also declines to sell leads to broker-dealers, or RIAs with a book of business that's split between fee-only and commission-based services. Aside from RIAs with joint-accounting businesses--few are Zoe users--only fee-based advisors can tap its leads. The firm also doesn't facilitate bulk referrals, as SmartAsset does. Even its largest client had to accept the vetting of all of its advisors, individually, a demand that, at first, proved problematic, Amaya-Garcia says.
Pay a premium
Individual investors pay nothing to Zoe, and advisors are not allowed to charge referrals higher fees. For RIAs with flat fees, Zoe charges an ongoing five-year fee. For RIAs charging on a percentage basis, Zoe takes its own percentage cut on an "ongoing basis." These fees are not incremental, or based on client, or firm, size. The firm declined a request to reveal them.
Zoe, although far costlier, has a potentially rewarding model if advisors buy into its vetting-based model, Amaya-Garcia claims.
A back-of-the-envelope calculation reveals Zoe could reap significant returns, if it hits critical mass. Were an advisor to pay, say ten basis points of their annual client fees to Zoe, the referrer would bring in $1,000 per year. SmartAsset, in comparison, charges $90 for mass affluent ($250,000 to $1 million) leads and $190 for investors with investable assets of $1 million or more.
It's a hard market to succeed in, even if it's an enticing one, says John Rourke, CEO of Starburst Labs, the firm behind up-start CRM firm WealthBox, via email. Rourke will soon also be throwing his hat into the lead-generation ring through Wealthbase, a trading simulator for investors that will branch out into advisor matching in early 2019.
"Two-sided markets are tricky to scale in terms of making supply and demand grow in unison, but it can be done," he says. "In the investor-advisor space it's particularly challenging, because unlike Uber or Airbnb, the end-user investor doesn't necessarily need to come back to the site once the advisor-matching need is satiated."
Conflicts
Beside SmartAsset, Zoe is also competing directly with RIA custodians like the Omaha, Neb.-based broker-dealer TD Ameritrade.
Discount brokers like TD feed through big accounts after a certain threshold to the RIAs that custody with them, and many firms have relied on this channel, despite the occasional disagreement over when, why, and to whom an account should be referred. See:TD Ameritrade alerts RIAs all referrals of less than $750,000 in assets may stay in-house -- a knock softened by a more RIA-friendly incentive structure.
The problem here is that their referral business is in direct conflict with the rest of their business, and it means that the RIAs that custody with them are entirely beholden to them, forced, in effect, to conduct a certain amount of business with them in order to grow, says Garcia-Amaya.
"If [the RIAs] don't, they [the custodians] could kick them out, regardless how good they are at managing money," he explains.
Indeed rival referral firms that charge simply on providing leads also suffer from a major conflict. Their interest is in making as many referrals as they can, rather than the right ones, Garcia-Amaya continues. "We don't introduce [clients] to ten advisors just to collect fees."
But firms like Zoe also bring their own conflicts to the table, says Winterberg. "I feel that the majority of financial professionals would never define their service scope so narrowly as to turn away millions in new potential assets from clients, simply because a website told the prospect they weren't somehow compatible with the advisor."
---
---
Share your thoughts and opinions with the author or other readers.
---