Ron Carson: We realized the answer had been in our own back yard all along.
Brooke's Note: Dorothy dreamed of a different life when a cyclone swept her to Oz, but learned all you really need can be found right in your own backyard. They live that lesson in Omaha, too. Ron Carson took a few trips to Boston, New York and Oz, but he found what he was looking for back amid the subdivisions and windswept plains of Nebraska. That doesn't mean getting Jud Mackrill came easy, or cheap, in a world where RIA-conversant marketing talent is a rare commodity. Luckily he had an RIA master linguist in Eric Clarke to talk him through it.
White collar financial talent in Omaha is as rare there as spotted owls, so when Eric Clarke told Ron Carson he could kill three birds with one stone, the CEO of the all-in-one RIA and outsourcer Carson Group paid attention.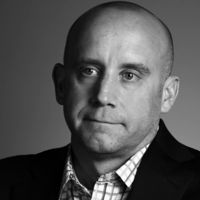 In a coming together of three Omaha, Neb.-based firms, Orion Advisor Services' CEO Clarke played matchmaker by introducing the Carson Group CEO to Jud Mackrill, then CEO of Mineral Interactive, a trendy marketing and technology start-up with an "alternative" growth-hacking twist.
Mackrill agreed to become CMO at Carson's firm, if Carson could sweeten the deal by buying his company. No problem. That's what happened.
It ended a near year-long national search Carson made for a chief marketing officer, which he sorely needs.
Branding gurus
Carson is one of the 'big four' RIA branding gurus. The others are Ken Fisher, CEO of Camas, Wash.-based $96 billion AUM Fisher Investments, Ric Edelman, CEO of $22 billion AUM Fairfax, Va.'s Edelman Financial Services, and David Bach, co-founder of Topeka, Kan.-based $5 billion AUM insurance spin-off AE Wealth Management. Bach is also CEO of his own brand, FinishRich Media. See: Ric Edelman and David Bach go their own ways after super-partnership dissolves.
Carson and Mackrill make a perfect pair, says Clarke, via email. "When Ron reached out to me to discuss the opportunity, Jud instantly popped into mind, and I wanted the two of them to get together."
On July 31, Carson Group snapped up Mineral, and appointed Mackrill to the newly created position of chief marketing officer. Prior to running Mineral, Mackrill was the chief marketing officer at Orion, a position he is now happy to reprise at Carson. See: What I learned about our industry's toughness, endurance and character across four peaks, 28 miles and 7,500 vertical feet in Aspen.
The plan behind the purchase is two-fold, use the more millennial-centric marketing techniques that were 2015-founded Mineral's MO during its three years in business to grow Carson's AUM by attracing new advisors and RIAs, and boost Carson's in-house marketing team's ability to work as a marketing outsourcer for Carson affiliated firms.
Mineral will continue to serve its current clients, but client acquisition is shelved for the time being.
Mineral's technology partnership with Orion, the Orion Prospect Portal, which integrates lead generation with an advisors' planning software to speed-up the process of assessing and then on-boarding new clients, remains unaffected by Carson Group's acquisition.
There's sound logic at work here, since the kind of marketing that speaks to younger generations just "isn't a core competency in a typical financial planning firm," says John Rourke, CEO of New York-based CRM firm WealthBox, via email -- WealthBox is known for its millennial-influenced advertising stylings. See: Ron Carson 'arrived' after investing $52 million, grabbing Orion and TD talent and letting his hair down
Kickstarting a jumpstart
"The differentiator now is not only how well firms are able to apply technology in their service delivery stack, but also how effective they are in the execution of digital marketing and branding to grow … perhaps this jumpstarts Carson [here]," he says.
The fact that Mineral is based in Omaha is a "boon," but the acquisition really highlights how important it is to get your message across in the right way, says Carson, via email. See: What to make of Ron Carson selling 29% of his empire for $35 million -- and how he's evolved his no-pain, no-gain approach to attract a new generation of talent
"As Carson Group evolves and grows, the crucial role the marketing department fulfills has become more pronounced than ever -- it's vital to nearly every strategic initiative implemented firm-wide."
Simply put, new marketing techniques are making the old approaches "look wasteful and silly", and the Carson Group seems to have recognized this, says Rourke. "[Besides] Ron Carson is a brand unto himself, so it seems natural that his organization is going to up the branding for the firm."
Where Bach's marketing approach is, for instance, driven by traditional TV and radio bits focused on being an investment guru and a local celebrity, now that Carson Group has acquired Mineral, it has a different marketing arrow in its quiver, the more modern approach preferred by Jud Mackrill. See: David Bach rocks heavyweights with plan to leverage his media savvy for RIAs at his Topeka TAMP; 'Ridiculous' says Ken Fisher.
If you don't stay fresh, especially in marketing, you fail, says Mackrill, via email. "Marketing is evolving at a rapid pace, so it's imperative to always be assessing alternative methods -- as Ron often says: 'if it's not broken, break it.'"
"It's really about organizing your firm like a modern-day digital product company, where marketing, design, development, and product come together to test and iterate in a way that traditional, ossified marketing practices don't do, in part because the old-school managers don't understand it."
Simply put, growth hacking is the idea that everyone at a firm should be involved in selling its products to avoid cliché, use guerrilla marketing like social media and do it all on the cheap. See: How exactly RIAs can get the something for almost nothing they expect from 'free' social media
Three firms make-up Carson Group: Carson Wealth Management, a one-time LPL breakaway with an AUM of $5.1 billion, according to its Sept. 12 ADV; Carson Group Coaching, an RIA coaching firm with 1,282 advisory clients; and Carson Group Partners, which is both a down-market Dynasty Financial Partners-style outsourcer and a roll-up. See: Eavesdropping: Ron Carson gets an electric reception at his PEAK event, and calms the waters surrounding his new RIA.
Ninety-two independent RIAs are affiliated with Carson Group and make use of its outsourcing, including its software marketing, operations, compliance and investment strategies.
In total Carson Group has $7.1 billion in assets under its management, which will soon reach $10 billion, according to the firm, and employs 160 staff. It also just brought on an extra $775 million in assets under advisement with the acquisition of Hagerstown, Md.-based Cornerstone Wealth Management. See: Ron Carson launches roll-up/TAMP-like venture with Envestnet, TD Ameritrade and Advizent as puzzle pieces.
---
Related Moves
February 10, 2022 – 2:22 AM
---
January 7, 2022 – 11:40 PM
---
---
Mentioned in this article:
---
---
---
Jeff Spears
October 5, 2018 — 7:20 PM
Good marketing professionals are fungible. Market skills are like riding a bike. While each bike might have two wheels a Schwinn is different than a new carbon fiber bike. Carson and his new marketing professional can both ride, but the important decision is what bike will they ride?.
brooke southall
October 5, 2018 — 7:22 PM
Jeff, Johan Bruyneel would agree and so do I.