John Clendening: We've got a deep bench here, we got a deep bench in HD Vest, we've got a deep bench in Blucora. It's been something that we've been working on behind the scenes.
Brooke's Note: Since pushing this article to publication as a quick-news item, I have had a chance to circle back round to sources to understand better John Clendening's seemingly contradictory message. It seemed to say the departure of Bob Oros was all about personal issues and all about business. That did not seem possible. But the deeper dig suggests it is accurate to say it was 100% both, in the father, son, holy ghost sense. Oros is under tremendous personal strain that is pushing him away. But he very much appears to be pulled to another career opportunity better both personally and professionally.
Bob Oros is out as CEO of H.D. Vest with mixed messages from his Blucora boss about the circumstances that led to it.
The former head of RIA custody for both Fidelity Investments and Trust Company of America is out the door of the big Irving, Texas-based broker-dealer in two weeks, following lackluster results in his Blucora division and a plunge in Blucora shares. Blucora is a micro-cap stock and the past month was one of the worst in years for the market as a whole.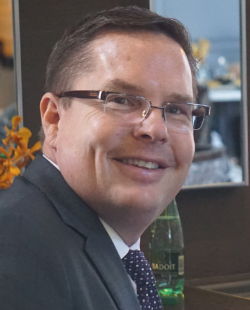 The shares closed at $40.21 on Oct. 1 but closed today at $28.92, a decline of 39%. The share decline comes as quarterly results show limited progress at H.D. Vest. It grew revenue for the quarter by 6% year-over-year to $92 million.
Advisory's assets at the IBD for tax preparers were up 13% for the 12 months ended Sept. 30 to $13.5 billion and now represent 29.1% of total client assets, an increase of 1%. Total client assets increased 9% year-over-year to $46.4 billion.
Christopher Shutler, analyst with William Blair & Company, tried to get the barest details from John S. Clendening, president and CEO of Blucora, about the Oros exit plans during the company's quarterly earnings call with analysts. See: Schwab's former retail chief, John Clendening, ends garden leave with two new gigs -- as chief of HD Vest holding company, and as Betterment CEO's operations confidante
Shutler asked: "I know it's somewhat of a sensitive topic around Bob's departure, but I mean, did Bob relocate to Texas and at any point, I'm just trying to get any more color there that you can provide?"
The Clendening response started out boilerplate enough.
"It is sensitive, I want to really just sort of limit the comments here to the fact that Bob did choose to leave for personal reasons. It is around being closer to his family."
Sources who asked not to be identified confirmed that in fact Oros never did move to Texas and that he has young children back in Boston. The sources also confirmed that Oros is dealing with a tragic circumstance involving a family member. That said, Oros's decision to leave H.D. Vest may have been eased by offers for even larger -- and more Boston local -- positions dangled in front of him, they add.
Indeed, Clendening suggested on the analyst there may be more to read between the lines and more to the story "behind the scenes."
"You can read into that whatever you want to, on that front," he said. "I'm glad that Bob has been with us. So he's made a big impact on the company. He's going to stay with us full-time as you know for a couple of weeks and be available after that.
"But we've got a deep bench here; we got a deep bench in HD Vest; we've got a deep bench in Blucora. It's been something that we've been working on behind the scenes here for a couple of years now.
"And so when these things happen, it's never anything but a bit of a disappointment but frankly people can come and go, and we'll be just fine with his departure," he said.
For now, Oros is being replaced by Todd Mackay, a former E*Trade executive vice president, who is now EVP and general manager of Blucora holding, TaxAct.
The transition is expected to occur on Nov. 15, 2018. Oros has agreed to remain with the company in a consulting role until March 2019 as a search for a permanent replacement is conducted.
Mackay, in his most recent role, has been leading the TaxAct business in preparation for the 2018 tax season and future growth. During his time with Blucora, he has also led corporate development and M&A efforts, including those that brought H.D. Vest into the Blucora family.
Oros had a short tenure at H.D. Vest but leaves a large legacy, according to his company. He engineered a giant switch away from an old clearing arrangement with Wells Fargo to Fidelity, which will save the company $120 million over time. He also made the platform more fee ffriendly with an embrace of Envestnet's platform and use of eMoney.
---
Related Moves
---
March 20, 2019 – 11:32 PM
---
January 8, 2019 – 3:09 AM
---
---
---
Derrick
November 1, 2018 — 3:23 AM
Oros to HighTower Gets wide latitude for transformation playbook that he started down the path on at HD Vest (And was reportedly going quite well as reported in industry press articles as recent as a month ago)