Tim Buckley: With mutual fund fees coming down, the highest fee is the advisory fee itself.
Brooke's Note: It was stunning to see a new Vanguard Group CEO go to an ETF conference and not talk ETFs, despite having the mother lode of inflows product arsenal to crow about. Tim Buckley talked in great detail about financial advisors -- mostly RIAs, mostly human -- without skimping on the technology end of things. See: Vanguard's new CEO Tim Buckley hints the next move for his firm's RIA's 30-basis-point fee may be down, down, down. Plain and simple, Buckley sees human services as the area ripest for innovation, growth and profit margins. What's hard to tell is if attendees were listening. Many other asset managers remain fixated on different variations of vanilla passive investing. Vanilla is such a Zen flavor that it deserves to cater to laminates of taste. But chocolate is a richer flavor and Vanguard seems to be building a financial Willy Wonka Inc.
The Vanguard Group's past was largely based on the religion of capturing the market's gains cheaply with an ethos of Jack Bogle -- the Wolf of Beta.
Based on his first-ever public speech last week its new CEO, Tim Buckley may become the Bogle-esque alpha by commoditizing "advisor alpha" and working more alpha-fangled factors into new ETF products.
Seeking advisor alpha for Malvern, Pa.-based Vanguard is seen as an imperative of business and it can now be delivered cost-effectively, according to Buckley, speaking at The Diplomat in Hollywood, Fla. at the Inside ETFs conference. The 48-year-old CEO presented as a sinewy, kale-eating runner of indeterminate age who will probably look that way for another 20 years.
"With mutual fund fees coming down, the highest fee is the advisory fee itself, and we can expect similar pressure on advice world," Buckley says. "Technology allows competition to come out with lower-cost models, which create greater value to consumers … this foreshadows lowering of price. It will be uncomfortable, but we celebrate better service and lower price in other industries."
Not that everyone agrees precisely.
"I don't think the cost of advisors are going to come down, it's the way advisors interact with their clients -- and that certainly will change," says Todd Clarke, managing director at NorthStar Financial Services Group, the parent company of CLS Investments LLC, which manages more than $8 billion of TAMP assets. "I equate it to TurboTax. My accountants fees have not come down, but the way we work together has. Gone is my box of receipts – it's all e-signature now, but the cost is still the same, if not more." See: Eric Clarke makes seven big Orion hires that reflect the big check it wrote to Bain & Co. -- including a 'poach' from his brother, Todd.
Vanguard, which charges 30 basis points for its phone-based advice defines, advisor's alpha as a derivative of cogent wealth management via financial planning, behavioral coaching, and guidance as a primary objective of the value proposition. See: Robo-advisors hit lull in everything but VC backing as reality fragments their identity.
Vanguard ETF success a lagging indicator?
Not that Buckley didn't have plenty to crow about on the ETF front, which he omitted from his future-facing talk. Of the record $369 billion that flowed into Vanguard for 2017, $146 billion flowed into ETFs. See: How BlackRock stopped Vanguard from devouring ETF market share by pleasing RIAs -- but how that strategy could endanger iShare profit margins in the long run.
But to some extent, Vanguard is treating those crushing inflow successes as a lagging indicator compared to its vision a decade ago. Financial Advisor Services is now Vanguard's largest business ($1.7 trillion in assets) as well as its fastest-growing as intermediaries brought more than 50% of record 2017 cash flow to Vanguard.
Factor investing is beginning to have a table stakes but non-index index investing is another story.
"The indexes continue to go up, but we have given cap-weighting a pass," says Mannik Dhillon, president of VictoryShares and Solutions at Victory Capital Management Inc. in Brooklyn, Ohio. "Ten stocks are 20% of the index and this leads to a false sense of diversification. The only way to reduce risk or generate excess return is by being different – lot of clients have lost interest in high fees for active – but generally active makes money in down markets." See: Fleet-footed RIAs storm into the active ETF market as fund giants tie pretzel dough.
He adds: "Investors want to be different than the benchmark, and advisors and investors compare performance to a benchmark is not net of fees! You are guaranteed negative alpha after fees!" See: The smart beta ETF industry gets blasted at swank Manhattan summit by an unlikely group of critics.
ETFs that tell a story
Other speakers beside Buckley at the event were of high quality but came across more as space fillers. Mohamed El-Erian was strong bull on the market and the Philadelphia Eagles. Jeffery Sherman, head of fixed Income at DoubleLine, channeled Yogi Berra: "When it's not expensive, its cheap in this market." See: PIMCO's institutionalize-Bill-Gross effort culminates after three years in price hikes tempered by ETF migraines and fee cuts.
The shift in focus seemed to bring a new breed of attendee. Having attended my first Inside ETFs in 2004 or 2005 (the mind dims over time) and more than once since, one of the of "old guard" pulled me aside to ask – "who are all these people?!" See: Bill McNabb declares 'bull market' for RIA advice then downplays role of Vanguard Personal Advisor Services.
One reason ETFs cause disruption is that they are fundamentally a technology product but also reflect the investing tendencies of the client, said Mike Akins, head of ETF products at ALPS Advisors Inc. in Denver.
"It's not [passive] core, we are not competing where you don't tell a story. If you pick 15 ETFs – I should be able to tell you something about that client, what they believe in and support."
Akins went on to describe how advisors could differentiate their own practice by carving out a client niche, for example doctors who might want to participate in something they know well.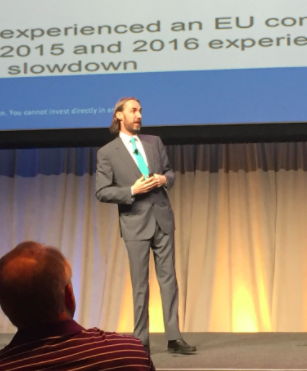 When asked about the trend of advisors to outsource investing, Akins voiced some concerns stating, "If too much goes to outsourced CIO, can they be customized? Do they use all the same products? The interesting thing is it's been RIAs who are unafraid and willing to be differentiated with newer products."
Akins explained how a modestly sized player can still prosper -- even against Vanguard, BlackRock and PIMCO.
"A little bit of a big number is still a big number." See: PIMCO's institutionalize-Bill-Gross effort culminates after three years in price hikes tempered by ETF migraines and fee cuts.
American Century's challenge
American Century floated its first ETFs earlier this month. Perhaps no firm has progressed as quickly from poaching veteran Ed Rosenberg and filing for exemptive relief in June to launching a fixed-income and large-cap product a mere seven months later. See: American Century plumbs BlackRock talent pool en route to launching two ETFs.
Despite American Century's having a significant advantage due to its robust direct business or "groundswell investing," Rosenberg was upfront about the challenge ahead.
"This is a different type of build – the number of sponsors was significantly smaller [when he joined his previous employers Vanguard and FlexShares]. There are now north of 100 issuers, so we have a lot of ground to cover to make this successful. And its not like we are an insurance company with that level of built-in [scale] advantage." See: After leaving Envestnet, Jay Hummel pops up at American Century with a 21st century plan.
When asked why he would launch fixed income and large-cap value, seemingly the least-needed products in a crowded marketplace, Rosenberg stated: "Stoxx index is not simple. There are a lot of components to it, both active and passive. We are trying to outperform the basic index so it's much closer to active than people realize. We don't want to deliver something just OK – we want to create real capital appreciation."
When asked specifically about RIAs' relationship to ETFs, Rosenberg said that "RIA's tend to dig into how it works and fits into a portfolio – that's what we want since they will then own the product longer. Core holdings and specific outcomes are what this is created to deliver." See: TD Ameritrade calms the RIA Twitter storm but not questions about the spreads on the ETFs replacing the super-liquid Vanguard and Core iShares.
Nuveen's blank slate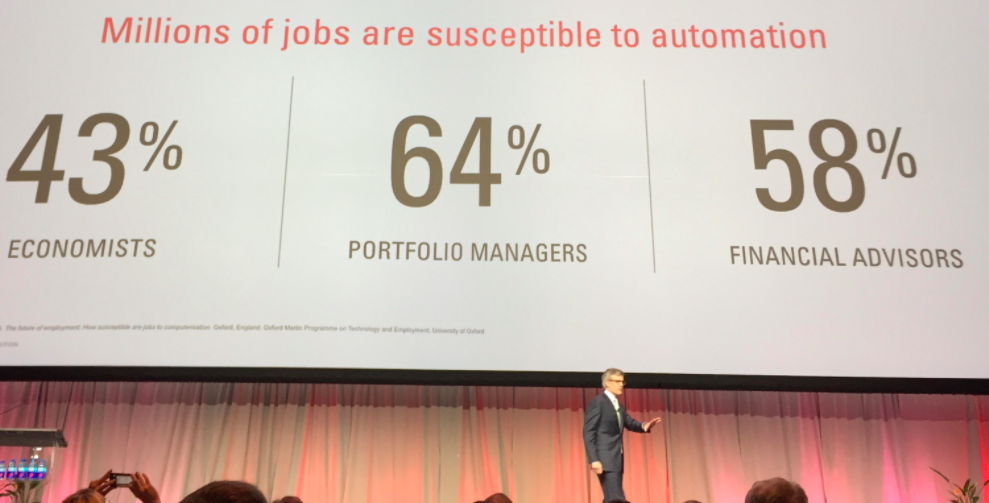 Another behemoth quickly showing ETF traction 15 months in is Nuveen Investments under the direction Martin Kremenstein, senior managing director, head of retirement products and ETFs. See: Looking for a second growth spurt, a billion-dollar-plus RIA hires away a Nuveen global ops man.
"I was fortunate to come in with a completely blank slate and say 'let's start with something we are already good at and own it', and that was fixed income and ESG," he said in his mellifluous British accent. "TIAA has traditionally focused on educators and non-profit workers, and we were original U.N. drafters of [responsible investing].
With the recent launch of NuShares ESG ETF, which employ environmental, social and governance criteria, in addition to the existing income and real estate fund ETFs, Kremenstein sees the ESG opportunity as enormous on multiple levels.
"First we compete on a core level, which gives an advisor a single ESG overlay, and just one conversation for the advisor to explain ESG methodology. Second, it's no secret that next-generation clients are very attuned to their investing, so this is almost a succession planning insurance dynamic. Also, if you like your current mix, we can contribute on a portfolio completion or satellite level."
Kremenstein firmly makes the point that "our fundamental view that it has to make economic value – what we score is good business – gender diversity, good governance, [and] what is your carbon footprint?" He ads that carbon is a big differentiator many ESG managers do not currently screen.
"Europe incorporates ESG into fundamental analysis already, it would not surprise me if in 10 years it wasn't just another benchmark index."
USAA: 'No shooting stars'
One of the recent "baby dinosaurs" in the ETF space, USAA, has grown to over $500 million in AUM in less than 90 days. See: Franklin Templeton's ETF play reveals pain of being late -- yet it beats never.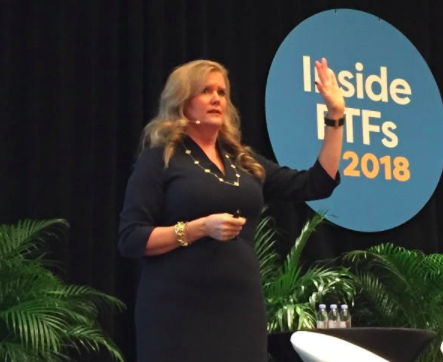 The team at USAA was pleasantly surprised that they had asset flows from the retail channel (buying all six of the products equally) in smaller $50-$100 increments, with nice flows from RIAs at Schwab and TD Ameritrade. See: What an RIA should make of Wall Street Journal's expose of how Schwab, Fidelity and TD Ameritrade's advice machines steer client assets
When asked what new products we might expect, Lance Humphrey, portfolio manager at USAA Investment Management, said: "None in registration."
The opportunity is indeed vast with a car insurance family footprint of 60 million people, which, as Keith Sloane, head of third-party distribution at USAA pointed out, is "as large as the millennials".
"Slow and steady is good, said Sloane. "No hot money. We are on a fantastic pace, but not sure how much faster we want to bring them in. No shooting stars."
Giddy at Guggenheim
Bill Belden, head of ETF business development at Guggenheim Investments, updated us on the largest M&A deal in the sector - Invesco PowerShares' acquisition of Guggenheims BulletShares, set for shareholder approval in March.
Addressing the main concern he hears from advisors -- changes coming to the products -- Belden said: "if you look at the proxy (N14), continuity is the emphasis. The indexes will remain the same as of now."
Reviewing Guggenheim's combined product offering, Belden perked way up, stating that "four of the top six ETF performers since the March 2009 start of the bull market were Guggenheim products, six of the top 25 – combined Invesco will have 11 of the top 25, which is way more than anyone else." See: Charles Schwab & Co.'s vertical play to monopolize ETF market -- to be its low-cost maker, distributor and manager -- diesels ahead as ETF OneSource grows again.
Northern Trust: Dating the asset manager
Marie Dzanis, head of intermediary and wealth distribution at Northern Trust Corp., delivered a standing room only presentation on behavioral finance titled "when markets are behaving and clients are not," in which she relied on her own experience stepping outside the Flexshares factor tilt.
She urged RIAs "to really discern empirical evidence versus kitschy."
Dzanis referred to her own experience in the "Disposition Effect" -- the bias that we are doing really well that causes us to hang onto winners longer than we should and deviate from a more disciplined process.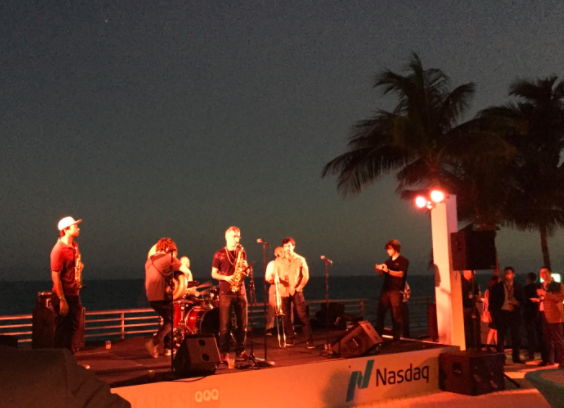 Dzanis challenged advisors to weed out managers who have lots of good-sounding products with a backtest.
"Do they have the scope and capability and discipline to deliver the outcome? This is really where distinction happens, to consistently provide exposure, because as an investor or asset manager – no one wants an unexplainable surprise. What we are seeing is the institutionalization of due diligence."
Goring Oxford University
Circling back to Buckley's talk, he was critical of an Oxford University study that, in his opinion, lowballed what it said were the 47% of human advice jobs were susceptible to automation.
"They were not talking factories – jobs in this room, like economists and 58% of advisors. So the back half of this room can get up and go home. We see it differently … What could you do with more of your time back?" See: Citi exec 'accidentally' invents cash-robo with 400 RIAs as distribution channel
Low-cost construction, rebalancing, tax efficiency, behavioral coaching -- mostly concerned with not buying in up times and selling in down times -- are where advisors currently spend their time, said Buckley. Many of these duties can and are being coded by robo-advisors. It's a trend, he said, that will continue.
But where advisors have real opportunity, Buckley said, is in offering more human services.
"Custom solutions are very difficult, and those aren't measured in basis points, but anxiety. Most people in retirement underspend, so how do we allay those fears? Maybe they can live better." Buckley also mentioned specific client anxiety points like aspirations for their kids, risk in their business, and their passions.
"Get to know these things and it makes it easier to create great solutions – tough to measure but don't say they don't add value. Clients are more likely to promote you due to trust and communication versus price and performance. It's how you stick the landing actually matters – try to deliver all four."
A previous version of this story stated that William Belden was head of fixed income at Guggenheim Investments. He is head of ETF business development
---
---
Mentioned in this article:
---
---
---
Steve
January 31, 2018 — 11:13 PM
Totally agree that hybrid human / digital collaborative planning is coming and it will enable better education & guidance at scale. You can see our work around this for retirement planning here: <a href="https://www.newretirement.com/" rel="nofollow">https://www.newretirement.com/</a>