Sitting on an extra $75 million of VC cash, Andy Rachleff can see an IPO in the distance
Brooke's Note: Only a few short years ago, Wealthfront jumped out to a lead in managed robo assets and its CEO Andy Rachleff played the frontrunner role to perfection, predicting that one big gorilla would take all much the way Facebook, LinkedIn and Google did in their categories of endeavor. But then Betterment surged past Wealthfront in assets, Rachleff left the CEO spot and retook it and the industry common wisdom became that pure automation just wasn't going to work. In 2017, Betterment only padded that lead though Wealthfront's growth rate was slightly higher. Yet it's notable that Rachleff's original vision has not wavered -- to be all automation all the time and to patiently work toward being the best at that. It just wasn't foreseen that the other robo-advice retailers would either make a hard break toward B-to-B business or aggressively add humans to give him that clear path. (Not that Betterment's robo really differs much from Wealthfront's.)The addition of Tiger Global as a major investor may be beside the fact but Lee Fixel's track record is dazzling. A final note: Wealthfront's website overhaul is a 100% improvement in look and feel.
Andy Rachleff has once again come through for the robo-advisor he founded in 2007, raising an additional $75 million in VC funding for Wealthfront Inc.
In doing so, the once and current CEO may have made a horse race again of his his firm's rivalry with Betterment, which has about 37% more managed assets.
This latest $75 million round was led by New York-based Tiger Global Management LLC, with participation from many existing venture capital investors, represents the first raise since 2014 when Spark Capital led a $64-million round. Back then, the Redwood, California-based firm bragged it had cash reserves of $100 million.
Though Tiger Global manages a $7-billion hedge fund and a $3.5-billion long-only fund, it also has $10 billion of investments that fit the VC or private equity category. It was founded as a hedge fund in 2001 but added the PE unit in 2003. It is now on its 10th fund and the investors on the hedge side and PE side not necessarily the same, according to an industry source who asked that their identity not be revealed. Tiger Global maintains a boutique hedge fund feel in the sense that decision-making rests in the hands of its founder, Charles Payson "Chase" Coleman III, 42, and two partners, Lee Fixel, who oversees private equity and Scott Shleifer, who manages the long-only fund that was founded in 2013 and the hedge fund.
Wealthfront's achieved milestones of $9.5 billion of AUM and $205 million of total venture capital still leave it a ways behind New York-based Betterment, which manages about $13 billion and has gathered $275 million of VC bucks. Wealthfront and Betterment are the only two major venture-backed independent automated advisors left standing that cater primarily to retail investors. See: Robo-advisors hit lull in everything but VC backing as reality fragments their identity.
Wealthfront is showing strength by securing this new VC infusion -- but only to a degree, says Lex Sokolin, London-based analyst for Autonomous Research.
"Living at the heart of the Valley and being run by a well-respected venture capitalist implies continued access to capital given sufficient company progress," he writes in an email. "But in the global landscape, capital is cheap. If Softbank can write $200 billion of venture checks into American fintech, I wouldn't bet on capital access as the determining long-term winning factor."
Tiger Global was formed by Coleman with the $25 million staked to him three years out of Williams College. The PE unit has grabbed headlines by realizing massive capital gains by purchasing stakes in Facebook, LinkedIn, Zynga and other pre-IPO gold.
Speedy growth, slow traffic
Even if millions of dollars funneled into a firm no longer impresses the way it used to, Rachleff can point to an undeniably important metric: growth rate.
Wealthfront's was more than 100% in 2017.

Betterment's was close: it grew from $6.7 billion of AUM on Dec. 31, 2016 to $13 billion at the end of 2017, a near doubling. See: Exploding to near $24 billion* of assets under automation, Schwab creates robo-exec slot and fills it with ex-Betterment unit chief.
Yet Sokolin says a more wonkish metric gives Betterment a sizable lead in web presence. "Betterment's 50% to 100% advantage in Google search interest is meaningful," he says. "Both brands have weird word names, so it's likely the search is targeted to the apps."
Following the $75-million raise last week, Rachleff pushed his company's advantage in press reports by saying his firm's growth doesn't rely on nearly as much marketing spending as competitors. One observer points out that Wealthfront's out-of-pocket marketing costs may be lower but its heavy promotional discounting of fees amounts to a big implicit marketing cost.
But Wealthfront might well benefit from more marketing, says Sokolin, given that Betterment rates so much higher in terms of sheer traffic. It is number 6,008 to Wealthfront's 7,858 based on the charts sent by Autonomous.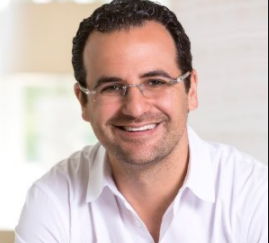 Wealthfront's spokeswoman Kate Wauck declined to respond to an email seeking comment.
Valuation uncertain
Rachleff took advantage of the new VC-raise announcement to say that his company stands alone it its "software-only" approach -- a new rhetorical couching of Wealthfront's reluctance to layer in human advice and stay true to the path of automation he set out on. See: Wealthfront calls its smart beta approach 'superior' to Dimensional Fund Advisors largely because DFA works with RIAs.
To emphasize the point, Rachleff renewed his protest against the indiscriminate use of the term "robo-advisor" in a TechCrunch article. "He views it as a derogatory term that downplays the sophistication of Wealthfront's platform," the article reads. See: Why I find the term 'robo-advisor' objectionable and unhelpful.
It's not known how much equity Rachleff had to sacrifice to get the $75 million from a roster of investors that -- in addition to Tiger and Spark, based in San Francisco, Boston and New York -- also include Benchmark of Woodside, Calif.; DAG Ventures of Palo Alto, Calif.; Greylock Partners of Menlo Park, Calif.; Index Ventures of Geneva, Switzerland; Ribbit Capital of Palo Alto; and Social Capital of Palo Alto.
But Rachleff apparently sold Lee Fixel, partner at Tiger Global Management, on his new phraseology.

"Wealthfront's exclusively software-based model gives the company a superior approach to capture the younger, fast-growing market of investors," Fixel said in release. "We're excited to support continued growth of the business and help Wealthfront become to the millennial generation what Charles Schwab is to baby boomers."
Next unicorn?
The 2014 Wealthfront VC round -- which went down at the height of robo-mania -- was based on a $700-million valuation.
Sources say the valuation this time is a well-kept secret but rumors put it in that same range. Betterment became the first "unicorn" robo in October when its last round was based on a $1 billion valuation.
Rachleff is shooting for an eventual initial public offering, according to published reports.
It's all a far cry from June 2016, when the Wealthfront experienced a raft of departures that caused Rachleff, who left the company in 2014, to take back the CEO spot back from Adam Nash a few months later. See: Andy Rachleff takes back CEO spot at Wealthfront at critical juncture.
Correction: A previous version of this story identified Lee Fixel and Scott Shleifer as managers of Tiger Global. They are partners.
---
---
Mentioned in this article:
Wealthfront
Portfolio Management System
Top Executive: Andy Rachleff
---
---
---
---