Sallie Krawcheck first has to sell a handful of ultra-wealthy women to believe she can work that same magic on millions of mainstream investors.
Brooke's Note: There is a streak of the elite at Ellevest starting with its Paris-evoking name and meandering its way to its founder, Sallie Krawcheck, who played the Wall Street game long enough to make her wealthy. Krawcheck has never found much to dislike about Wall Street other than the fact that it fired her almost solely, she says, based on her gender. With that as backdrop it makes sense to carry some of that culture into her new venture while taking pains to filter out excessive testosterone. Krawcheck's board of directors and backers continue to draw heavily on a pool of wealthy women even if Ellevest is ostensibly going after Middle American women clients. Certainly, Ellevest handles its relations with the media in the arms-length style of the old Merrill Lynch. (Actually, the 2017 BoA Merrill Lynch has been quite willing to converse about its own future-leaning Merrill Edge, robo and training efforts.) Ellevest addresses its fees in head-spinning fashion, as you'll see in the graphic in this article. Yet despite our skepticism, we can hardly fault an ex-wirehouse executive putting her energies and reputation into creating model of wealth management that makes sense for women. See: As a self-aware Sallie Krawcheck launches at TechCrunch Disrupt, Ellevest embraces the peril of selling algorithms to women. But unless what's under the hood bears out the company persona, any enthusiasm is going to be tempered by the fear that this all a gimmick perpetrated by an industry sharpie who could no longer find any buyers for her CEO services on Wall Street itself.
Sallie Krawcheck is raising capital for her robo-advisor like it's 2012 all over again -- and maintaining a culture with shades of the Merrill Lynch Global Wealth Management circa 2011 that she was fired from as CEO that year. See: Sallie Krawcheck, A Recruiter's Nightmare.
The co-founder and CEO of Ellevest attracted another $32.5 million, with $2.1 million still to be sold, to her startup Ellevest, an automated manager of ETFs, according to an SEC statement released last Wednesday.
It's by far her single largest raise and brings the total invested by 18 outsiders to a fairly eye-popping $51.5 million.
Sources reached for this article expressed surprise at the impressive size of this third round of fund raising. Most often venture funders require robo-advisors to prove their ability to attract assets. Not that Ellevest's rate of asset growth doesn't impress. Ellevest's AUM leapt from $136,185 in May 2016 to $25 million on April 28, according to the ADVs filed on those two dates.
Charles Schwab & Co. has brought about $25 million into its robo every day for months -- an uncomfortable fact that investors had to rationalize. See: Schwab grabs astounding $1.5 billion of robo assets in six weeks, but mostly from itself.
One way that Schwab succeeds in luring robo assets is by charging no management fees. Most robo-advisors charge about 30 basis points. See: Schwab CTO's speech in NYC spotlights an RIA business addicted to innovation – with no fresh fix in sight.
Fee chutzpah
Ellevest -- displaying a Wall Street-style nerve -- may succeed in commanding that fee by comparing its 66% higher 50 basis-point fee to a hypothetical benchmark that it calls "traditional advisor," which it shows to charge 150 basis points.
Even many top-end RIAs charge 1% or less, though that amount may be higher for the types of small accounts that Ellevest attracts.
"My educated guess is that Ellevest is showing promising unit economics in a way that shows they will be able to serve the female audience," says says Amanda Steinberg, founder and CEO of WorthFM in Philadelphia, which also targets women investors and is closing in on $1 million of AUM, according to its latest ADV.
An extrapolation of small successes put up against the monumental opportunity of catching fire with the massive and under-served market of money management for women may explain how Krawcheck continues to attract literally more venture capital than AUM.
Staggering metric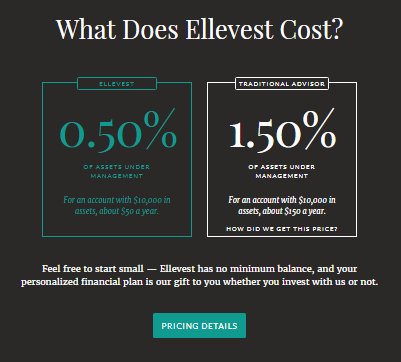 By one unit of microeconomics, Ellevest is looking mighty good. In April 2016, it had just 40 accounts. It now shows 5,200 accounts. That puts its annual account growth at a staggering 13,000% during the one-year period. See: Relying on men but 'losing sleep' Sallie Krawcheck seeks to robo-reap women investors with Ellevest.
Of late, VCs have been rewarding robo-advisors based on sheer account openings. Acorns and Stash both have a executed a series of big raises based entirely on their ability to bring in accounts by the hundreds of thousands per month. See: As the 'finance Snapchat,' Stash rakes in another $40 million of VC funding as it onboards at rate of 1,000 new 'HENRY' investors every business day. The average account at these firm is about $200; less clear is the acquisition cost per client.
Gloomier news is that the average Ellevest account is only $4,800, putting it way behind a robo like Wealthfront Inc. of Redwood City, Calif., which has average accounts of more like $80,000. Still, it also puts Ellevest way ahead of the micro-account robos, which have average accounts of less than $250.
Just who the investors are who keep writing big checks to Krawcheck is largely a mystery at this point, though a perhaps telling clue can be found in an Aug. 23 Ellevest SEC filing, which lists Jenny Abramson as a member of Ellevest's board of directors. Abramson is the founder of Rethink Impact, a female-led venture capital firm "particularly focused on supporting companies that have women in management roles," according to its website. That makes it a good bet that Abramson was part of the latest investment round.
When contacted, Ellevest spokeswoman Megan McCourt would only say: "We are not legally able to comment on whether Jenny Abramson invested or how much since they're in the middle of the round."
More Morningstar moolah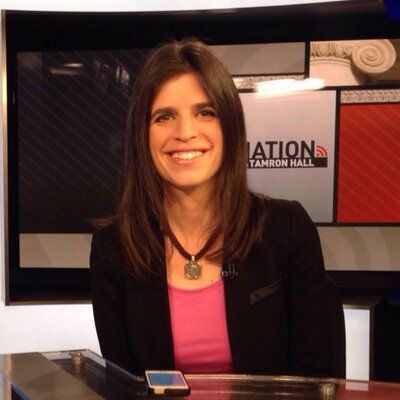 Though Ellevest is leaning heavily on its women-centric orientation in raising capital, it also continues to impress seasoned experts in the RIA business. Chicago-based Morningstar Inc., which led Ellevest's first $10-million funding round in September 2015 and participated in the second raise of $9 million in October 2016, has re-upped its stake this summer and, in fact, increased it, according to Morningstar spokeswoman Mary Kenefake. She declined to say by how much or why, emailing that "we don't disclose those details."
In 2015, the capital raise came from the deep pockets of Contour Ventures and Karen Finerman, co-founder of Metropolitan Capital Advisors of New York; Andrea Jung, former CEO of Avon Products Inc. and CEO of Grameen America, a New York non-profit that supports woman entrepreneurs; and Mohamed El-Erian, chief economic advisor at Allianz and the former co-CEO of PIMCO.
Finding the formula
While Krawcheck has proved herself adept at getting high-powered women to commit capital to Ellevest, convincing mass-affluent women to commit their life savings to the robo continues to be a struggle for the twice-fired former head of stockbrokers at two wirehouses. See: At Envestnet event, Sallie Krawcheck alludes to Crager alliance, blasts women-as-niche marketers and edges perhaps closer to endorsing the RIA model.To some extent, the challenge goes against the grain. Women haven't traditionally been in the household investor. Investing is still somewhat unfamiliar territory for most women regardless of assets or income. That's changing, but all change is slow.
'Sheer market'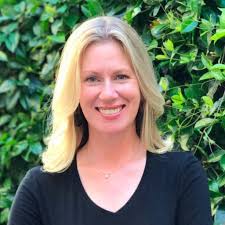 Still, the ex-Merrill chief of brokers still does not yet publicly draw a fiduciary distinction between her old sales force at Merrill Lynch and Smith Barney and the advisors who work for RIAs -- including her own. It's hard to assess whether the latest capital raise is a referendum on Ellevest, its prospects or a tribute to Krawcheck's sales skills. See: As a self-aware Sallie Krawcheck launches at TechCrunch Disrupt, Ellevest embraces the peril of selling algorithms to women.
"But we can say that Ellevest creates a worthwhile investment opportunity for anyone who wants to capitalize on this market," says Steinberg. "There are not a lot of players doing what we do. It's a sheer market opportunity."
Ellevest more than doubled its staff in 2016, going from 13 employees to 30. However, it has only added two more in 2017, one of whom is Lisa Stone, the new CMO -- she joined last month -- who blogged on LinkedIn about why she took the job under the headline "Why I Just Joined Ellevest as CMO: You + Money = Power." (Ellevest has no blog.) Stone and two others founded the website BlogHer in 2005, a guide to news and trends among women in social media.
A variation of that equation is now front and center on the Ellevest website, which reads "Invest Like a Woman, Because Money is Power," a slogan that was coined within the last year.
Of the 32 employees, the ADV says only one is an investment advisor. The others, says McCourt in an email, perform "a diversity of roles, including but not limited to engineers, designers, product managers, marketing people, content folks, managers, analysts, etc."
Friend of Chelsea
Ellevest is not listed among the 10 investments listed on Rethink Impact's website. The Washington, D.C.-based firm's site does include Everfi Inc., also in D.C., which designs compliance courses for companies on subjects such as harassment, diversity and culture. Everfi also does campus networking aimed at preventing sexual assaults. Abramson also invested in woman-owned Werk. Rethink Impact's site says it has $112 million to invest in what it calls "ecosystems of change" run by "traditionally underfunded entrepreneurs."
Abramson, 40, and Chelsea Clinton, 37, overlapped at Stanford University and are good friends, according to published reports. Chelsea stayed with Jenny while she was checking out the Palo Alto university while she was still a senior in high school.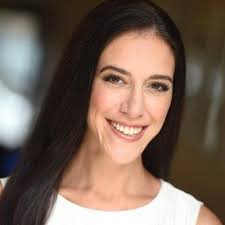 After Abramson got her BA and MA at Stanford, she went on to get an MBA with honors from Harvard Business School. That was followed by a stint as an ad exec at the Washington Post, and then time as a director at Teach for America. Before starting Rethink Impact in 2015, Abramson was CEO of LiveSafe, focused on preventing school shootings and sexual assaults on college campuses.
But Abramson is largely an unknown when it comes to her acumen in venture investing and where she gets her capital -- even among women entrepreneurs -- including Steinberg. "I know a lot of VC's, but not Jenny Abramson."
Making it work
The Ellevest website has undergone some changes in the past year. On the "Invest Like a Woman" page, there are sections called "Why it Matters," "How We Invest," and "Performance." There's a new page on IRA transfers, and some articles by the Ellevest team called "Mind the Gap," and a "Go Getters' Guide."
When asked about her own efforts at raising capital and growing, Steinberg, who also founded WorthFM's forerunner DailyWorth in 2009, which educates women investors, says she adheres to a more organic growth philosophy.
"We've raised $9 million in capital so far," she says. "That dates back to 2011. But we're taking a different approach, driving toward profitability first before we go and raise a larger round." See: 'Bristling' at 'pink-it-and-shrink-it' pitfalls, Sallie Krawcheck files an ADV.
More of DailyWorth's revenue comes from education, says Steinberg of the online classes her site offers. "That makes us less dependent on an external approach."
---
Related Moves
February 28, 2020 – 11:09 PM
---
---
---
Mentioned in this article:
---
---
---
Jeff Spears
September 8, 2017 — 12:50 PM
Tenacious is the first word that comes to mind when I read about Sallie. That spirit needs to be conveyed to the Envestnet clients. My biased opinion is that the firm needs to add some human advisors too.
Curious
September 8, 2017 — 8:52 PM
$4800 average account value. To me that seems like consumers are "try before you buy" mentality or else these are emerging savers. The latter, sadly tend to cash out their accounts as soon as an expensive life event happens (new HVAC, medical bills). This business to me sounds like one that's hoping for a quick flip & cash out.