Eric Poirier: We are still in the very early days in terms of penetration in the RIA industry.
Brooke's Note: Wall Street is of little use to the RIA business. The jury on Silicon Valley and its highly white boarding ways is still out. Wealth front has a long way to go, it seems, in becoming the Amazon of retail advice. Este still shows promise but seems to be veering toward the automation of large financial institutions. Personal Capital is on the rise as a virtual national advisor but hardly dents the larger market. See: Power Player: Bill Harris raises yet another $40 million on ... - RIABiz. Then there is Addepar. It's betting that advisors investing most assets into publicly traded equities relates less to their performance than to the mere fact we can track their performance at all. Dears' vision is that its engineers can bring tracking to private equities by making their data as manageable as what streams out of the NASDAQ. The theoretical reward: Real alpha exists at that tier of private firms where innovation happens -- smaller, private firms -- and that there is no shortage of said opportunity. The private market is as large or larger than the public one. Still, the challenge before Addepar's CEO Eric Poirier is monumental. There is no certainty that the sow's ear of hedge fund and private equity data can be made into a trackable silk purse. Even if that threshold gets surpassed, many RIAs have no desire to brave that new world and even the advisors so inclined will want to go slowly. So Addepar needs to bring its offering a little more in their direction. Poirier, micro-decision by micro-concession, becomes our most recent pick in our series of 2017 Power Players by signaling that he is managing his business more but not too much in that direction -- enough to flag him as as power potentate of the RIA business.
Addepar Inc. is now working hand-in-glove with Radnor, Pa.-based eMoney Inc..
The VC-backed aspiring dynamo out of Mountain View, Calif. announced the data from its performance reporting software flows can zap on in -- via API -- to eMoney's financial planning workflows.
Given that, it's puzzling that Addepar went almost out of its way to be certain that its dalliance with eMoney went unreported. It's June 13 press release was bare bones and lives on the Addepar website. Addepar opened an API and has integrated its data for Salesforce, FolioDynamix, iCapital Network, Citco Fund Services, RedBlack Software, Blas Portfolio, Quovo and other RIA-related software. See: Hitting home run, Envestnet buys FolioDynamix creating '$2-trillion' super-platform.
Still, it's not what you blast out to PRNewswire it's what you do to make your company a force that determines its future in an unrelenting free enterprise system that does not grade on a curve.
What Eric Poirier, CEO of Addepar, has done right is to focus on his firm's mission of building software the likes of which the world -- so he says -- has ever seen -- at least not the investments world.
Yet during the same period that Addepar has been focusing on disruptive engineering, its three top competitors in performance reporting in the RIA business -- Black Diamond, Orion Advisor Services LLC and Tamarac Inc. -- have enjoyed unprecedented runs of success. Black Diamond has over 1,100 advisory firm clients now, representing more than $700 billion in assets on the platform, up from about 250 clients when Advent acquired it. Orion Advisor Services now has more than1,300 RIA firms with $550 billion in AUA., up from 115 RIA firms with $24 Billion in AUA att the end of 2009.
Rare exception
Inertia typically prevents RIAs from making wholesale changes in systems but the past eight years were a rare exception to that rule. Those three firms jumped on not only the hypergrowth of the RIA business but the switch from desktop systems to the cloud -- principally at Advent Software and Schwab Advisor Services, both of San Francisco.
Poirier wants the world to know that the caricature of Addepar's leadership, which depicts him and his fellow executives at the Silicon Valley fintech firm as rubes when it comes to the business end of running a company -- "a bunch of nerds, who don't know anything about finance," in his words -- is false, or at least outdated.
The numbers that are starting to back him up have landed him on the RIABiz Power Player's list. See: RIABiz to roll out 'Power Players' series -- with irony.
When Poirier joined Addepar in mid-2013 it had a measly $50 billion in assets under contract using its wealth management software. See: 10 most influential RIA figures going into 2013 and how they're reshaping the industry, Part 1.
Today, assets under contract amount to more than $750 billion, up from $500 billion in September 2016 and $550 billion at the end of 2016 and $610 billion in June of 2017.
RIA penetration
Part of that success can be attributed to Addepar's willingness to accept that RIAs need CRM, financial planning software and other applications to work smoothly with their portfolio accounting system.
Not that Addepar is pure RIA-play by any stretch.
At the beginning of 2017, Poirier signed a contract with Morgan Stanley making Addepar's software available to some of the New York-based wirehouse's largest wealth management teams. Back then Poirier said other big wirehouses were showing interest although he declined to name them. See: Addepar secures Morgan Stanley account by winning a test of wills and setting a small army on Manhattan.
Next up for Addepar, according to Poirier, is to make more deliberate plays accommodate the RIA sector, one that includes thousands of firms across the United States that serve ultrahigh-net-worth clients with alternative assets, which is where Addepar shines.
"We are still in the very early days in terms of penetration in the RIA industry," he says. "The RIA is a giant opportunity, I want to keep on saying yes."
Poirier started working at Palantir in the finance division when the company was composed of just 20 people. (It's now nearly 1,000.) He worked with Joe Lonsdale, who helped build Peter Thiel's Clarium Capital Management LLC Capital Management LLC before founding Palantir and then Addepar. Prior to Palantir, Poirier worked at Lehman Brothers Holdings Inc. He came to Addepar in 2014 to replace a 26 year-old CEO, , when it had 80 employees. The face of Addepar leaves the company amid intrigue about just where it stands with the RIA market
Five and then dime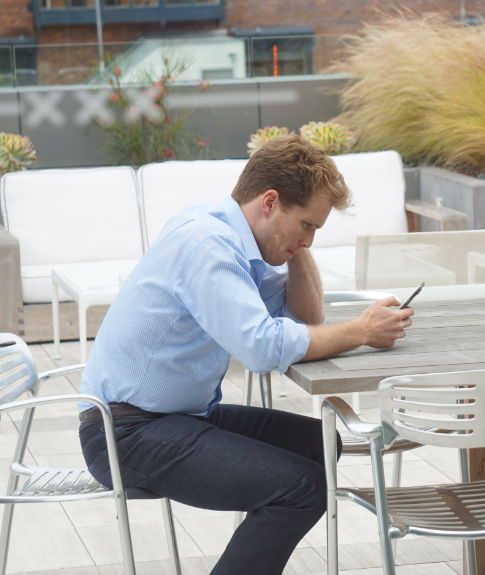 Part of that effort will involve getting into more RIA offices. Poirier's 250-employee organization only has five salespeople. He plans to double that number by year-end. See: DAddepar part hires an Advent talent to help head sales, an ex-Lehman exec as COO and an ex-Merrill Lynch strategist.
Addepar faces formidable competition from other software vendors like Jacksonville, Fla.-based Black Diamond, which not only have massive market momentum but also has the the kinds of deep pockets that would otherwise give Addepar a clear edge. SS&C overlords culturally shock Black Diamond RIAs in Chicago with heaviness and wow them with well-funded competency.
After all, Addepar just raised another $140 million from true-blue venture capital firms in June for what is now a total of $206 million since 2009. Part of that investment was from Addepar founder Joe Lonsdale. See: Addepar raises $140 million, unveils a very Tesla board member and seeks RIA data utopia.
'Same product' culture
But there seems to be enough business for multiple firms as more advisors come out of the Stone Age technology-wise. Poirier says advisors who view technology as a cost center end up creating manual reports that take two weeks to complete and that have errors.
Addepar software can change all that, he says, as the advisor works with a client on a iPad, providing quick answers to portfolio questions.
One of the keys to Addepar's success is that all his clients use the same software. Addepar produces white-label software for advisors that is configurable for each firm, so each organization can use their firm's logo, branding and identity as they use the software to interact with their clients on everything from planning and tracking investments to billing. See: Addepar means to be the only technology platform RIAs will ever need -- and has MIT minds and PayPal money to back it up.
"So each one of our clients feels we build Addepar just for them," Poirier says. "But in fact, 100% of our clients are using the exact same product and platform, which makes us able to deliver new innovations, literally every two weeks. So, we are upgrading the software for our entire client base, once every two weeks." See: Addepar lays out world-fixing vision and rolls out upgrades at swanky The Battery event in San Francisco.
It is this "same product" culture that makes Addepar's nod to integration with firms like eMoney, SalesForce of San Francisco and FolioDynamix of New York notable.
Lehman breakaway engineer
A technology prodigy, at age 15, Poirier ran a coding business which won eBay and Priceline as customers. After attending Columbia University he worked at Lehman Bros. analyzing fixed-income products from 2003 to 2006.
Poirier, now 35, left before the collapse of the Wall Street firm several years later.See: Takeaways from a New York Times article about Addepar.
His next job was with Palantir Technologies, which started out by helping intelligence and military agencies make sense of incomplete data. Poirier ended up building the firm's financial risk analysis business, examining, for example, a bank's sub-prime mortgage portfolio.
Palantir was founded by tech billionaire Lonsdale, who founded Addepar in 2009 and currently serves as its chairman. See: Addepar has two new 'grown-up' leaders but the same mantra: double down, triple down then quadruple down on engineering.
Poirier says arming RIAs with versatile software is a large part of Addepar's mission.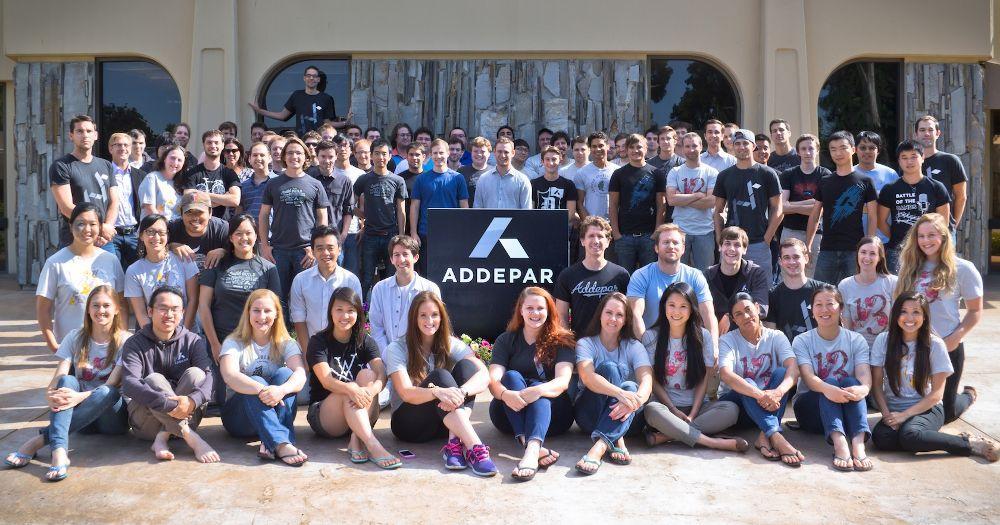 "The common thread is how do you continue to make the advisor more and more well informed, more and more resourceful, more and more data-driven," he says. "The advisors job is very hard, the advisor is serving a whole bunch of clients, the clients are actually different from one another."
The software also reflects how markets affect a client's portfolio. For instance, Poirier, says, "the Fed just raised interest rates and the client wants to know how does that manifest across my entire portfolio, not just stocks and bonds. Half of my portfolio is in private equity and hedge funds, now that the change happened, how should we reposition the portfolio."
Engineers out your ears
In another nod to RIAs and perhaps to firms like Black Diamond and Orion that grew up financial advisors, Poirier says his workers are not just engineers and include "a bunch of people who come from the industry, who were financial advisors." See: With Addepar muscling in, original UHNW software force PCR hires new CEO, triples engineering staff, kills off asset-based pricing and seeks more RIAs.
Those advisors work closely with product managers, designers and engineers who have joined Addepar from top universities or from the likes of Facebook, Google and Amazon. See: Addepar deal may salve big, lingering pain point for RIAs who use alternative investments.
Around half of the employees are engineers.
"We translate having the best engineers to actually adding value to advisors," Poirier says. "That's the part, that's the magic, that we are able to deliver on very constantly. The engineers are able to innovate on the software in a way that answers the advisor's questions, in a way that's way, way more scalable, than just bolting on a new feature in a way that does't really hang together with the rest of the tech."
Addepar is going to need more engineers to solve its most overarching problem of conquering the tangle of data associated with alternative investments where it plans to dominate.
The state-of-the-art alternative investments data can only get better, said Bill Winter berg, principal of FPPad.com, an Atlanta-based technology consultancy, in an emailed response to a May query regarding Addepar's purchase of AltX, a San Francisco-based firm that has a head start in manipulating this sort of data. Addepar deal may salve big, lingering pain point for RIAs who use alternative investments
'Subjective' data
"Data on alts is notorious for creating challenges in any portfolio reporting system; transactions are sporadic, pricing and quotes are often subjective, and risk attributes of the underlying assets are anyone's guess," he writes. "That, essentially, describes the 'nothing' state of reporting on alternatives."
In fact, Addepar can't get enough engineers and is always looking for new ones. It's not that the turnover is high. It's just that engineers are key to the whole business.
"We are always hiring engineers," Poirier says. "We will be hiring engineers until the end of time. We are able to translate into having the best engineers in the world to actually add value to the advisors." See: Could engineers be the answer to the RIA talent shortage?
Read about the other Power Players in our RIABiz 2017 series:
Correction: In an earlier version of this story we incorrectly stated that J.P. Morgan Chase & Co. signed on with Addepar at the beginning of 2017. In fact, Addepar signed on with Morgan Stanley.
---
---
Mentioned in this article:
Addepar
Portfolio Management System
Top Executive: Eric Poirier
---
---
---
Brian Murphy
September 26, 2017 — 10:44 PM
Let me guess - the spellchecker converted "Addepar" to "Depart"? Do a search on "Depart" in the document and replace w/ "Addepar"...then the article becomes more readable.
Jeff Spears
September 27, 2017 — 11:41 AM
I question the addressable market for Addepar. How many RIAs truly use alts in their client portfolios. My estimate is less than 300.
Peter Giza
September 27, 2017 — 12:59 PM
Our dearly departed 'Depart'ed how I miss thee... :D If Addepar's only addressable market were RIAs, constraining them to the US, then I'd say they had much bigger issues with their business plan. To be sure those requiring alts management capabilities is small in comparison to the general audience, however Addepar's dream is to change the face of wealth management globally.
brooke southall
September 27, 2017 — 6:01 PM
My apologies for the 'departed' insertion (Brian and everyone) everywhere that it was supposed to say 'Addepar'. We assume it was our own spellcheck working against us and not a cyber-prank. The last two comments here from Jeff Spears and Peter Giza lay out the challenge and response of Addepar. Expect me to keep a close eye on the efforts of this company because its stretch ambition could be so consequential. And if it just keeps doing what it's doing, it will still find many takers of a certain business model that keeps it on our radar for the foreseeable future.
Peter Giza
September 27, 2017 — 2:21 AM
Brooke, It will be interesting to see how far AltX gets in its quest for the grail, one that DTCC AIP has been chasing for a decade with varied success. Picking through the ore in search of gold is great if you can get the ore to begin with. It's amazing how little nexus there is the data available from private investment managers and advisors list of managers - on average under 35%. The problem is getting them to sign up and send the data electronically. Then there are the brute force methods used by Fortigent, PCR, et. al. The problem has been solved by other platforms such as Orion and WealthSite but requires the typical manual management of the data is only available via paper, pdf or portal. The great thing is Excel is replaced with a purpose built database centric application engine that knows how to handle the various transactions such as capital calls, commits, redistribution, etc. And bonus of bonus - total net worth on a single page. As to Eric, he knows there will always need to be partnerships to get to the goal directly ahead and he is making use of them. After all he has to with a $2B nut to crack. This is the stuff fintech dreams are made of ;) Pete