Dawn Bennett: Why was I a target for something that for anybody else would have been small and miscellaneous?
Brooke's Note: There are polar opposite explanations for what the hell is going on here. One explosive possibility is that Dawn Bennett is a small-bore Bernie Madoff who won't stop deceiving people until she is stopped because she is shameless, remorseless and gifted with unmatched sales skills. See: Why legal experts expect radio personality and registered rep Dawn Bennett to be barred from the industry for what started as an exaggeration of AUM. The other possibility -- the one she proffered to RIABiz in the company of her high-profile lawyer last year -- is that she isn't the one doubling down but rather the SEC, empowered by an Obama administration and using extra-Constitutional methods, that is vengefully upping the ante as Bennett refuses to go away quietly. Sanders Wommack looked deeply into the issue last year and got a frank and intense interview with Bennett and some of that reporting is included in this article. See: In exclusive RIABiz interview, Dawn Bennett tells how she's striking back at SEC after a $4-million legal drubbing has left her 30-year career in shambles. Still, the SEC shows its hand here and it sure seems to have some hard evidence in its possession, including alleged tools of "paranormal silencing" it presumably uses to show its plaintiff's allegedly dubious mental state.
Dawn Bennett allegedly used a radio show to convince hundreds of investors to buy the financial advisory services of her Maryland-based RIA, then used her earnest manner to get another subset of small investors to buy promissory notes from her on false pretenses.
With the filing of civil fraud charges today, the U.S. Securities and Exchange Commission, geographically down the avenue, is buying none of her explanations about the legitimacy of her practice -- and it is also apparently impervious to the hexes she used to derail its investigators.
Prosecutors disclosed that an Aug. 2 search of Bennett's penthouse in Chevy Chase turned up sealed Mason jars in two freezers bearing the initials of U.S. Securities and Exchange Commission lawyers, an alleged attempt at a "hoodoo spell." See: Owner of $1.2 billion RIA dies in Palm Springs under mysterious circumstances after swirl of allegations.
'Paranormal silencing'
That claim, according to a Reuters article carried in the New York Times, was buttressed by one of the most extraordinary quotations in RIA history, one which came as part of an affidavit from FBI Agent Keith Custer who said the raiding agents found Mason jars "suggesting that Bennett had many times cast a 'hoodoo spell' in hopes of paranormally silencing the SEC attorneys investigating Bennett."
In shades of a Philippine leader's wife, investigators also report finding "dozens" of pairs of luxury shoes funded by money obtained on a fraudulent basis.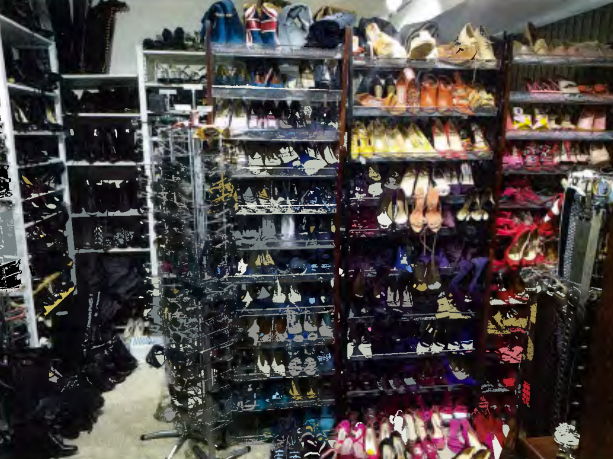 The SEC brought the latest charges in U.S. District Court for the District of Maryland against Bennett, 55, who owned the now-defunct Bennett Group Financial Services LLC. The fraud was allegedly perpetrated in the form of $20-million worth of promissory notes issued to mostly smaller investors from 2014 to 2017, a time during which she was already in hot water.
After assessing $4.05 million in penalties, the SEC barred Bennett from the industry a year ago for attracting assets by allegedly overstating AUM, lying to investigators and misrepresenting client returns. Among those she fooled was Barron's, which named her a Top Advisor. See: An RIA that paid the price for falling for the Bayou scam speaks out.
Post-Madoff reality
The agency paints a picture of cash-flow desperation whereby Bennett's debt ballooned to $15.6 million as of 2014 and she needed to service it.
Still, an undeterred Bennett engaged in a long RIABiz interview for an article published last summer where she insisted that she was the victim of a witch hunt.
"Why was I a target for something that for anybody else would have been small and miscellaneous?" asked Bennett in the interview with Sanders Wommack.
In times past, Bennett, who began her 29-year career in the financial services industry at Wheat First Butcher Singer, may have been right to think she only deserved a slap on the wrist for her alleged infractions. But that was before the SEC failed in the Bernie Madoff scandal and the 2008 financial meltdown. See: Compliance GPS: It may be a mistake to project too successful an image, especially in a post-Bernie Madoff world.
As a result, lawmakers enacted Dodd-Frank in 2010, in part to give the SEC's enforcement powers more teeth. Among other things, the legislation gave the SEC the ability to bring complex fraud cases through its in-house, administrative law courts rather than federal courts.
In early 2013, President Barack Obama doubled down with the appointment of Mary Jo White as the new SEC chairman. White has an extensive background in criminal investigation, specializing in complex financial frauds. She stepped down in 2016. See: After starring in New Yorker article, Mary Jo White holds SIFMA event spellbound and 'no-admit, no-deny' is still in play.
In an Oct. 2013 speech before the Securities Enforcement Forum, White made it clear that the SEC would no longer be an industry lap dog when she announced a "broken windows" policy. "It's important to pursue even the smallest infractions," she said in that speech, giving fair warning that control failures, negligence-based offenses and violations of rules with no intent-requirement would become the Commission's new focus," she said.
Under White, the SEC took a far more aggressive stance against financial industry wrongdoing, and Dawn Bennett was caught up in the rip tide of enforcement actions that followed. In total, the SEC filed 807 enforcement actions in FY 2015, up from 755 actions in FY 2014 and 676 actions in FY 2013, according to a Harvard Law School study). The crackdown focused on broker-dealers and cases against B-Ds more than doubled between 2010 and 2014, the study found.
The SEC gear switch is hardly fair, Bennett told RIABiz last July. Bennett conceded that the AUM figures she touted were "aggressive," but that the regulator's reaction was overblown.
"If [the SEC] was reasonable, and didn't have another motive involved, it should have just been 'failure to maintain adequate books and records,' a discrepancy letter, this is how you fix it, thanks a lot.'"
Instead, Bennett contends that the SEC investigators seemed more interested in collecting scalps and boosting their careers, than in seeing justice done.
"The pressure that they exert on you even before you get to filing the charges is tremendous. It's tremendous and sneaky and unfair and grueling and nasty and cruel. There aren't even words for it. And it's not like it's every once in a blue moon. It's every week for five years you're taking a hit to your gut."
Bennett last year hired a high-powered attorney to fight the ruling. Eugene Ingoglia, a former assistant U.S. Attorney in the Southern District of New York, made his name by leading the investigation into the notorious J.P. Morgan "London Whale" trading scandal and also helped send SAC Capital trader Matthew Martoma to jail for nine years for insider trading. See: JP Morgan gets a 39-page blasting of its corroded culture and ground lost to Silicon Valley robos -- authored by its CEO Jamie Dimon.
White stepped down in 2016. The new SEC chairman, Jay Clayton, was formerly a partner at Sullivan & Cromwell LLP, where he advised public and private companies on a wide range of matters, including securities offerings, mergers and acquisitions, corporate governance, and regulatory and enforcement proceedings.
Constitutional?
Ingoglia is appealing the SEC's ruling against Bennett. It won't be an appeal on the merits; instead, he plans to argue that the SEC's process of appointing administrative law judges is unconstitutional. As arcane as the legal strategy may sound, Ingoglia has a strong case. He could overturn the SEC decision in Bennett's case and force a retrial before a federal court, which has stronger protections for defendants.
Experts say looking at the totality of financial advisor's business is neither unlawful -- or even unusual.
"That sounds completely like something they might do. It's a feasible scenario," said Brian Hamburger," a lawyer and founder, president and CEO of Englewood, N.J.-based MarketCounsel LLC, last year.
In March, the SEC filed a 35-page "Proposed Findings of Fact and Conclusions of Law," which summarized the findings of the four-year investigation that stemmed from the initial audit.
According to the SEC, Bennett exaggerated her firm's assets under management, claiming in submissions to Barron's magazine and on her radio show that the firm oversaw up to $2 billion.
The SEC also charged Bennett with touting investment returns for clients without disclosing that the returns represented a model portfolio and not actual returns and, furthermore, that many accounts were not invested in accordance with the model — even after an accounting firm retained by Bennett Group recommended she make these disclosures.
The SEC alleges that assets under management were well under $2 billion and never exceeded $407 million.
'Screwed'
Mark Cuban has also ripped into the SEC for the way it handles prosecutions, most notably at the 2014 MarketCounsel Summit in Las Vegas. See: Persecuted Mark Cuban prosecutes the SEC and wins some mea culpas from Christopher Cox
"I wasn't happy about the whole process or how it went down and the activities of the SEC were horrible," he said. "It was ridiculous. When the trial was over and I was found not liable, I stood on the courthouse steps and said, the SEC is a joke and it's not about justice and not about protecting justice."
It's a sentiment echoed by others caught in the SEC's line of fire.
"Now I know why everyone writes a check" to settle with the SEC, Patriarch Partners CEO Lynn Tilton told Reuters on July 27, "Until you are in this situation, you don't believe it could happen — not to be given the ability to put up a fair fight."
Later, in that December 2014 panel, former SEC chair Christopher Cox admitted to the audience that some parts of the SEC's internal justice system were not entirely fair, noting that if the SEC chooses to take a case through its administrative law courts then defendants don't have a right to a jury trial.
At that point, moderator Melissa Lee of CNBC paraphrased helpfully, "If you get an administrative action, pardon my French, but you're screwed."
If what the SEC is alleging in its recent charges are accurate, "screwed" may be Bennett's fate.
Bennett raised the cash by telling investors that the capital was for "corporate" purposes, when it actually paid off earlier investors and serviced debt on luxuries, the agency alleges.
The SEC further claims Bennett told lies to smooth the way with her broker dealer to obtain fraudulent loans. Fabricated brokerage statements overstated her net worth.
---
Mentioned in this article:
---
---
---
Javier DooMe
August 29, 2017 — 4:24 PM
The Delta from $407m to $2b is one that is not easily reconciled! So once we get past this obvious regulatory transgression the desire of a Regulator to dig deeper is not only expected but it is necessary! Ms Bennett may be the "victim" of overzealous regulators and I for one applaud the Regulators efforts as no one can explain away touting $2b versus $407m in regulatory filings, Barron's articles or on a radio show. But I do appreciate efforts of her Lawyers to use the age old tactic of "look over there, I see a squirrel" when all other legal defenses have been exhausted, as this is what lawyers do...as for the mondo bizarro voodoo, one can only laugh!