Ren Riley: There's a transaction happening and we're not dead.
Brooke's Note: If Goldman Sachs is the Harvard of brands in financial services then the first Robertson Stephens, now 15 years in the grave, had a brand of a college like Pomona, Williams or Amherst. Those small colleges see themselves competing toe-to-toe for the best students but also as warmer and more intimate. It is not so hard to imagine why a 69-year-old "Robbie" grad would want to revive a brand that many believed should never have died. Joe Piazza's plan may still work but it's also facing a period of notable turbulence that makes the brand's future uncertain yet again. What is different about the Piazza version of Robbie is his determination to put investing process -- namely an RIA -- at its core rather than to make wealth management an add-on service at a broker-dealer. But if the RIA fails to achieve the destiny Piazza imagined, it may be because he applied more of an investment bank startup business plan and ethos than one suitable for an RIA to the venture. An investment bank may need lots of fancy office space and corporate support staff as table stakes to bid for deals. For an RIA, such trappings may suck up resources better spent on compensation, training or recruiting. With all that said, the new Robertson Stephens CEO, Ren Riley, is telling us that reports of the Robbie demise are premature because a smoldering deal is in the works behind the scenes that'll set things right.
The original Robertson Stephens firm died in 2002 at the hands of FleetBoston Financial. Now another deal may decide the fate of the reincarnated San Francisco RIA and private equity firm.
CEO Ren Riley declined to characterize the big changes going on in his firm but speaks of its future in optimistic, if mortal, terms.
"There's a transaction happening and we're not dead," Riley says. Multiple communications with Riley about the nature of the transaction yielded a response that it was on the "RIA side" but he declined to comment based upon follow-up queries about whether it was a purchase or sale of an RIA or a recapitalization of what exists.
Another blow came in 2016 with the departure of mega-poach Susan Reese, who came aboard Robertson Stephen's Boston unit in 2015 as managing director from Ayco Co. LP, a Goldman Sachs-owned RIA in Albany, N.Y.
At the time, Ayco had $26 billion of managed assets, $2 billion of which Reese was projected to bring along with her.
Riley became CEO this year.
Really big show
Observers have always given the 2013 reboot of the Robertson Stephens brand long odds for success.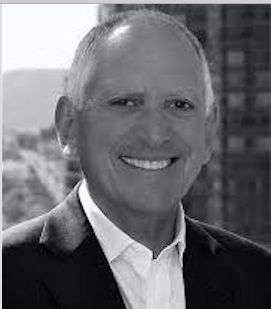 It wasn't just that Piazza at 69 was trying to revive a brand that had lain dormant for 10 years. It was how he went about it.
Most RIA startups concentrate on bringing in producers and assets ahead of hiring a large staff with all the trappings. But Piazza immediately installed a large corporate support staff in 8,000 square feet of Bank of America building's 16th floor -- the same 52-story skyscraper where the defunct firm was once based.
Piazza also hired many of the original staffers from the old Robertson Stephens wealth management unit. See: With big LPL backing, the Robertson Stephens brand revives to roll up advisors to the suddenly wealthy.
"It just made no sense," says Jeff Spears, founder of defunct Sanctuary Wealth Services LLC, which was based in San Francisco and closed its doors last year. "The pitch didn't work of making advisors into equity partners in Robertson Stephens. That brand didn't resonate. It did 20 years ago. It didn't today. It was a symptom of a much bigger business issue."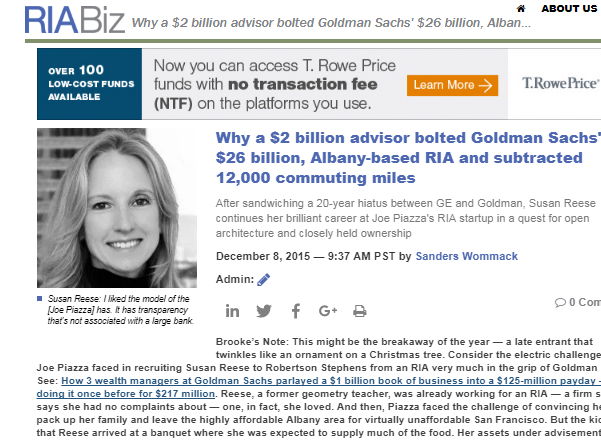 In 2015, Piazza hired away UBS stars Jerry Nigro and Virginia Madden to launch an office in Boston. But in January 2017, Nigro founded Claybrook Capital from Robertson Stephens, which uses New York-based Dynasty Financial Partners and Madden joined that firm as managing director. See: Hitting $20 billion of RIA assets in six years, Dynasty Financial hires its first chief AUM-booster, the better to get to $40 billion faster.
In June, Intellectus Partners nabbed Alice Wu from Robertson Stephens.
Wu is based in the San Francisco office of Intellectus In this new role, she will take the lead on the firm's expansion into covering entrepreneurs and public executives in their cross border, Asia (and China specific) initiative that the firm is accelerating.
Prior to joining Robertson Stephens, Wu advised wealthy Chinese individuals and families in the United States and Asia for Credit Suisse Securities (USA) LLC in San Francisco.
Second rebirth
The firm's apparently shrunk in size as well. In 2015, Piazza said there was a staff of 30 with half of them hailing from the original Robertson Stephens. But the most recent ADV shows the firm employs 20 employees. It is unclear how many advisors Robertson Stephens has lost but in 2015 Piazza told RIABiz that the firm had seven advisors.
Piazza, now 74, sits on the board of directors. He acknowledges in an email the firm needs yet another revival.
"I think we could have done better in growing assets, but I am confident that current management can re-accelerate asset and revenue growth."
The firm is well short of Piazza's original goal of hitting $2 billion by 2014. As of early 2017, the firm's most recent ADV shows it has $488 million in assets.
Riley, another original Robertson Stephens alum, hopes to create a venture capital partnership under the Robertson Stephens brand.
He spent 16 years at Norwalk, Conn.-based Oak Investment Partners where he became a general partner in 2006. See: How a $4-billion OSJ jumped ship from Lincoln Financial to LPL just before the Mark Casady step-down in search of safe harbor in the eye of DOL-rule storm.
Following the sun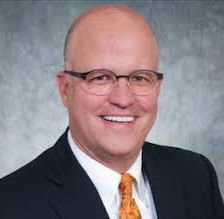 Piazza's been a hard man to get hold of this summer; scheduled interviews with RIABiz starting July 12 have lost out to vacations in Sun Valley, Idaho and Lake Tahoe, respectively.
The connection finally made, albeit in an email exchange, Piazza echoes Riley's sentiments that Roberts Stephenson has life in it yet.
"You know that we are going through a smooth transition," writes Piazza. "After founding the new Robertson in 2013 and getting the business up and running, I think stepping away from the day to day battle makes perfect sense for me. Lots of exciting stuff happening at the firm for sure. But I'm still hanging around."
He adds: "Current management will do an excellent job of taking Robbie to the next level. I hired Ren in 2015 to eventually become the CEO. "
Piazza can be excused for optimism based on how well things went the first time he founded the wealth management division.
The original Robertson Stephens, launched in 1998, grew to $40 billion of assets overseen by 2002. But four years later, FleetBoston Financial liquidated the firm in the wake of the dotcom bubble. Piazza has suggested that the wealth management unit was the baby tossed out with the virtual bathwater. See: Swatting aside 'doubters,' Joe Piazza uses an improbable hook to nab Wells Fargo private bankers — pent-up Addepar lust.
Custody, tech moves -- and Reese
This time around, Piazza was determined to put wealth management at the core of the business. Still, the startup had wobbles out of the gate. Piazza launched the firm in close alliance with Fortigent LLC and its owner, Fort Mills, S.C.-based LPL Financial, which put up much of the seed capital. See: With big LPL backing, the Robertson Stephens brand revives to roll up advisors to the suddenly wealthy.
Piazza nixed Fortigent within a year in favor of Mercer for manager research and Addepar Inc. for performance reporting. By that time, Piazza had raised three times the money LPL had put in and moved his custody to more mainstream RIA custodians. See: As Joe Piazza's 'Robertson Stephens' venture gears up for '$40 billion,' he adds Mercer, Addepar, Fidelity and Schwab and subtracts Fortigent.
By December 2015, Robertson Stephens appeared to clear a critical threshold with the hire Reese and the $2 billion of assets she reportedly commanded.
Keepin' on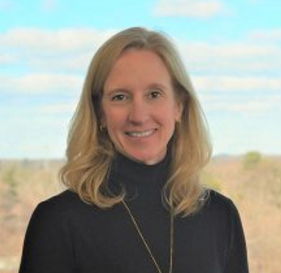 Yet the hire -- in what perhaps what had become a pattern -- turned out to be a logistics-buster. It required Reese to leave her hometown of Albany, N.Y. for the West Coast. While that happens frequently enough with C-suite executives, such moves are fairly unheard of for financial advisors who rely on their local advantage to keep and attract assets.
In 2016, Reese left Robertson Stephens to return to Albany, joining Bender Lane Advisory LLC, with its $169 million of AUM. Reese did not respond to requests for comments.
For his part, Piazza continues to push on and expresses satisfaction with his experience of coming out of retirement to take on a monumental and soulful challenge.
"I am very pleased and proud that I was able to rebirth such a great firm as Robertson Stephens. I am equally proud that so many of the people who worked for me at the original Robbie rejoined me. It was great putting the band back together."
---
---
Jeff Spears
August 24, 2017 — 1:21 PM
Joe was and remains one of the best recruiters in the business. Unfortunately he didn't have as much to sell as he did at the old Robby and Montgomery Securities. Ren and his team will address that and they have a good core team to help.
John Downes
Ren Riley has been disastrous as a CEO. Clients are unhappy, top advisors leaving, down to a skeletal crew in SF. It's a shame because the original Robertson Stephens brand was stellar.
Brian Speno
This firm is imploding. I give them another 6 months.