Trust the market not the metaphor: Today's blotting out of the sun actually signals good times ahead.
Brooke's Note: The solar eclipse was a humbling event. The heavens stole the show away from Earth. Of course, it was an earthling mindset to suddenly notice the majesty of sun and moon. Sunset and sunrise are arguably more magnificent day in and day out. Still, the underlying message that we are not in control was articulated from terra non-firma with fresh adjectives, making us all astologists for a day. Ryan Detrick at LPL was right to imagine that even an RIA could face a niggling doubt or two about what the event augurs for the stock market as the latter ascends into the stratosphere. And in an atmosphere of stratospheres, he gives us facts that we can use or lose and have a little fun with, which seemed central to all of this.
Yesterday's total solar eclipse was to be the first one in 99 years that cast its shadow across the entire continent in what is called a "path of totality."
It will also be the first eclipse since 1776 whose path falls only in the United States, which is why it has been dubbed "The Great American Eclipse."
Looking at statistics from NASA dating back to 1900 shows that it has been 26 years since the last total eclipse was visible in one of the 50 U.S. states, which is more than double the previous longest streak of 11 years.
Not to mention, if you miss this one, you'll have to wait another six years for the next.
But should you ever invest based on the solar system?
Star search
Nevertheless, this rare event has many wondering what stocks have done around previous eclipses, so we did some research―it's what we do.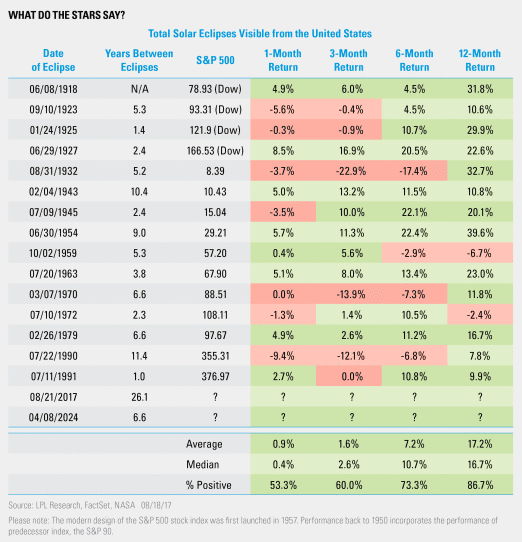 Fortunately, history has shown us that since 1900, any time a total solar eclipse has been seen in the United States, equity prices have gone up 17.2% a year later, according to Ryan Detrick, senior market strategist at Fort Mills, S.C.-based LPL Financial. S
"So it appears our biggest worry isn't what stocks might do, but whether those glasses we bought online are officially approved by NASA!" ee: LPL Financial's tack to roll-up mode -- complete with trash-talking its sweet terms -- may send its rep count sailing past Morgan and Merrill.
Ryan Detrick is senior market strategist for LPL Financial.
---
---
Mentioned in this article:
---
---
---