News, Vision & Voice for the Advisory Community
Hedging his bets, 'the Mooch' took out Priebus and stayed 'on track' to sell his SkyBridge stake to the Chinese at an above-market valuation
August 1, 2017 — 11:41 PM UTC by Lisa Shidler and Brooke Southall
Brooke's Note: Anthony Scaramucci has one talent we can all agree on -- he closes the sale. He closed a series of 'em to get SkyBridge Capital to where it is today. Then he closed a deal that got him hired -- however briefly -- as White House communications director. So all Scaramucci's words and deeds must be viewed through the lens of which deal he has in mind at what time. We can also agree that Scaramucci is not easily embarrassed. So what if he lost his job, his wife, his life (albeit briefly and erroneously thanks to Harvard Law School's alumni directory) and his place on Reince Priebus' Christmas card list? Scaramucci is intact financially and his profile has been raised immeasurably.  Now, he'll probably do what he always does: pick up his 'stab-from-the-front' self, look around and voraciously pursue the next deal -- eliciting attaboys from the people who benefit when he does their bidding. There may be a future for the Mooch in this figuring. But there's one potential X-factor:  the financial advisors who distribute his product to thousands of dentists. See: As dust settles on Scaramucci story, a different picture of DOL rule nemesis takes shape: A ladder-climber who slipped on the top rung.
When Anthony Scaramucci attempted to make the leap from being part-owner of SkyBridge Capital to securing a permanent seat on Air Force One, he was faced with a tough choice -- grab maximum political power or generate maximum Wall Street wealth.  
Instead, the former White House communications director and the passive owner of 44% of the New York-based manager of hedge funds firm chose to shoot the moon and seek a questionable deal with a questionable buyer at a suspicious valuation -- and damn the conflicts that arose even as the deal's limbo status took on a permanent air. (As his
financial disclosure shows
, he was already in possession of great wealth -- even if he received nothing for his SkyBridge shares.)
Though we don't know what delayed the closing -- perhaps fatally concerning Scaramucci's tenure in the White House -- of the sale to buyers that most prominently include Chinese conglomerate HNA, reporting suggests that financial advisors looking out for the interests of investors proved a sticking point.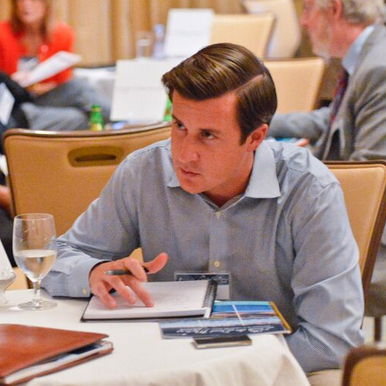 One financial advisor
told Business Insider
that "he would have trouble explaining to clients why he was doing business with a firm like HNA." The article suggests that advisors in wirehouses would as well. That's because HNA is widely reported to have close ties to -- or to actually be an arm of -- Chinese Communists, though it recently 
put itself inside the wrapper of a New York-based charity.
 Bank of America Merrill Lynch told investment bankers to stop working on transactions with HNA for now amid growing concerns regarding the group's debt levels and ownership structure, people familiar with the matter told Bloomberg News last month.
'Every dentist in America'
Still, other sources questioned whether HNA really cared what it was buying -- and what said tooth-pullers and their advisors thought about it. They also questioned whether paying $180 million served both as a means of getting yuan out of China and gaining influence inside the White House. 
The reported $180-million deal price valued SkyBridge at 7.2 times earnings before interest, taxes, depreciation and amortization,
Scaramucci told Bloomberg
 in that same Jan. 27 article. But Bloomberg found unanimity among business appraisers that the EBITDA multiple may be double what a comparable fund of funds manager fetches -- especially because it has been losing assets. The firm had $13.6 billion under management and advisement in July 2015. As of Nov. 30, 2016, the amount had dropped to $12 billion, Bloomberg reports. 
Buyers typically pay three-to-five times EBITDA, Karl D'Cunha, managing director at CBIZ Valuation Group in Chicago told Bloomberg in the context of the SkyBridge deal. Bloomberg added that six other investment bankers, consultants and managers of similar funds agreed SkyBridge was getting an extra sweet deal. See: 
Big Midwestern RIA buys itself a national presence in deal with CBIZ
.
Flying too high

SkyBridge
told Bloomberg
that its deal with HNA is "on track" on August 1 after Scaramucci was canned at the White House.
In the end, of course, President Donald J. Trump tapped Scaramucci to run White House communications with both parties knowing full well that the SkyBridge deal might never close.
The wild extemporizing doesn't surprise Jason Lahita, president and co-founder of FiComm Partners LLC in Los Angeles. 
"The Mooch," says Lahita, referring to Scaramucci by his universal nickname, "is not an actual communications director. The position actually does require skill and experience. The swiftness of his dismissal is somewhat surprising, but if [Ret. Gen. and now chief of staff] John Kelly has been empowered to be a real chief of staff, then it makes sense – perhaps the West Wing is trying to get itself squared away, limiting the chaos and unpredictability only to the president's Twitter account."
Sky's the limit

The fling may have cost Scaramucci some credibility, some allies
and even his wife
. But the Wall Streeter may have closed the one deal that Trump had in mind -- getting rid of Reince Priebus.
Still, despite the scorn heaped upon him, Scaramucci continues to own a tremendous asset in SkyBridge that paid him $5 million in earnings and $5 million in pay just in the first six months of this year. Presumably, he is now in position to complete a sale of his stake, return to the firm or collect earnings as owner of 44% of the concern.
In short, he borrowed some time, lived like he was on borrowed time and made the most of the highly leveraged "deal" of being in the White House.
New Yawk state of mind
Scaramucci can also now choose from an array of political opinions he's expressed over time. Scaramucci has professed favoring Hillary Clinton and even offered up that he voted for Obama in 2012.
But Trump reportedly appreciated receiving ardent praise from his fellow native New Yorker wheeler and dealer.
"
By many accounts, Trump himself loved Scaramucci's style and his profane gunslinger's approach to PR," Lahita says.
---
Mentioned in this article:
FiComm Partners, LLC
Consulting Firm, Specialized Breakaway Service, Marketing & Public Relations
Top Executive: Megan Carpenter, CEO
---
---
Share your thoughts and opinions with the author or other readers.
---