Bill Harris: We are constantly showing what your cash flow is, you have to be good at saving.
Brooke's Note: I admit I was an early doubter of Bill Harris. The idea that a retrofitted call center approach was the future of financial advice seemed so pink collar. But if there was a ever a device that splits the difference between the human and the electronic, it is the faithful telephone. See: The documented RIA threat, 'phono-advisors' and their nearly $300 billion of assets. So that makes sense. Still, I was also a little biased against an entrepreneur already possessed of a sure legacy -- Harris was CEO of Intuit and CEO of PayPal. Will he keep rolling up his sleeves? He's now answered part of that question by promoting a young CEO, Jay Shah, to replace himself. People talk about the race to achieve the vaunted "product fit." But before that can occur, there is the quest to apply a judicious admixture of experience and zeal. Personal Capital borrows heavily from Harris's experience and right now it seems to be paying off as he zeroes in on a product people will want enough to pay a market-rate fee for. It even managed to publish a release today, Aug. 1, of raising an additional $40 million and we added all its data points to this article.
Check out previous installments in our Power Players series: Creative Planning's Peter Mallouk and Financial Engines' Larry Raffone.
Bill Harris has a grand -- and specific -- ambition for Personal Capital Advisors Corp. -- and another $40 million.
"I think we can be the Schwab of this generation," says the 61-year-old chairman of the Redwood, Calif. digital platform, which offers phono-advisors and digital services to an upscale segment of clients. "Schwab is the leading example of a discount broker that 30 years ago revolutionized how investments work. I think we're the next generation. What we're doing today is designing the way investment management and financial advice will work 10 to 15 years from now."
Yet exactly what Personal Capital is doing with its design of its business model that is so different -- never mind better -- than the competition is hard to explain. Harris's organization is neither as automated nor as cheap as a Betterment nor as personalized and sophisticated in many respects as the hundreds or perhaps thousands of classic RIAs that dot the United States.
Of the firms that are making a big dent in rolling out phone-based advice nationally -- including Schwab, Vanguard Group and Fisher Investments -- it is perhaps the slowest growing in absolute terms and certainly has the least brand recognition. See: Why Ken Fisher still plans to work a 60-hour week despite handing off CEO role to 'badass'.
In short, the half-empty prognosis for Personal Capital is that it has a bland brand, a no-man's-land set of services that are neither as automated as robos nor as personal as classic RIAs -- and that the proof lies in how assets at both types of firms are passing it by. Creative Planning has crushed it on the RIA side and virtually all the aforementioned brands have, too. See: Power Player: Peter Mallouk hired 100 advisors in the past year to sop up referrals and fill 12 new brick-and-mortar branches.
'Only bionic player'
Yet those metrics fail to capture the position of power Personal Capital already occupies in the marketplace, according to Steve Lockshin, CEO of AdvicePeriod and a former owner of New York-based Betterment who also founded Convergent Wealth Advisors LLC and Fortigent LLC of Rockville, Md.
"["Bill] is truly the only bionic player out there," Lockshin says. "He has the best iteration of a stack of technology, people and process. He also avoided the hyperbole of low pricing [89 basis points and the cash flow it generates] and that produces opportunity. [His investors] don't expect 400% growth from him every year."
Jeff Carney, president and CEO of IGM, who led the round for IGM/Power Financial and serves on the Personal Capital Board, transalated Lockshin's take into PR-speak. Jeff Carney lands in Ontario where he'll lead a fund giant with 4,500 associated financial advisors.
"We are very excited about the performance of Personal Capital and look forward to its continued growth with this fresh capital," he said in a release that came with the $40 million extra he invested on behalf of his firm this month, after previously have invested $75 million. Personal Capital gets $75 million investment and an ex-Schwab retail chief in Jeff Carney.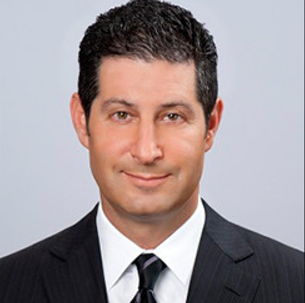 Indeed, when Mark Goines, chief strategy officer of Personal Capital, spoke at the InVest 2017 conference three weeks ago, his one specific disclosure about his company was that Personal Capital's growth will dip below 100% this year. See: Schwab CTO's speech in NYC spotlights an RIA business addicted to innovation – with no fresh fix in sight.
And Lockshin -- who recently helped move his parents' high-net-worth account to Personal Capital from Merrill Lynch -- is not the only RIA business soothsayer willing to publicly bet on the success of Harris and his firm.
Opportunity-rich niche
"I'm very bullish," says Mark Tibergien, CEO of Pershing Advisor Solutions in Jersey City, N.J., who says that Personal Capital is strong right where competition is light among the robos and bionics. (An earlier version of this story failed to state that Pershing is the custodian for Personal Capital.)
"Their organic growth is very impressive with larger-than-average relationships. That niche provides opportunity."
Personal Capital's average account is $380,000, up from $340,000 at the start of the year, in line with the increase in the S&P 500, which has risen more than 10% during that time.
Tibergien adds: "They also are planning-forward versus investment-forward. I also think they are able to construct a client experience which connects with clients rather than commoditizes the relationship."
Lockshin has been impressed with the Personal Capital's service and its ability use software to expose fees of competitors and show consolidated performance across accounts.
"Even his performance has been good," he says.
Another $40 million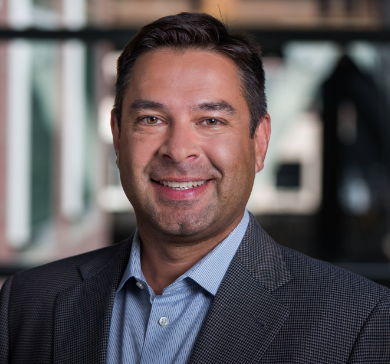 Harris, whose resume includes CEO stints at PayPal and Intuit Inc. and who founded Personal Capital in 2009, has also been able to convince venture capital investors of his vision the tune of $200 million -- the last $40 million just announced on Aug. 1. See: How a Personal Capital exec electrified the NorCal FPA crowd with DOL details, relegating Jeff Gundlach and other stars to a dimmer sparkle.
Jay Shah, who became CEO of Personal Capital in April. "Our rapid growth reaffirms that we are solving a major pain point for consumers by giving them conflict-free advice and full transparency and insight into their financial lives." Shah has been with Personal Capital since 2009 and has held the titles of chief information officer and, most recently, chief operating officer.
The latest round is expected to be spent marketing and scaling its advisory force in Dallas, Atlanta, New York, greater Los Angeles and Chicago, while also physically expanding offices in San Francisco and Denver. The company is also improving Private Client Service, which works with investors with more than $1 million in investable assets, who now comprise about 40 percent of the company's AUM.
But Harris is also fighting for market share from rival firms like Betterment, with more than $9.5 billion of AUM, which announced in January that it would also be offering its own human advisor option. See: Betterment rolls out free baseline human advice to all customers with a smartphone and no RIA and cuts price on premium advice offer. Schwab's robo has about $19 billion of AUM.
Vanguard's marketing edge
Harris admits that branding is a monumental challenge.
"We are an online company that until recently nobody had heard of," Harris said during an interview at Personal Capital's San Francisco offices.
"Even today, with all the success we've had, a majority of affluent families have never heard of us. How in the world do I get people to put millions of dollars with us?" See: How a Personal Capital exec electrified the NorCal FPA crowd with DOL details, relegating Jeff Gundlach and other stars to a dimmer sparkle.
Way out in front on the marketing side of the equation is Vanguard Personal Advisor Services, which also offers human advisors and is approaching $83 billion of AUM after less than two years in its current iteration. VPAS charges 30 basis points. See: Vanguard RIA's growth leaps to $5B of assets per month in 2017 as Schwab's RIA robo jumps to monthly $1.3B.
But Lockshin points out that Malvern, Pa.-based Vanguard only sells its own product, can't manage existing funds, shares, bonds or other products transitioned in, and that its planning offering is fairly rudimentary.
Harris also stresses that what Personal Capital and Vanguard do are vastly different. "We are constantly showing what your cash flow is, you have to be good at savings," he says.
'Personality contest'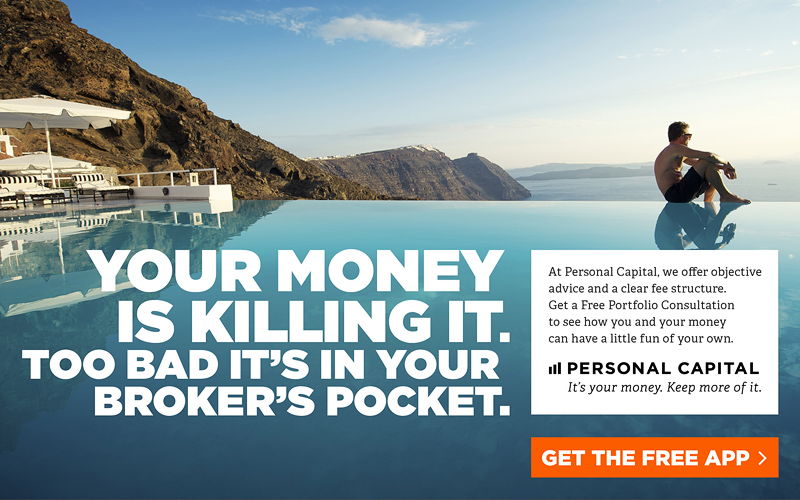 Personal Capital doesn't make money from the majority of its users who use its free standard service to analyze their finances and develop investment plans.
In late 2015, the firm broadened its pool of clients eligible for its fee-paying premium services by lowering the client minimum to $25,000 from $100,000. Harris won't say how many new clients this new strategy brought in, but he does say an average firm client has $300,000 in assets invested with the firm. See: Amid growth slowdown, Personal Capital lists with an investment bank but critics debate if it means 'blood in the water'
Returning to the topic of gaining name recognition, Harris frankly concedes that it's a puzzler.
"How is the unanswered question."
Currently, Personal Capital seems to be using a little bit of everything to publicize itself. Television commercials, internet banner advertisements and ads at bus stops in major cities all beckon potential clients to use the firm's digital technology to manage their financial lives. See: Power Player: Larry Raffone is racing to 'lock up' the 401(k) market by taking its robo head start and combining it with a semi-national RIA.
Harris adds: "Everyone has heard of Merrill Lynch but no one has heard of Personal Capital. That is our single challenge."
Lockshin doesn't see the name recognition factor as a deal breaker. "Nobody knows who the big RIAs are either and nobody's even heard of Betterment," he says. "It's still a personality contest, unfortunately."
Yet, as with other robos, free financial planning and financial aggregation software is an initial hook for Personal Capital customers as transactions stemming from bank, credit card and other accounts are analyzed. See: Schwab CTO's speech in NYC spotlights an RIA business addicted to innovation – with no fresh fix in sight.
"The average American family has 15 different accounts," Harris says, "How can people keep track? They can't."
'Nobody gets it'
A family's financial analysis can be a precursor to using the firm's other financial tools that help develop a portfolio of ETFs to save for retirement. Personal Capital's ultimate aim is to entice eligible customers for its fee-paying premium services. The conversion rate is currently 6%, which Harris says has resulted in more than 10,000 paying customers.
But Harris says Personal Capital is in a different league than its competitors -- so different, he insists, that the firm can't be characterized as a robo-advisor, though its use of algorithms is a key element of its model portfolios for clients. See: How Personal Capital plans to spend its $75 million of green to grow and become better known as the un-robo robo.
"We are not a robo-advisor and I repeat that repeatedly everywhere I go and nobody gets it," he says, "We are different. A classical robo-advisor, you come online, you answer six questions, they will give you one of 10 allocations of ETFs and you are done." See: Why I find the term 'robo-advisor' objectionable and unhelpful.
Harris says 38% of his clients at Personal Capital have at least $1 million invested with the firm and "some people that have $25 million to $30 million with us."
100 stocks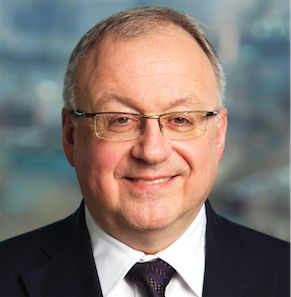 Personal Capital's algorithms develop ETF portfolios for those clients with less than $100,000 to invest.
But for clients investing more than $100,000, Personal Capital has an exception to its ETF-only investment policy. The firm has its own internally managed domestic equity strategy, which uses a smart beta approach in a bid to outperform an equity index portfolio. Harris says stock indexes can be enhanced, but doesn't believe in traditional active equity management. See: The smart beta ETF industry gets blasted at swank Manhattan summit by an unlikely group of critics.
We don't believe in stock-picking," he says, "we don't think it is possible, it is like monkeys typing Shakespeare."
Personal Capital's co-mingled separate equity account consists of about 100 stocks.
"We are not trying to figure out whether Ford or GM will outperform," Harris says. "What we're doing is recreating a diversified index using individual names. We have our own method, which is a combination of equal weighting, equal sector, equal style and equal geography." See: Almost lost in the robo shuffle, Personal Capital, in its 'special category,' is winning as told by an overlooked metric: revenues.
Harris is not above dishing out criticism to his competitors. "Vanguard says they do financial planning but the software they use is quite primitive," he says. He also questions Vanguard's objectivity, saying "the money manager essentially sells its own products." See: Why Vanguard Group has proved impervious to a '$34.6 billion' whistleblower suit and why nobody's suggesting Vanguard execs should breathe easy.
Room to run
If Personal Capital plans to maintain its high fees, it may experience its own growing pains, said James Osborne, president of Bason Asset Management in Lakewood, Colo., in a September 2016 interview with RIABiz.
"I would say that I would not want to be the guy trying to build a huge call center based RIA when Vanguard can do it for 30 basis points and has a tremendous existing customer base to pull from." See: James Osborne makes a waiting list part of his new RIA's business model after 18 months -- with client care and mountain biking in mind.
Bason Asset Management has about $160,000 in assets under management, according to its ADV updated in April.
Harris is studying other ways in which the firm can distinguish itself from competitors. One possibility under consideration is adding private equity investments to the company's investment lineup, although Harris declined to offer details at this time. See: Stone Point and KKR buy Focus Financial for $2 billion by employing massive leverage.
The good news is that a very tiny amount of market share goes a long way in a market with $34 trillion in assets.
"The biggest money managers, Fidelity, Vanguard, you name it, have single-digit market share," he says. "There is huge room for all of us to run simultaneously for any of us that uses technology." See: BlackRock solicits more regulator scrutiny of robo-advisors, eliciting jeers and a cheer.
---
---
Mentioned in this article:
---
---
---
Stephen Winks
the advice element of Robos are still quite primitive and inexpensive TAMP algorithms. The higher service business model of VanGuard and Personal Capital are focusing of creating personal experience beyond an impersonal TAMP technology. Vanguard and PC would be well served by putting "financial services" (asset/liability study, investment policy, portfolio construction, performance monitor, etc.) back into the financial services business. This preempts conventional brokerage which is opposed to fiduciary duty supporting a high service business model because it triggers fiduciary liability. The inability of brokerage to execute a high service business model for fear of fiduciary liability is the key to personalized advice of the Personal Capital business strategy. SCW
Bill Winterberg
August 2, 2017 — 12:53 PM
Personal Capital selected Pershing Advisor Solutions as the custodian for customer accounts. As of August 2, 2017, I did not see a conflicts statement or disclaimer in your article about this relationship, given the article includes quotes from Mark Tibergien, CEO of Pershing Advisor Solutions, specifically because he is quoted as saying, "I'm very bullish," with respect to Personal Capital. <a href="https://support.personalcapital.com/hc/en-us/articles/201169490-Who-holds-my-money-" rel="nofollow">https://support.personalcapital.com/hc/en-us/articles/201169490-Who-holds-my-money-</a>
brooke southall
Bill, Yep, good point. My oversight. Will do.