Ron Rhoades: Mr. Scaramucci likely saw the Department of Labor regulation as a threat to his firm.
Brooke's Note: I awoke this morning to the news that Andrew Scaramucci, first introduced in these pages as a surprise no-show at last December's MarketCounsel Summit; the fellow who equated the DOL rule to the infamous Dred Scott decision; and who was then publicly passed over for a top spot in Trump's administration had finally gotten that longed-for phone call from The Donald. With events taking such a surreal turn, I knew I needed the anchor of Ron Rhoades' relentlessly analytical and perspicacious mind for all things fiduciary. See: One-Man Think Tank: SEC courage likely to be tested in coming months. What he does is acknowledge the free market argument Scaramucci makes in defending Wall Street -- then he knocks it down in terms that an arch free-marketeer can understand -- namely better market functioning. Here are some of his thoughts.
At the time Anthony Scaramucci uttered that infamous analogy about Dred Scott and stock brokers, he was the founder and managing director of a firm that ran a type of "fund of hedge funds" strategy. See: Anthony Scaramucci, who equated DOL rule with Dred Scott SCOTUS decision -- gets Trump nod -- a hire that Sean Spicer rejects but which Knut Rostad partially respects.
And, at the time (and continuing to today), SkyBridge Capital and hedge funds in general are under siege, as high-cost investment products that failed in many instances to add value to investors. See: Trump's DOL-rule hit man, Anthony Scaramucci, gets hoisted, reportedly, for financial conflict of interest.
As consumers increasingly turned to financial advisors who were bound by the fiduciary standard of conduct, hedge funds seldom would be recommended by those who undertook extensive due diligence. See: A hedgie defends hedge funds -- and their disparaged managers -- amid a tough PR run for the category
This is especially true under the Department of Labor's rules, with their impartial conduct standards, which incorporate the prudent investor rule. And the prudent investor rule requires that fiduciaries not waste their clients' assets (among other requirements).
Simply put, recommending high-fee hedge fund managers that often fail to add value could easily be seen as a breach of an advisor's fiduciary duties.
So, Mr. Scaramucci likely saw the Department of Labor regulation as a threat to his firm.
Caveat empty
And yet, as is true with much of the Trump Administration anti-regulation agenda, he also appears to embrace the concept that regulation of conduct in financial services is not necessary. Despite the financial crisis of 2007-2009. Despite the large number of scandals over the past 15 years affecting Wall Street firms and asset managers. Despite the huge evidence of harm to the retirement security of hundreds of millions of Americans from high commissions, 12b-1 fees that don't provide any value to fund shareholders, and transaction and other product costs often hidden from investors.
Let us acknowledge that there will always be a tension in our society between two widely varying viewpoints. Under one viewpoint, apparently embraced by those in the Trump Administration, citizens should be responsible for themselves. They don't need any "consumer protections" (other than general common law notions that actual fraud and deceit should be prohibited, and that good faith performance of contractual obligations should be required). Instead, persons should become educated about the activities they engage in.
Under the opposing viewpoint, at times in our society individuals possess a severe disadvantage in the conduct of their affairs, and hence consumer protections are needed.
Such protections take many forms, such as mandated disclosures, outright prohibition of certain products or services, licensure requirements to ensure providers of products and services meet certain minimum requirements (and/or that they are registered so that examinations of some form can occur of their work), or that the provider of advice is required to act as a fiduciary (rather than a product salesperson).
The law has never imposed fiduciary obligations lightly. The imposition of a principles-based standard, requiring the highest standard be observed, is a significant undertaking. But it need not be complex, for the fiduciary standard is a principles-based standard. All one really needs to say is: "This activity will be governed by the fiduciary standard." That's it. See: See: As dust settles on Scaramucci story, a different picture of DOL rule nemesis takes shape: A ladder-climber who slipped on the top rung.
Manufacturer's rep reprimand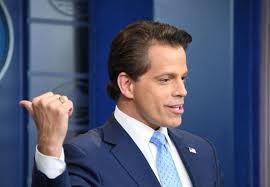 And, with the imposition of the fiduciary standard, the relationship between the advisor and the client is then transformed. The "financial advisor" or "financial consultant" or "wealth manager" then no longer is a representative of the product manufacturer, and no longer acts as a distributor. Instead, the financial advisor becomes a trusted, expert adviser to the client, representing the client and only the client, and keeping the client's best interests paramount at all times.
What's wrong with such a change in the role of the advisor? Study after study indicates that individual investors want advisers they can trust. And individual advisers want to be trusted. Throughout the fiduciary battles over the past decade, the marketplace has been slowly evolving in the direction of greater fiduciary advice, and less product sales.
But Anthony Scaramucci apparently sees no need for the fiduciary standard in financial services. I doubt if he has met with the typical investment consumer today. To say that Americans don't need the protection of the fiduciary standard, and that instead they are able to fend for themselves, belies all of the evidence.
The fact of the matter is that the financial markets, and financial advice in general, are far more complicated and complex than they were 50 or 60 years ago. And new types of products appear very frequently, and new specific products appear nearly daily.
Consumers are ill-equipped from the standpoint of knowledge (and often from the standpoint of their own aptitude) and time (the available time they possess to study these issues, rather than spend that time on other parts of their lives) to master the subject matter and to be able to protect themselves. Even when time is available, consumers don't desire to expend their time (and other resources) on monitoring; this is an agency cost they desire to avoid.
Mr. Scaramucci's views also appear contrary to significant public policy considerations that also come into play. Public policy considerations that, if the Republicans were to consider them, might lead them to embrace the fiduciary standard as good for business, and great for the U.S. economy.
We must first understand the necessity of specialization, and how this gives rise to fiduciary obligations. As Professor Tamar Frankel, long the leading scholar in the area of fiduciary law as applied to securities regulation, once noted: "[A] prosperous economy develops specialization. Specialization requires interdependence."
Reducing cost of trust
And interdependence cannot exist without a measure of trusting. In an entirely non-trusting relationship interaction would be too expensive and too risky to maintain. Studies have shown a correlation between the level of trusting relationships on which members of a society operate and the level of that society's trade and economic prosperity." Fiduciary duties are imposed by law when public policy encourages specialization in particular services, such as investment management or law, in recognition of the value such services provide to our society.
Investment advisory services encourage participation by investors in our capital markets system, which in turn promotes economic growth. The first and overriding responsibility any financial professional has is to all of the participants of the market. This primary obligation is required in order to maintain the perception and reality that the market is a fair game and thus encourage the widest possible participation in the capital allocation process.
Bona fide fiduciary duties, applied uniformly, will result in greater demand for the services of financial/investment advisers. But it needs to be a true, bona fide fiduciary standard. The SEC has not acted under the authority it was granted 7 years ago to impose fiduciary standards upon brokers, and indications are that if it does act, it won't be with a true fiduciary standard.
The SEC fails to recognize that its mission, which includes fostering capital formation, would be greatly aided by the restoration of trust in financial services. And capital formation would be fostered; significant economic research demonstrates the connection between trust in the financial services within a country, and the quantity of capital formation in that country.
Fiduciary duties result in greater returns to individual investors (many studies have shown this, and in fact we have seen this in the marketplace over the last two years - not primarily due to less financial advisor compensation, but due to less product-related costs). I have observed many, many firms over the years, and it is my own experience that fiduciary firms, in which third-party compensation is not permitted, result in significantly less total fees and costs to clients.
High trust, low fees equal high returns
The compensation to the adviser remains significant, but product fees are reduced, as no economic incentive exists to push a higher-cost product. And the academic research is compelling - all other things being equal, lower total fees and costs result in higher returns for investors.
In essence, the application of the fiduciary standard results in lesser intermediation costs, which in turn results in greater accumulation of nest eggs for retirement needs, which in turn reduces the need for future government assistance for retirees. Of course, fostering "getting people off of government assistance" is a significant theme expressed by nearly everyone in government.
In addition, greater accumulations of capital, over time and with the benefit of compounding, will result in a substantial lowering of the cost of capital for American businesses. It provides the fuel to take the great research coming out of our universities and corporate research departments and transform innovations into new products and - at times - entirely new industries. This increased economic growth would likely assist us in tackling the persistent U.S. government deficit, and to keep government debt at lower levels relative to GDP.
So, I would suggest to Anthony Scaramucci this, with respect to the fiduciary standard. Look at the bigger picture. Look at the ability of the fiduciary standard to enhance trust, grow retirement nest eggs, reduce the need in the future for entitlement spending, foster the formation and accumulation of capital, and grow the U.S. Economy. The fiduciary standard should be embraced by Anthony Scaramucci, and by all Republicans, for it is a simple solution that can greatly assist in the restoration of the United States to economic greatness.
Thank you,
Dr. Rhoades
Ron A. Rhoades, JD, CFP®
'Da Bear
Program Director, Financial Planning Program
Asst. Professor – Finance
Gordon Ford College of Business
---
---
Jeff Spears
Loyalty to the client should ALWAYS Trump (pun intended) loyalty to an institution Great article - Thank You - Hope Anthony reads it