Scott MacKillop: Much of successfully completing these long hikes is mental rather than about pure physical strength.
Brooke's Note: In a merciful act of inclusion I often get sent the early emails in the planning stages of these Skip and Chip excursions. This year I saw "Hawaii" in the email headers and thought that even these guys couldn't turn Hawaii into a death march. But after reflection on the personalities involved I made clear I couldn't make it and I got dropped from the correspondences. Now as the post-event write-up arrives, it reminds me why I bowed out. I'm basically a lazy person and there is nothing but to-the-limit exertion in these adventures -- and that's before the hike even begins. I like seeing this kind of RIA business solidarity across brands and state lines and I like my armchair. I'll stick to my job of helping to edit the write-up.
Knots of our hiking party staggered into the parking lot, most wearing the weary but triumphant smiles that come with completing a great challenge.
But not everyone was there. We waited. And waited. Triumph turned to concern.
Refilling our water bottles, we headed back to search and found our distressed comrade being tended to by two hikers who had found him prone and unconscious on the trail. He was coming to as we arrived, aided by one of the hikers -- an EMT in his day job. He gave our friend a brief checkup and pronounced him alive.
Getting a salt tablet into our afflicted friend to help him retain water, we got him on his feet. With our help, with effort and with stops every 200 yards or so for rest and water, he made it back to the trailhead.
Although none of us wished this rough ending on our comrade, the extra dose of drama added to the sense of satisfaction in having tackled a hike with myriad dangers, ultimately returning us all safe and fully tested.
But that's getting ahead of a story that includes wild boars, perilously narrow cliff-edge trails, getting lost in pitch-black darkness and with little chance of rescue in the event of mishap.
Six a charm
Six years ago, Tiburon Strategic Advisors' Chip Roame and I turned a bucket-list hike up and down Mount Whitney into a group outing comprising 13 of the investment services industry's hardiest souls. Following our successful 22-mile, 6,200 vertical-foot "hike" we all agreed it was so much fun we should do something like this every year.
Thus was Chip & Skip's Excellent Adventure series launched. It's been a chance to accomplish individual feats that really need a team. Better yet, it's been a chance to connect the business and personal sides of the financial advice business so that the lines are effectively blurred.
Since starting we've done the rim-to-river-to-rim traverse of the Grand Canyon (16 miles, 5,000 vertical feet); summited the iconic Half Dome in Yosemite National Park (15 miles, 5,000 vertical feet); traversed the Four Pass Loop in Colorado (28 miles, 8,000 vertical feet), and climbed the snows of Mount Shasta (14 miles, 7,000 vertical feet).
Oh, and we like the challenge of doing each of these adventures in a single day, which requires tight planning. Chip and I brainstorm ideas for the next year's trip, then start the process of researching the challenges, requirements, permits, needed equipment and supplies, guide services (if necessary), etc.
We send many communications to our across-America group of committed adventurers on what to expect, our itinerary, lodging and other particulars.
No turning back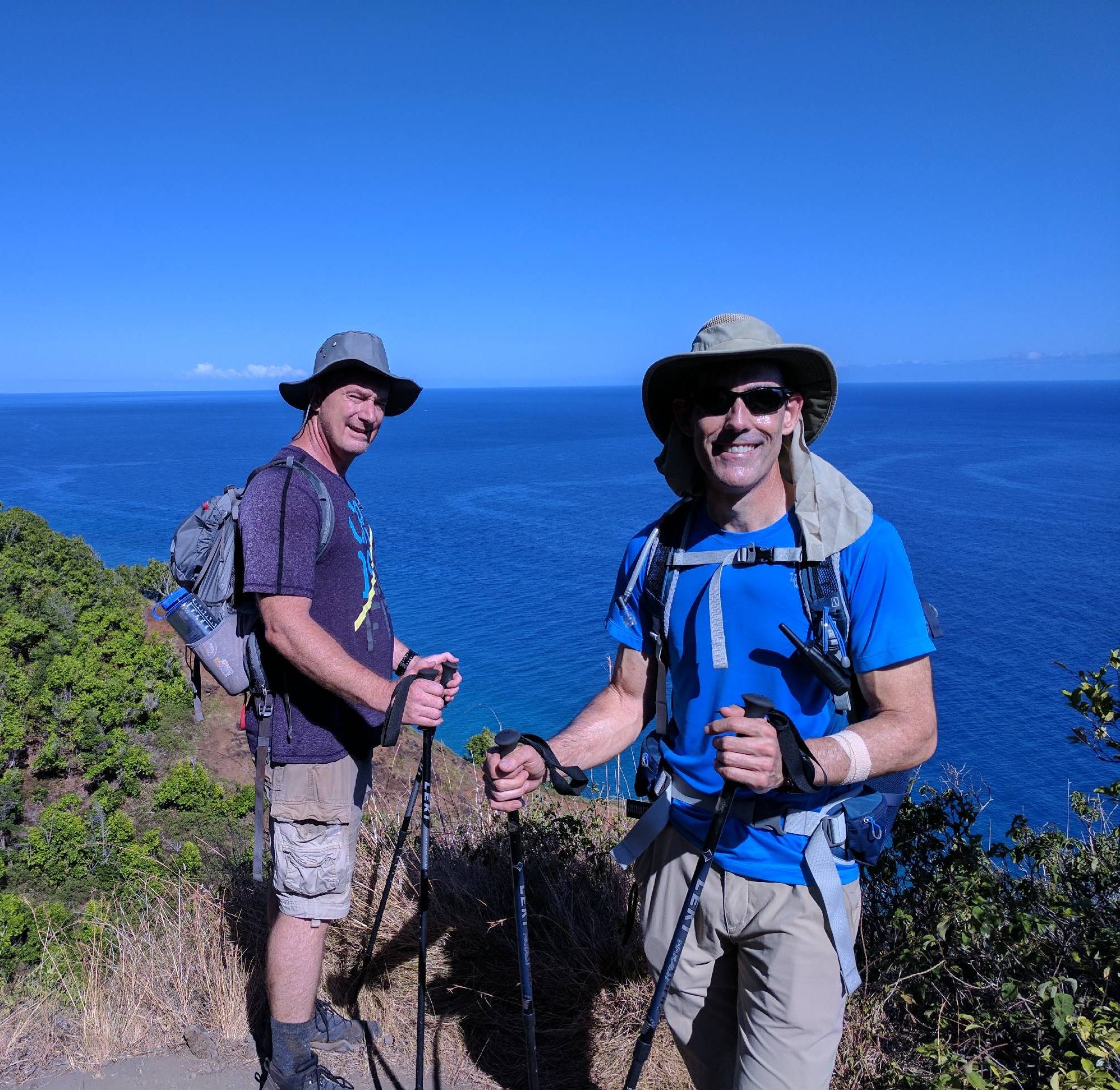 The danger in Hawaii was not of the obvious variety like the thin air, snow and cold temperatures of Colorado, for instance.
The danger, I think, arises from the remoteness of it. Once, you start down that trail, and especially once you get to the beach 11 miles out, you've got to get yourself out of there regardless of your condition. Although we did see three very small landing pads for helicopters along the trail, it is a hot and hilly 2,500 vertical feet of climbing each way.
Years ago we developed our three core values that guide these adventures. And they are listed in order of importance:
Return home alive
Have fun
Attain your personal objective
Through the years, we've learned the importance of these values and how they affect our strategy.
But the more important lesson is that, as someone once said, and we have learned through hard experience, culture eats strategy for breakfast. In other words: everyone has a plan until they encounter the elements: the mountain, the weather, wildlife, trail conditions, your own mental and physical limitations.
Incredible but dangerous
This year's trip took us halfway across the Pacific to Kauai to essay what a Huffpost article called "hands down the most incredible hike in America."
"The Kalalau Trail on the Hawaiian island of Kauai weaves through one of the world's most famous natural wonders, the Na Pali coast with 180-degrees of the electric blue Pacific, majestic ridges and unspoiled beaches, every inch of this tropical trail boasts epic views."
Backpacker Magazine calls it one of the 10 most dangerous hikes in America.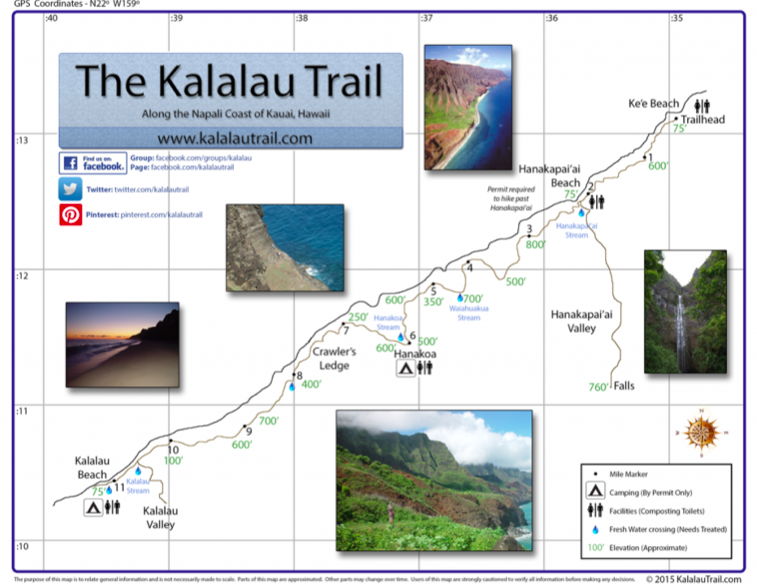 When we all arrived onsite in early July -- 20 hikers, most with guests in tow -- we had, as is our tradition, a night-before dinner in which we laid out the next day's plan, risk management considerations, communication plan and many other variables necessary to execute our strategy and attain our objectives.
We would be starting out very early, well before dawn, in order to complete the hike before dark.
Two of our hikers, late additions to the roster, did not have the required headlamps to hike in the dark. No problem, as a couple others had brought spares. Teamwork.
Lost in the dark
At 3 a.m. we reassembled and drove up the road to the trailhead. Headlamps switched on, we gathered in the dark for final communications, then headed up the trail.
We easily made it the first two miles up the trail to the first stream crossing...
… then promptly got lost in the dark.
As some of us stumbled along a rocky shoreline, then into a cliff wall, one team member made the extra effort to hike up a side trail and found our route.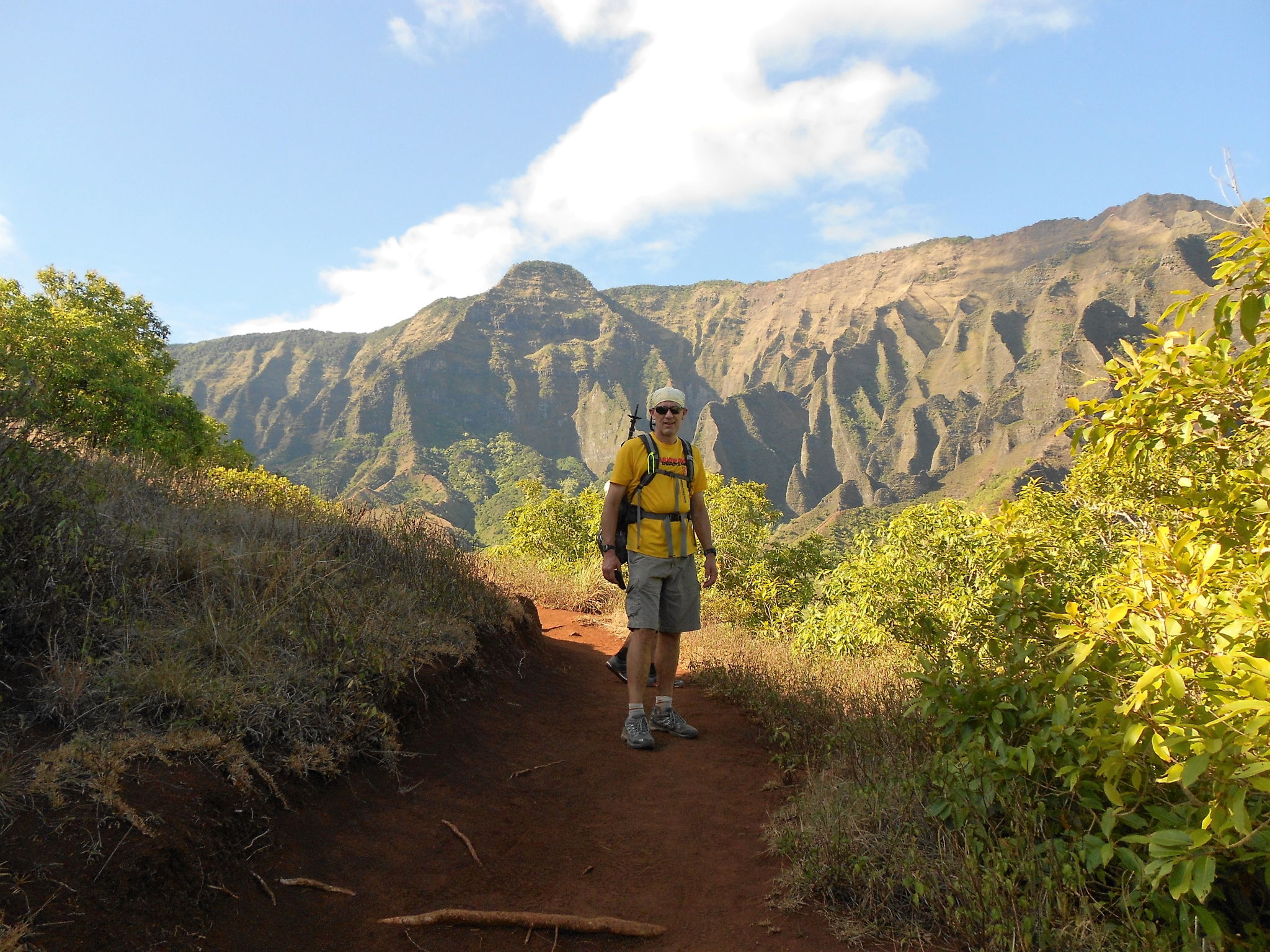 After that, traveling at different speeds, the large group started breaking up into smaller units. Five raced ahead, led by the strong Rusty Vanneman and finished the 11-mile trek to the gorgeous, remote, and largely vacant Kalalau Beach.
Wild boar crossing
But not without incident.
Just after dawn, they encountered a large wild boar on the jungle trail. A bit nerve-wracking, but fortunately neither party wanted much to do with each other.
The group spent an hour soaking up the sun, sand and surf, and resting in preparation for the second half of the day's work.
As they departed, the second group arrived. They, too, enjoyed an hour at the beach and bathed under a waterfall shower before heading back up the trail.
Scorching sands and parched throats
By now the sun was higher in the sky, making the climb away from the beach scorching hot. Much more water was consumed on the return. With miles between streams where we could refill and purify our water stocks, some of us ran dry. As always on this adventure, those with abundance shared with those who were short. Water is critical on a hot, strenuous hike and everyone made sure the entire team was as hydrated as possible.
The last miles of a big hike like this feel like forever. Blistered feet carry sore muscles. The body demands more food and water as thousands of calories are burned. And the strain can take a heavy physical, mental, and emotional toll.
At the end point, as it became clear we were missing members of the party, we decided to take action. After the successful rescue mission and as the last hiker walked off the trail, the sun set into the Pacific Ocean off Ke'e Beach.
Rookie of the year and senior stud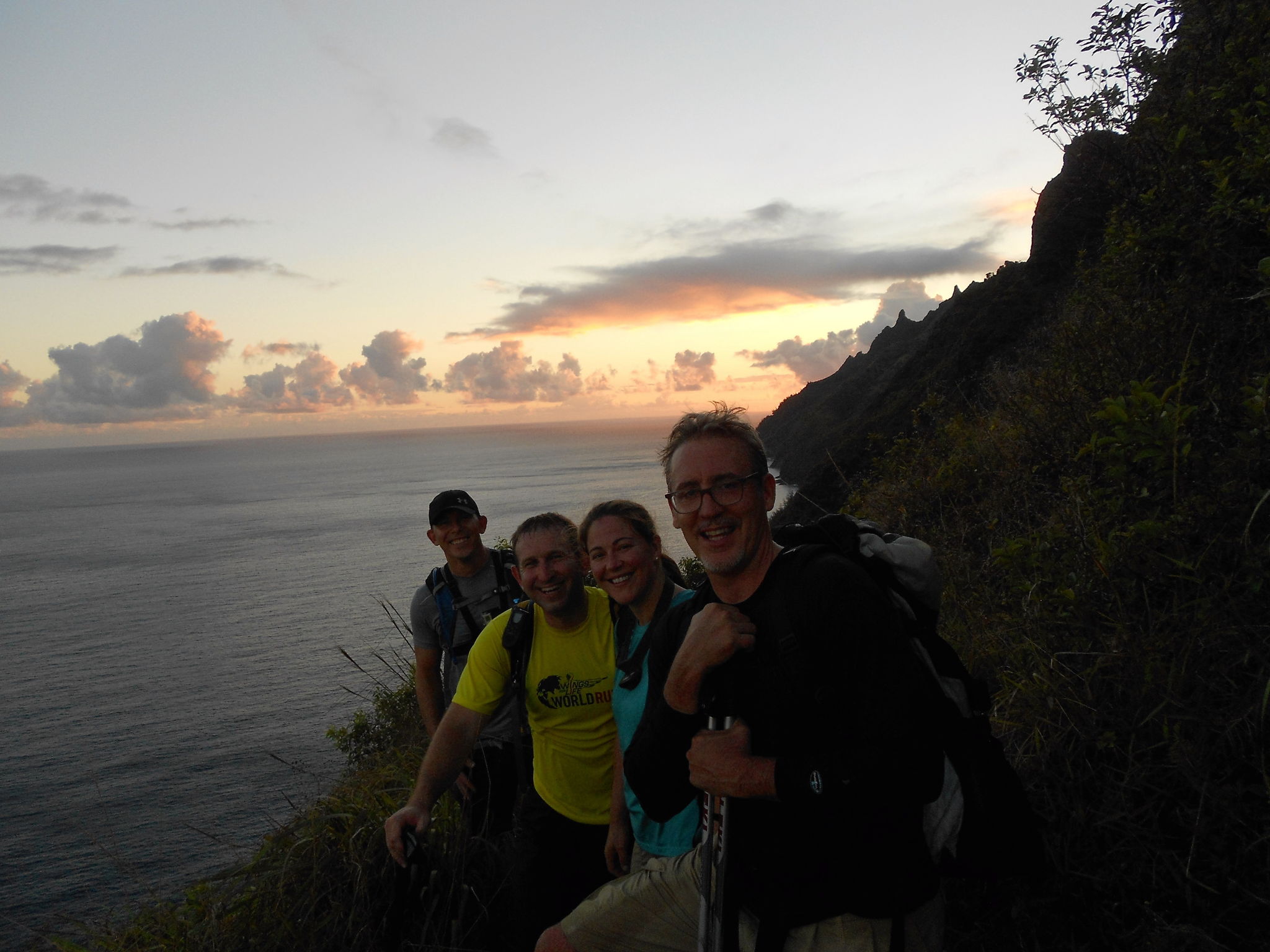 We always have a celebration dinner (after hitting the showers) following our adventure. This time, since our lodging had BBQ grills, we asked everyone to bring their own food and beverage. Of course, everyone brought more than enough.
One of our traditions at those dinners is to announce "award winners" from the day's adventure with categories like Rookie of the Year (strongest first-timer); Iron Man/Woman (strongest person on the trail); Senior Stud (strongest/oldest adventurer); and others that we come up with on the fly.
But the most important award is the Spirit of the Adventure award, which goes to the team member who is best prepared to perform strongly throughout the day and who gives of him/herself to ensure the safety and success of others, particularly those who may find trouble on these strenuous outings. Alex Potts and Eric Clarke are both multiple-year Spirit award winners, a testament to their characters.
This year's Spirit Award went to Rusty Vanneman and Chris Riggio, two of the strongest on the trail who also gave of themselves to support a team member in need.
That evening we ate, drank and shared and trail stories deep into the night before exhausted hikers retired to a fitful sleep.
Belly-up kayak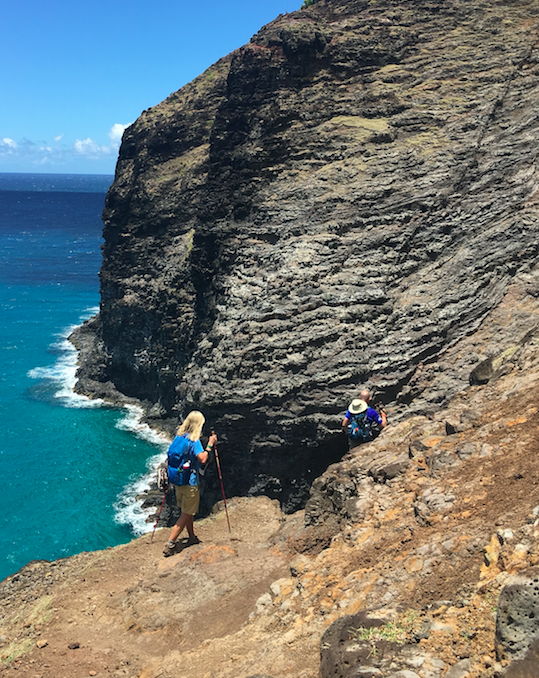 But our adventure was far from over.
After a rest day, seven of our adventurers jumped into kayaks and traversed 17 miles along the spectacular Napali Coast, paddling parallel to the hiking trail we had traipsed two days earlier.
Seals, sea turtles, and spinner dolphins entertained us, but the Portuguese man o' war that attached itself to one of our paddles was not very entertaining! We did put to good use our guides' lessons on how to get back into a kayak that has dumped its passengers in the ocean! See: RIAs should ask not for whom the DOL-rule sharks swarm ... they swarm for you, too.
Though I grew up in the outdoors, not so many years ago I would have told you that doing a 20-mile hike in a day was almost impossible, and certainly not advisable.
Scott MacKillop provides this perspective: "One thing I've learned on these Excellent Adventures is that much of successfully completing these long hikes is mental rather than about pure physical strength. See: The time is now for the investment industry to shed its shameless culture or pay a steep price
Well said.
Nice to the BICE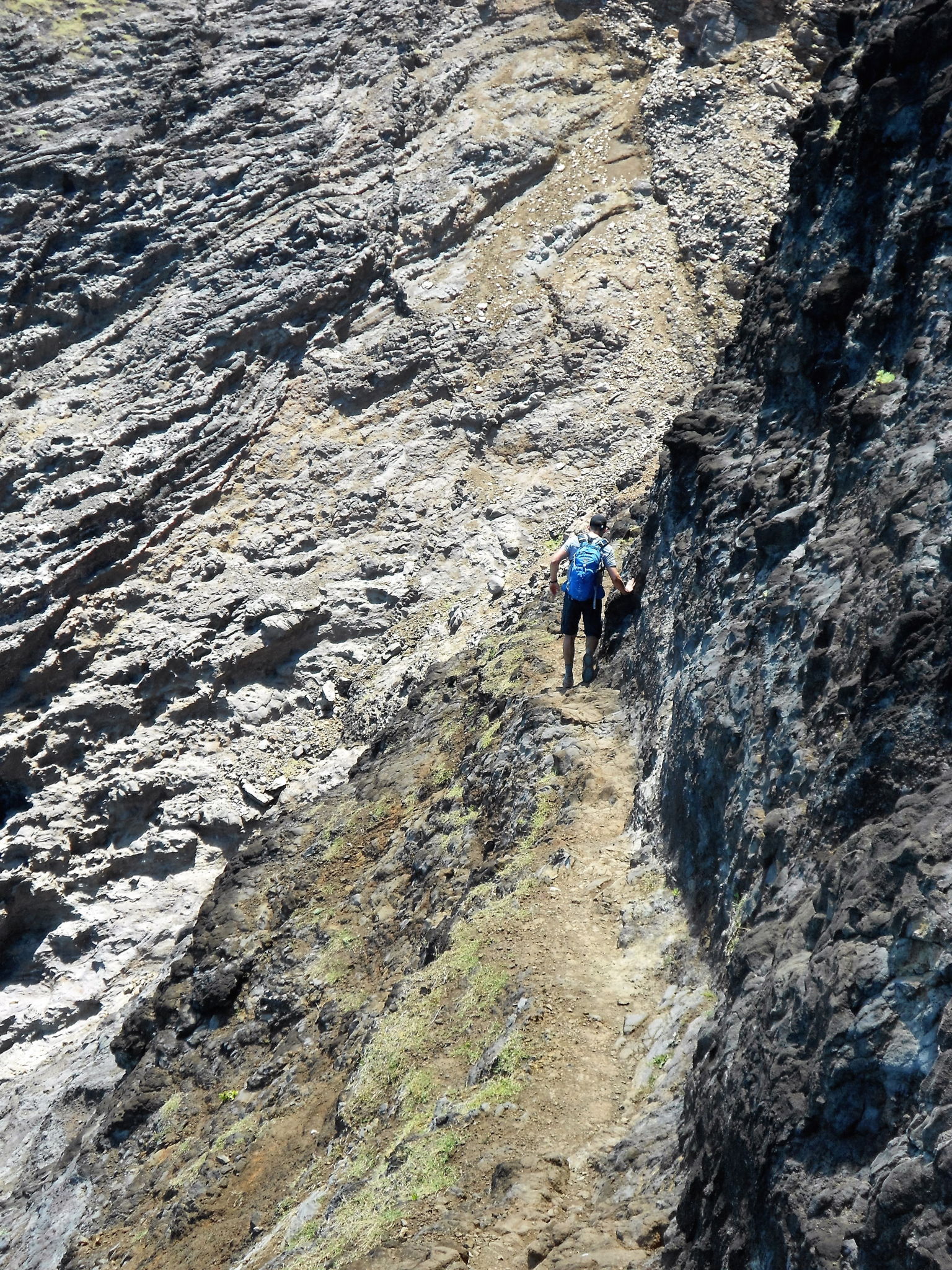 Eric Clarke didn't know what kind of terrain to expect the Kalalau Trail.
"With the amount of steep up and downs, I had a hard time mentally preparing myself for exactly what I was facing in the coming mile," he said. "I was able to control my stability along the way (water, food, electrolytes, and a good set of hiking poles) and knew that I was surrounded on both sides of the trail by fellow hikers that I trusted and we were invested in each other's 'best interest.'"
On to Anchorage!
Setting stretch goals, establishing core values and having a strategy to achieve the goals is critical. But once you head down that trail, things will happen that you hadn't expected, and the journey to a tough goal is hard. It's made all the difference to have the right members on the team, and having a culture of shared sacrifice.
Along the way, we've accomplished much together, and had an absolute blast doing it. And we've established and strengthened amazing friendships with amazing people. That's what success feels like.
Another of our celebration dinner traditions is to announce next year's trip. Excellent Adventure 7 will be headquartered in Anchorage, Alaska, and will feature a mountain bike outing, a sea kayak adventure, and the trip's keystone: the 23-mile Crow Pass hike.
Join us next August!
Hikers included: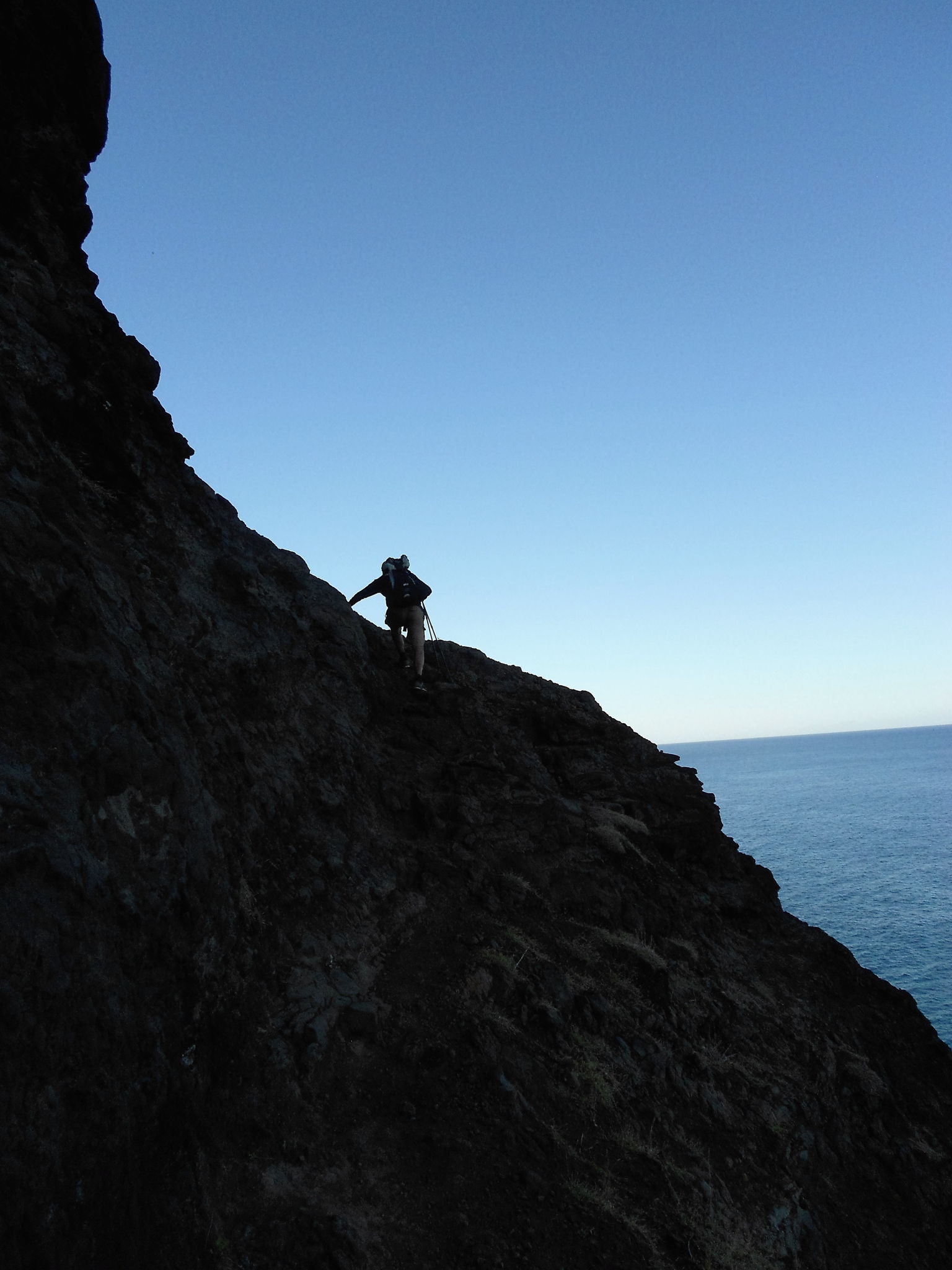 Tiburon Strategic Advisors' Chip Roame and son Blake
First Ascent Asset Management's Scott MacKillop and his wife Teresa
Raymond James' Bill Van Law and his wife Cynthia
TD Ameritrade's Skip Schweiss
Northstar's Brad Burgess
Northstar's Rusty Vanneman
Northstar/Orion Advisor Services's Eric Clarke and his wife Jill
Pure Financial's Alan Clopine and his son Ryan
BrightScope Inc.'s Chris Riggio
Pension Resource Institute's Jason Roberts and his friend Laurie Kahn
Loring Ward's Alex Potts and friend John
Davidson Capital's Dan Tobias and his wife Jillian
Chip & Skip's Excellent Adventures: A retrospective
2012: How RIA industry execs took on the ultimate teamwork challenge: Conquering the highest summit in the lower 48
2013: RIA leaders venture to Grand Canyon to get beneath Earth's surface -- and their own
2014: How a band of advisor-execs scaled 5,000 sunless feet to the summit of the Half Dome -- and the lessons the exploit yields for growing RIAs
2015: What I learned about our industry's toughness, endurance and character across four peaks, 28 miles and 7,500 vertical feet in Aspen
2016: After guides say no to RIA adventurers' proposal to scale Mount Shasta, ankles snapped, teams faded and only a few saw the summit
---
---
Mentioned in this article:
---
---
---
Shane Rose
Skip, it's great to see you've continued your traditions. It wasn't that long ago, OK, it was actually, that you wrestled many of us "rookies" up a colorado 14er, teaching us all about coming prepared, sharing in abundance, and making it home alive. Great story sir.
Javier DooMe
Good to see Skip out there in the wild!