Mike Sha (center): We're not gonna disrupt a crusty industry. Discretion is the better part of valor for start-up people.
Brooke's Note: Conferences have many things going for them but not creativity and inspiration. The In|Vest conferences offered a chance to break out of the box by featuring thinkers and doers of innovation ahead of the asset monarchs and market- share mavens. The 2015 version hit the mark. The 2016 version slipped toward corporate. In|Vest 2017 seems to signal the end of entrepreneurial energy. Don't jump to the conclusion that we are knocking the conference organizers or the execs at legacy firms, although they are the visible evidence of a shift to numbing maturity. Why FutureAdvisor orphaned its B2C book of business, how post-Invesco Jemstep is doing and other learnings at CFA Society's robo-panel in San FranciscoYou can't very well have a great ideas-based event when the idea factory isn't producing. Still, I humbly suggest the organizers solicit participation from companies who are just coming to our attention -- and there are actually quite a few of them. Either they are addressing consumers directly like Stash -- see: As the 'finance Snapchat,' Stash rakes in another $40 million of VC funding as it onboards at rate of 1,000 new 'HENRY' investors every business day -- or they are addressing new channels in the B-to-B market, like InvestCloud. See: InvestCloud, a start-from-scratch Envestnet emulator and Jamie Dimon darling, gets cozier with Apex to better reach RIAs. Still, we are, in the RIA realm, sitting around waiting for AI -- artificial intelligence -- to catch up to its hype. What's concerning is not only this giant pause in the action but its implications. We have become a little ... robo ... in pushing technology with human intelligence to the point where we expect that computers can do our thinking for us. That sounds like a rising tide that keeps all boats at a sea level of commoditization.
Timothy Heier says that the future of the financial advice business is currently in limbo, perched between its assault on mobile devices and its bid for computers to begin actually doing the kinds of things that only humans can do today -- think.
The chief technology officer of Charles Schwab & Co. traveled to New York from San Francisco to convey that message to an assembly of 750 executives at the mammoth, utilitarian Marriott Marquis in New York's Times Square last week. In|Vest, a SourceMedia event, features the robo-advisors and other firms like Personal Capital and Envestnet whose existences and futures lean heavily toward an automation play.
"We are no longer in mobile-first, we are now in an AI-first era … the tipping point has already happened … mobile is just table stakes," said the engineer, computer scientist and software designer who has no particular background in artificial intelligence. See: InvestCloud, a start-from-scratch Envestnet emulator and Jamie Dimon darling, gets cozier with Apex to better reach RIAs.
Yet, Heier allowed that the point is only beginning to tip.
"We are not seeing real AI yet in the marketplace." See: Andy Rachleff blasts flesh-and-blood advisors -- even planners -- as Wealthfront returns to offense in robo game after losing ground under former QB Adam Nash.
But maybe mobile isn't a panned-out gold stream.
'Digital wrapper'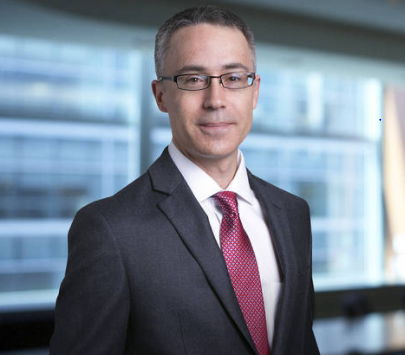 Mobile isn't so five minutes ago for Simon Roy, president and CEO of Jemstep Inc. In a side conversation with RIABiz, he spoke of a new initiative between Jemstep and Advisor Group -- the launch of a platform you can access on your phone through which advisors can open new accounts.
In other words, the lines are beginning to blur between robo-advice and simply an overall automation of advisor technology and there are still frontiers related to mobile use that need be conquered.
"Advisor group is not playing small ball," said Roy. They don't want digital for a piece of their business, they want to digitize their whole business. It's pretty unprecedented."
SIP surge
Though Heier was only reiterating the party line of digital technology, he had his audience at "hello" because he came with the one credential that matters more than cutting edge technology at a fintech event -- assets under management.
The assets of Schwab's robo surged to nearly $16 billion for the first quarter of 2017 ended March 31, putting it on pace to hit $30 billion of AUM by 2018. At the end of the second quarter, Client assets managed by Intelligent Portfolios (Schwab Intelligent Portfolios and Institutional Intelligent Portfolios) totaled $19.4 billion, up 137% year-over-year.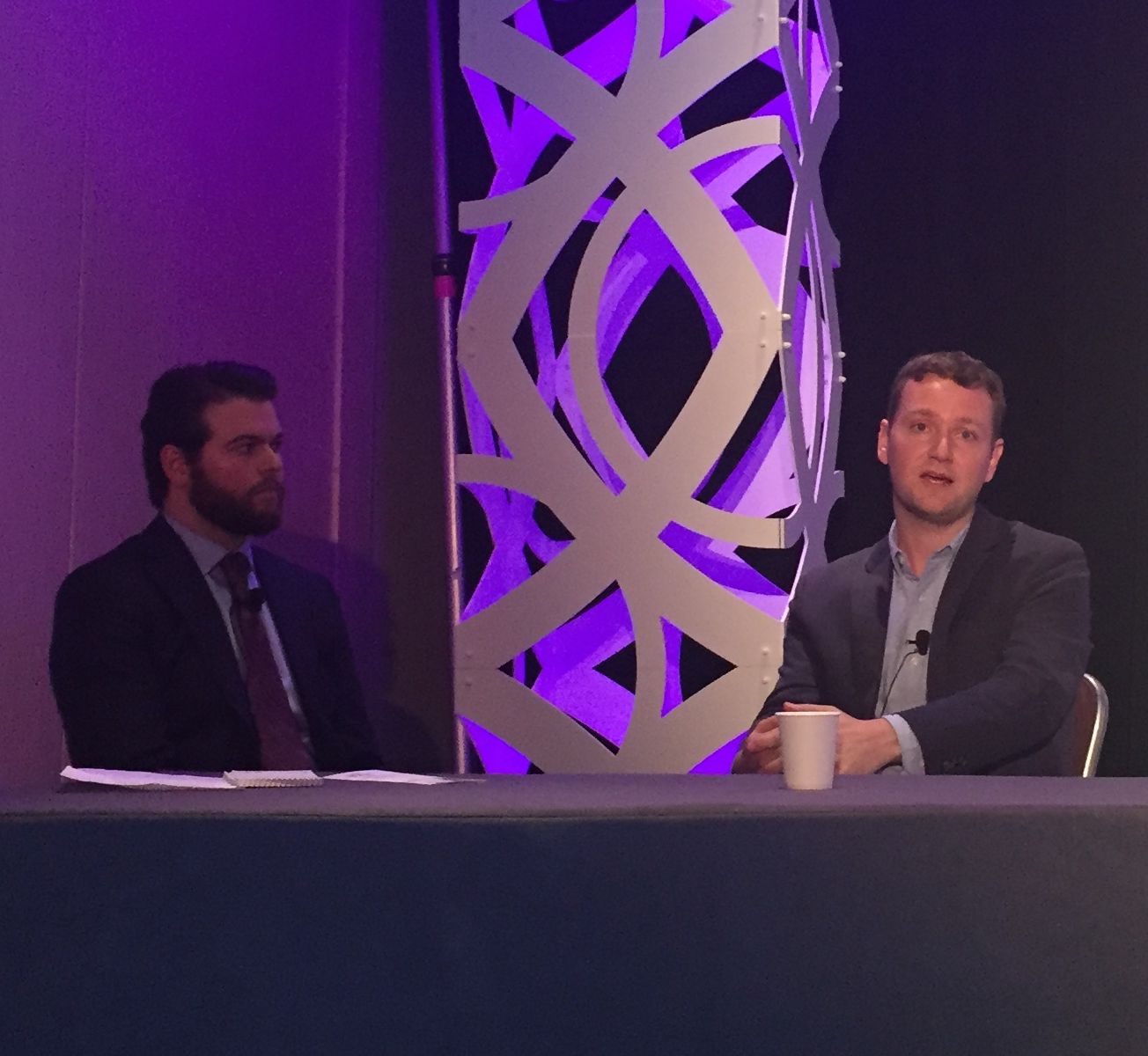 When Envestnet Inc. president Bill Crager spoke he chimed in to say that AI is the future. But many in the audience hoped he'd address his company's stickiest technology issue -- the future of its 2015 $550-million purchase of Yodlee, which represents a big-data play that might position the Chicago-based firm well in the artificial intelligence race. See: Yodlee schools RIA tech startups at The Vault and RIABiz stops by.
Crager's presentation was titled "The Revolution Is Now" but might more aptly have been called "Mainsteam fun facts about technology" as he reminded the audience that 10 years ago there was no iPhone, Uber or Tesla.
"In a few years," he predicted, "the keyboard will go away," leaving Alexa and the Apple HomePod.
SigFig CEO Mike Sha was there to talk about linking arms with Citizens Bank.
"I'm excited about what will happen over the next few years," said Sha, as Peter Fishman, director of digital investing at Citizens, listened. "It's only been 12 to 18 months. The most interesting advancements have happened when people of different backgrounds and disciplines get together. You unlock new ideas and opportunities." See: With Pershing as canvas, Dan Skiles and Peter Mangan paint a picture of a budding RIA custodian.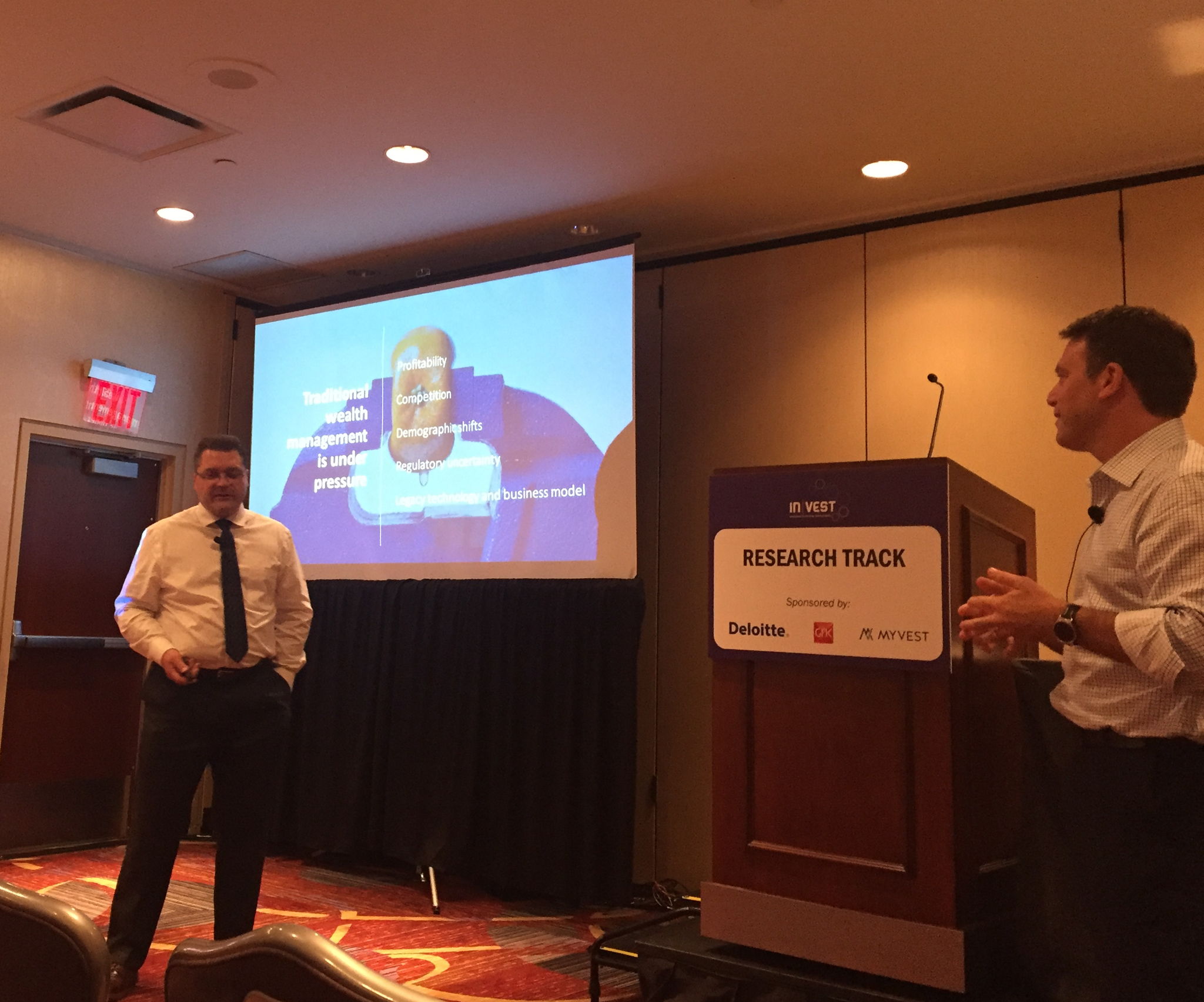 But Sha is a realist about how startups regard these alliances.
Pi crust
"We're not gonna disrupt a crusty industry," he said. "Discretion is the better part of valor for startup people."
Addressing the elephant in the room in a session entitled "Robo-Advice: Revenge of the Incumbents," Alois Pirker, research director for Aite Group's wealth management practice and Anton Honikman, CEO of MyVest (a portfolio management robo founded in 2001), detailed the ways that human intelligence has failed the old guard in financial services.
It might well have been titled: "The large institutions have big problems but at least they have subsumed the startups because original robo-technology is a commodity and -- all things equal -- it comes down to cost of client acquisition."
Large institutions, said Honikman, "are on their back foot, they need to respond. This industry has been ripe for the disruption we have seen in many industries."
Those forms of disruption include profitability, competition, demographic shifts, regulatory uncertainty and a legacy technology and business model that is the ball and chain around the ankles of the Schwabs of the world, he said. On the screen showing the list of the disruptors was a photo of an orange in a vice with the juice being squeezed out of it.
'Tech debt'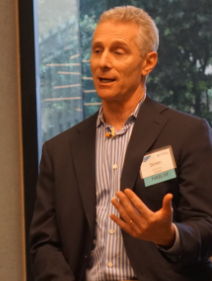 But the old guys have a plethora of advantages on their side, said Pirker, namely their name and brand recognition, resources and strength in employee numbers.
But make no mistake, Pirker said, "there is tech debt in large organizations," and "people" can easily turn into a bureaucracy.
That tech debt has driven the big guys into the arms of upstarts, as seen in the alliances between UBS and SigFig Wealth Management LLC, TIAA and MyVest, BlackRock and FutureAdvisor, and Invesco and Jemstep Inc., he said. See: Why there's more to the UBS-SigFig deal than meets Sergio Ermotti's gimlet eye.
Heier who started at Schwab as director of technology in August 1999 commented that, in general, consumers these days do not want to have to pull information, they want it pushed to them and financial services, he said, "pushes the least."
"There's an opportunity here," Heier said.
Personal Capital wall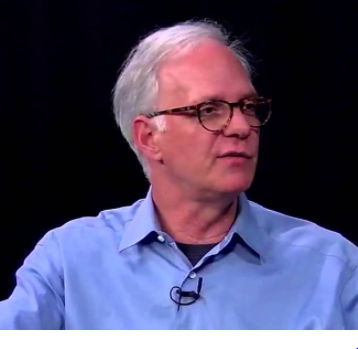 Personal Capital Corp.'s Mark Goines -- he's the Redwood City, Calif. firm's vice chairman for digital wealth management -- made the case for the old guard, saying something to the effect of having suits older than Heier, and making a face when someone asked him about Robinhood, the super-Schwab with its free stock trading. See: As Acorns grapples with monetizing 1.1 million micro-accounts, the laid-back LA robo-advisor brings Wealthfront's former chief exec onto its board.
Goines humblebragged about Personal Capital, calling it a "small company in the space," adding "We have 1.4 million registered users, Mint.com has over 15 million."
That was the humble part. Then came the bragging. "We are unlike any other fintech platform out there. Sixty-five percent of the people who have ever connected an account with our product are still using it," he said, failing to flip the coin over to look at the obverse, which is that 35% of them are not.
Amazon dreams
And then there was Betterment, with CEO Jon Stein who spoke in familiar refrains, such as the the one about the shift to advice for anyone, anytime, anywhere and musing about whether his company would become the Amazon of financial services. It was Amazon Prime day after all.
Stein pointed out that Schwab's percentage of revenue derived from trading has fallen from 45% five years ago to 10% today.
"Trading is the past. ETF's are taking its place in revenue," said Stein. Charles Schwab & Co.'s vertical play to monopolize ETF market -- to be its low-cost maker, distributor and manager -- diesels ahead as ETF OneSource grows again
"In our place advice is the center, that's the future. Not commissions, not online trading."
Heier seemed to speak for all speakers at InVest 2017 when he spoke nostalgically about how basic technology could propel a business to a great leap forward.
He says he looks back to mid 90s e-business era where Schwab could "put website in front of company and they will come."
More recently Schwab put generic automated management of ETFs in front of investors and they came -- and they are still coming, which makes Heier the star of a robo conference a few years after his firm was considered potential robo roadkill.
---
---
Mentioned in this article:
---
---
---
Ken Fisher
"Right on. "Asset monarchs" are so yesterday. And market share? Now? Boring. Stodge-podge. Gotta be the disruptor. Be cool. Artificial intelligence. That's the thing. Beats the heck out of intelligence. Everyone knows that. Intelligence is for such losers. I want to be the guy who hits conferences in hip threads with everyone drooling over my erudite futurism, so cleverly ahead of everyone else that saliva is running everywhere. I love it when people drool and I be cool. If I could just sit in some chair by a silicon valley window somewhere and gaze off into 2032 realities to bring back to enlighten and amaze. And deliver to all, as if I was Meryl Streep on a rant. Wouldn't that be cool! I'd be something. Wait! I got it. Johnny Depp Wealth Advisors. That's the ticket. 'Course I'd need a goatee and a hat. But disrupting. And cool! Right on. Oh, yeah! I forgot. I got a lotta class and all of its low and lotsa of taste and all of its bad. Oh well. I wonder what clients like? Another week down."