Peter Mallouk: If you look at our growth rate, it was just as high before any book came out, so it's just another thing that gets information out there to people.
Brooke's Note: The list of reasons for eschewing a mostly organic growth path in the RIA business is pretty long. Besides being boring, organic growth seems to lack a certain seize-the-day impetus and urgency entrepreneurs feel as Wall Street offers up a slice of time to race in and steal their retail advice business. Then the organic approach is marked by the vast graveyard of advisors who hit $100 million or $200 million with organic growth then never advanced again. But the theoretical reason for organic growth stands. You learn business skills at a rate that matches the challenges and complexities of your business. So often you see a $20-billion roll-up with managers with $100 million worth of experience. Finally, in Creative Planning we have a $26-billion RIA with $26-billion worth of experience -- the reason why Peter Mallouk is perhaps the easiest choice as an RIABiz Power Player. See: RIABiz to roll out 'Power Players' series -- with irony. That said, Mallouk offers a yin and yang of the "boring" and derring-do because of his alliance with Tony Robbins, who could be called an inorganic referral source. I'd add that of all the Power Players we dealt with, Mallouk, who has no personal secretary and minimal gatekeeping apparatus, evinced a high level of approachability. You get the sense he has nothing to hide or spin. See: 'Approachability' continues to be the one-word descriptor of what separates good RIAs from the ones who struggle.
Peter Mallouk got his RIA to grow to $26 billion of AUM by taking all the energy competitors put toward M&A and directing it to killer referral sources and making sure he closed those deals and kept both advisors and clients down on the farm.
Keeping with his organic strategy, the president and chief investment officer of Creative Planning Inc., 47, is now hitting the zone of growth of that trips up the 1% in roll-ups, TAMPS and other pituitary cases of $20-million-plus growth. It combines the problems of the law of large numbers -- namely that $2.6 billion is only 10% growth -- and the immense management challenges of getting decidedly out of the mom-and-pop zone.
Yet Mallouk isn't hedging on his pledge to hit $100 billion of AUM sooner rather than later, an amount he quoted to the New York Times last month when he featured on their business page as the success story for RIAs in general.
Gray lady arrives
The financial reporter, Landon Thomas Jr., accustomed to Wall Street executives and snazzy asset managers, mentioned twice Mallouk's choice of car brand -- Honda -- and quoted Mallouk on how he is steaming ahead and playing catch-up at the same time. "We are building a rocket ship even though the rocket has already taken off," he said to the Times, which visited his offices in Leawood, Kan.
You could say two of those rockets well on their way to Mars are Mallouk's new and growing deal with Charles Schwab & Co. and the overwhelming referral symbiosis he enjoys with Tony Robbins. See: What to make of Peter Mallouk's sweeping deal with Tony Robbins -- and where the unlikely pairing goes from here.
Last year, Mallouk, an MBA who also has a law degree, established 12 brick and mortar offices across the United States. This year, another half-dozen or so are in the works. The expansion puts Creative Planning on an absolute growth path akin to Charles Schwab & Co., which added three company branches during the three months ended June 30. Schwab's total is 340.
Though anyone with money can build out office space, Mallouk did something far more difficult -- doubling the number of staff financial advisors to around 200. He says advisors sign up in droves to work at Creative Planning because they can focus exclusively on managing wealth for clients. Creative Planning has about 426 employees.
"[Our advisors] don't have to sell anything," he says. "We don't have anything like that."
Mallouk says he's able to win talent by casting a wider net than rivals. "A lot of firms just check the box, do they have this credential or that one. I am trying to find the best talent we can."
Wink and flourish
Mallouk says Creative Planning's initial entry into a new city involves advisors meeting clients at their homes. Once critical mass is reached, he says, and three or four advisors are working in a particular city, the company opens a formal office. See: By outing a reluctant star in Peter Mallouk, Barron's Top 100 advisors list yields a surprise winner -- Leawood, Kan.
Creative Planning opened last year in Chicago, Houston, San Francisco, San Diego, and in Florida in Tampa and West Palm Beach. In This year, Mallouk is expanding to New York, Los Angeles, Atlanta, among other markets.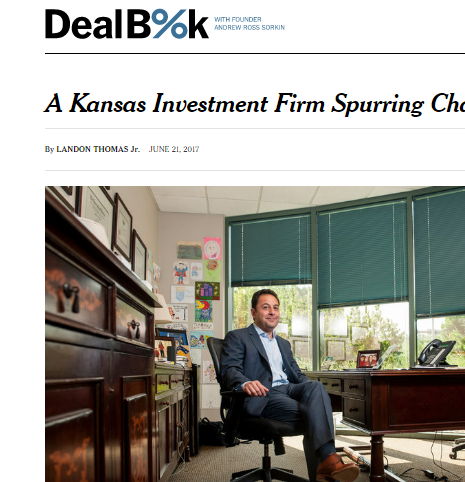 "When we go from one advisor in a city to three to four advisors it makes sense to centralize that," he says. "It is the only thing changing, we are not changing our model. The model has always been to see the client in person at their home or office."
Mallouk concentrates on planning and managing portfolios of passive funds with Malvern, Pa.-based The Vanguard Group as perhaps its biggest vendor.
Still it's hard not to notice the giant in the room -- Tony Robbins, the fire-walking, self-improvement guru who has convinced tens of thousands of persons to conquer their fears by walking over hot coals and other empowerment techniques.
With a wink and a creative flourish, Robbins is Creative Planning's "director of investors psychology" and sits on the firm's board of directors. Both Mallouk and Robbins wrote a new investment book together called "Unshakable." See: Peter Mallouk-Tony Robbins partnership set to soar on new book but quid-pro-quo details of pact between $23-billion RIA and super-salesman are still murky.
To the cameras
The collective Robb-Mallouk persona is evident in a series of info-commercials with Robbins touting the importance of dealing with a registered fiduciary, an RIA firm.
The videos don't make an overt pitch to use Creative Planning, but the message gets across that Creative Planning is a quality outlet. A brief message stating that "...Mr. Robbins has a financial incentive to refer investors to Creative Planning" briefly flashes on the screen at the beginning of the presentations. (View one of the videos here.) Though Robbins can hardly be missed in the frame, Mallouk makes clear his business model doesn't depend on piggybacking on Robbins' fame.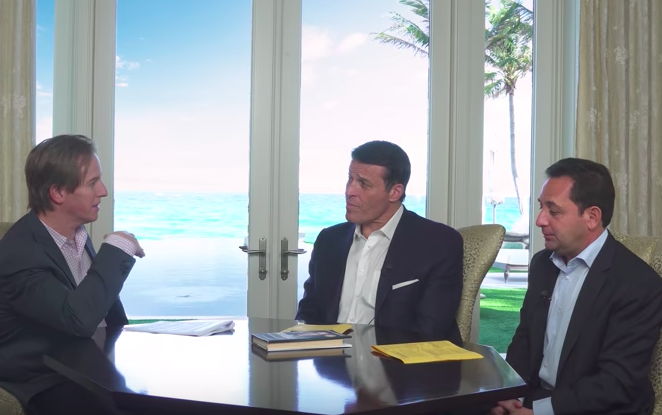 The relationship with Robbins gives Mallouk a new channel to build a business that was already growing rapidly. Robbins also benefits, receiving undisclosed referral fees from Creative Planning. Mallouk would not discuss any details.
When Mallouk bought Creative Planning in January 2004, it just had $100 million in assets under management. It recently hit $26 billion, growing from $18 billion in 2016.
Wrote the book
In his relationship with Robbins, Mallouk walks a fine line. Robbins' first investing-related book -- Money -- Master the Game: 7 Simple Steps to Financial Freedom (Simon and Schuster Digital Sales Inc. 2014) had an odd tension of promoting transparent, client-first financial advice on the one hand but also wildly praising investing superstars. The book did well but was open to criticism from practitioners. See: What one financial advisor discovered after plunking down $12 for Tony Robbins' 'Money' manifesto.
The new book, Unshakable: Your Financial Freedom Playbook (Simon and Schuster Digital Sales Inc. 2017), lists both Robbins and Mallouk as authors and has received more universally positive reviews. The book, in fact, seems to have been written by a financial expert like Mallouk.
Mallouk insists it was a joint effort.
"The book was truly a collaborative effort," he says .
Mallouk's relationship with Robbins began in 2014 after Robbins published a paperback version of his first book. In that book, Robbins recommended Creative Planning.
Mallouk says he forged a business arrangement with Robbins initially through Robbins personal financial advisor, Ajay Gupta of Gupta Wealth Management LLC in San Diego. He says Gupta started referring clients to Creative Planning and that eventually led to a meeting between himself and Robbins. See: Swamped by Tony Robbins' referrals, Ajay Gupta launches national venture with Jemstep and United Capital as notable partners.
Three in one
The relationship has been three-way affair. Gupta's two RIA's coming under the Creative Planning umbrella.
Mallouk says that was a rare exception to his firm's overall plan for organic growth, as Creative Planning's strategy does not emphasize buying other firms.
Advisors are also attracted "to the firm's "visibility and the national model," he says.
"At every step of the process we are looking for an edge," Mallouk says. "How we can be better and more valuable for the client. One example is a lot of firms view their advisors as interchangeable pieces in a machine and I don't."
Power Players 2017:
Power Player: Jon Stein's braggadocio about how Betterment is the next Amazon may be a blind distracting from stealth IPO moves and surgical deployment of a flesh-and-blood workforce
Power Player: Peter Mallouk hired 100 advisors in the past year to sop up referrals and fill 12 new brick-and-mortar branches
Power Player: Bill Harris raises yet another $40 million on strength of winning big accounts willing to pay a grown-up price
Power Player: Joe Duran powers beyond old 'roll-up' labels even as his United Capital roll-up shifts into a higher gear
Power Player: Larry Raffone is racing to 'lock up' the 401(k) market by taking its robo head start and combining it with a semi-national RIA
Power Player: Addepar's Eric Poirier drags RIAs to seek alpha in a beta world even as the advisors demand -- and get -- eMoney and FolioDynamix connections
---
Related Moves
October 16, 2020 – 7:49 PM
---
---
Mentioned in this article:
---
---
---
Jeff Spears
THE GLENGARRY LEADS! New advisor acquisition costs can be reduced dramatically by offering client leads.