Bill McNabb: It has been about building upon the principles that Mr. Bogle laid out.
Brooke's Note: After writing this article last night in breaking-news haste, I was able to reflect and then speak to Kevin McDevitt, Morningstar's lead analyst on Vanguard to get his take. Self-conscious at how little critical analysis the piece contained, I had combed media reports and found only one -- Bloomberg -- that kind of suggested that Bill McNabb was getting out while the getting was good. The article's central point was that Bill McNabb was the beneficiary of two of the biggest tailwinds to push the retail investment industry in our lifetime -- a move to passive investments and a move to lower-cost investments. Vanguard will no longer be anything near the only game in town in either attribute, so now what? McDevitt spent 10 minutes on the phone yesterday with McNabb and his successor to be, Tim Buckley, and, not suprisingly, says they "spoke in platitudes" about Vanguard and its future. Not did their tones of voice or other body langauage reveal much. But McDevitt disagreed to a point that Buckley doesn't arrive with one tailwind that is even bigger than what McNabb realized -- namely the snowballing of passive investing. Vanguard's net new $194 billion in the year's first half seems to bear that out. Still, he warmed to the Bloomberg theme in the sense that Vanguard will need to find new competencies to keep its momentum -- namely in service and adding financial advice. "That's an entirely different ball game," he says. And it'll take a different kind of hustling energy to bring about that sort of revolution inside the company and that is where Buckley -- cut largely from the ame cloth as McNabb but 12 years younger -- comes in.
Bill McNabb will step down as CEO of The Vanguard Group Jan. 1, 2018 -- and away from as much as a $15-million pay check. He'll exit as an executive at the peak of his strength and getting stronger by the day.
The 60-year-old, who apparently gave notice 12 months ago, makes way for Vanguard's chief investment officer Tim Buckley. Forty-eight-year-old Buckley gets his title elevated to president immediately and will become -- with an infrequency associated with papal turnovers -- the firm's fourth CEO since its founding in 1975.
McNabb's graceful exit is marked by a list of asset- and business- evolution milestones of Hall of Fame caliber but his biggest accomplishment may have happened quietly and without notice – the quieting of the company's co-founder who relentlessly attacked his firm to the astonishment of the rest of the industry. See: John Bogle tells the Morningstar crowd just why Vanguard Group has a 'problem' – and it starts with his dogged criticism.
Bloomberg has reported that he makes $10 million to $15 million and critically noted that the company's hypocrisy in withholding this information from shareholders and in light of its advocacy in holding down executive pay.
Bogle made something of a second career blasting Vanguard for veering into ETFs. The Malvern, Pa.-based company was, until recently, poised to take over the top spot from BlackRock's iShares. See: How BlackRock stopped Vanguard from devouring ETF market share by pleasing RIAs -- but how that strategy could endanger iShare profit margins in the long run.
By contrast, however, this year Bogle conspicuously demurred from taking shots at Vanguard when he spoke to the Morningstar Inc. crowd in Chicago. See: Jack Bogle's ICI grumbles and Kunal Kapoor's 'future' mode make Morningstar's 2017 conference sparkle with an uber relevance.
Grudging respect
McNabb's honor roll of accomplishments begins with presiding over Vanguard's climb from about $1.25 trillion at the start of his tenure and putting arch rival Fidelity Investments largely out of the conversation about mutual funds. See: After Vanguard gains $550-billion ETF lead, Fidelity makes 'rabbit out of the hat' play to regain ground.
Mark Loughridge, lead independent trustee of Vanguard's board, captures what Bogle may have grudgingly come to respect in McNabb.
"Bill has been an extraordinary leader, deftly navigating the firm through the most turbulent market environment in modern history into an era of unprecedented growth and global expansion, while developing a strong management team and a deep bench of talented investment professionals," he writes in a statement. "Above all, he has demonstrated an unwavering dedication to our clients, which is the hallmark of Vanguard, and we are grateful that he will continue to serve as chairman of the board."
In making this announcement, McNabb largely ducked the media but did speak with The New York Times and offered a hint at why a man goes out at the peak of his powers.
"It has been about building upon the principles that Mr. Bogle laid out," he told the Times. "I have also observed that bringing a fresh perspective is a very valuable thing. I think Tim is well positioned to take over."
Company man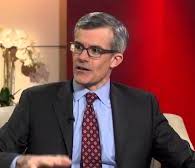 Still, McNabb is unspecific about what "fresh perspective" a fellow Vanguard career man brings to the CEO seat. "He brings a strong passion for serving Vanguard clients and crew, a global mindset, and significant leadership experience in all facets of our operations," he says in the release announcing the changing of the guard.
Buckley has been a member of Vanguard's senior leadership team since 2001 and has served as Vanguard's chief investment officer since 2013. He joined Vanguard in 1991 as assistant to then chairman John C. Bogle. He was elected as a principal of the firm in 1998 and subsequently held senior leadership roles in two divisions. In addition to serving as chief information officer, he was also head of Vanguard's information technology division from 2001 to 2006. See: What Vanguard revealed under webcast pressure about its phono-robo's vulnerability.
Vanguard managed $4.4 trillion in global assets, as of June 2017. The firm offers 369 funds and 20 million investors worldwide.
A Reuters article published after the announcement seems to question the wisdom of the company holding such a vast portfolio of passive investments at a time when the market is due to correct -- with the implicit promise that Vanguard's index funds will decline in lockstep with market averages.
The closest thing Vanguard has to an existential threat is an outstanding lawsuit that questions in effect its nonprofit status. See: Why Vanguard Group has proved impervious to a '$34.6 billion' whistleblower suit and why nobody's suggesting Vanguard execs should breathe easy.
Vanguard's official position on the lawsuit is that it has no merit.
---
---
---