Alex Bryan: Schwab is on the cusp of making that bridge to the top space in ETFs
Brooke's Note: In an earlier phase of my life I partnered with a friend to start a brew pub and ran into an interesting problem. It turns out it is illegal to be both a big maker of beer and an owner of a bar. Ever notice that Budweiser, Coors and Miller don't own saloons? There was an exception for brew pubs, but in Massachusetts, at least at the time, it came with a hitch. You had to own a wheat farm. So we went wheat farming shopping on South Shore. It was somewhere in mid-Sharon, Mass., looking at bleak stubble, that I balked on the whole brew pub idea. I imagine John D. Rockefeller's frustration when he was told he couldn't own the wells, the refineries, the pipes and the gas stations. But while even the whiff of vertical monopoly is forbidden in beer and oil, I'm not sure the financial industry has ever been viewed in that same way. But maybe it's because it has never had a commodity quite like passively managed exchange traded funds. So maybe it's a great strategy to attack such a commoditized industry with a cohesive, vertical strategy in all aspects of that commodity. Schwab seems to be doing just that by making the cheapest ETFs, by being the cheapest place to buy many third-party ETFs and by being the cheapest place to get ETFs managed. Throw in Schwab's fairly singular ability to cheaply serve as recordkeeper for ETFs and its unsurpassed $1.4 trillion relationship with RIAs who eat up ETFs with a ladle on behalf of investors, and you're on a start to halfway, believe me. I'm not seriously suggesting Schwab has a vertical monopoly. There is too much competition. But I am suggesting I see a seriously competitive strategy emerging that may give pause to the industry's most powerful. I imagine Schwab's ability to sell ETFs cheaply – even as a loss leader – made it easier for Vanguard CEO Bill McNabb to decide to hand over the reins in January to his understudy, 48-year-old Tim Buckley. See: What to make of Bill McNabb exiting Vanguard mid-rise and what Jack Bogle might have to do with it.
Charles Schwab & Co.'s initiative to dominate the exchange traded fund universe by controlling the means of production, distribution and management took a leap forward last week when nine of its existing ETF OneSource customers deepened their commitment and a handful of other providers signed on.
The San Francisco-based brokerage giant has fingertip control in terms of setting prices on the ETFs it makes and on the robo-advisor portfolios it sells. See: Schwab spills robo-beans to Wall Street, including a Schwab Bank wrinkle, cannibalization rates and the algorithm's distaste for OneSource funds.
But if Schwab can also sell third-party ETFs with no commissions, its market power is nearly complete.
$1 or $1 million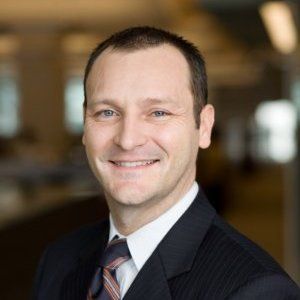 "Schwab is on the cusp of making that bridge to the top space in ETFs, says Alex Bryan, director of passive strategies research for Morningstar Inc. "Schwab's business is a lot bigger than it was three to five years ago and they're trying to build out the infrastructure to make the big push to become one of the top-tier providers."
In March, Schwab slashed its ETF commission price to $6.95 from $8.95, underselling rivals Fidelity Investments and The Vanguard Group.
Schwab S&P 500 Index fund (SWPPX) fell from 0.09% to 0.03%, matching the Schwab U.S. Large-Cap ETF (SCHX) and now the lowest expense ratio applies to all investors, whether they put in $1 or $1 million, bypassing the standard industry approach of reserving top-tier pricing for institutions with $1 million or more to invest. The lower expenses went into effect on March 1.
Better yet, Schwab has a captive audience of RIAs with $1.4 trillion of assets standing by to assure that these price slashes achieve immediate economies of scale. See: Why Schwab execs are 'proud' of holding at $1-trillion custody mark first achieved in 2013 -- and what makes them pleased with its existing 25% RIA custody market share.
Schwab OneSource added 15 more ETFs to OneSource. Of those 15, nine are from existing ETF providers.
Pay for play
Success breeds success -- and puts pressure on ETF providers to ante-up the pay-for-play rents.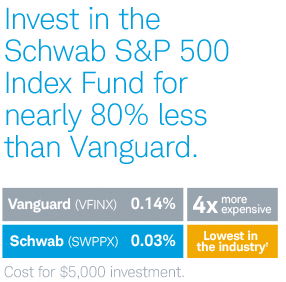 "Schwab ETF OneSource continues to grow as investors and advisors allocate more of their portfolios to ETFs," says Heather Fischer, vice president, ETF & mutual fund platforms at Charles Schwab, in a statement. "It's extremely important to offer a broad selection of ETF categories and ETF providers so that investors have the most choice when evaluating commission-free ETFs."
Third-party ETF vendors pay a flat $250,000 for each ETF placed on OneSource and a fee of up to 0.20% based on client assets in each fund, according to published reports.The OneSource platform launched in 2013 with six providers and 105 funds and is now up to 16 providers and 245 ETFs.
Schwab's ability to win on price derives from a market power that Vanguard Group may never have, according to Kevin McDevitt, Morningstar Inc. senior analyst who covers Vanguard.
"Schwab can use ETFs as loss leaders," he says. "Vanguard really can't do that." See: In echo of DFA-RIA custody strife, Morgan Stanley nixes new Vanguard mutual fund account openings.
But Schwab isn't just competing with asset managers on price. It is also starting to poach their talent.
Wisdom is Bliss
In 2016, Schwab strengthened its ETF management team with the hires of Christopher Bliss as head of passive equity strategies and John Greves as multi-asset strategies. Bliss was previously the head of Americas for institutional index equity portfolio management at New York-based BlackRock Inc., while Greves previously served as a portfolio manager at Seattle-based Russell Investments Group LLC. See: Asset managers at Morningstar's ETF event, facing an in RIA-in-charge future, show mettle
"They've made some big hires," Bryan says. "Running a business with assets in the hundreds-of-billions of dollars requires a different kind of staffing than a smaller player."
Schwab has historically been considered a smaller player in the 24-year-old ETF market, which is at $3 trillion – an amount that could double by 2020. BlackRock's iShares leads the pack with more than 800 ETFs and more than $1 trillion in assets under management. See: How BlackRock stopped Vanguard from devouring ETF market share by pleasing RIAs -- but how that strategy could endanger iShare profit margins in the long run.
Turnaround
Schwab's ETF prospects looked dimmer three months ago when anchor brand ProShares announced it was pulling out of OneSource, apparently unwilling to pay $2.25 million annual fee. See: Why ProShares yanked ETFs from Schwab's no-commission OneSource ETF exchange
The very creation of the ETF platform was a bid to boost OneSource's fortunes after seeing its numbers fall. OneSource's mutual funds had $237.3 billion in marketed assets by the first quarter of 2015 – a figure that dropped to $207 billion by the fourth quarter of that year. By the fourth quarter of 2016, the marketed assets were down to $198.9 billion. OneSource has rebounded modestly since then, mostly due to market appreciation – it had $204.9 billion at the end of the first quarter in 2017. See: As OneSource asset levels falter, Schwab slashes no-transaction-fee minimum to invest.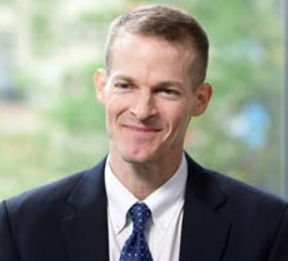 The scope of ETF assets on OneSource are smaller but are consistently heading in the right direction. The company reported $68.4 billion for ETF OneSource as of Dec. 31, 2016. While Schwab doesn't separate its ETF assets typically by quarter, the firm did indicate that assets in Schwab ETF OneSource reached $84 billion as of May 31, a growth of 22% from the end of 2016.
The ETF providers on the OneSource platform include: ALPS Advisors Inc., Deutsche Asset Management, Direxion, ETF Securities, Global X Funds, Guggenheim Investments, IndexIQ, John Hancock Investments, J.P. Morgan Asset Management, OppenheimerFunds, PIMCO, PowerShares, State Street SPDR ETFs, USCF, WisdomTree and Charles Schwab Investment Management.
30 homegrown ETFs
Although OneSource is an attention-grabber, it's the production of bread-and-butter ETFs that signals Schwab's clear intentions in the sector, Bryan says.
"They've been quite good at launching funds that have long-term merit. A lot more shops are marketing-focused such as WisdomTree that launches a lot of different kinds of products, but Schwab is more focused on long-term core products." See: Fidelity quietly imposes an ETF 60-day fee that makes RIAs with trading strategies seethe.
Schwab currently features more than 30 of its own ETFs.
Bryan also acknowledges that Schwab has followed Malvern, Pa.-based Vanguard's lead on its mix of ETFs -- to a point.
"They've copied Vanguard from a certain extent," he says. "They provide portfolio building blocks that are broadly diversified, and it's very different than what iShares tries to do which is to offer something for every segment of the market. Schwab is less ambitious than that. The types of funds they bring are low-cost core beta solutions."
---
---
Mentioned in this article:
---
---
---
Stephen Winks
Vertical integration from product to process as a low cost means to deliver value to the consumer is profound as machine learning algorithms emerge for advisor use. Blackrock, Vanguard, Schwab and other TBD vendors can completely change our conceptualization of expert authenticated financial services and how they are delivered most cost effectively. This is not a product play but answers the question how can we avoid having 40% of the client's earnings on their retirement savings being lost to brokerage fees, commissions and administrative cost. It is a process play as a means to win market share based on the integration of value added financial services conventional brokerage is reticent to support. Low cost, high value added financial services in support of fiduciary duty and professional standing result. Extraordinary! SCW