News, Vision & Voice for the Advisory Community
The United Capital CEO only had to fire back once to shut down the voluble Forbes publisher
June 2, 2017 — 8:49 PM UTC by Brooke Southall
Brooke's Note: Sometimes the DOL rule has broken down along political lines. But this time, right on Fox Business, Joe Duran, CEO of a $18.2 billion RIA, did his part to define the debate as being outside of corrosive ideology. What he said -- as the victim of a surprise attack by a famous and imposing magazine editor -- was spot-on. His delivery was even better and makes it worth hearing the tape.
In an insinuating and dismissive tone perfected over decades to freeze even the most steel-plated men, Steve Forbes glared over at Joe Duran to ask when "we" are going to make the DOL's fiduciary rule go away.
"Are we ever going to get rid of that fiduciary rule," he asked.
Forbes, 69, the Editor-in-Chief of Forbes, brought up the burning issue out of the blue amid efforts by the United Capital CEO to opine on markets, investing and the economy. The exchanged occurred yesterday on "Mornings with Maria" and can be heard at around the 5 minute: 25 seconds spot on the tape.
An uncowed Duran replied, warm smile still in place: "Look, all of our clients are under a fiduciary rule. Everybody should be under the standard. I can't imagine having a debate about it."
The implication of Forbes was that the rule is red tape destined to drive up fees.Duran headed off that argument at the pass.
"Fees will continue to go down because technology is helping us to do things more efficiently," he said. "We've seen what firms like Vanguard and Blackrock have done to drive down pricing. It's going to come to the advisory world as well."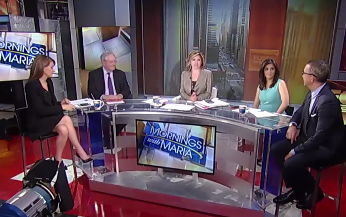 Duran and Forbes don't know each other and had no further exchange before or after the show. Up until they discussed the DOL rule, the two parties were mostly in nodding agreement with each other.
After the cameras stopped rolling, Duran had to hurry off to a meeting at J.P. Morgan after the Fox filming.
Duran had prepared, if need be, to talk about robo advisors, a topic that was squeezed out for time but Duran is likely to appear again on the show next time he swings through New York from his Newport Beach, Calif. home base. Framing it as a wildly disruptive 3,300-basis-point fee on de novo revenues, Joe Duran's United Capital digital reboot is apparently raking in RIA assets and revenues.
Anyone who want to ask him when "we" can eliminate digital advice, be forewarned that Duran won't sell it down the river.
---
---
Share your thoughts and opinions with the author or other readers.
Jamie McLaughlin said:
June 2, 2017 — 11:32 PM UTC
---
---