Phil Fiore: It gave us the kick to make Procyon happen.
Brooke's Note: Politics aside, I have marveled of late at how -- given time -- the system of checks and balances works under the U.S. Constitution. Its dynamism may only be exceeded by the free enterprise system. UBS can fire you one day but the metaphorical tribunal of clients, colleagues, vendors and your own intrinsic market value will get the final say. Just give it time. It's a breakaway method that attorneys may not recommend but it may work out well in this Procyon case.
In the face of furious opposition from UBS Wealth Management, Phil Fiore is taking back his life, which includes a team of 10 and about $8.4 billion of managed assets.
The New York-based wirehouse fired its star financial advisor in late November -- a temporary checkmate that immediately deprived him of his partners and his clientele.
But now Fiore, 49, formerly based in Stamford, Conn., has launched Procyon Partners LLC, an RIA with Dynasty Financial Partners providing operations assistance and with Schwab Advisor Services as its custodian.
The new firm, based in Shelton, Conn., intends to reclaim the assets it left behind, including about $8 billion of 403(b) and 401(k) assets and $400 million of private client assets. The institutional assets are being administered by Chicago-based Envestnet Inc. technology and overseen Envestnet | Retirement Solution's group president, Babu Sivadasan. Envestnet turns its guns on the 401(k) business
"I believe this is what we worked for for 20 years," Fiore says. "This is what you aspire to for really serving clients."
Swift kick
Though Fiore, now CEO and executive managing director of the Procyon, didn't enjoy being fired, he says that in retrospect it was a blessing because it forced him to get going building an RIA. Better yet, it obviated the need to live a double life keeping up a facade as a happy UBS employee while he was building out a new business.
"It gave us the kick to make Procyon happen," Fiore says. See: Schwab wins giant UBS breakaway in San Diego.
UBS canned Fiore ostensibly for failing to inform the company formally of outside business activities at a time when he was on a de facto probation, the cause of which arose last May. The Financial Industry Regulatory Authority Inc. suspended him for 30 days and fined him $5,000 for having an outside business activity and for acting as a business consultant at an electric utility company without providing specific written notice to UBS, according to BrokerCheck. See: FINRA shifts an unwelcome spotlight away from itself -- by training it on the brokers it oversees.
As a result, the Massachusetts Securities Division demanded that Fiore work under heightened observation after UBS sought to register him as a broker there.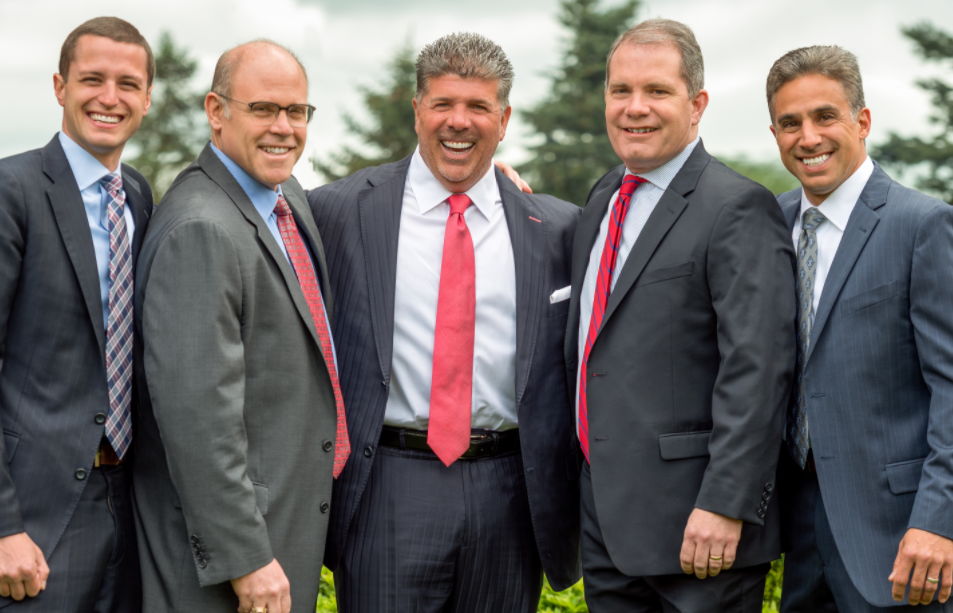 The Procyon team [l.-r.], Chris Foster, Jeff Farrar, Phil Fiore, Tom Gahan and Lou Gloria, stand shoulder to shoulder again after UBS decapitated it in November.
After vetting Fiore, Dynasty concluded that UBS may well have sensed that he was considering breaking away from UBS, which, in turn, took the preemptive step of firing him. Shirl Penney, CEO and president of the New York-based outsourcer, TAMP, vendor and lender, says he was reassured that the infractions concerned inside-baseball compliance matters that did not affect clients or their money. See: Hitting $20 billion of RIA assets in six years, Dynasty Financial hires its first chief AUM-booster, the better to get to $40 billion faster.
For example, UBS cited Fiore for running an annual charity golf tournament for the Wounded Warrior Project without official disclosure. Fiore says he did so openly, with many of his own UBS managers participating in the event over the years, and he never imagined it could be an issue. Fiore also got into trouble for writing blog posts and failed to report an unpaid directorship at a not-for-profit entity affiliated with a client. He was involved with a client utlilty when at Merrill Lynch and received shares, which he disclosed to UBS upon hiring -- but still got cited for by UBS as a reason for the firing.
Fiore says the shares-for-work issue is piling on considering it happened during his time at Merrill Lynch and that he'd disclosed it to UBS when he was hired. Fiore left New York-based Merrill in 2009 to join UBS. He had previously broken away from Prudential in 2005 to join Merrill Lynch.
The vindication for the Procyon team has come from the people who ultimately matter, says Fiore.
"Clients have sided with us on that. The response [to the rationale for the firing] is: you're kidding, right. Phil?"
Notable timing
Better yet, Penney says clients -- some of whose assets are measured in the hundreds of millions of dollars -- are readily transitioning to Procyon.
Farrar, who worked with Fiore at Merrill Lynch and who now serves as executive managing director and chief operating officer of the new firm, says the two men thought "long and hard" about setting up an RIA back then. "My one regret is that we didn't do this sooner," says Farrar, who is 49.
Farrar adds that he wasn't aware of just how strong the software and research analytics outside Wall Street had become. The firm is using San Francisco-based Callan Associates Inc. for manager research and New York-based Black Diamond performance reporting software for its private assets.
Though Procyon is mostly in the clear at this stage, UBS filed a lawsuit against it late last week seeking a temporary restraining order. None of the parties interviewed for this article say they find the move threatening.
"UBS has elected to bring a suit for a restraining order two weeks after the team left although nothing has changed as regarding the facts -- the timing speaks for itself," said Dynasty in a prepared statement. See: Why one UBS advisor broke away even knowing that his former partner would keep the 401(k) assets.
Update on July 25, 2017: After a full-day hearing held on July 17, the United States District Court for the District of Connecticut (Bolden, J.) issued an order denying in its entirety UBS' application for a temporary restraining order/preliminary injunction against Fiore, Farrar, Gloria and Gahan.
Penney says the timing of the suit coincides with outflows of accounts from FDG Institutional Consulting Group at UBS to Procyon. The suit contends that Fiore is breaching the terms of his separation agreement with UBS. Penney says Fiore has lived by the terms of the separation agreement, which includes provisions that Fiore refrain from soliciting employees on his former team or former clientele.
Shift to 401(k)
Fiore started out with Prudential in the mid-1990s and moved his practice to Westport, Conn. in 1999. His practice attained critical mass by attracting 403(b) assets, which remain its biggest block of accounts. But most new accounts have been 401(k) assets. The shift began after the 2001 market crash when plan sponsors suffered the ramifications of unadvised 401(k) participants and became open to a Fiore pitch for advice. See: Report: 'Brother-in-law' dabblers are giving 401(k) ground slowly to specialists in $1.3 trillion market.
The firm's private asset business is more recent -- the result of company executive clients on the institutional side looking for wealth management for all their assets.
As to why Fiore didn't break away before, he says he had a good thing going under UBS, making it was hard to truly know how things might work out as an independent.
"You don't know what you don't know," Fiore says.
---
---
Mentioned in this article:
---
---
---