Lukas Smart brought DFA fervor to a surprisingly self-critical smart beta conference.
Brooke's Note: Whoever the genius was who coined the term "smart beta" was smart, like a politician. In a sense, the whole category starts with the promise that you can get something for nothing. But smart beta ETFs have few critics, perhaps because the game is just too good and so every company from Vanguard to Goldman Sachs is jumping in with wild enthusiasm. And maybe there is some justification. Certainly DFA's factor investing has credibility and that is pretty much what we are talking about here -- though it's notable that DFA doesn't like to have its funds called "smart beta" nor has it applied the approach to proprietary ETFs. If you want DFA in a smart beta fund, go to John Hancock. See: How DFA is putting its John Hancock on the ETFs category. So I was heartened by Janice's report from New York about this Inside Smart Beta conference. I was expecting a steady stream of cheerleading. It looks more like self-policing. That's a heck of a good sign. You only bother to chide your own if you believe that the future is too bright to mess around with don't give a dang how people interpret your remarks in the short term. The estimable Rob Arnott, who originally won Chuck Schwab over to this category, did a commendable job of leading that self-chiding charge.
"Smart beta" exchange traded funds are doing okay but many of the people running them are doing dumb things that undercut the active management business -- and have put de facto dumb beta ETFs in the driver's seat.
That harsh assessment came not from a shill of another product category but rather as a takeaway from smart beta's best and brightest gathered at last week's second annual Inside Smart Beta Conference, which drew 350 attendees to the Convene Midtown West, on the fringe of Manhattan's theater district.
The good news for smart beta ETFs is the scorching growth rate -- jumping from $200 billion to more than $600 billion just since 2013. In the past year, 120 new funds were added as firms that missed out on the first ETF wave make certain this one doesn't pass them by. The wild ride that Goldman Sachs took to launch its first ETF -- one that even an RIA could love?
It also give active managers to take back ground in the 401(k) market by taking on some of the qualities of their passive-investing adversaries, explains Dan Cook, analyst at Cerulli in release.
"In a target-date market dominated by low-cost, passive providers, strategic beta strategies are a way for active managers to compete with pure passive on cost while retaining some of the value-add tenets associated with active management," he says. "For the larger target-date providers, strategic beta series can also serve as another option in their target-date product suite, giving plan sponsors the choice between passive, active, and strategic beta."
The problems for smart beta funds run the gamut but boil down to the conflict inherent in their smart-beta moniker -- namely the promise of achieving market returns signaled by "beta" without taking undue risks to achieve alpha, which the "smart" aspect of smart beta connotes. Investing in bonds has been a smart-beta nonstarter.
The reason promises get broken is that active bets get made, namely the game of market timing -- a death spiral explained by the godfather of smart beta, Rob Arnott. See: Is your alpha big enough 
to cover its taxes? A classic journal article, revisited.
"Most investors are already practicing a form of market timing," said the founder and CEO of Research Affiliates LLC, who helped create smart beta. "They buy high and sell low. Our ancestors did not survive by running towards the lion, but here, what looks like a lion is a pussycat who's gotten tired."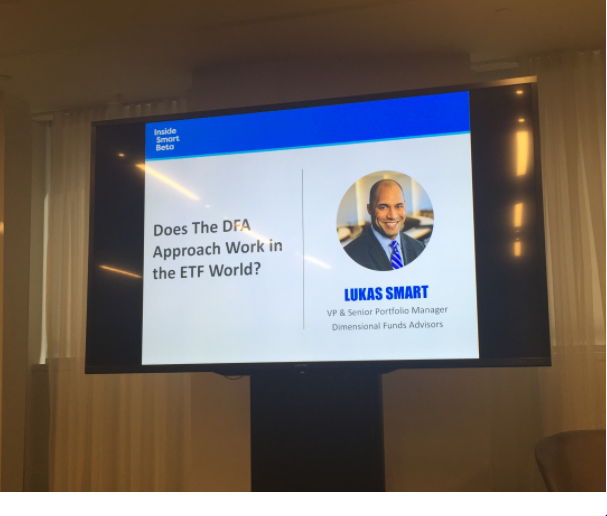 This litterbox-stenched paradox is indeed a conundrum, said Rolf Agather, managing director of research, North America, for FTSE Russell.
"These are not market-cap-weighted benchmarks. You are making an active bet against the market when you invest in smart beta. It's not like an index fund where you're accepting the market return."
Unrivaled growth
Smart betas are also unlike generic index funds, as indicated by the indisputably smart growth they keep posting -- like no category in the history of investing.
As of June 12, there was $614 billion of cumulative assets under management in smart beta, up from about $420 billion in the fall of 2015 — up from about $200 billion in 2013.
In her blog, Sara Shores, global head of smart beta for BlackRock Inc., called 2016 "a breakout year" for smart beta, with more than 120 products launched and inflows of more than $55 billion into smart beta strategies worldwide -- an 83% increase from the start of 2015.
But the new category is mostly being won by legacy champions of the pure beta index wars. Only one of the top 10 smart beta ETF's by AUM, as of April 30, according to ETF.com, did not belong to BlackRock or The Vanguard Group -- No. 9, the SPDR S&P Dividend ETF). See: How BlackRock stopped Vanguard from devouring ETF market share by pleasing RIAs -- but how that strategy could endanger iShare profit margins in the long run.
"They have extended their epic war into the smart beta space," says Eric Balchunas, ETF analyst at Bloomberg Intelligence, who led a panel on "How to Identify, Avoid and Profit from Crowded Factor Trades," which dealt with the investor dilemma of how long to stick with any of the factors used in smart beta, such as value or momentum. Ironically, Vanguard is taking in the most money in smart beta "even as (Jack) Bogle goes around decrying ETF's and smart beta."
Balchunas called Vanguard "Bogle-proof," referring to the firm's founder, the father of index mutual funds. "Vanguard is just so strong right now, so in a zone," he says.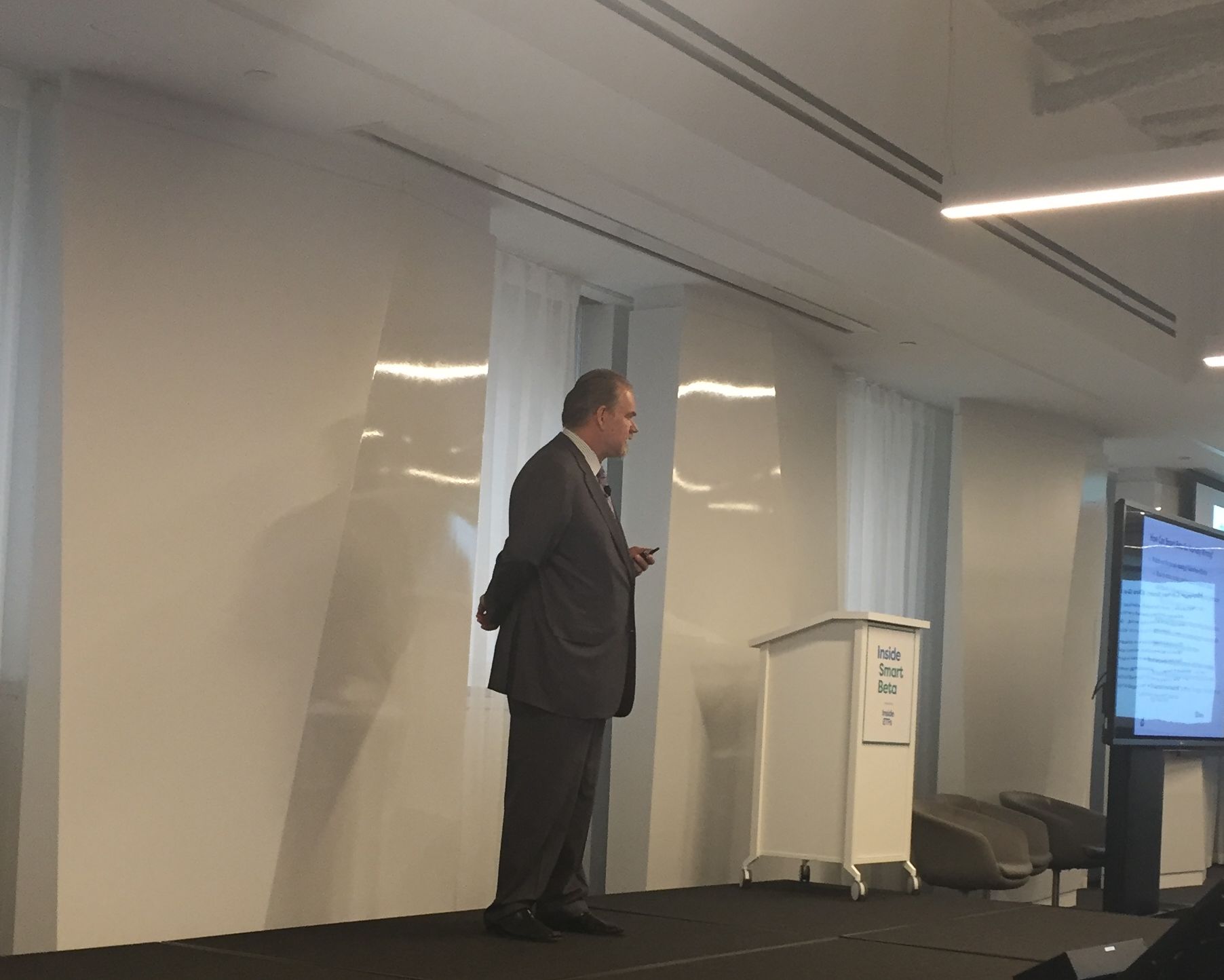 Still, that growth has depended on stock funds -- another potential mega-problem for the smart beta category.
Another reason bond ETF's are only a sliver of smart beta -- not even 2% of total smart beta assets according to ETF.com -- is that "equities had a long head start, about 10 years," said Sal Bruno, chief investment officer of IndexIQ.
"Factor-based investing goes back to the 60s. Fixed income has data challenges. But we are now seeing product development. One-third to half of the products on the market have come to the market from the beginning of 2016." See: As Goldman Sachs' badly kept secret about branding an advice robot leaks out, Goldman-watchers see contours of Lloyd Blankfein's grand if 'scattergun' virtual advice strategy take shape.
Chase is on
Josh Jenkins, portfolio manager at CLS Investments, an RIA TAMP in Omaha was asked if the smaller AUM size of bond ETF's inhibits him from using them.
"Not really," he said. "Typically within $50 million to $100 million we're able to allocate and create a reasonable position in one of our portfolios."
A problem that has bedeviled smart beta since its inception is how to use this strategy in bond investing. The bond market trades over the counter so it is less transparent and less liquid than stocks. Many issuers do not trade. And fixed income has traditionally been the domain of active mutual funds. See: Andy Rachleff makes waves with NY Post quote: Don't get 'hung up' on our lose-more-funds-than-you-deposit disclosure.
"Not only is fixed income not as liquid but costs can eat away at returns," Jenkins said.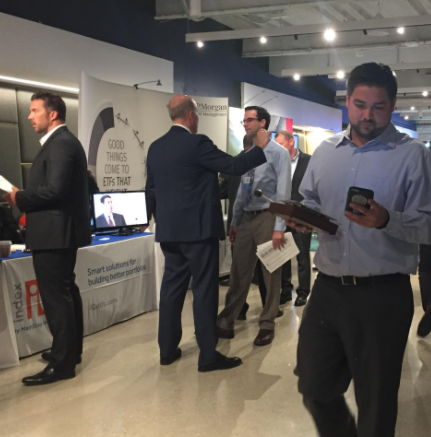 Though the smart beta ETF category's quick rise got it to critical mass in record time, more competitors have also sparked the risk of performance-chasing, Arnott said. Of six factors out there, one will outperform, and the chase is on.
"Products will come to market claiming they have that ability," he added. "The best tool is to diversify but others say they could benefit from timing."
Arnott also laid into the original definition of smart beta, coined in the early 2000s by Towers Watson, an institutional investment consultant.
"They said our alpha had nothing to do with fundamental weighting but it had everything to do with it. If you buy a stock because of great momentum and sell once it has gone, you did a round trip and paid for no alpha."
June 16 update. Arnott emailed to clarify the message he intends in the latter quotation: "Our alpha has nothing to do with fundamental weighting. We could weight by the number of employees who wear bowties. Our alpha comes from contra-trading against the market's most extravagant bets, turning the market's pricing errors into alpha."
Agather added: "There's the human temptation to want to time the factors (the ways other than market capitalization that stocks are categorized) but people need to be careful. Timing is not for the faint of heart." See: Betterment shut down trading post-Brexit to dodge 'trading blindly into extraordinary volatility'.
DFA gospel
If Arnott's talk was a bit of a bummer, Lukas Smart, vice president and senior portfolio manager at Dimensional Funds Advisors, took the stage as a smart beta booster. Prowling the stage from end to end, he worked to stir up some religious fervor for the instruments, displaying some of the cult-like characteristics for which his firm is known. See: As Dimensional Fund Advisors' AUM nears half-a-trillion, David Booth yields his co-CEO duties to David Butler.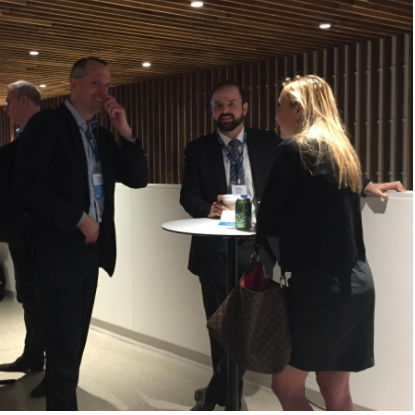 Smart told advisors that "prices get fair through the action of participants in the market place. The tolerance of risk is baked into the price. You can look to price to guide investments."
Smart's other key point was the need to justify cost: "If you can't deliver something that justifies cost you don't have something to offer investors."
Real-life tragedy
Returning to equity ETF's, there will be a new entrant in the marketplace early in 2018.
American Century Investments announced that Edward Rosenberg has been named senior vice president and head of ETFs. Rosenberg joins American Century from Northern Trust's FlexShares business, where he served as senior vice president and head of ETF capital markets and analytics. Rosenberg will be responsible for creating American Century's new line of ETFs, active and passive.
At the conference, the real world intruded during the lunch break. As I stood at a small round table chatting with Paul Heffernan of HSBC in Dublin, he told me that an employee of HSBC was killed in the attack on London Bridge June 3. Heffernan said the man tried to fight off his attacker with a skateboard but was stabbed to death.
---
---
Mentioned in this article:
---
---
---