Kunal Kapoor: This is a future of advice conference.
Brooke's Note: If you make a self-important claim like: This is a 'future of financial advice conference,' you had better be prepared to back it up -- especially before a sophisticated audience that knows a retrofitted mutual fund event when it sees one. Word is that Kunal Kapoor, presiding as CEO at the annual event for the first time since Joe Mansueto stepped back, kind of pulled it off. His success seems due to his use of Morningstar culture as a guiding force. That culture puts a premium on objectivity -- a carry-over from its fund-rating roots. Such an intellectual atmosphere encourages speakers to break news or at least make big reveals. Graham Thomas, our correspondent, did not use his day job of selling advertising for RIABiz as an excuse to slack off on the reportage and, I believe, caught every key remark from a major speaker and some great stuff from attendees back in the exhibit hall.
For industry folk who ventured to Chicago to hear Jack Bogle rip his old company, there was potential for a letdown.
The godfather of passive investing and founder of The Vanguard Group did not show up in person at the Morningstar Investment Conference but did, in the form a prerecorded video, gush with pride about the Malvern, Pa.-based giant's success. See: John Bogle tells the Morningstar crowd just why Vanguard Group has a 'problem' -- and it starts with his dogged criticism.
But Bogle also had criticism and lobbed it in the direction of Paul Schott Stevens, president and CEO of the Investment Company Institute, the other big-time mutual fund conference on the calendar this spring. (ICI's general membership meeting started today.)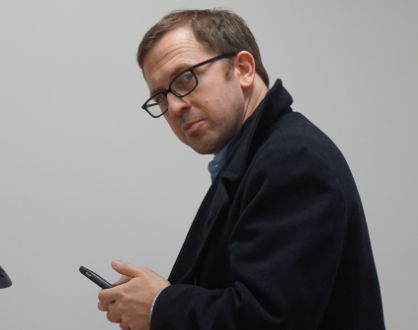 Bogle thanked Morningstar for allowing him a speaking slot and noted that he was denied that opportunity by ICI, saying Schott Stevens said Bogle's presence would run counter to the meeting's purpose of "coming together versus pulling apart."
Price on advice
An ICI spokeswoman declined to comment on behalf of Schott Stevens.
Proving that at 87 you can symbolize the future, Bogle lambasted mutual funds companies -- which would be an heretical view in the hallowed ICI halls.
"I continue to have grave reservations about public ownership of fund managers," he said. "Boring as that strategy might seem, it is far more likely to preserve the profits of managers than slashing fees, more aggressive marketing, or jumping, likely fruitlessly, on the band wagon of low cost investing." See: How and why Morningstar sliced 16 bps for RIAs by dumping third-party mutual funds and stamping its Switzerland brand on its own mutual funds.
If there were any bandwagon to be hopped upon at the McCormick Center last week, it was the one pulling RIA advice. Morningstar CEO Kunal Kapoor said as much as he kicked off the proceedings, stating:
"This is a 'future of advice conference' and that will be the most prominent theme coming at a time when a lot of consumers are unsure of the value of advice. Advisors do add a lot of value, but how do you communicate that value?" See: As Goldman Sachs' badly kept secret about branding an advice robot leaks out, Goldman-watchers see contours of Lloyd Blankfein's grand if 'scattergun' virtual advice strategy take shape.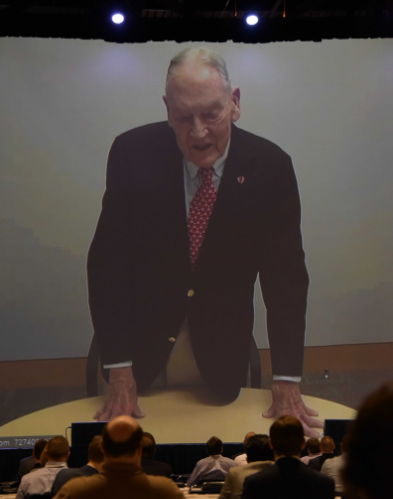 Kapoor seemed to answer his own question with the placement of featured speakers on the agenda.
On the one hand, you had BlackRock CEO Larry Fink laying out a grand vision of his company's next play in the RIA business. See: Why FutureAdvisor orphaned its B2C book of business, how post-Invesco Jemstep is doing and other learnings at CFA Society's robo-panel in San Francisco.
And then, in Paolo Sironi, you had the IBM executive who straddled the worlds of Watson and RIAs.
Check and check.
Too much choice
Yet Morningstar accorded RIA bloggers Josh Brown, CEO at Ritholtz Wealth Management, and blogger and co-founder of XY Network Michael Kitces roughly equivalent stature in a way that seemed geared to firing up the RIA proletariat. See: Josh Brown and Barry Ritholtz, masters of the financial Twitter/blogging universe, launch a robo effort to monetize their followers
Josh Brown disagreed with Kapoor's assertion that advisors have never had it better. His reason? "We have an avalanche of indexes and funds and access points."
"There is too much choice -- heresy in this room I know, but with more choices you make it harder," Brown said.
With choice comes the evil of temptation, Brown preached in his attention-commanding Long Island accent. "[Be] not be a friend or advisor and be a bouncer. Cross your arms and say: No, you cannot trade that 3X palladium ETF." See: Navellier is latest to catch F-Squared affliction as SEC broadens parameters of wrongdoing.
Fink joined the chorus of the RIA converted. BlackRock's mega-plays in active management and ETFs give him a choice of topics on which to speak, but the head of the $5-trillion asset manager downplayed assets and emphasized his company's future as a technologist.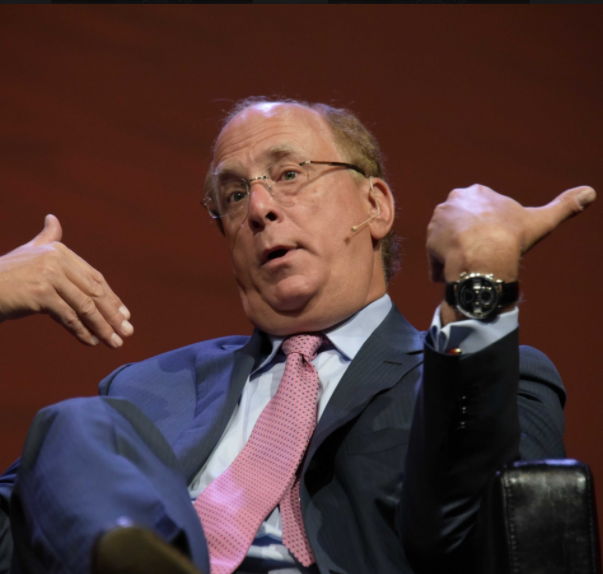 It comes down to, he said, "'[the] role of industry and advice changing. The movement of brokerage to advice from [defined benefit] to [defined contribution] means people are ill-prepared for retirement. We need to be closer to advisors."
Later, he said: "We can now provide a risk management tool for every single account you have under management, under advice."
Fink's answer to BlackRock's future in advice, ironically, barely encompasses FutureAdvisor, which he bought two years ago for $152 million. Rather, BlackRock is pushing its own platform, Aladdin, which stands for Asset, Liability, Debt and Derivative Investment Network.
Aladdin helps managers oversee portfolios that represent 7% of the $225 trillion managed around the globe, including BlackRock's own, along with those of competitors, banks, pension funds, and insurers. See: RBC Wealth Management adds NextCapital to its robo lineup with a head-scratching explanation about its earlier pick of FutureAdvisor.
Where BlackRock's Aladdin doesn't have much of a presence is with the fastest-growing pool of investment assets -- those managed by RIAs -- a wrong Fink would like to right.
BlackRock will become a "bigger part of our clients desktop" with Aladdin, he said, but left details to the imagination. See: Fleet-footed RIAs storm into the active ETF market as fund giants tie pretzel dough.
Life wranglers
But it was Kitces who captured the imagination of the crowd.
The publisher of the Nerd's Eye View blog earned by far the the most accolades in post-speech hallway discussions for his speech entitled: "The Future of Financial Planning in the Digital Age." In it, he described the business heading in "phenomenally outbound and proactive" directions like mortgages ("I can save you $200 a month for the next 30 years, starting next week – interested?"), real-time financial planning where you can see your decision affect future events, and a financial meeting of the future with an example from Figlo, the European arm of Advicent, on an Apple iPad. See: The 25 financial advisors with the biggest online presences -- and a frank analysis of what online omnipotence does (or not) for them
"Advisors need to be explorers of viable alternatives and 'what if' questions, because that still works. Life might change but I am here to help, open clients eyes to help them discover new worlds."
He then asked for a show of hands of advisors who had clients who weren't enjoying their retirement. Many hands went up.
"You as an advisor can help them find the work they always wanted to do. Work for purpose, not a paycheck. Tech doesn't do that -- we do that." See: Why love has everything to do with the next frontier in financial planning and our relationship to money.
Boots on the ground
Yet mutual fund players seemed neither offended nor cowed as the feature speakers produced billowing white clouds of future advice aspiration.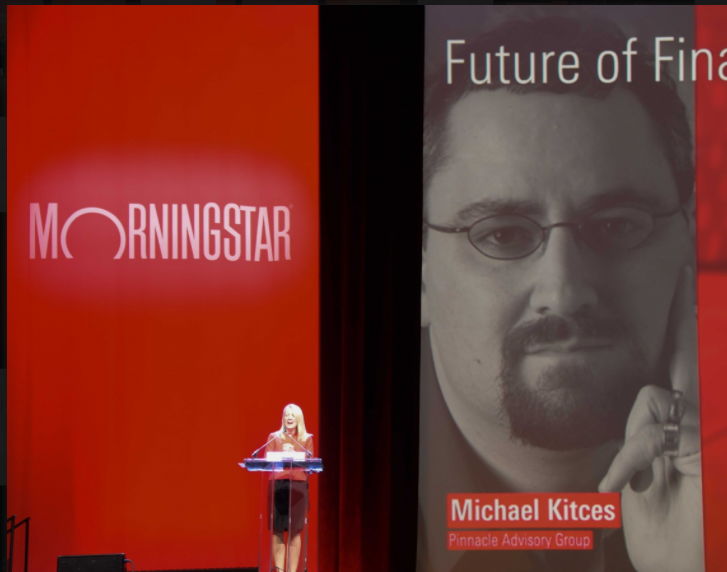 USAA head of sales Keith Sloane, for example, is jumping into the funds fray saying his car insurer is the "last of the direct sold shops that works through intermediaries." Meaning: USAA is now actively engaging the independent advisor through traditional distribution.
"It's really a different value prop than selling, how do you differentiate?" Sloane asked.
"We can't outsell – but we do have access to a military community and their families. This industry segment -- which you never hear about -- includes 22 million veterans, 60 million family members who we have served for 90-plus years, along with millions of businesses owned by veterans. So there is a loyalty and trust gap for other funds that we don't have." See: How a suddenly wealthy, young Bay Area widow found her RIA after months of fruitless efforts
To the question that everyone always asks him, Sloane emphatically responds: "Yes, the funds are available without a membership requirement!"
Ask your wholesaler
Also looking to get RIA attention, Prudential recently added the brand "PGIM Investments," its mutual fund arm.
Despite being part of PGIM, the ninth largest asset manager in the world with $1 trillion in AUM, Scott Benjamin, executive vice president and head of product and marketing stated: "We entered pure RIA, as part of the rebrand from Pru, since we kept having to explain we also do mutual funds – but due to performance we have been net positive [in asset flow] for eight years -- 14 for institutional side of our business."
Benjamin added: "We have been ahead of the game on Q shares in wrap fees and retirement -- no sub TA or 12(b)1 share class."
Jim Devaney, senior vice president and national sales manager for PGIM, added: "Being truly active requires making outsized bets away from the index."
And then later… "To quote Walter Wriston, 'Money goes where money is treated best."
Seconding that sentiment, Ed Cisowski, head of RIA and bank trust sales at Hartford Funds describes good performance for active funds as "table stakes now -- that get you in the door. You have to provide more value, which is why we teamed up with MIT Age Research Lab." See: Asset managers at Morningstar's ETF event, facing an in RIA-in-charge future, show mettle.
He continued: "But even value add isn't enough, that's another box checked. Since we see all shapes and sizes of firms, my strong recommendation is if you have a question about your business try asking your wholesaler: 'What are other firms like me doing successfully?'" See: Why only 10% of elite RIAs are receptive to fund wholesalers yet depend on a handful of good ones.
Come undone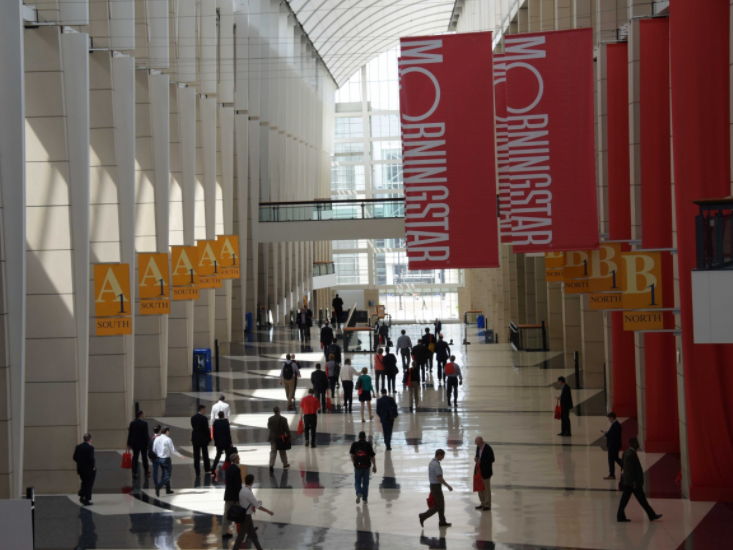 Almost -- but not really -- lost among the floats of the star parade was Michael Lewis discussing his latest book, "The Undoing Project," which centers around two Israeli psychologists trying to understand how humans calculate decisions. See: How indifferent ethical conduct by the investment consulting industry is giving investors a Big Short
Referring to the term "charming bigness," Lewis explained how seven-foot-tall professional basketball players regularly charm interviewers by dint of spending lifetimes making people feel comfortable.
Lewis called the interview process "horribly deceptive."
"Your mind is deceived by memory, what is memorable is judged to be more important, like what you have experienced most recently."
In answer to a question that was raised in multiple sessions, Lewis had an interesting take on passive investing.
"Once the market is efficiently priced there is a deforestation. Opportunities are not there; intellectual opportunities to exploit are not available, so proprietary information is what you are looking for. But all funds being indexed won't happen -- that would swing the pendulum back to active management."
No doubt Kapoor would happily swing back along with that pendulum but for now it's heading in the exact opposite direction -- albeit with a proprietary fund launch. See: How and why Morningstar sliced 16 bps for RIAs by dumping third-party mutual funds and stamping its Switzerland brand on its own mutual funds.
---
---
Mentioned in this article:
Kitces.com
Consulting Firm
Top Executive: Michael Kitces
---
---
---
Stephen Winks
In a future of advice symposium, not one mention that the definition of advice is changing to a more explicit delineation of advisory services duties (defined by statute) which put financial services (asset/liability study, investment policy, portfolio construction, performance monitor, etc. ) back into the financial services business. This alignment of professional standing in advisory services greatly elevates the role and counsel of the advisor and effectively differentiates advice from product sales. SCW