News, Vision & Voice for the Advisory Community
By maxing deals at 10% of revenues and allowing a three-year bailout option, the New York-based firm seeks to hew to its non-intrusive roots
May 3, 2017 — 2:01 PM UTC by Brooke Southall
Dynasty Financial Partners often gets confused with roll-ups. The situation is not helped by the fact that its CEO, Shirl Penney, gamely sits on "roll-up" panels with the likes of Joe Duran of United Capital Financial Advisers, Elliot Weissbluth of HighTower Advisors LLC and Rudy Adolf of Focus Financial Partners LLC.
That confusion is only likely to intensify as the New York-based firm that defies categorization as an outsourcer, TAMP, vendor and lender launches a deal wherein it'll buy streams of revenue from its RIA clients -- giving them a clear stake in their success. See: Hitting $20 billion of RIA assets in six years, Dynasty Financial hires its first chief AUM-booster, the better to get to $40 billion faster.
Under the sub-brand Dynasty Capital Strategies, Dynasty will buy a minimum of 5% and a maximum of 10% of a firm's revenues for a price based on a valuation of the RIA at five to six times its revenues.  
Though the RIA need never pay Dynasty back, it can opt to repurchase the revenue stream after three years by repaying the cash it received plus an interest rate of less than 10% but more than 5%, Penney says. (A source pegs it at around 8%.)
Influence peddler
Addressing the thorny roll-up issue, Penney declares his firm is "staying well clear" of that model. Dynasty isn't purchasing equity and all that comes with it -- including managerial influence.
Another differentor from roll-ups, Penney says, is that Dynasty Capital Strategies has capped its revenue participation at 10% to assure that Dynasty stays true to its philosophy of giving its client firms maximum incentive to grow. A classic roll-up will buy closer to 50% or more of the equity in firms in its orbit. See: Dynasty Financial Partners drops its passive-referral strategy and hires a ex-HighTower talent to engineer proactivity.
Still, Dynasty has a clear objective in offering this capital, according to Mark Hurley, CEO of Fiduciary Network of Dallas, which also buys chunks of revenue streams from RIAs. See: After more than two years of radio silence, Mark Hurley pings with a stake-taking in an under-the-radar RIA.
Get onboard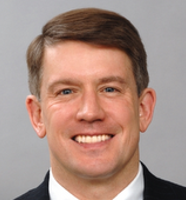 "It's a variant of what the wirehouses do," he says. "Dynasty has found a way to induce people to get on their platform."
Hurley notes that his company differs in how it does business because it provides liquidity specifically for an event like a merger or the funding of succession. The average Fiduciary Network ownership stake is 23% and its is considered equity.
The issue of raising non-loan liquidity came up at the last Dynasty annual meeting of advisors, when it was requested it as a top priority, says Penney.
He says several prototype revenue-purchase deals have been done since in a pilot phase, overseen by Todd Thomson, chairman and co-founder of Dynasty Financial Partners and former CFO of CitiGroup from 2000 to 2004, when it was one of the top five most profitable firms in the world. See: After several quiet months, Dynasty Financial hunts a big ex-Citi head to unblock the sales process and make good it's original promise to corner-office prospects.
Easy outs
Even so, Hurley says advisors who take Dynasty up on its deal will also be taking on plenty of risk. If the market drops and squeezes profit margins, they will still be stuck paying 10% of revenues -- and then the deal will take on the look and feel of retention bonuses. 
"They've handcuffed themselves to Dynasty," he says. See: Coming RIA custody fees and a new recruiting war catch the attention of deal hounds in Manhattan.
Penney jokes that it would hardly take a Houdini to escape such bondage given the easy out that's built into the arrangement after three years.
"We're taping the key to the handcuffs," he says.
That said, Dynasty Financial Partners currently lends up to 50% revenue of the RIA with their lending program for the RIA to use for acquisitions, succession planning or launching new firm. The revenue purchase program is designed to provide another option alongside of the lending option that provides permanent capital. 
With Dynasty Capital Strategies, If advisors use the revenue purchase note it will be a different kind of transaction than if they used Dynasty's lending programs. 
"With the RPN it can be permanent capital if advisors want it to be. With the lending programs, they have to pay us back," Penney says.
---
---
Share your thoughts and opinions with the author or other readers.
An Observer said:
May 3, 2017 — 11:47 PM UTC
---
---