Josh Pace: It's dramatic and there's no end in sight.
Brooke's Note: It was but a detail Irwin Stein and I stumbled upon late in the reporting cycle of our article about Matson Money published last week -- that the $7.6-billion RIA was in the midst of a massive shift of its assets from Schwab Advisor Services to Trust Company of America. See: Mark Matson's $7.6-billion DFA TAMP exits Schwab custody as it sets $100-billion AUM goal. In the 17 years I have covered this business, rarely, if ever, have I seen such a large tranche of assets move from a mega-custodian to a small one. For that matter, it's pretty rare to see assets move from a large custodian to another large one. Too much pain. So I presumed an out-of-the ordinary series of events led to this occurrence. Josh Pace, CEO and president of Trust Company of America, apparently never received messages sent to his semi-moribund LinkedIn account. When we connected by phone late last week, he helped make some sense of this relationship.
The CEO and president of Trust Company of America recognizes that bringing over $1 billion of assets from Matson Money Inc. to his custodian with $16 billion in total assets in custody is an appreciable event.
"It's dramatic," says Josh Pace. "And there's no end in sight."
The drama and the potential for infinite growth stems from CEO Mark Matson's stated target AUM of of $100 billion as he pushes to make his RIA TAMP into a national force. See: A $3.4-billion DFA RIA sends his social media presence sky high with a 'Yep, I Built That' strategy.
"What changed was the crystallization of the [Matson] mission," says Pace. "Matson is on a mission and has a real brand and it's really making changes."
Matson has already moved $1 billion to mini-custodian TCA from the San Francisco-based Schwab.
Some analysts question whether Matson goal is a realistic one, but nobody can doubt the Scottsdale, Ariz.-based firm is growing rapidly having added nearly $300 million in 2017 coming after new assets of more than $330 million in 2016.
"We've been pleased with what TCA has brought to the table in terms of their ability to work with us thus far," Matson says. "We've valued the relationship with them for quite some time."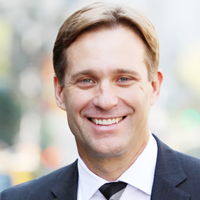 Pace, who took over as CEO at TCA in June 2015, says there are two big factors that gave his firm the opportunity to figure big in Matson Money's future. After a brief mini-Schwab era, Trust Company of America gets back to non-conformity and success.
On a general level, Pace says Matson's determination to take his emerging brand national made it disinclined to work with Schwab, which is competing for mass-affluent investors -- something TCA does not do.
Specifically, he says Matson came to both Schwab and TCA with a request that they better automate the onboarding process. It was TCA that stepped up and successfully made Matson's proprietary technology work more effectively with its own. Trust Company of America is giving RIAs more weapons for free-wheeling.
All the pieces matter
Pace has a knack for creating moments with RIAs. He joined TCA in 2012 and was chief business officer before taking the CEO reins and is credited with creating 80 new advisor relationships in three years. TCA has a total of 200 client firms that are TAMPs or RIAs.
Though Matson and Pace are on track for a big new relationship, Matson cautions that he is always on the prowl for the best vendors.
"My drive is to try to deliver to the end investor the best that we can in terms of guidance, advice, investment management and the total cost of investing," he says. "So, we will always search for partners who share in our values and wish to work with us whether they be rooted in custody, fintech or investing."
Pace plans to meet the challenge by staying small and smart.
"Nobody says you need to be a giant to be successful," he says. "You're not winning on brawn. You're winning on smarts. It's plugging the jigsaw pieces into the puzzle." See: Part II: RIA custodians' answer to challenges to their monolithic control: We still have big-time scale advantages
---
Mentioned in this article:
---
---
---