Rija Javed: If you're a Wealthfront client, you've probably been frustrated by the slow pace of your funds getting invested, or wondered why you still need to use forms in this day and age.
Brooke's Note: If you are going to build the world's tallest skyscraper, you'd better build the best foundation first. In its rush to market, Wealthfront may have built the building first. But bolstered now by more capital, a better understanding of the business and where it wants to go, The No. 2 VC-backed robo is putting Hoover Dam-grade cement in the gound. Now the question is whether all this infrastructure is too much foundation for too little building. Wealthfront manages $5 billion of assets. Meanwhile, Apex, which got let go in this process, seems to be saying to Wealthfront: Go ahead and knock yourself out and we'll continue to keep your competitors on the leading edge at a fraction of the cost.
Wealthfront Inc. has dropped its biggest automation vendor after six years as it turns its eyes toward a more product-oriented future. With robo-advisors on the rise, robo custodian Apex is rising with them, a diamond mined from the rubble of the Penson Worldwide debacle.
The Redwood City, Calif.-based robo-advisor dropped Apex Clearing and brought the outsourcer's functions in-house.
Although Wealthfront, which manages about $5 billion according to its ADV, did not name Apex in its blog post that announced the change, an Apex spokesman confirmed that his firm had recently been dropped. Wealthfront tweeted out a link to the blog post today that descibes the change.
Wealthfront was not coy in describing why it made the switch.
Like '1960s'
"Wealthfront, like many other fintech companies, was built on top of brokerage firms offering access to standard brokerage and banking capabilities through APIs," writes the Wealthfront blog under the byline of Rija Javed, senior software engineer for Wealthfront.
"Unfortunately, these brokerage firms are running on legacy systems and infrastructure from the 1960s, and many of their APIs are built on top of semi-manual processes and disjointed systems. This blocks many desired improvements and hinders our ability to achieve end-to-end automation, a requirement to support our growth."
Apex jumped to the fore of the robo-advice niche not because of its "clearing" per se but because it was able to create APIs that enable robos to use its processes and private-label them. Wealthfront now uses RBC Correspondent Services for its clearing. See: RBC Wealth Management adds NextCapital to its robo lineup with a head-scratching explanation about its earlier pick of FutureAdvisor.
Apex Spokesman Graham Buck says his firm's technology was not impeding Wealthfront and that its decison to end the relationship was based on a more general desire to insource.
"This decision has nothing to do with the service and technology that Apex Clearing was providing," he says. "Wealthfront now wants to invest its time and resources in engineering its infrastructure in-house."
Such a move to do in-house what generally gets done outside, would need a tangible improvements to pay off, says Lex Solkolin, analyst with Autonomous Research in London.
"If this technology improvement implies better speed to market, faster account opening and money movement, and futuristic integrations like biometrics, then it is a differentiated upgrade," he says. "But much of the industry infrastructure has not been upgraded because it is seen as a commodity -- something you rent, rather than compete on."
But Javed suggests that Wealthfront's investors did receive subpar service prior to its purported technology upgrade.
Frustrated Wealthfront clients
"If you're a Wealthfront client, you've probably been frustrated by the slow pace of your funds getting invested, or wondered why you still need to use forms in this day and age," she writes. "In our view, the major industry players don't demand better services because given their fee structure, they are happy to employ people to address all the problems. We also find that most brokerage firms rely on a chain of third parties, none of which seem to care about the ultimate client or use modern engineering practices."
But Apex's Buck says his firm's technology helped Wealthfront to succeed.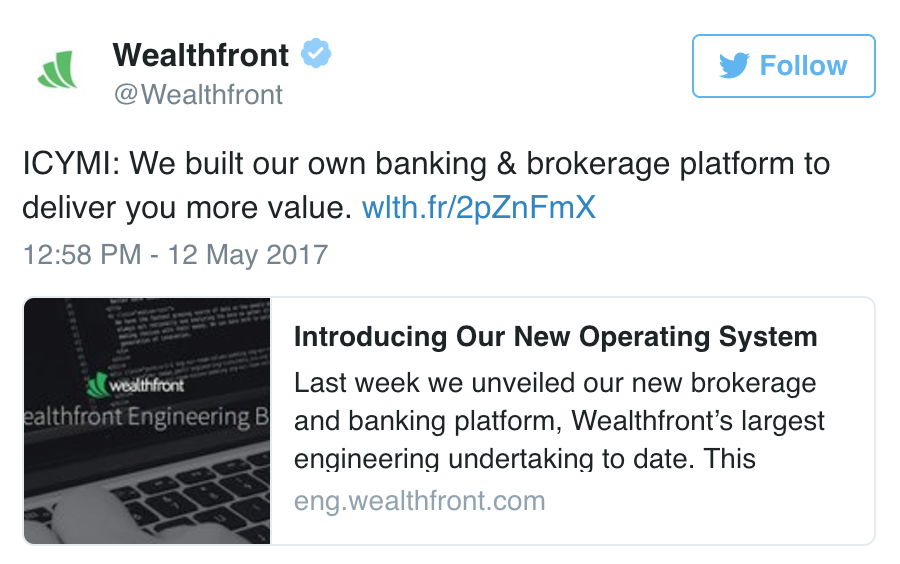 "When Wealthfront launched, Apex Clearing was the only one who had the technology to build the platform they needed and to support some of the keys to their success, such as paperless sign-ups." See: Apex Clearing adds Ron Fiske to its Pershing mafia as it plays bigger for emerging asset class -- RIA digital.
Javed says that what was good in 2011 is not good enough in 2017.
"We were grateful there was a brokerage firm available in 2011 to provide the basic APIs we needed to deliver a rudimentary automated investment service, but we've now outgrown that solution," she writes. "Our clients deserve better." See: Wealthfront throws engineering at its large-account 'problem'.
Arguably, Wealthfront's chief rival, Betterment, has an edge in its automation because it had its own broker-dealer from the start and Wealthfront is belately following its lead, says Will Trout, London-based analyst with Celent.
"I think at Wealthfront's objective here is to achieve some of the efficiencies captured by Betterment by having a vertically integrated -- front end interface through reporting through brokerage through trading and accounting, even tax/cost basis -- technology stack. It's straight through, it's seamless, and it beats paying a third party to provide these services. At least until Brexit or another like fiasco causes the system to overload." Betterment shut down trading post-Brexit to dodge 'trading blindly into extraordinary volatility'
Ain't we got fun
Wealthfront spokeswoman Kate Wauck did not respond to a request for comment for this article.
The Wealthfront blog post specified expected improvements empowered by the new opeprating system including: "faster money movements enabling next day investing, direct deposits, Wealthfront-branded money movements, real-time transactional data, and even better designed brokerage statements that might even be fun to read." It also claims to have addressed issues like self-served mailing address, interested parties and beneficiary view and updates.
Wealthfront also credits the new platform with allowing it to sell 529 products and securities lending. Andy Rachleff makes waves with NY Post quote: Don't get 'hung up' on our lose-more-funds-than-you-deposit disclosure
'Leading edge'
But Buck says his firm is able to stay current on behalf of some of the biggest, most technologically advanced automated financial companies in the business.
"We continue to empower companies on the leading edge of the digital revolution in wealth management – such as Betterment, Stash and Robinhood -- and we recently began working with Wisebanyan, Tasty Trade and John Hancock among many others, who came to Apex because of our state-of-the-art, customizable technology solutions."
Javed says there was no outsourced solution on the market to rent or buy for Wealthfront and so its engineers had to build it.
"We initially considered acquiring an existing firm that had built its own brokerage system, but when we dug into this option we saw that we would end up inheriting antiquated systems that we would need to patch and augment with ad-hoc systems to support our needs."
Such move could end up having a payoff in ways unforeseen right now, Sokolin surmises.
"Maybe once all the dust settles, this new infrastructure becomes the new gem behind the business," he says. "There has not been a magic customer-acquisition machine in roboadvice (excluding Robinhood or Acorns by definition), but perhaps rewriting all the wiring could be worth something to a large financial incumbent. Wouldn't a custodian that has both bank and investment businesses want a much more profitable platform for its existing clients?"
---
---
Mentioned in this article:
Wealthfront
Portfolio Management System
Top Executive: Andy Rachleff
---
---
---
FAA
In my Friday evening estimation...this is a race to zero. The only levers are Brand (perception) front end technology (very important but changing) and fees! There is no special algos, insight, tax management etc. Frankly the innovation is in portfolio construction/tax management. With adequate capabilities mutual funds (excepting those having custodial issues- EM equity etc) will be extinct. You will be able to manage your strategy pertaining to composition and tax management at the security level. That's the innovation...not this I am faster, I am smarter, I am cheaper.
---