Neal Simon: We will see the emergence of five to 10 very large regional and national RIAs, and that Bronfman Rothschild is well-positioned to become one of them.
Brooke's Note: Neal Simon and his venture are hard to peg. That sense that the Bronfman Rothschild CEO is playing music from a different sheet of roll-up music and executing from a different set of skills makes this interesting. It is also interesting that he is staying with such an old money brand name in playing a sort of new money game of aggressive growth. It's not like he doesn't have competition from Focus Financial Partners LLC HighTower, Steward Partners and AdvicePeriod, which are all well financed and well-known.
If you're an RIA chief on acquisition binge with plans to emerge as a national player it helps to have deep pockets.
That describes Neal Simon who sold his $1.4-billion AUM firm 18 months ago to one that now manages $4.5 billion.
Simon, 48, became CEO at Bronfman E.L. Rothschild LP in August 2015 when he sold Rockville, Md.-based Highline Wealth Management to the Madison, Wis.-based RIA. See: This MBA chose an RIA, now with $1.4 billion AUM, but as a business model, not as professional choice per se.
For the unfamiliar: The Bronfmans made their fortune in the 1900s through the family's Seagram Co. and the Rothschilds have been involved in the banking business since the 1700s. The firm bearing both their names has been around since 2013 when investors from both families teamed up to buy an RIA from a Chicago-based accounting firm.
Since moving Bronfman Rothschild's headquarters to Rockville, a Washington, D.C. suburb, Simon has successfully engineered a passel of RIA acquisition and team liftouts and is pursuing others. He's had experience in doing so having engineered six such acquisitions while at the helm of Highline. Simon is currently eyeing the purchase a trust company to expand the firm's offerings. He also recently lured Marilyn Napoli from New York-based Cantor Fitzgerald to serve as director of wealth management out the firm's New York office. See: Abby Johnson tells RIAs to have all employees, up and down the chain, think client thoughts at Fidelity's 2014 Executive Forum.
But Simon cautions not to confuse his pursuit of acquisitions with the moves of an RIA roll-up and the associated potential for culture clashes. He stresses that the process of bringing on new teams means fully integrating them into Bronfman Rothschild -- and credits hewing to that philosophy with his M&A successes thus far.
And while Simon is a businessman who knows a thing or two about growing and selling businesses, he views Bronfman Rothschild as the dominate player in any M&A deal, not a target by a larger firm. See: With beginnings harking back to E*Trade's RIA roll-up liquidation, two Boston-adjacent RIAs of a certain age join to create a $4.7 billion firm.
Just this week, the firm announced the transition of a team led by John H. Wolff from $500-million AUM Capital Fiduciary Advisors LLC in Reston, Va., where Bronfman E.L. Rothschild will open a new office. RIABiz recently talked with Simon about his company's growth and his vision for its future.
RIABiz: Bronfman Rothschild has acquired several advisory firms in the last few years. First, where is the capital coming from to make those acquisitions?
Simon: We are fortunate to have a profitable business as well as business partners with significant capital and a willingness to make smart investments in Bronfman Rothschild's growth. Both the Bronfman and Rothschild families are known for their business success, and they both bring considerable liquidity when we have the right opportunities. See: HighTower picks up $6.4-billion roll-up on the cheap but the valuation may reflect WealthTrust's stagnant growth and profitability
RIABiz: Has that available capital been your only advantage in successfully doing these acquisitions or are there other factors that come into play?
Simon: Another advantage we have is that we have acquired or lifted out five teams, and everyone one of these deals has been a success. [Editor's note: Since we talked to Simon, he acquired one more -- see introduction.] Integrating acquired firms is difficult, but we have developed a detailed, efficient process. We do not allow the new teams to operate in independent silos, but instead truly merge them into our business. We gather regularly, we share one investment philosophy, we centralize trading, and we offer the same client experience. We believe in being truly one company. We can also offer our new partners equity in our company, in the same share class as all the other owners. See: With beginnings harking back to E*Trade's RIA roll-up liquidation, two Boston-adjacent RIAs of a certain age join to create a $4.7 billion firm
RIABiz: How have your acquisitions contributed to growth? What were your assets under management five years ago, three years ago and current?
Simon: Five years ago, Highline had $1.19 billion and Bronfman Rothschild had $1.37 billion. At the time of Highline's merger with Bronfman Rothschild in July 2015, the combined company had AUM of about $3.5 billion. Today we are at $4.5 billion. About a quarter of that growth is the result of M&A activities. We also have a couple of additional pending transactions, and expect to exceed $5 billion in AUM by year-end. See: John Furey is creating a think-tank out of six big RIAs that want to grow like roll-ups without the pressures of an IPO.
RIABiz: I'm curious about your clients. Highline had a minimum of $2 million and you dropped that to $1 million at Bronfman Rothschild. Why?
Simon: Bronfman Rothschild historically had a lower average client size and minimum client size than Highline. With our scale, our efficiency and our 35 advisors and 80-plus person staff, we now have the ability to effectively serve clients down to $1 million. See: In her words: A former Goldman Sachs star gets into the depths of winning UHNW clients, without being in that tax bracket.
RIABiz: I also saw in your latest ADV that a good chunk of your business comes from pension and profit-sharing plans [as part of its brokerage, Bronfman E.L. Rothschild Capital LLC]. Is that a part of the business that is shrinking or has potential to?
Simon: Our retirement plan services business is thriving and was probably the greatest surprise to me after the merger of Highline and Bronfman Rothschild. We have a talented team that has acted as fiduciaries for years, and our retirement advisory practice has been certified by the Centre for Fiduciary Excellence, meaning we have been independently verified to uphold the highest standards of fiduciary care in the industry. We recently added two advisors to that team, and expect to continue to grow this business. See: With DOL wind at its back, Pentegra Retirement Services hires David Barrer to newly created TPA czar position to sail past its $11-billion AUM watermark.
RIABiz: Then with it already at 50% of your business, do you expect its share to grow? i.e., could it become, say, 75% of your business? And how does it compare to growth on the advisor side?
Simon: Our retirement plan business is about a third of our assets. We expect a high growth rate in both our retirement plan business and our wealth management business, so I would not expect the percentage of our total business to change much.
RIABiz: I'm also interested in hearing about how you ended up here. You were the owner of Highline and sold to Bronfman, but then became CEO of the combined company. This also is the fifth business you've run. Briefly, what were the others, and how have they prepared you to run a $4.5 billion RIA?
Simon: One of the things that makes me different from most RIA CEOs is that I am neither a career wealth advisor nor a career investment manager. Instead I am a career business manager who has run five professional services companies. I began my career in management consulting and eventually became the COO of an 80-person, international firm whose clients included Nike, Rockwell, and Kellogg's. I then became the chairman and CEO of USLaw, an Internet-based, national network of small law firms.
After that, I was hired as president and COO of The Meltzer Group, a 100-plus-person financial services company in the D.C. area. In 2002, I started Highline Wealth Management, the company I sold to Bronfman Rothschild in 2015 when I assumed the CEO position for the combined entity. See: John Furey is creating a think-tank out of six big RIAs that want to grow like roll-ups without the pressures of an IPO.
RIABiz: Tell me about your business plans for growth going forward. Are there goals in place, strategies being pursued, that help you compete for assets, both organically and inorganically?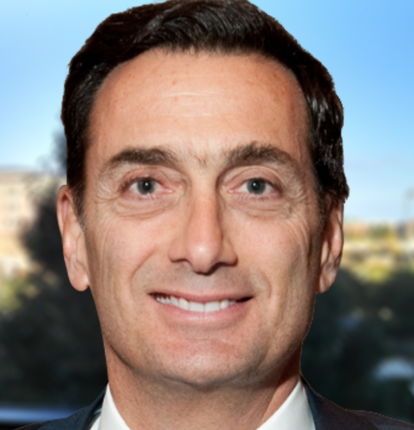 Simon: We have a five-year plan with a five-prong strategy. First is always client retention, which we project at 98%. Second is investing wisely for our clients, which should result in 5% to 10% growth. Third is organic growth, which we define as new clients from existing advisors and which should result in an additional 10% annual growth. Fourth is M&A which is always the most difficult to predict, but we have a number of opportunities in front of us. We are focused on the Midwest and the East Coast.
Finally, we may add one or two new product lines. For example, we are currently considering the purchase of a trust company. We believe that we will see the emergence of five to ten very large regional and national RIAs, and that Bronfman Rothschild is well-positioned to become one of them.
RIABiz: You recently hired Marilyn Napoli [formerly of Cantor Fitzgerald Wealth Partners] as director of wealth management. Is she bringing assets and clients with her?
Simon: Yes, Marilyn is bringing assets and clients. However, more importantly, in Marilyn we are adding a senior, talented advisor to our team in New York and added capacity to take on new clients.
RIABiz: Is this a new position for the company? If yes, why is the position being created now?
Simon: Marilyn's position is a new one for the company. We have been anxious to grow our presence in New York. Not only does Bronfman Rothschild have a current office in New York, but several of our board members are based there as well, including Matthew Bronfman, Eli Goldstein and Lynn Forester de Rothschild.
RIABiz: Can you put an amount on that AUM she's bringing? And can you expand on your "added capacity to take on new clients"? i.e., does Napoli's position increase capacity of other advisors in some way?
Simon: As a privately held company we prefer not to give a specific amount. However, her presence adds depth to the experience of our New York office as a whole, enabling them to better serve their clients as a whole. In addition to Marilyn, in the past week we hired two other new people in our New York office [in wealth management]. On Jan. 31, Bronfman Rothschild closed the acquisition of TriCapital Advisors Inc. in Rockville, Md. With the deal, Bronfman Rothschild added $180 million of AUM and three new employees, including managing director Mark Schwartz. The TriCapital deal was particularly synergistic given they used one of our primary custodians and were located only a couple of miles from one of nine existing offices. The TriCapital clients and staff have already begun to benefit from our greater scale and resources.
RIABiz: Why specifically New York? Are there any plans to move the firm's headquarters there?
Simon: No, we currently have no plans to move the firm's official headquarters. [It's] is an attractive market to us, both because of the amount of wealth in the metropolitan area and because of the relative lack of large RIAs serving the market. Moreover, our business partners have vast networks there that provide us access to both prospective clients and talented advisors that could potentially join Bronfman Rothschild.
Simon: We do not consider ourselves to be a roll-up. With roll-ups, individual offices can operate quite differently from each other using differing investment strategies and offering varying client service experiences. Bronfman Rothschild is one company with one approach. Regardless of the advisor, the client experiences a similar approach. We have also centralized research, compliance, HR, finance, trading, performance reporting, and all other overhead functions. Our concept is to fully exploit all the synergies in running a large, regional RIA. See: Why the term 'roll-up' should stay in the RIA vocabulary.
RIABiz: Why did you go with the Bronfman Rothschild name vs. Highline? The name potentially exudes wealth and exclusivity. Despite lowering the minimum account size, could the name still scare off the mass-affluent? See: With $9 million in second-round VC bucks from Venus and friends on the books, Ellevest's AUM remains ground bound.
Simon: The Highline name was never well-known outside of the D.C. area and RIA circles. Shortly after the merger of Highline and Bronfman Rothschild, we hired a marketing company to conduct a study of our brand(s) and messaging. One of the findings was that, while the recognition of the Bronfman and Rothschild names varies with geography, both names are viewed positively by the mass affluent. Both names are frequently associated with wealth and business success. The Rothschild name, in particular, has been known for 300 years for the keen stewardship of investments.
RIABiz: Do you envision that Bronfman Rothschild, given its unifying and centralized (vs. siloed) approach, will become a target itself for acquisition, or are you in this for the long haul?
Simon: Bronfman Rothschild will be a long-term player in this industry. Our primary owners, namely the Bronfman family, the Rothschild family and myself, all believe that we can create a very large, regional or even national, independent wealth management business. The Bronfman and Rothschild families became investors in this space only four years ago, and they are both known for owning and building businesses for decades. We also believe in the value that can be created by merging similar businesses in the space. Given the resources at our disposal, we are much more likely to be an ongoing acquirer than to be acquired. In fact we are actively considering a number of acquisition and lift-out opportunities.
RIABiz: Does the fact that you [are not a career advisor] create any challenges for you?
Simon: I do continue to spend some of my time as an advisor with a select group of clients – this is both because of my long relationships with these clients and because it keeps me in touch with our business and the needs of our advisors. One of my key roles as CEO is to create an environment where our advisors can do exceptional work for our clients, and spending a little time as an advisor helps me understand what they need.
RIABiz: What company (or companies) do you use for custody and clearing?
Simon: Our primary custodians are Schwab Advisor Services and Fidelity Clearing & Custody Solutions.
RIABiz: Is one better than the other?
Simon: Both Schwab and Fidelity have been excellent business partners for us.
RIABiz: What software do you use for performance reporting and CRM?
Simon: We use Envestnet | Tamarac for both CRM and performance reporting.
RIABiz: To what degree are the Bronfman and Rothschild families involved in your operations?
Simon: Matthew Bronfman serves on our board and is very involved in the business. Until recently, the Rothschilds have been involved primarily through Eli Goldstein who worked for the family for many years on their private equity investments. Earlier this year, Lynn Forester de Rothschild joined our board, and is becoming more involved personally, which I believe reflects the family's excitement and commitment to the business. Eli started a new private equity fund, Radcliffe Capital, [but] remains on the board and also remains a key thought partner for me.
---
---
Mentioned in this article:
---
---
---