News, Vision & Voice for the Advisory Community
Shareholders Service Group has 1,500 RIA firms and counting and displayed a satisfying air of permanence at its San Diego conference
May 1, 2017 — 4:14 PM UTC by Guest Columnist Tim Welsh
Brooke's Note: Building up Shareholders Service Group has taken a long time. But the product of that patience may be a sort of masterpiece -- an RIA custodian that serves small firms with the same love as big ones and which doesn't compete with its RIAs. These qualities are worth cherishing as Scottrade is subsumed by TD Ameritrade and hundreds of its smallest advisors face uncertain futures. SSG is also gaining critcal mass and retaining some key talent on its board of directors in Peter Mangan and Dan Skiles. Many thanks to Tim Welsh who not only wrote the article but provided some of the pictures.
As CEO of one of the smaller RIA custodians in the business, Peter Mangan walks softly. 
His San Diego-based Shareholders Service Group Inc. is a quiet threat to power players like Schwab Advisor Services, Fidelity Clearing & Custody Solutions and TD Ameritrade Institutional because his firm targets the small, emerging firms that the big boys struggle with. See: Peter Mangan taunts rival RIA custodians as Shareholder Services Group adds weapons, advisors. 
The big stick that often accompanies a soft tread belongs to Pershing LLC, a subsidiary of The Bank of New York Mellon Corp., which SSG uses for securities clearing and custody. See: Lori Hardwick resigns from COO job at Pershing in 'completely unexpected' move.
So it was an appropriate pairing of Pershing chief information officer Ram Nagappan and Dan Skiles, president of SSG, that took the stage in San Diego last week at the sixth annual SSG Conference for Independent Registered Investment Advisors to discuss technology issues advisors need to be thinking about.
Robo rundown
Nagappan updated his audience of 300 on how his 287-year-old company is doing with its slow-but-steady robo technology add-on process -- and the equally slow-but-steady process of getting RIAs to use that robo tech. Mark Tibergien reveals big Pershing robo future as his firm partners with Vanare, SigFig and Jemstep -- and follows TD Ameritrade's open API lead. 
He ran down the status of the robo integrations: "Marstone and Jemstep are currently live, with Jemstep being fully functional. AdvisorEngine will be coming on board soon and SigFig is in the wings, waiting to integrate when a client comes along." He also announced the launch of Pershing's new API store.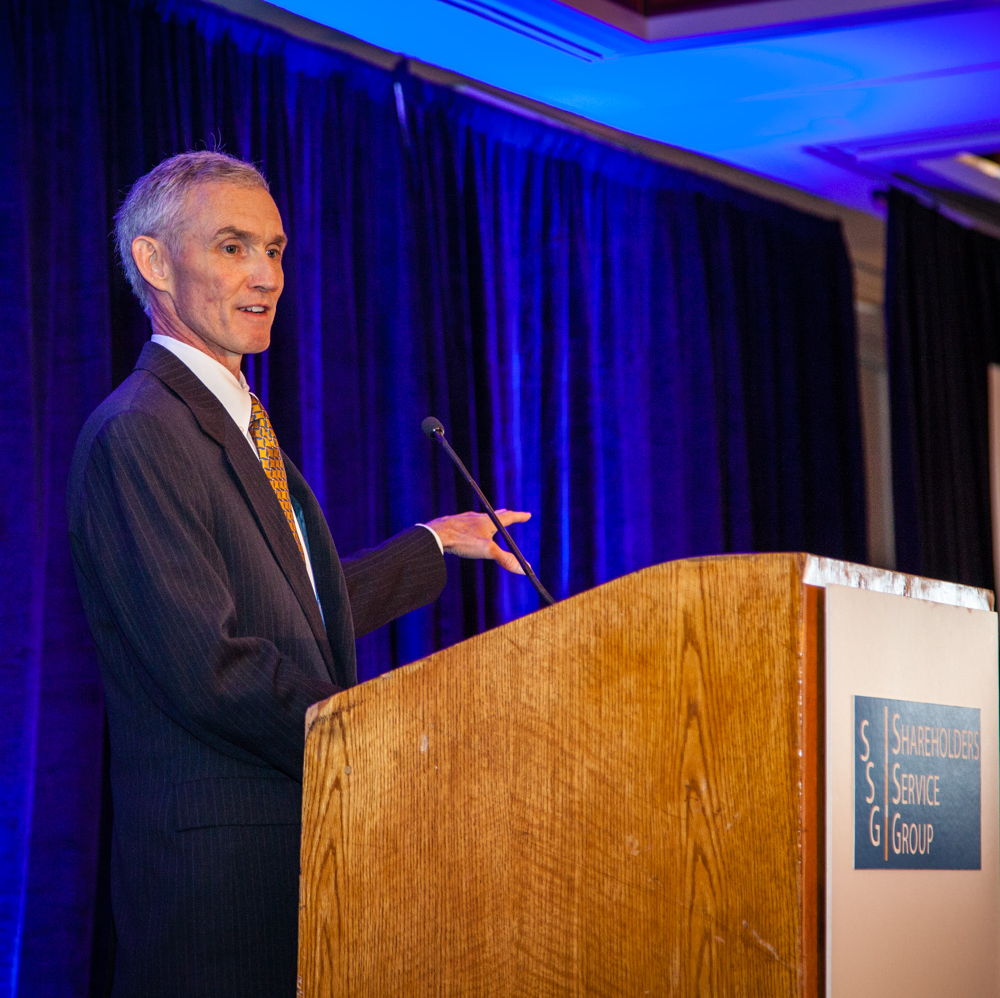 Nagappan made a virtue of Pershing's robo-by-stages approach.
"We are not there yet, but someone will come along and wealth management will be redefined, so we will stay nimble and integrate with new technologies, along with our own, to truly become digital." See: As Pershing struggles to get a robo firmly fixed in the RIA frame, NextCapital rushes in to blur the picture.
The measured pace also gives RIAs time to adjust to the new robo reality, Nagappan said. Advisors currently see automation mainly as a useful as a tool for rebalancing ETF portfolios and don't appreciate the bigger picture: that robotics can and will cover client onboarding to planning to investing to ongoing monitoring and everything in between. See: Wells Fargo's new ADV reveals plenty about its robo's ambitions to max cross-selling and minimize channel conflict.
"We need to look at the business not only from the client journey but also from the perspective of the operations person, the advisor, the compliance officer and business owner. All of these pieces need to be integrated, which makes for a very large, long-term project," he said.
Lest RIAs feel lost in this new world, Mangan it made clear that RIAs are the sun in this solar system.
RIA sun kings
"RIAs have a tremendous amount of power – you are able to bring all of us here and you are the true sponsors of this event," he said as he opened the conference.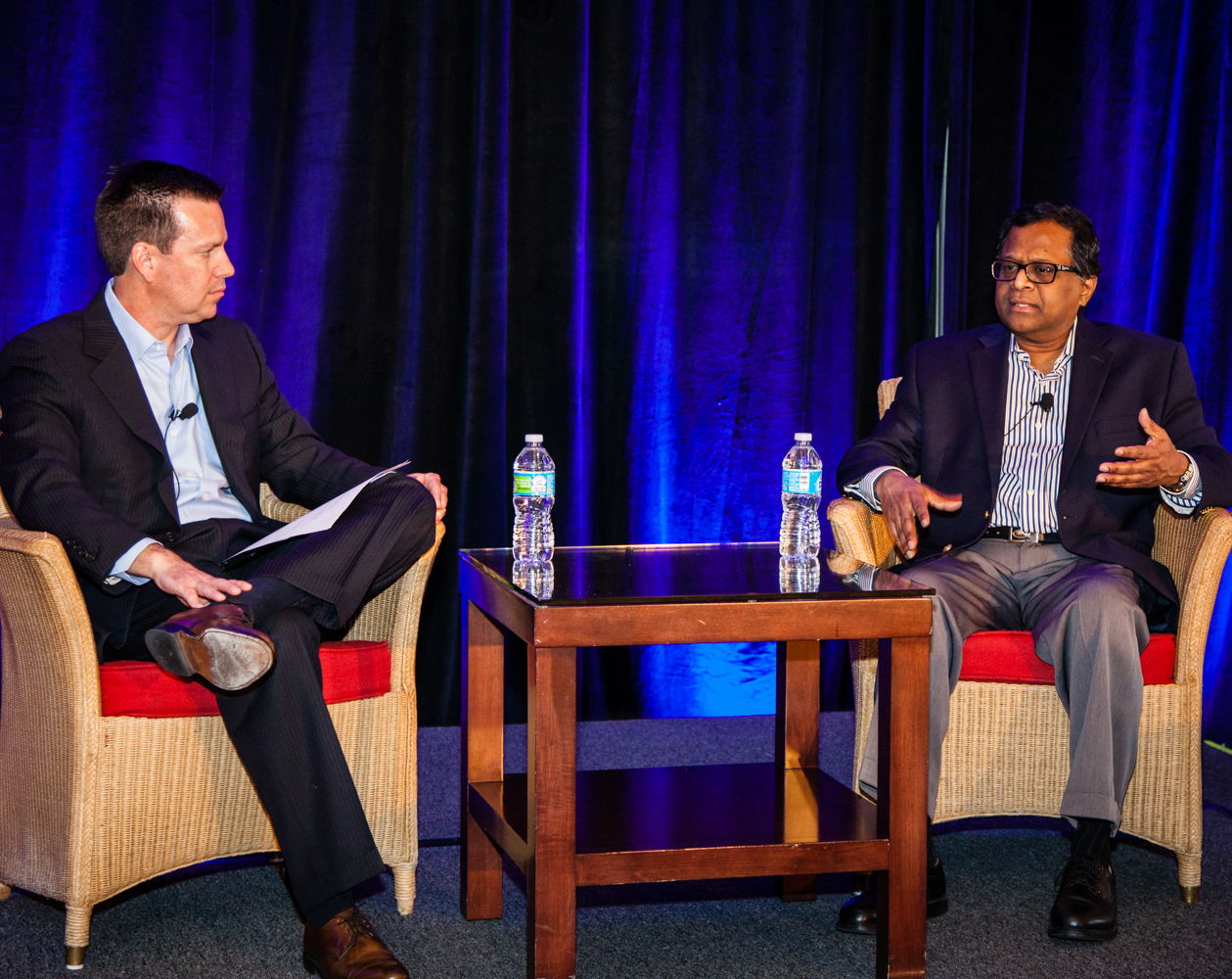 He referred to the fast-growing support industry of asset managers, technology firms and custodians that are attached to the RIA juggernaut, which is growing twice as fast as its wirehouse competitors, according to the latest numbers from Cerulli. See: Tim Hockey invites channel-conflict question before TD Ameritrade's RIAs, sets good tone at LINC conference.
SSG currently serves 1,500 RIAs, 160 of which where added this past year. Its new account growth is up 17% this quarter versus a 12% growth rate at the same time last year, along with a 100% increase in incoming transfers, according to the company.
That persistent problem
Letting a bit of air out of the RIA balloon was Bob Veres, who reminded attendees that while they are busy disintermendiating bigger legacy players, they are also exposing their rear flank.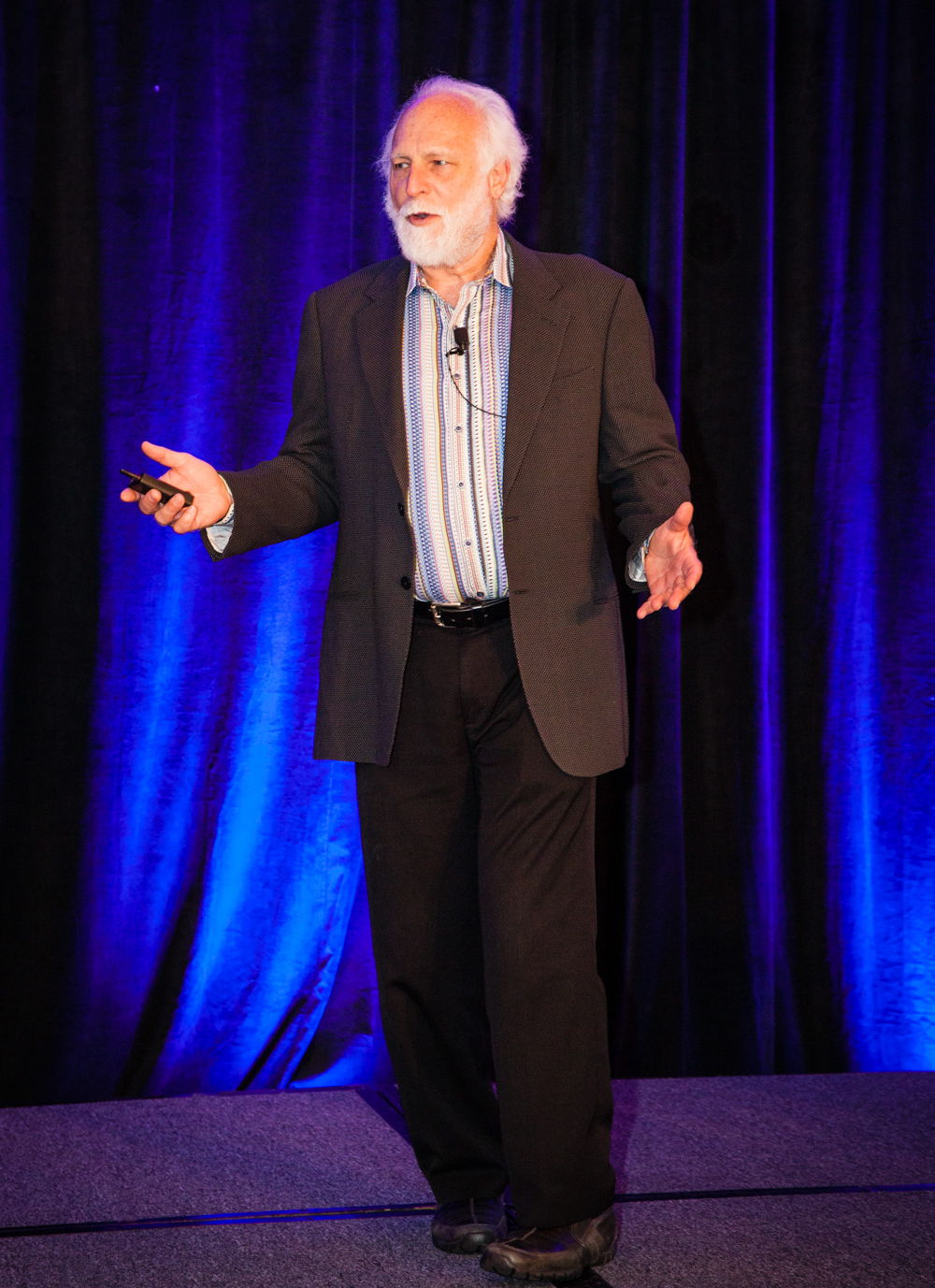 "The independent industry began years ago with a focus on middle-market, baby boomer investors and has grown up with that segment, raising minimums along the way," he said. "However, that has created a problem where today's middle-market investors are now locked out of service, creating a tremendous pool of untapped potential." See: Wells Fargo's new ADV reveals plenty about its robo's ambitions to max cross-selling and minimize channel conflict.
Veres' advice, also laid out in his book, The New Profession, is for advisors to bring in younger successors and focus them on going signing on these emerging investors with a technology-enabled service model -- and with a new model for fees.
"The future is a mix of project fees, hourly or retainer fees, as well as a more defined, tiered service model," he said. See: Why a broken RIA sales strategy is more of a repairable passion problem.
Veres left off on a positive note, imagining a future in which clients will self-service their own ACATs transfers, making the portability of businesses easier.
"We will have a flood of brokerage refugees 'going pro' as it becomes easier to move accounts."
A pre-conference technology workshop led by industry techmeister Joel Bruckenstein featured 16 "TED"-like talks from leading tech vendors. Kicking off the presentations, Bruckenstein warned advisors: "While there used to not be a late adopter penalty for advisors, that is no longer the case."
In the picture
The exhibit hall housed 28 companies whose reps were kept busy doing demos for and answering questions from SSG advisors who, although they tend to dot the lower end of the AUM spectrum, are avid consumers of technology.  (The hall also served as reception area and dining hall.)
Local San Diego artist Stephen Fishwick led the creation of a crowd-sourced beach scene painting as attendees all took a hand at painting a piece of the landscape. The final result was auctioned off for a local San Diego homeless charity and won by Junxure CEO Greg Friedman with the top bid, which Mangan and SSG handsomely matched.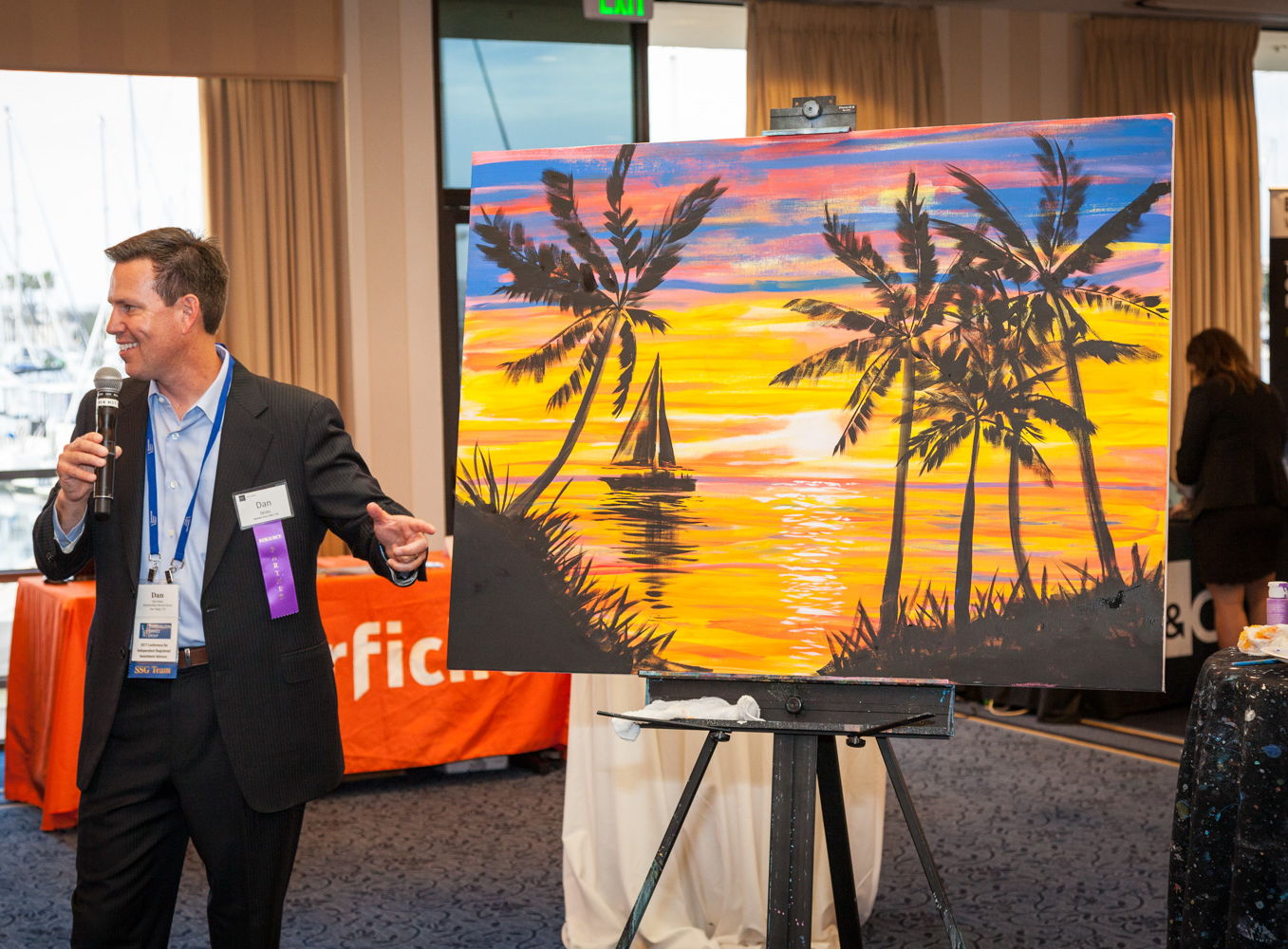 Evenings were packed with vendor outings and receptions, with the Junxure and Rowling & Assoc. pizza and beer event taking up the presidential suite at the San Diego Sheraton the final night.
Fresh off of her sale of TRX to Morningstar Inc., Sheryl Rowling was back in the entrepreneur game with the launch of InStrategy, an outsourced investment research and strategy platform which she introduced over local San Diego craft beers and vegetarian pizza. See: The four-year ordeal Orion's president underwent to launch Eclipse -- a sprint to stay in the race with Tamarac and Black Diamond for rebalancing.
To learn more about what went on at the SSG conference, check out the many tweets on the #ssgconf hashtag on Twitter.
Timothy D. Welsh is president and founder of Nexus Strategy LLC, a leading consulting firm to the wealth management industry. In writing this article he is as conflicted as he is skilled and onservant. Many of the people in this article are friends, ex-colleagues and even clients and ex-client. He can be reached at tim@nexus-strategy.com or on Twitter @NexusStrategy.
---
Mentioned in this article:
Junxure
CRM Software
Top Executive: Greg Friedman
---
---
Share your thoughts and opinions with the author or other readers.
---