News, Vision & Voice for the Advisory Community
Ron Rhoades admits he is 'absolutely stunned' at POTUS' fiduciary advocacy on Twitter -- perhaps the product of a chance golf course encounter that sparked the meeting of minds
April 2, 2017 — 8:39 PM UTC by Brooke Southall
Brooke's Note: Sometimes something so unbelievable happens over the weekend it forces RIABiz editors to take a break from restorative activities. Could it have been a coincidence that this story broke on April Fool's Day?
The President of the United States is apparently the nation's best, new fiduciary advocate. 
Donald Trump unleashed a series of three pro-investor tweets Saturday that left little doubt that claims about him putting stockbroker interests ahead of investors were unfounded.
The story was first reported to the RIA Marketplace Twitter follower group by Ron Rhoades, the famed fiduciary advocate, who wrote "In his classic early morning tweet style, President Trump surprised the financial services community with these tweets." At MarketCounsel, a Ron Rhoades-Skip Schweiss exchange reveals new DOL-rule threat -- a Trump-led compromise creating a mutant strain of the reg that benefits no one.
Make it work
But if the tweets are to be believed, the story is quite different.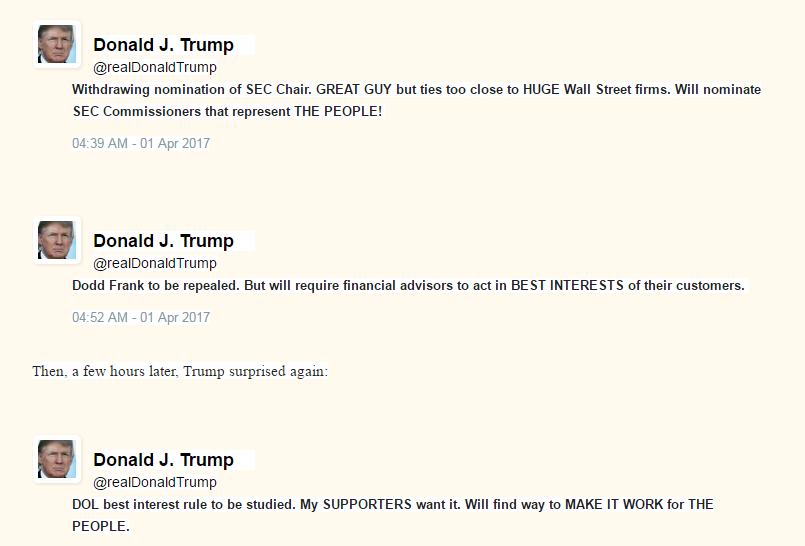 Trump's nominee to head the Securities and Exchange Commission, Jay Clayton, is a partner at New York-based Sullivan & Cromwell LLC, a law firm used by many Wall Street banks. On Jan. 7, the editorial board of The New York Times opined that Clayton's obvious bias would likely allow a number of investor protections being considered by the SEC die on the vine, most prominent among them, the DOL rule. See: Who's afraid of Virginia Foxx and friends? Maybe pro-DOL forces should be but no panic yet.
Despite what appears to be a clear message sent by Trump, Rhoades says the tweets present more questions than answers. 
"Will President Trump actually fulfill his campaign promises to look after the interests of, as he states, 'the people' -- and not the monied interests in Washington, D.C.?" he asks in his LinkedIn post. "Will the President instruct the DOL to go ahead and implement its "Conflict of Interest" [Fiduciary] Rules?"
April fools
"It'll come down to whether POTUS and Elizabeth Warren can stand to be in the same room together for more than five minutes. I'm guessing not," says Steve Winks, principal of SrConsultant.com in Richmond, Va. 
The Massachusetts Senator could not be reached for comment. The White House called the reports "fake news."
Trump will have to demonstrate his allegiance to investors by standing up to some of the people who financed his campaign, Rhoades says.
"Will the President lead, instead of just blindly following the Wall Street insiders he surrounded himself with?" he asks in his posting.
But then, Rhoades seemed to answer his own question. "I awoke from my morning slumber, and realized that my dream was amiss. Such a wild fantasy could only happen on April Fools' Day."
---
---
Share your thoughts and opinions with the author or other readers.
FAA said:
April 3, 2017 — 12:39 AM UTC
brooke southall said:
April 3, 2017 — 3:11 AM UTC
Matthew C. Cox said:
April 3, 2017 — 2:25 PM UTC
FAA said:
April 3, 2017 — 2:46 PM UTC
Eric Fischgrund said:
April 3, 2017 — 9:18 PM UTC
---
---