News, Vision & Voice for the Advisory Community
PE giants with loans of about $1 billion -- psyched that the roll-up's roll flow is snowballing in 2017 -- cash out Centerbridge, Polaris, Summit, several advisors and employees
April 19, 2017 — 4:39 AM UTC by Brooke Southall
Brooke's Note: The private equity world is too small. We knew this was coming. Whispers about it came from every eave of New York's Battery Park Ritz during Chip Roame's event a couple weeks ago. But still! The valuation is striking because it hovers around the low end of what you look for in IPOs. The amount of debt involved in this deal reminds us that big growth is expected. Dan Seivert puts a fine point on that itty-bitty detail in this article. It may not be enough to only fish in the ocean of advisors willing to become autonomous RIAs, he posits. To really succeed, Focus Financial may need to innovate to go after the seemingly endless and boundless assets stuck in the shale rock of the BD world.
Stone Point Capital LLC and Kohlberg Kravis Roberts & Co. LP will acquire a majority stake in Focus Financial Partners LLC in a deal that values Focus at approximately $2 billion. 
In doing so, the Greenwich, Conn-based investor of $13 billion and the iconic New York private equity firm will put to rest the question of how restless investors in the giant roll-up will cash out. Those investors include Centerbridge Partners LP of New York; Summit Partners of Boston, Menlo Park, Calif. and London; Polaris Partners of Boston; and San Francisco and Dublin -- not to mention Focus advisors and employees.
Focus, the New York-based roll-up, was founded in 2006 and its 11 years of existence is like two lifetimes in the private equity world. Focus has had other liquidity events but none as robust as this one. Why Focus Financial is risking it all -- including the advantages of privacy and private stock -- for a successful IPO.
Four years ago, Focus Financial was valued at $750 million. 
The senior management team at Focus will continue to lead the business. Members of the management team will also remain significant shareholders and receive a boost from Stone Point, which purchased NFP Advisors, the giant roll-up founded by Jessica Bibliowicz in 2016.  See: With Schwab [and maybe Fidelity] as custody partners, NFP is positioned to make a run at the hybrid market.
'Relentless support'
The deal is go-go stuff in the sense that it relies on Focus growing quickly enough to handle the staggering debt service that sources say comes from the $1 billion in leverage that fueled the deal.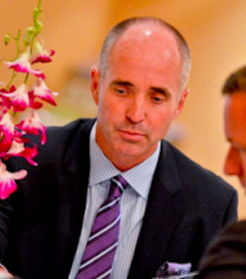 Focus CEO and founder Rudy Adolf reassured investors that process is on track in the deal announcement.
Must-have: 20% rate of return
That growth will come in an atmosphere in which management has "less control than ever" and perhaps more pressure to grow than ever, according to Dan Seivert, CEO and managing partner of ECHELON Partners of Manhattan Beach, Calif.
"Growth will have to come in different ways as it will be harder and harder each year to generate a 20%-plus internal rate of return on 10 to 20 RIA deals and on a higher base of AUM and revenues."
He adds that Focus completed 20 acquisitions in 2016 and has six already announced for 2017. Focus has more than 45 partner firms and affiliates across the United States, Australia, Canada and the United Kingdom, with a joint venture in China.
Those deals may be harder and harder to come by says Jeff Spears, who was founder and CEO of  Sanctuary Wealth Services LLC, roll-up-like venture in San Francisco.
"Why is that?" he asks. "The advisors controlling 59% of their assets are pretty well taken care of. The wirehouses have adapted."
By way of example, Spears references UBS's 50-50 program designed to retain brokers who have passed the half-century mark. He observes that the earnings of Merrill Lynch, UBS and Morgan Stanley are going up even as their headcounts decline, illustrating that those giant financial services firms are willing to err on the side of keeping big producers happy. See: Valerie Brown finds her CEO in UBS ex-prez Jamie Price off the obvious radar screen.
Still, Focus continues to acquire firms and support breakaways at an aggressive pace -- with an encouraging snowball effect from its RIAs becoming roll-ups unto themselves, according to David DeVoe, CEO of DeVow & Co. "Many of their affiliates - Buckingham and Colony, for example - have demonstrated that they are acquiring machines in their own right. Sub-acquisitions will become a stronger driver of Focus's RIA growth in the future."
 
Eyes on round 3
If there aren't going to be more deals, then bigger deals need to start cranking up now to make this KKR-led round of funding pay off.
"This third round of investors should be expected to usher in a new level of much larger deals…yes there will be the deals with larger wealth managers with $5-10 billion-plus in AUM," Seivert says. "…especially the ones that are private equity backed that need a liquidity event.  Keep in mind there are over 60 private equity firms that are currently investing in the industry."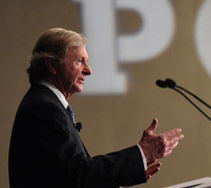 There will also likely be some unconventional deals that may involve banks, insurance companies selling out their wealth management businesses. See: The 19 ways private equity has juiced up the RIA business and how it's working out.
Investors can rest reassured that they've bet on the right horse, says Chuck Davis, CEO of Stone Point Capital.
"Rudy and his team have built a remarkable business model that provides relentless support to their independent wealth management advisors. We are excited to enhance their continued expansion with our sector expertise and deep network of relationships throughout the financial services industry."
"By consistently delivering value to its clients and partner firms, Focus has distinguished itself as the partner-of-choice for leading independent wealth managers in the U.S. and beyond," says Henry Kravis, co-founder, co-chairman and co-CEO of KKR, sounding a similar note in his company's release.
"We look forward to supporting the firm's continued success by leveraging our global network and resources."
Leverage globally
But Spears warns that Kravis and the other investors may not quite grasp what they are buying into.
"They don't understand a business model positioned as customizing a solution," he says. "It makes economies of scale harder. From my experience, [Focus hasn't] done that."
By comparison, The Mutual Fund Store sold last year for $560 million and had about $10 billion of AUM at the time. Focus Financial declined to name an AUM and because each of its advisors has its own ADV, making arriving at a figure a involved task. See: Hitting a robo wall, Financial Engines buys The Mutual Fund Store for $560 million to bust out of 401(k) confines.
Too early to market?
Whether or not Wall Street-style private equity firms like Stone Street and KKR end up walking away from the RIA business based on the Focus Financial investment, and deals like it, with a good taste in their gold-plated mouths may rely on their ingenuity in modifying hybrid advisors who exist more on their side of the old-style Wall Street, Seivert suggests.
"Of course a big question will be if this new team can find a way to transform the economics of the B-D business model and do some deals in this part of the industry…or will they just be responsible for increasing the departures of advisors leaving B-Ds for other business models," he says. 
"We know they have tried to build an effort in this area in the past with Matt Sonnen…perhaps they were just too early." A breakaway artist , Matt Sonnen, confesses the 'mistakes' he made in ushering PBIG's Hou-Sear team.
Then there's the unthinkable scenario of a severe market drop which could have devestating effect on a firm with asset-based fees but fixed debt servicing costs.
"A key question will be what happens if the industry experiences another 2008," DeVoe says.  "A company with a heavy debt burden can be in a challenging position if growth slows - or a market declines."
The reason private equity investors are willing to look past that risk, Spears says, is their overarching hunger to get into the post-Wall Street advice business of RIAs. Even though he has departed the busness for now, Spears says he still gets multiple calls a week from these kinds of investors sounding him out for ways to invest in this realm.
---
Mentioned in this article:
---
---
Share your thoughts and opinions with the author or other readers.
Jeff Spears said:
April 19, 2017 — 3:13 PM UTC
Big Bopper said:
April 19, 2017 — 7:23 PM UTC
brooke southall said:
April 19, 2017 — 8:51 PM UTC
Big Bopper said:
April 19, 2017 — 9:11 PM UTC
---
---