Alexandra Lebenthal: The freedom is great, the adrenaline, it's exciting. Other times it hits you, there's nobody else. (Photo credit: Jewish Business News)
Brooke's Note: There is endless talk about why more women business owners don't exist -- particularly in finance. Often it's discussed in the same vein as why more women on campus don't go out for the chess team. But it's not like choosing an extracurricular activity. It is choosing a lifestyle with a particular set of rewards and punishments. I am not pandering or condescending when I say that I always presumed the shortage of women in business leadership related primarily to their life priorities. Many women don't find the rewards of business all that rewarding or the punishments worth absorbing in that context. Men. We find the abstract battle of business somehow soul-satisfying in the way we like watching men in helmets bash each other to bits on Sundays. We even recall all the names and statistics related to these games, at least in my case, back to the 1970s. So it's with no small amount of respect that we write about Alexandra Lebenthal who is working at breaking through two ceilings. Yes, she's a woman. But she's also a woman carrying the immensity of a family legacy that cuts both ways. The Lebenthal brand has value, and she alludes to getting more than a helping hand from old family friends in tough spots. Yet none of that makes this easy. Kudos to her for braving the tough aspects and keeping on keeping on. We also appreciate insight into what went wrong with her ill-fated wealth management foray. Still, mystery hangs over whatever happened with Frank Campanale and Andrew Grillo, the men who founded that unit. Or Barbara Yastine, former Ally Bank CEO, who didn't last long at Lebenthal.
After weathering the mass defections of the high-wattage executives Alexander Lebenthal recruited to start her ill-fated high-net-worth, women-run wealth management firm, after having then shuttered its doors, in the midst of grappling with two nasty lawsuits and, finally, facing up to the possibility of losing her grasp on the financial services empire she inherited -- though only in name -- she is still here. See: Extraordinary women awaken the RIA business, shepherd billions
But it was a close one. And there will likely be more close scrapes to come before she and her company are in the clear.
Last Monday, at what appeared to be the 11th hour for Lebenthal Holdings LLC, a deus ex machina appeared in the form of another New York-based company, a "repo" financing firm backed by the U.S. Treasury. South Street Securities Holdings Inc. -- an investment banking client of Lebenthal & Co.-- agreed to acquire 49% ownership interest in Lebenthal & Co.
At the same time, South Street, whose business is made up mostly of repurchase agreements, which are a form of short-term borrowing for dealers in government securities, also bought all of Lebenthal Asset Management and Lebenthal Family Office.
Yet it was human white knights with love-infused intentions behind all that acme branding who made the critical difference.
"They also have an asset management business," says Lebenthal. "They love our brand, they love my brother and me and they want to help us grow the firm." See: Susceptible to acerbic tweets, Wall Street women report back being happily exhausted, starving, determined and 'nasty'
South Street did not respond to emails seeking comment. Attempts to interview James Tabacchi, CEO of South Street, were unsuccessful.
Scary time
The deal comes seven months after Lebenthal pulled the plug on Lebenthal Wealth Advisors. Indeed, Lebenthal's unsuccessful attempt to enter the wealth management arena precipitated what could have been the final chapter in a family concern founded in 1925. See: After pocketing $5.2 million in 2014 comp as Ally Bank CEO, Barbara Yastine joins Lebenthal as Frank Campanale exits.
In 1995, Lebenthal took control of the family business, started by grandparents Louis and Sayra Lebenthal, when her father, James, retired. In 2001, she sold the firm to the now defunct Advest Inc. In 2007, she repurchased the rights to the Lebenthal name for $1000 and revived Lebenthal & Co. as an underwriter of municipal and corporate bonds as well as stocks. She also started an asset management business run by her brother James. (In 2014,the firm stopped underwriting munis.)
In 2008, like everyone else, Lebenthal found herself in a "scary time."
She recalls: "We're a tiny little firm, I'd go out on the trading floor and see the market down 700 points."
Boldfaced names exit
But things got better and Lebenthal got ambitious.
In October 2013, Lebenthal launched RIA Lebenthal Wealth Advisors, handing out massive signing bonuses to win big wirehouse names: Smith Barney superstar Frank Campanale; regional director Andrew Grillo, also of Smith Barney; Jeffrey Lane, former CEO of Neuberger Berman; and Barbara Yastine, the former CEO of Ally Bank. Lebenthal housed them in elegantly appointed Park Avenue offices. See: Why Frank Campanale put his E.F. Hutton dream aside to join an OSJ.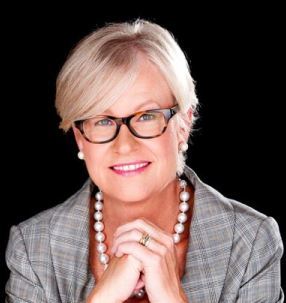 Lebenthal Wealth aimed high, setting a goal of amassing $25 billion of AUM in five years. But a rocky relationship between Lebenthal and the wealth management roll-up guys appears to have set the wheels of the the larger company's near-death experience in motion. Campanale was out after two years, replaced by Lebenthal herself, who then brought Yastine on board.
When asked if Campanale simply turned out not to be the right guy for the job, Lebenthal says, "I think the results speak for themselves." He is currently managing director and branch manager at Wells Fargo Advisors.
Grillo left last March.
A bid to reach Andrew Grillo via LinkedIn failed without his email address. Attempts to find contact information for him on Google and BrokerCheck failed as well. His lawyer, Paul Shoemaker, was out of the office and initially unreachable but did respond by phone to a request for comment. Frank Campanale declined to comment.
In another separation, albeit a more amicable one, the firm's star team, Carrie Gallaway and Andrew Stern, left Lebenthal Wealth Advisors shortly before it was shut down, taking five other Lebenthal employees with them. They didn't go far, forming YorkBridge Wealth Partners while staying put in the Bridgehampton offices they occupied as members of Lebenthal, with $750 million in managed assets and with Lebenthal's stated support.
At its peak, published reports say, the RIA had about $950 million. Its latest ADV put its AUM at about $45 million.
One woman shy
Lebenthal says it will be business as usual after this South Street deal, which is expected to close in the third quarter. No layoffs. The luxe offices will remain luxe. Lebenthal will be in charge of 51% of Lebenthal & Co. so it can continue as a woman-owned firm. See: JP Morgan breakaway RIA makes unusual hires with ambitious plan to lend to people that banks tend to shun.
"It's a huge benefit," she says. "My business is mostly capital markets underwriting, corporate debt, stock, share repurchases for big corporations. What happens is in big transactions major banks and credit facilities lend balance sheets, bridge loans, they're doing the lion's share of the business. If you're just a small broker-dealer and don't have anything to offer on the balance sheet or advisory side then most likely you won't be in the deal."
But the female industry star that once shared billing with Lebenthal will not be part of the reorganized company. Yastine, according to her LinkedIn page, was gone in June.
Asked why at the time, Lebenthal would only say, "She is no longer here."
Legal, money woes
And then there are the lawsuits.
Grillo is suing Lebenthal for $2 million, alleging damage to his reputation and career. He is also seeking to recoup an investment he made in Lebenthal Holdings of $67,000. Grillo's lawyer, Paul Shoemaker, a partner in the New York City law firm of Greenfield, Stein & Senior, says the Lebenthals told Grillo they could not pay him. Lebenthal says the lawsuit was not settled as part of the South Street deal.
Shoemaker says Grillo does not want to talk to the press. He says Grillo initially took his claims to arbitration, as he was required to do as an employee of the Lebenthal brokerage firm, but that Lebenthal then claimed he had waived his right to arbitration under an employment agreement with Lebenthal Holdings. Lebenthal went to court to stop Grillo's arbitration, and that, Shoemaker says, is how Grillo's claims became public, as part of that lawsuit.
Lebenthal has other legal worries. Last month, former Bear Stearns chairman Jimmy Cayne filed a lawsuit claiming that he loaned Lebenthal a million dollars of his own money just weeks before Bear collapsed. At that point, Lebenthal had been paying employees from her own checking account, according to published reports. In the lawsuit, Cayne claims Lebenthal had not made a payment on the loan since the end of 2015 and still owes him $438,000.
The Wall Street Journal also reported that Lebenthal's wealth unit owes money, some to a firm that created an online magazine Lebenthal launched in 2014 to try to attract female advisors. The unit is alleged in another lawsuit to have defaulted on a lease in Michigan of almost $200,000. Alexandra Lebenthal said in an email that she could not comment on the status of that lawsuit.
Good times, bad times...
In a candid interview, Lebenthal acknowledges that the last few years have not been "the most fun time I've ever had."
"With all the issues over the last year sometimes all I could do was think, I'm a complete failure, that will be my legacy," she says.
"But a lot of people have failures and turn them into positives. I'm proud of what I've done. For any entrepreneur the sword of Damocles hangs over your head. The freedom is great, the adrenaline, it's exciting. Other times it hits you, there's nobody else. At the end of the day it's your money and your reputation you're always thinking about how can you keep going through any crisis."
Lebenthal shared one way she's coped with the vicissitudes of the last year.
"I've been listening to Elaine Stritch singing 'I'm Still Here,'" she says, referring to Stephen Sondheim's ode to tough women who, in the face of adversity, persist. See: Wall Street women pile into buses and cars, head south on I-95 to protest Trump.
---
---
Anonymous
I think Lebelanthal is a great example of the moral bankrupcy of Women and Minority Owned Businesses receiving special consideration. Nothing against her personally, and not to slight her efforts, but she was born with a silver spoon in her mouth, and is most certainly not deserving of any preferential treatment in business dealings as a function of her gender.