News, Vision & Voice for the Advisory Community
Threat of losing DOL rule sparks a new public consciousness and the Massachusetts Senator gives shout-out to Betterment, XY Planning and BlackRock
February 7, 2017 — 10:46 PM by Janice Kirkel
Brooke's Note: The Trump administration's flip-flop on the DOL rule on Friday was breathtaking but didn't happen for nothing. See: Trump's lightning-quick backtrack on executive order relating to DOL rule sows chaos in financial advice industry, Anti-DOL rule forces are caught in a sharp downdraft. A DOL rule that nobody cared about before suddenly has a whole new world of supporters -- namely people and firms that didn't have the will to go get reform but are willing to dig into a foxhole to prevent it from being taken away. But there are also intense forces of capitalism at work as firms calculate the costs and benefits of supporting a rule that many have already invested money in to comply with. Now, powerful politicians like Elizabeth Warren are fanning those flames by naming names of firms that seem to get it. Positive reinforcement with an implicit warning that negative reinforcement could follow. Watch out! The name of your firm might even end up in a tweet. 
Edmund Murphy was just one of many who had waited in suspense long enough and had something to say.
The president of Greenwood, Colo.-based Empower, the 401(k) giant that manages Apple's plan, among others, put out a statement almost immediately upon receiving guidance from the Department of Labor Friday. 
The early word was that its DOL fiduciary rule's implementation had been delayed to be studied yet again -- and Murphy's tone was celebratory. 
The statement continued: "Empower firmly believes that our clients' best interests should always come first and support the intent of the rule. However, in its current form, the rule could have the unintended consequence of limiting valuable help for workers saving for their retirement. This implementation delay affords the retirement industry an opportunity to seek further enhancements to the rule." See: The second-largest 401(k) provider drops 'Great-West' for 'Empower'.
The statement by Murphy was of course deemed null and void, for now, by DOL's backpedal only hours later.
Mercy of Wall Street
Though the PR missive was trivial unto itself, it stands out as a symbol of shifting sands under the feet of the DOL rule's skeptics.
In the past, debate occurred in an atmosphere of trying to add red tape rather than one of trying to preserve a basic consumer right. See: Where RIABiz's view of RIAs as oases-of-ethics bumps up against the Merrill Lynch & Co. mirage -- and why that mirage is still so effective. In the latter context, people have awakened, according to Seth Rosenbloom, associate general counsel of Betterment for Business.
"The prospect of being left to the mercy of Wall Street... people realized the significance of that." 
She named Betterment, XY Planning and Personal Capital as companies that "wrote to express their support for the rule and their opposition to any delay." 
In the letter, Warren also included comments from Charles Schwab Corp., Lincoln Financial and others that praised the "intent" of the rule. 
ADISA stance
Among those most eager to be heard was an alternatives investment trade group, one of the groups which rely most rely on commission business.
"ADISA [the Alternative & Direct Investment Securities Association] recognizes President Donald Trump and his administration for its decision to delay implementation of the Department of Labor's fiduciary rule," wrote president John Grady in a press release.
"Although well intentioned, the rule, as enacted, would harm the very people it is intended to protect – retirement savers of modest means who would find themselves unable to afford professional investment advice. We encourage the president and his administration to now move forward with a thoughtful and reasonable cross-agency regulatory or legislative effort to strengthen ERISA for the ultimate protection of retirement savers in a way that preserves investor choice and access to financial advice." See: Critic calls 'laughable' FSI study that shows only 14% of advisors want DOL rule to stay.
The Consumer Federation of America reacted to the early draft of DOL's guidance on a delay and flew to the defense of its own:
"Less than a decade ago, Wall Street and our economy were in freefall. Toxic mortgages peddled illegally helped to cause the most severe financial crisis since the Great Depression. Today's actions by the White House are an ominous sign that amnesia has set in," said Rohit Chopra, senior fellow at the CFA. See: Signed, sealed, delivered: Fiduciary advocates hope SEC takes their new survey for gospel.
"Wall Street needs a watchdog, not a lapdog," he wrote. "This isn't just good for consumers, it's good for the entire economy so we can prevent the next financial crash."
Chopra served on Hillary Clinton's transition team, where he led planning on Wall Street regulation, before joining CFA.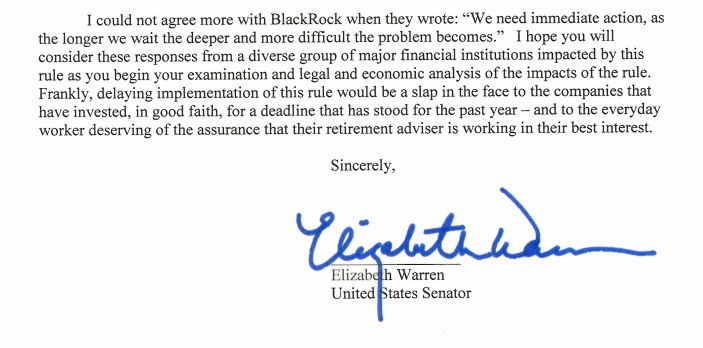 Test results
Another witness for the defense was professor William Birdthistle, an expert on investment funds and corporate law at Chicago-Kent College of Law:
Amid all these strong opinions, players like SEI Advisor Network took even-handedness to new middles.
"The DOL cat is out of the bag, and the rule's delayed implementation does not come as a surprise. We have asserted that the consumer is the one that is really going to drive this issue. As the rule nears its original deadline, clients and media have questions about what it truly means to be a fiduciary. What IS the difference between a salesperson and an advisor? The industry would be wise to continue down the path of full fiduciary business implementation. Even with the DOL rule's delay, fiduciaries should strive to put clients' interests first," wrote John Anderson, managing director.
For others like Knut Rostad, co-founder and president of the Institute for the Fiduciary Standard, the early reading of the DOL's guidance was like a near-death experience of the foreseeable kind.
"President Trump's executive order delaying the DOL [conflict of interest] rule is both deeply disappointing and entirely expected. At least for the last 86 days," he wrote before the flop part of DOL's flip-flop. 
'Unscrupulous financial advisors'
"The order brings a new opportunity for fiduciary advocates to rethink strategies in line with how dramatically the positions of the field have shifted," he added optimistically and very prophetically last Friday. "Think Super Bowl: Fiduciary advocates were three touchdowns ahead and in the red zone, about to score in a blowout. Today we are behind in points and on defense and Tom Brady is on the march about to score on us. We need a new strategy. We need to remake messages to better speak to investors and leaders outside Wall Street and Washington. We need to remake messages to better challenge dubious or misleading or plainly wrong statements about the DOL rule." See: How Wall Street emasculated the DOL rule with an old-fashioned end game: 'Somebody made a deal' -- and why tort lawyers are licking their chops.
Sphinx like, FSI president and CEO Dale Brown said in a statement how the industry should progress by maintaining the status quo.
"We stand ready to work with the president and his administration to put in place a uniform fiduciary standard that protects investors, while not denying quality, affordable financial advice to those who need it most."
But with the DOL rule enjoying the firm footing of being already in place -- if not yet implemented -- other voices are being heard loudly for the first time.
"Why doesn't the President explain to the people of Ohio, Pennsylvania, Michigan, and Wisconsin how delaying and repealing rules that protect seniors' hard-earned savings from unscrupulous financial advisors is a good thing?" asked Maxine Waters (D-Calif.), the ranking member of the Committee on Financial Services.
"The President may say that killing Dodd-Frank and the fiduciary rule is about creating jobs. But that's a lie. Rolling back these important protections will not create jobs. It will send us right back to the dark days of 2008 or worse…" See: Susceptible to acerbic tweets, Wall Street women report back being happily exhausted, starving, determined and 'nasty'.
---
---
Mentioned in this article:
---
---
Share your thoughts and opinions with the author or other readers.
---