Tim Hockey: There is an advice continuum with do-it-yourselfers on one end and advisor directed investors on the other. In the middle we don't want to give them a reason to leave, so we have to offer more choices.
Brooke's Note: Our Robin Reilly was supposed to be in San Diego to help write but she got struck down by the flu. Fortunately for us, Tim Welsh, in early-season form, has flown so many miles that no amount of recycled Southwest Airlines air has any effect on his immune system. Tim's knowledge of the RIA business is unparalleled. One reason for that is that he assiduously puts himself in the middle of it at conferences like TD LINC, taking the photos and then undergoing the discipline of thinking it through enough to put it on paper for those of us back in our offices. Thank him if you get the chance.
To get the inside scoop on the many changes at TD Ameritrade over the last 12 months -- particularly about an unprecedented move announced just last month -- 3,200 attendees at the company's LINC conference in San Diego last week had to wait until the very last day. See: An advertiser's-eye view of TD Ameritrade's national conference.
That's when newly installed CEO Tim Hockey took the podium. A couple of weeks earlier, Hockey, who leads TD's three major divisions: retail Investing, trading and its asset custodian, TD Ameritrade Institutional, had whetted the industry's appetite by hinting on an analysts call that the Omaha, Neb. company planned to put more proprietary products on the shelves of its 600 TD and Scottrade branches. Canadian-born Hockey charmed the crowd with humorous anecdotes on life and leadership on Friday. But when it came time for the Q&A, attendees were ready with tough questions about the recent acquisition of Scottrade, the expansion of proprietary advice programs in the branches, along with a potential price war with Schwab.See: New TD Ameritrade CEO, fresh from bank, will 'reassess' putting TD brand on products and redefining open architecture.
TDA communications chief Kristin Petrick, who asked the questions, started out with a softball about TD's October acquisition of Scottrade Financial Services. "Scottrade was an easy acquisition," he said, meaning an easy call. "It gives us enormous scale with 10 million clients, $1 trillion in assets and 500 branches. This scale is critical to being able to continue to build and invest in the company." See: After cutting loose its RIA chief, Scottrade is culling some RIAs and imposing an 'unpublished' $12,000 fee on others.
This means war
Then Petrick threw a virtual 108-mph fastball at Hockey's head with a question about the potential for channel conflict between advisors and TDA retail when the company adds its own products to the menu of investment choices. Charles Schwab and Fidelity Investments have been managing this feat for decades, but the practice will be new to TDA and to the advisors who use TD as a custodian. See: Why I moved my account from Schwab's RIA and what Chuck could do to improve Schwab Private Client.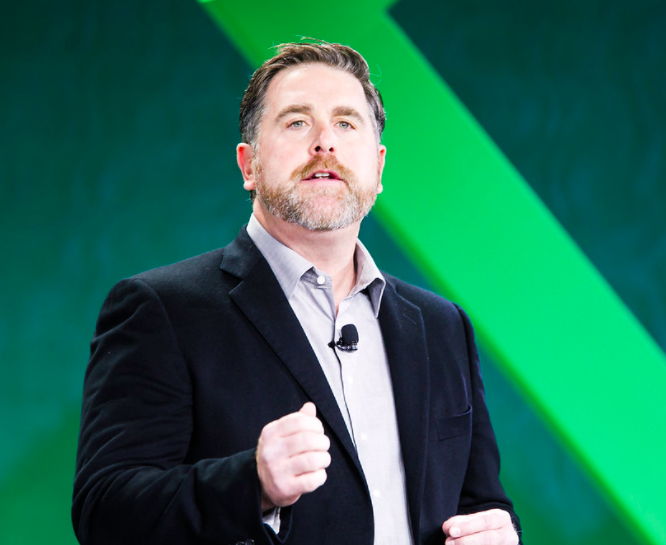 "I'm sure many of you are thinking, 'Is TDA my partner or my competitor?' Will there be friction between us?" Hockey replied. "I don't think we should think in those terms, rather it is more cooperation than competition as we want clients to start and stay with TD. There is an advice continuum with do-it-yourselfers on one end and advisor directed investors on the other. In the middle we don't want to give them a reason to leave, so we have to offer more choices."
As for a price war with Schwab, "We knew this was coming. As interest rates have been raised recently, the construct of our balance sheet enables us to make more money, which we are investing in more technology in the short term to enhance the client experience. Ultimately, this is a good thing, as clients will win with better price points -- Scottrade has been at $7 trades for a long time now." See: Schwab launches biggest RIA-targeted price war in years -- but TD and Pershing say they won't play along.
What'd we miss?
Outside the walls of the Manchester Grand Hyatt, there was news from the East Coast. Tuesday, in Punxsutawney, Pa., Phil saw his shadow, presaging six more weeks of winter, and in Washington, D.C., hedge fund magnate Anthony Scaramucci saw an end, for the present at least, to his hopes for a prestigious presidential appointment. See: Trump's DOL-rule hit man, Anthony Scaramucci, gets hoisted, reportedly, for financial conflict of interest.
Friday, President Donald J. Trump signed an executive order that put Dodd-Frank into turnaround and the DOL fiduciary rule on life support. See: Trump's lightning-quick backtrack on executive order relating to DOL rule sows chaos in financial advice industry.
The LINC conference in southern California, by contrast, was an oasis of optimism amid a storm of Trump headlines and San Diego had the feel of a sanctuary city. No one, in my hearing, mentioned Scaramucci and there was almost no reaction to the DOL rule order, perhaps because of all the hype before the fact that he was going to move against the DOL rule. See: Who's afraid of Virginia Foxx and friends? Maybe pro-DOL forces should be but no panic yet. Take into account, also, that this was a confab of RIAs who are all fiduciaries anyway. See: The time is now for the investment industry to shed its shameless culture or pay a steep price.
Cheer up, double down
The theme of LINC as an oasis of optimism in a chaotic world was struck by Tom Nally, president TD Institutional, in his opening remarks. Appearing in black sneakers, jeans, blazer and beard, Nally put on his best Silicon Valley act to deliver the message that life as an RIA was only going to get better.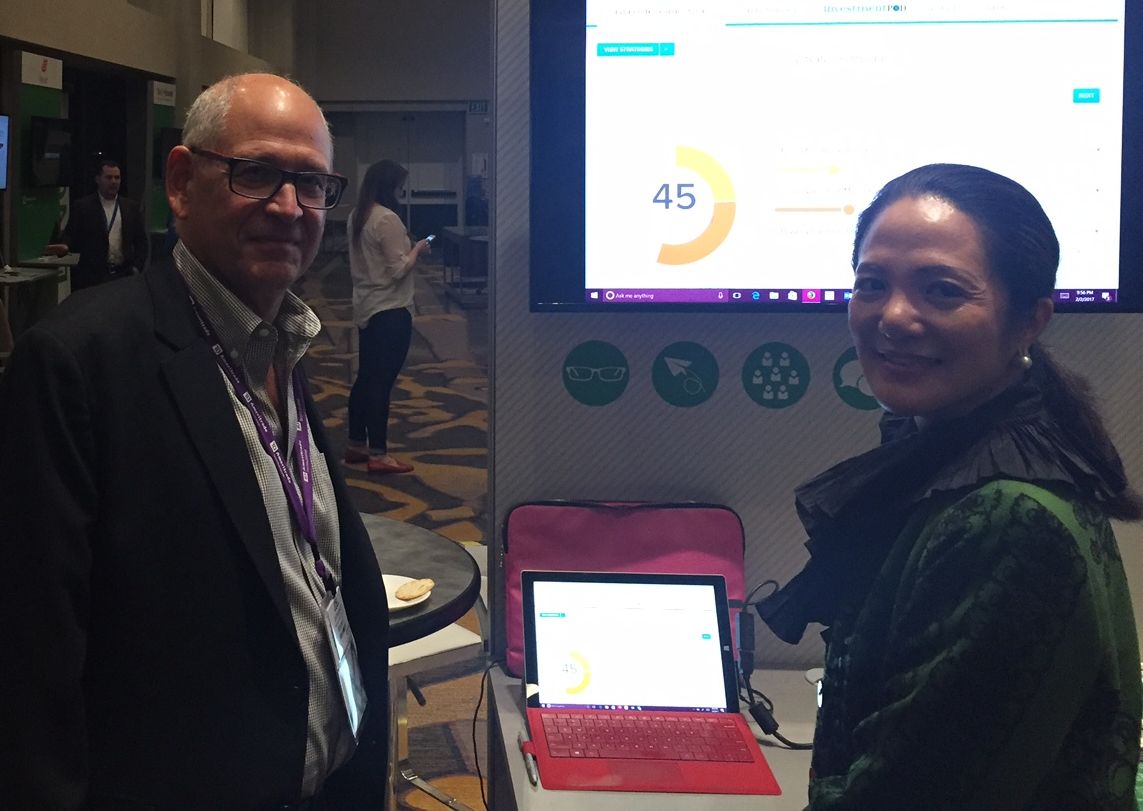 "It's time to double down on your business," he said in his opening remarks as he talked up the positive state of affairs in RIA land.
"We are at a cultural crossroads where investors are demanding more, and clients are flocking to the fiduciary model." See: How Wall Street emasculated the DOL rule with an old-fashioned end game: 'Somebody made a deal' -- and why tort lawyers are licking their chops.
At the same time, Nally acknowledged there was room for improvement.
"What we have is the continued automation and digitization of advice happening, which is good news for advisors who embrace it – client expectations are changing and we all need to adapt."
As head of the RIA business at TD Ameritrade, Nally is in a great position to see the impact of the many macro changes that are leading to a redefinition of what an advisor will be doing in the future.
"You need to show the value of what you do and provide a broad range of services," he said, while at the same time recognizing that the encroachment of technology into the business has commoditized basic investment management services.
"You will also have to review your pricing structure to focus on what you deliver, ultimately advisors will need to become financial life coaches."
40-basis-point future
On the subject of automated advice, the obligatory robo session was of interest in that it showed a growing level of sophistication on the topic among advisors. This was more robo 2.0 than 1.0 and featured advisors who have either rolled out robo services or begun the process of "robo-izing" their firms.
Key takeaways from the panel were that the benefits from robo platforms for advisors come in the form of operational efficiencies and an enhanced client experience online and mobile, not from a lead generation point of view.
Despite the fact that the robo-advisors are showing that they can't go it alone (case in point - Betterment adding humans) there still remains a large sense of paranoia among advisors. "Are we a bunch of travel agents?" one advisor asked the room acknowledging that technology tools will keep getting better.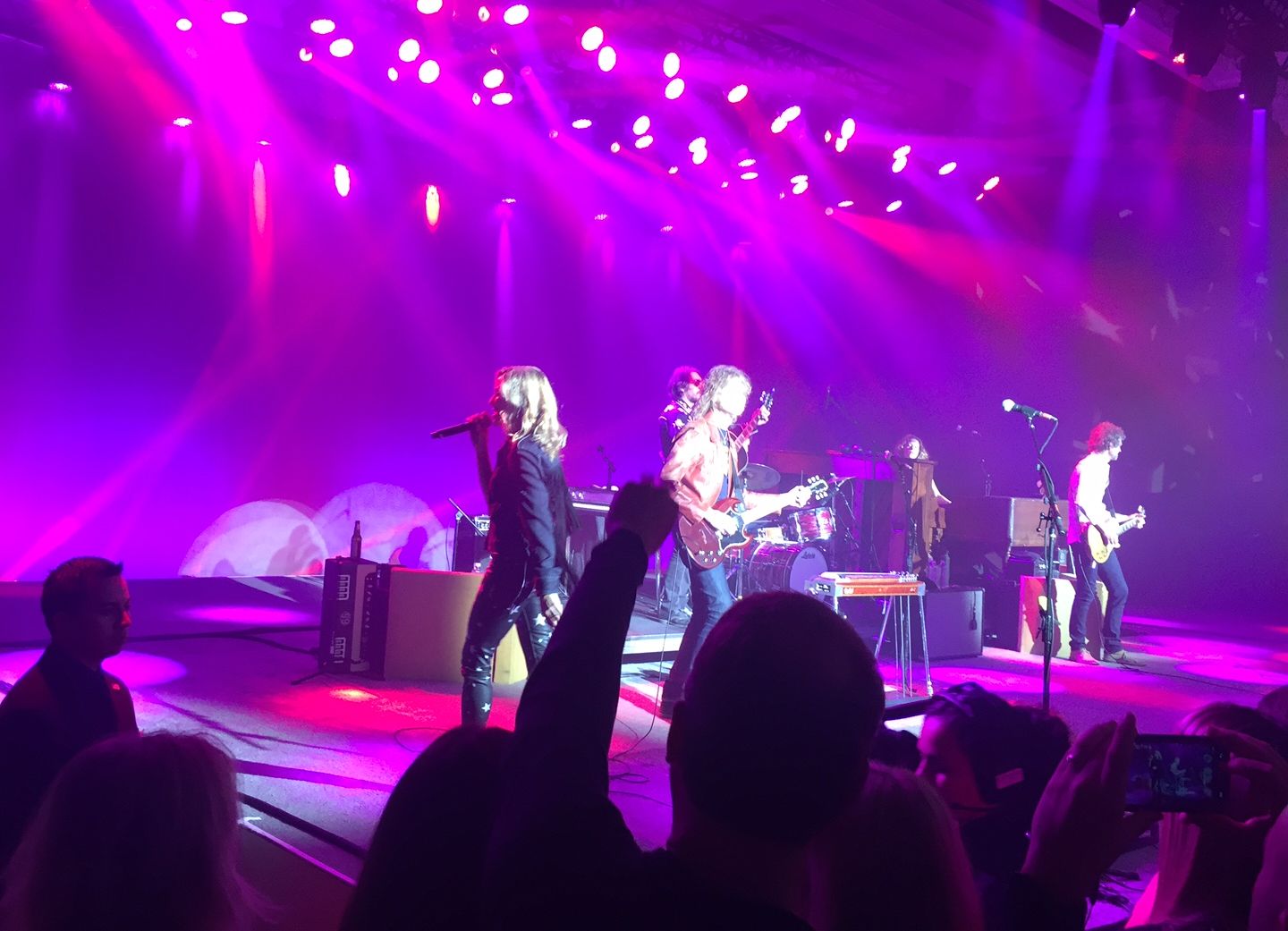 In a first in recent memory, Vanguard, champion of the hybrid robo/human advice delivery model, sponsored a breakout session at an advisor conference. "The Future of Financial Advice" featured research Vanguard had conducted with Cerulli. Don Bennyhoff, senior investment strategist for Vanguard walked the room through his predictions. See: Vanguard's virtual RIA adds $10 billion in last six-month period, an acceleration to $1.6 billion per month of net new assets.
These included the idea that despite Trump, there will be a much more stringent regulatory environment than in the past. He also pointed out the trend in pricing for advisors services that is continuing to go down. "The future is 40 basis points," he said.
Echoing Nally's opening statements, Bennyhoff said that advisors will evolve, if they haven't already done so, to focus not on investing, but rather on behavioral coaching and relationship management.
In the meantime, he said, there is a big disconnect between what advisors call themselves and what services they actually provide. According to Bennyhoff's research with Cerulli, "46% of advisors call themselves wealth managers, yet only 9% actually are. Additionally, only 4% of advisors call themselves investment planners, but 49% really are."
Veo advances
To help advisors deliver in this new environment, Nally and his tech team rolled out a series of technology enhancements to the Veo platform, most notably the official launch of Veo One with 14 integrated technology partners. Data from one application, such as a CRM, can now be automatically updated to TDA, as well as other applications in a bi-directional manner, saving advisors all kinds of time and delivering efficiencies.
According to technology expert Joel Bruckenstein, "No other RIA custodian offers the breadth and depth of providers that Veo One does."
Additional technology applications will be added over time, with a target of adding the other 100 integration partners that are part of the Veo Open Access initiative. See: TD Ameritrade showcases what API can do with slick Veo-iRebal harmonization.
More cool tech enhancements for RIAs will come from the launch of the iRebal Market Center, a supermarket of third-party models to enable firms to manage diverse portfolios while still retaining trading discretion over their clients' accounts. Advisors can "plug and play" models into iRebal and automate the rebalancing process. See: TD Ameritrade makes play to become top robo by 2016 with out-of-the-gate $100-million revenues -- albeit with some risk attached to the power play.
"We're helping advisors kick the spreadsheet habit," said Danielle Fava, head of the iRebal platform for TDA.
The other new platform enhancements announced at the conference were focused on practice management, business building, new business analytics and even a multi-media marketing campaign to help raise awareness of RIAs through the Human Finance project.
On your feet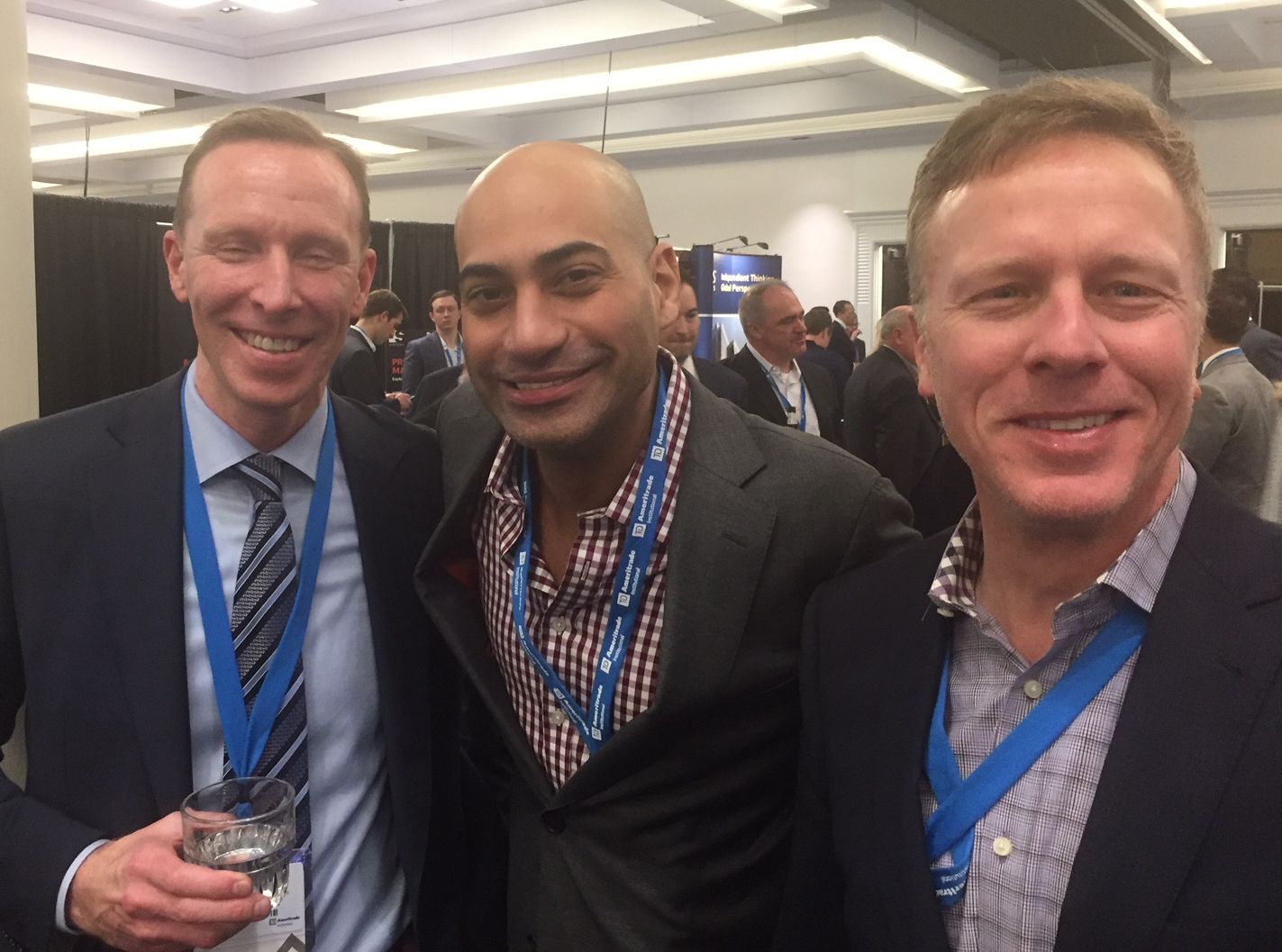 Following Nally's pep talk, David Cameron, former British Prime Minister provided a by-turns engaging, funny and sobering speech and the Q&A session that was a crowd favorite, earning multiple standing ovations -- a rare occurrence on the conference circuit.
With a nod to the current political environment, Cameron took the opportunity to remind everyone about the benefits of globalization, open trade agreements and what can happen if we all resort to protectionism as culled from his experience in managing these issues as a popular leader in the United Kingdom.
"We've been down these roads before with predictable outcomes," he said. "These are tired arguments and we will all suffer the consequences from protectionism. You can't make America great by making others weak again." See: Betterment shut down trading post-Brexit to dodge 'trading blindly into extraordinary volatility'.
Cameron was quite optimistic, however, about the long-term outlook as long as we focus on our core values.
"In order to succeed, [America and the United Kingdom] need to be more like us, the real us, the guardians of freedom, tolerance, the spirit that made our countries great."
That statement earned him his fourth standing ovation.
Trumpian tactics?
Carson also warned advisors that this was a dangerous time as the forces of change are coming faster than ever before and firms need to be ready to adapt to get to scale. Firms either need to get big fast or will be forced to sell, a prediction that jibes with businesses he has cobbled together, making the attendees mutter under their breath whether his comments were motivated more by concern for the industry or for advancing his own interests -- in other words whether scale and scare tactics can benefit anyone other than himself, which would be a very Trump-ian outcome.
Cast of POD people
While there was plenty of action on the main stages with high profile keynotes, the exhibit hall and Veo Village were packed with attendees anxious to learn the latest. The innovative Village took up almost the entire second floor of the gi-normous Manchester Grand Hyatt, stocked with over 70 technology companies showcasing the latest technologies.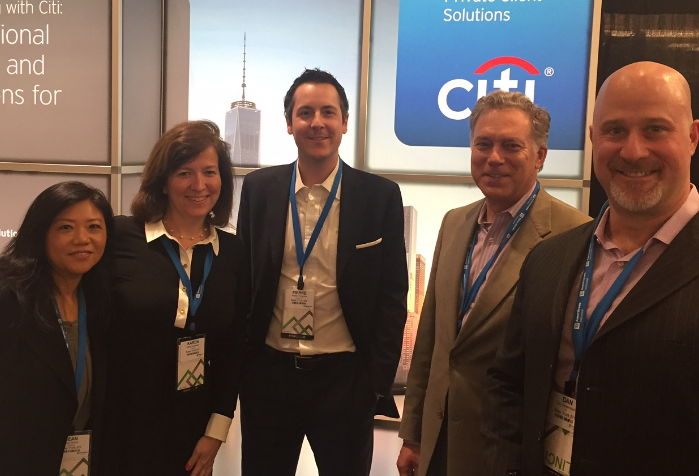 An interesting newcomer was InvestmentPOD, a highly sophisticated robo platform that automates active, passive and defensive strategies. Founded by former Goldman Sachs wealth advisor and investment banker, Jacqueline Ko Matthews, InvestmentPOD was popular with advisors looking for a premium robo platform.
And one of the more intriguing entrants was Citibank. Citi has a bold initiative to bring all of the wealthy products to bear, white labeled for RIAs. Jean Smart, global head of marketing for Citi and a former Schwab executive, said that the RIA channel was a growth opportunity for the bank, and will be back in force.
On the social scene, TDA and top vendors leveraged the San Diego venue to throw dinners, receptions, parties and concerts. Firms such as BlackDiamond and Laserfiche hosted popular dinners, while the second night was anchored by The FUSE Party, a well-attended event hosted by Orion Advisor Services LLC in conjunction with AdvisoryWorld, Redtail Technology, Laser App Software, Sawtooth, and Wealth Access Inc.
Raising the bar for other custodian mega-events, TDA brought the house down with their final-night party featuring Sheryl Crow. Sheryl and her graying band crushed all of her mega-hits, reminding everyone that every day is a winding road and all that of us have been down this road more than twice.
To learn more about what went on at TDA LINC, check out the many tweets on the #NationalLINC hashtag on Twitter.
Timothy D. Welsh, CFP® is President and founder of Nexus Strategy, LLC, a leading consulting firm to the wealth management industry, and can be reached at tim@nexus-strategy.com or on Twitter @NexusStrategy. Welsh did consulting work for TD Ameritrade in the past and is a former director at Charles Schwab & Co. He has also worked for or with other people mentioned in this article.
---
---
Mentioned in this article:
iRebal
Trading/Rebalancing
Top Executive: Benjamin Welch
---
---
---