News, Vision & Voice for the Advisory Community
The new late-day directive from the president casually strikes the six-month delay on the rule leaving lawyers with mouths agape
February 3, 2017 — 11:59 PM UTC by Brooke Southall
Brooke's Note: As I'm working on final edits of this article, CNN drones in the background. Anderson Cooper is trying to make sense of how Trump's Muslim ban just got stopped by a lawsuit in Washington quickly acted on by a Bush-appointed judge. It appears that this odd forth and back may have encouraged the Trump team to reword its EO aimed at striking down the DOL rule. Ill-conceived executive orders, it seems, will get sent back to the kitchen. It gave Jason Roberts and Marcia Wagner, lawyers who guide on DOL regulation, a bad day. But is this herky-jerky, cryptic EO style good for anyone?
A Trump administration effort to give the financial industry clarity about the fiduciary rule has thrown it into a state of chaos. The executive order sent by the President of the United States to the Department of Labor mandating a review of the fiduciary rule has changed it by either 180 days or 180 degrees -- or both.
The main takeaway is the chaos itself around the flip-flop. "This is actually scary," says Marcia Wagner, partner of The Wagner Law Group, echoing what another ERISA attorney said off the record.  "I've been practicing law for 30 years and I've never seen anything like this." See: A veteran securities lawyer takes centenarian stance that the DOL is still 'suitability' reworded, when boiling its 1,000-page 'rule' down to 16-page 'guide'
Wagner is not being hyperbolic, according to Jason Roberts, CEO of the Pension Resource Institute LLC.
"Regardless of what camp you're in, nobody won," he says. "Nobody is happy with what went on here."
Wagner allows that the version of the EO Trump signed today was clearly marked as a "draft." But she says that, unlike what it means for a college term paper, that "draft" pretty much never signals that radical changes can be expected. "It's always really the final [draft]."
Wagner says she can only imagine that Trump flip-flopped after getting pushback based on the first draft that was circulated this morning -- perhaps for running afoul of administrative procedures.
'Cronies' step in
Pushback issued earlier today by Maxine Waters (D-CA), ranking member of the Committee on Financial Services, spoke for the pro-DOL rule crowd.
"So, the Department of Labor stepped in and, after six years of careful consideration, finalized rules last year to require advisors to put the interests of their clients ahead of their own," she said in a statement.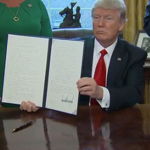 Roberts says the consequential pushback more likely emanated from White House lawyers. He points to the removal of language from the initial draft that cited legal language the executive branch relies on for the power of delay. He said he questioned the language even before its removal. "The citation [related to that power]  is gone," he says. "That's most telling."
Chaos ensues
Though the Trump about-face on the DOL rule was a shock to the financial industry, it is a pattern that has marked his young Administration. Trump has attracted worldwide attention -- much of it in the form of dismayed condemnation -- for his executive order banning immigrants from a host of Muslim nations last weekend.
It soon became apparent parties to the ban were not consulted sowing distrust and creating collateral damage to gray area travelers with green cards, visas or other in-process paperwork and vetting.
Similar confusion reigns over the future of the Affordable Care Act, the building of a 1,500-mile wall on the southern border and even whether a planned raid in Yemen was executed with due care.
Neither nor
Now that confusion falls hard upon the investment industry. In a memorandum sent to her clients by email, Wagner writes: As it stands, the final version of the Executive Memorandum does not, in and of itself, repeal, revise or delay the Fiduciary Rule. The DOL will have to determine whether and how a delay may or should be implemented.... This leaves financial services firms in the difficult situation, for the moment, of not knowing with 100% certainty if there will be an extended applicability date or not."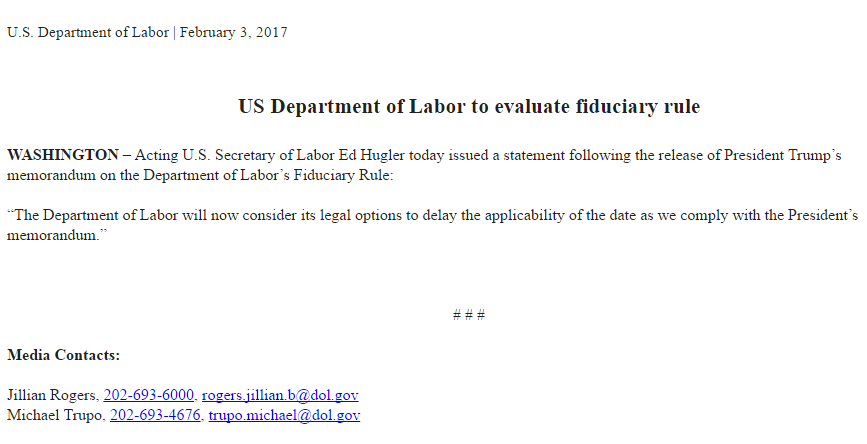 She adds in the memo: "We understand that interested trade groups are working to obtain clarification from the White House as to what this means."
In fact trade groups may be incensed, Robert says, for getting the earlier false signal. "The sideshow got a number of firms to take their foot off the gas." See: Using DOL as cover, Bank of America cuts the Merrill Lynch bull as it adds a robo, stops paying brokers to stick around and kicks John Thiel upstairs
Though the elimination of the 180-day delay could be viewed as a positive sign for fiduciary rule advocates, it could also portend something more sinister.  "Maybe they wanted a longer delay," Wagner says.
Low bar
Indeed, the language in the final draft suggests a very anti-rule stance, Roberts says. It recommends a study, which is ludicrous considering that the rule already got delayed 18 months for further study once before to see whether it might be a net negative. See: DOL rule will be undone, in a cruel twist, by the Department of Labor -- essentially by a Trump order to cut red tape by staying the Texas court case.
But the executive order offers a very low bar for what might be construed as negative by DOL. The EO says it could be disqualifying were the rule to spawn more litigation -- and nobody questions that the rule will absolutely encourage more lawsuits. In fact litigation is the primary means by which it may be enforced. See: Why SIFMA & Co.'s trip to a friendly North Texas court to upend the DOL rule looks more like its Alamo.
"That's a slam dunk that there's going to be more litigation," Roberts says. "Maybe it's an absolute slam dunk and the new 'DOL 'study' takes 10 minutes and not 10 months."
---
---
Share your thoughts and opinions with the author or other readers.
Teresa Vollenweder said:
February 4, 2017 — 1:16 AM UTC
Teresa Vollenweder said:
February 4, 2017 — 10:53 PM UTC
TERESA VOLLENWEIDER said:
February 4, 2017 — 10:56 PM UTC
Elmer Rich III said:
February 5, 2017 — 7:51 PM UTC
Andy Martin said:
February 9, 2017 — 9:32 PM UTC
TERESA VOLLENWEIDER said:
February 9, 2017 — 9:49 PM UTC
Andy Martin said:
February 9, 2017 — 9:59 PM UTC
TERESA VOLLENWEIDER said:
February 9, 2017 — 10:07 PM UTC
---
---