T3 organizer Joel Bruckenstein (l.) set the stage for a smorgasbord of announcements, acquisitions and integrations.
Brooke's Note: Graham Thomas, Chicago-based advertising chief for RIABiz, gets sent to T3 with marching orders to deliver hard news devoid of any damn jargon from an event where nary a non-jargoned sentence is spoken. How he works his way out of that box in Houdini-like fashion made even his editors marvel.
Useful, user-friendly, user experience, secure, scalable, intuitive, seamless, collaborative, integrated, turnkey.
Now that we have cleaned the jargon from the lint screen, I will endeavor to speak in plain language about an uncanned and dish-worthy Technology Tools for Today Advisor Conference in Garden Grove, Calif. This will be no easy task and I will ding myself every time I used one of the above-mentioned terms.
While the conference yielded a smorgasbord of announcements, acquisitions and integrations (Strike 1!), Joel Bruckenstein is to be commended for including Brian Hamburger, Ron Carson, Bob Veres and Andy Putterman, RIA dignitaries known less for technology.
The battle to be the technology hub of choice for RIAs continues. Bob Conchiglia from SS&C/Advent and Black Diamond summed up the state of the industry saying, "We are seeing firms more defined by technology utilization than by channel. The downside is there is platform paralysis with all of the technology puzzle pieces, so as a vendor, if you aren't the hub, you better be flexible enough to integrate with whoever is the best solution for that firm." See: New TD Ameritrade CEO, fresh from bank, will 'reassess' putting TD brand on products and redefining open architecture. Strike, strike, strike.
Perhaps the event's biggest headline: Schwab and eMoney Advisor are collaborating more. While it was a clear demonstration of eMoney's distinct independence from other parts of the Fidelity mother ship, a healthy dose of skepticism is in order here, since integration doesn't automatically lead to recommendation. An unconfirmed number of a thousand shared customers does indicate that grassroots RIA pressure might have convinced Schwab to turn a blind eye to who owns eMoney. See: Cetera's giant software buy shows how eMoney's founder could prove a thorn in the Fidelity side $250 million later.
With eMoney and Fidelity proper presenting back to back, the distinct cultures of the firms showed in their presentations; Where Fidelity used statistics and studies in a traditional PowerPoint format, eMoney spiced up its talk by demonstrating the ability to stay updated on retirement goals with an Amazon Echo, and their "Integration Store" (similar to an App Store where advisors can find all the integrations in one library).
AMPage
In a wide-ranging interview with RIABiz after the presentation, Gary Gallagher, senior vice president of investment products at Fidelity Institutional and Tom McCarthy, senior vice president of product management at Fidelity Investments, talked about what to expect moving forward.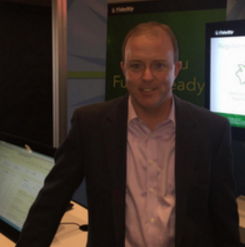 I brought up Fidelity's lack of a true robo product for advisors while peers like Schwab and Vanguard continue to vacuum up vast sums from that channel. McCarthy disagreed with my premise, saying Fidelity Go has been live for nine months on the retail side (AUM unavailable) and the new AMP -- Automated Managed Platform – a planning led platform co-developed with eMoney, is already in the pilot stages using only Fidelity custodial data. See: How Fidelity's robo for RIAs 'leapfrogged' rivals -- and why the landing might not stick.
McCarthy said the delay in getting to market (projected for mid-year 2017 piloting) can be chalked up to careful consideration of where AMP will fit into Fidelity Institutional's overall strategy.
"We don't want just another me-too solution or a sidecar. How does it plug into WealthScape? Where does that fit into the life span of a digital client? We want to make sure it is future-ready." Wealthscape was launched in June 2016.
The current dateline for AMP, with multi-custodial data (yes, including Schwab), is mid-2017. Additionally, the WealthScape Performance Measurement system will be launched in April, the better to compete with Quovo, Yodlee, ByAllAccounts and other aggregators. "No screen scraping here, this is a fully industrial solution" he stated. See: What exactly to make of Fidelity's WealthScape and whether it's the bull in the third-party-equilibrium China shop.
In response to questions about Fidelity's clearing and custody businesses being combined, and what that means for RIAs, McCarthy said that it's "getting harder to differentiate the business models, so we felt we didn't need two flavors of everything." When I pointed out that could sound a lot like cost-cutting, McCarthy as quick to point out "We have actually added headcount in the combined area."
In respect to a successor to recently departed head of RIAs, Bob Oros, "We expect someone to be announced very shortly." See: Fidelity begins search for new RIA national sales manager as Bob Oros goes millennial, vacating a prized position.
AdvisorEngine acquires WealthMinder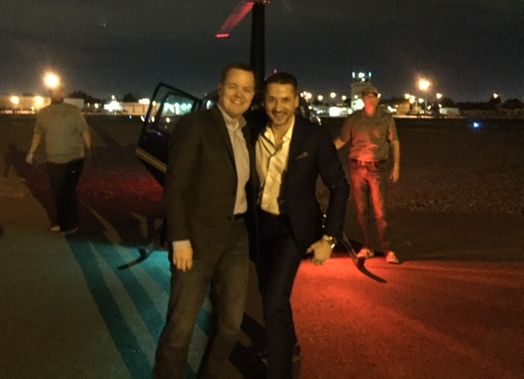 AdvisorEngine CEO Rich Cancro saw the simplicity of Wealthminder as an attractive addition to AdvisorEngine's platform and harkened back to his firm's beginnings: "While other robos set out to dislocate advisors at first, and failed, we are born and dedicated B-to-B. We have helped advisors grow from our conception," he said, also pointing out AdvisorEngine always had a front-end portal for the end-client. (Those "ends" again.)
Rich Ellinger, founder of Wealthminder, will bring interactive, goals-based financial planning into the AdvisorEngine mix. "Clients will have the ability to input their own data, review the advisor's recommendations, and notify the advisor when they have taken action – all online. The end goal is uniting the client who really wants a human advisor, but sometimes the economics don't work at first, with a digital solution to get things rolling. Over time, the assets and relationship will grow."
Cancro added that AdvisorEngine will continue to integrate with other financial planning software and CRMs. "We just want to provide another level of flexibility."
Advicent intros gamification
Among interesting new front-end solutions, the "collaborative fact-finding tool" was a new launch from Advicent. It allows a client or prospect the option of entering their information into a secure portal and to save where they are working and finish later (this feature was particularly appealing to this hater of marathon form-fills).
Internally dubbed the "TurboTax of Financial Planning," this data-gathering and account aggregation product allows clients to see their results on the right-hand side of the screen -- think gamification -- and to gauge how each piece of data impacts their overall net worth. The client/prospect is then, ideally, more inclined to reveal more detail -- realizing the impact of each item shared -- which is then imported into automatically into NaviPlan. See: The real reasons Northwestern Mutual paid a reported $250 million for LearnVest.
"Advisors are struggling to define their value proposition in light of fee compression caused by B-to-C robos, giving away the investment management, drastically reducing the charge for financial planning," said Anthony Stich, director of global marketing for Advicent. "When you think about it, robos are really just a retail TAMP, so what we are doing is giving the advisor a new value proposition from the financial planning technology side -- data collection when the client or prospect wants to provide it."
Carson dishes, then coaches
Having heard Ron Carson, CEO of Carson Wealth, speak many times in the past, he seemed to me more his usual maniacally upbeat and energetic self than at the Market Counsel event in which I last saw him appear. See: MarketCounsel Summit 2016 – the theme is when the boss calls, you go.
Easily approachable, as evidenced by a long line of characters waiting to speak with him after his "fireside chat," any stress occasioned by recent media interest seems behind him. See: Almost-confirmed reports had Ron Carson bolting LPL for Cetera as part of a $35-million shake-up of his RIA; 92 hours later the silence is deafening.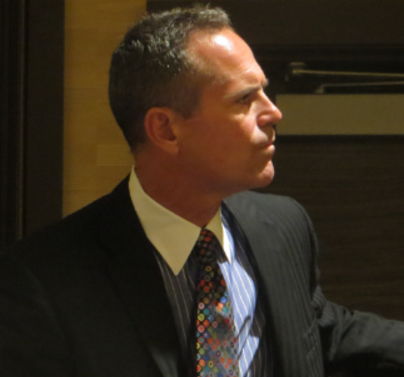 In comments on stage and later to RIABiz, Carson delved into what Bruckenstein recently characterized as his "divorce" from LPL Financial.
"It was an evaluation process – what we tell our clients is when we have a strategy we monitor, and if it doesn't measure up it's our responsibility to change. We are consumer first, and if one of our partners is closing the system we cannot be partners. "
He went on to mention this is a constant practice at the firm, and all vendors and partners are held to the same rigor. Showing an unexpectedly humble side, Carson admitted "I was too slow to innovate and too slow to change, but our focus on tech now is: how do we make it useful? Also, let clients choose the experience, we have found they find it pretty cool to explore." See: The real Ron Carson story is that most assets went to Fidelity and TD Ameritrade where technology allows him to execute his vision
Carson ended his talk discussing his famous drive, sharing that he lists the top six things he needs to get done the next day the night before and reviews his life goals, which are posted in the shower (laminated) every morning -- even on the road. He advised the audience to not say "I don't have time" and instead to recognize that "it's not a priority."
New combo
Addepar and FolioDynamix announced a surprising collaboration of their technologies brokered by Dynasty Financial Partners -- that in effect turns them into a TAMP.
"Dynasty saw something we didn't see ourselves, that we have two great firms but have an opportunity to create something better together," said Sean Mullen, senior vice president of business development at FolioDynamix. "The request boiled down to combining the sleeve level performance reporting capabilities of Addepar on a FolioDynamix UMA."
Will Armenta, Addepar's head of market development, added, "Our mutual customers are already realizing great value, and we expect more to come."
Hot takes
Bob Veres, owner of Inside Information: "I am a big fan of what eMoney is doing, I am a big plan of what Everplans is doing with end-of-life planning. If it's what the client wants, it's what you need to provide. Robo solutions are the future with performance and tax rebalancing."
Later in the conference: "Zero data input means you can work with anyone!"
Simon Roy, president of Jemstep, announcing an integration with Shareholder Services Group. "If you build it they will not come, so you might see lots sign-ups but a lack of adoption. Robo advice is a valuable tool but you need some marketing strategy and underpinning."
Brian Leitner, chief practice officer of Mariner Wealth Advisors: "Don't try to boil the ocean with big data. Build slowly. What do you want? Start with something simple: What do your clients do? What is their age? Pay attention to the simple business analytics like age, birthday or profession – those are all simple, actionable marketing opportunities."
Brian Hamburger CEO MarketCounsel: "The Obama Administration was all about harmonizing broker vs. RIA. [England] went the opposite way and it was really the sign of a weak regulator since they bypassed the process versus fixing the real problem. The issue here is the consumer is confused, and that still remains, if not greater! We also expect a delay if not a repeal [of the DOL fiduciary rule.]" See: Where Puzder's exit leaves the fiduciary rule, the DOL's bastardized mission and whether the new appointee prospect is a patsy
Fearless award: Goes to the team at Orion Advisor Services LLC, who went over and beyond the typical presentation to offer "infotainment" on their new Eclipse trading system with a nod to the Old West. A close second was the Reverse Mortgage Funding team – the only non-software exhibitor in the hall. Way to find your blue ocean, gentlemen!
Big thank you: To Advicent, Laser App Software, Redtail Technology, Riskalyze, Morningstar and Black Diamond by SS&C Advent for the "FinTech Air Affair." This included helicopter rides (awesome), a Top Gun photo booth, libations and BBQ. One of the more innovative and fun closing events!
And finally, thanks to Joel Bruckenstein for a scalable, turnkey and user-friendly event (Strike 3! I'm out!)
---
---
Mentioned in this article:
---
---
---
Riaz
February 22, 2017 — 1:19 AM
In response to this quote, 'An unconfirmed number of a thousand shared customers does indicate that grassroots RIA pressure might have convinced Schwab to turn a blind eye to who owns eMoney.' Think of Schwab as a bank. Oh wait they are a bank! The margins on the RIA side for Schwab are slim. Which means they really don't care that much about it. Look at what they've done on the fintech side...not much. Oh yeah they have a robo tool...I wonder why they allocate so much to cash. With interest rates increasing Schwab is set to make a bundle. Schwab's stock has almost doubled in a year as well as other banks. I'm not bashing Schwab at all. I believe they're a great firm. What I'm saying is the RIA side and fintech side of Schwab is ehh.
Jason
February 23, 2017 — 12:19 AM
In response to this comment: "Having heard Ron Carson, CEO of Carson Wealth, speak many times in the past, he seemed to me more his usual maniacally upbeat and energetic self than at the Market Counsel event in which I last saw him appear." That's because at the MarketCounsel Summit he had no voice and was sick as a dog. So not only would I submit that he was in fact, his usually 'maniacally upbeat and energetic self' (on the inside), but this serves as further evidence that he is an unstoppable industry force that won't let something like acute bronchitis slow him down. Also perhaps proof that one would need to be comatose in order to miss an opportunity to speak at the MarketCounsel Summit.
brooke southall
February 23, 2017 — 1:25 AM
No doubt we grade Ron's energy on a curve. We always expect the other guy to power through a killer cold. As someone with a bad cold right now I'm feeling very sympathetic to being on the receiving end of a virus! -Brooke