Sources question whether Scaramucci has ever even met Trump. Hundreds of photos exist of him in the Trump building lobby. Google images failed to find one with him in Trump's company.
Brooke's Note: After we wrote the original Anthony Scaramucci article, sources reached out to me to say it was good -- as far as it went. With their help, and a surprisingly helpful SkyBridge, I was able to piece together a more complete picture. The New York-based fund of funds was unable to put me in touch with Scaramucci. The ex-SkyBridge partner did not reply to my message on Twitter asking for fact checking and an interview. As a reader of this article will, I believe see, the media has taken Scaramucci at his word on everything. And why not? He is pitch perfect as the deliverer of messages infused with what passes for business knowledge. So good is he that Scaramucci was literally the ideal contract killer for the DOL rule. The regulation intends to put trillions more of people's personal savings into the care of financial advisors -- and pull those assets from the care of salespeople and their looser standards. What the anti-DOL rule world needed was a salesman who could sell the idea that slick sales is -- by a trick of the Invisible Hand -- better for investors than unconflicted advice. It may yet succeed. But Scaramucci may not be along for the ride.
If you go by some media reports, former hedge fund owner Anthony Scaramucci is still in contention for a high-level post in the still-forming Trump Administration. But sources tell RIABiz that, having cut ties with the hedge fund he founded and having fallen irredeemably out of favor with West Wingers, his fall from grace is complete.
The founder and now ex-co-managing partner of SkyBridge Capital, with his boyish looks and sales star's smile, was the subject of a Friday article in the New York Post entitled Anthony Scaramucci may be closing in on White House gig. The scantily sourced article indicated that Scaramucci's name was still being bruited about among top Trump advisors for a top White House posting.
But in a disorganized White House in which infighting has reached new levels of viciousness, the Post item may be akin to the last straggler at Gatsby's funeral.
But the Times article may have lowballed the amount Scaramucci would realize from the deal. The Times reported Scaramucci's stake in the sale at $180 million but sources in the New York financial industry, who asked not to be identified, say the stake is worth significantly less than $100 million. SkyBridge, they say, was far less profitable than it appeared because it managed billions for mega-clients, like Citi, for prices far below listed rates.
In 2010, Scaramucci bought the Citigroup Alternative Investments Hedge Fund Management Group, which managed $4.2 billion in managed assets, to build up New York-based SkyBridge, according to this Pensions & Investments article. At the time, SkyBridge, which Scaramucci founded in 2005, had only $1.4 billion of assets under management.
Citi Holdings had retained a revenue stream for "a number of years," Scaramucci told P&I at the time. As part of that deal, Raymond Nolte, CEO of CAI's hedge fund management group, became a SkyBridge managing partner and chief investment officer. Nolte is now running the firm and sources say there was never much love lost between the two men.
SALT talks
SkyBridge paid Wall Street brokers handsomely to place assets with end investors, squeezing its profits. The objective, sources say, was to rack up big AUM as the basis, in part, for hosting its highly profitable SkyBridge Alternatives Conference, known by its acronym, SALT.
SALT is known as a high-powered event and a giant profit center for SkyBridge. The price list on its website has tickets as high as $10,000 with the average ticket price at $5,000. It packs in 1,800 attendees. Rough math shows revenues of $9 million based on ticket fees alone.
The speaker roster for this year includes Mohammed El-Erian, Ben Bernanke, David Cameron, Jeff Gundlach, David Rubinstein, Jerry Jones and Jewel -- and that's just among those that are "featured."
The unfeatured list includes Lara Logan, Omeed Malik and a long list of A-list hedge fund types. Also on that list is Scaramucci, who is listed as a White House director and assistant to Trump.
There's another change as well at SkyBridge. "The SALT Conference will be spun out as a standalone entity," a statement says. "This year's SALT Conference, scheduled to be held May 16-19, 2017, in Las Vegas, will continue as planned."
Self praise, no glory
The same sources that say Scaramucci's White House posting is dead in the water also assert that he did not lose his standing in the White House for the simple reason he never had it to begin with.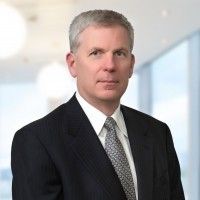 Indeed, a quick scanning of the articles related to a prospective Scaramucci appointment list Scaramucci himself as the single source in many. Sources even told RIABiz that many Wall Street people doubt Trump has met Scaramucci. Though this claim seems unlikely, Google Images turned up no photos of the two men together.
A Washington Post article published Dec. 22 rated Scaramucci as odds-on to join Trump's inner circle in the White House quoting no one but Scaramucci , and then from previous interviews.
"Scaramucci is widely expected to be the next Goldman Sachs alumnus to join the Trump administration, joining Steven Mnuchin, who has been nominated for treasury secretary, and Goldman Sachs President Gary Cohn, tapped to head the National Economic Council. Trump's chief of strategy, Stephen K. Bannon, the chairman of the far-right Breitbart News, is also a Goldman alumnus."
Bloomberg went even further out on a limb on Jan. 12 when it reported Scaramucci's appointment was in the bag, under the headline: Scaramucci, hedge-fund show impresario, scores White House role.
"Anthony Scaramucci, founder of SkyBridge Capital has been named an assistant to President-elect Donald Trump, according to people familiar with the decision," it read.
Embedded in that article was an onscreen interview with Scaramucci under the banner "Scaramucci open to White House job if SkyBridge is sold." In the interview, Scaramucci talked up the deal and expressed regret at having to step down from the firm in the event he had to leave the company to serve in the White House.
When asked if the appointment was nailed down, Scaramucci wished a happy birthday to "close personal friend" Jared Kushner, gave a shout-out to Steve Bannon, touted his "great relationship" with the president-elect and expressed his desire to serve the American people. "I can be inside or outside the administration and certainly be helpful," Scaramucci concluded. See: MarketCounsel Summit weathers Trump mayhem as Scaramucci and Priebus bail and Kellyanne Conway makes a night flight to Miami.
Bloomberg added: "Scaramucci will have a general advisory role in the White House, said the people who asked not to be identified without authorization to speak publicly. He's been a member of Trump's transition team, making public appearances on television in support of his policies."
Effective immediately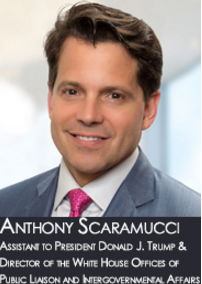 The Feb. 1 New York Times article pegged a financial conflict of interest -- specifically the sale of his SkyBridge stake to a company with purported ties to the ruling Communist party -- as the reason Scaramucci was cut loose. But other sources say the former Goldman Sachs stockbroker may have had a host of more complex and onerous issues weighing him down.
For its part, SkyBridge released a Jan. 17 statement that shows either just how much that company wanted to end its involvement with Scaramucci or how eager Scaramucci was to show the White House he was clearing the decks in anticipation of an appointment.
The stament reads, in part, "SkyBridge founder, Anthony Scaramucci, will step down from his role as co-managing partner and will no longer be affiliated with SkyBridge or SALT, effective immediately."
Scaramucci is quoted in the release as saying: "While I am moving on to a new chapter in my career, I am truly excited about what the future holds for SkyBridge and the opportunities that RON Transatlantic [the other firm in the deal] and HNA Capital U.S. will bring to serving the firm's clients. SkyBridge and SALT are in great hands and will continue to thrive." See: Dynasty Financial Partners brings on Timothy Bello from SkyBridge Capital.
Too big to manage
As for SALT, a SkyBridge spokeswoman declined to comment on its fate but the SkyBridge ADV2 suggests the scope of the event became too unwieldy from a compliance perspective.
The one gig that Scaramucci did not relinquish amid the recent hubbub is his speaking role at the upcoming Pershing Elite conference for RIAs.
"He knows a lot of people at BNY Mellon/Pershing both personally and professionally," says a source at BNY Mellon. "He wasn't paid/compensated for the opportunity or anything to that effect."
The source adds Scaramucci was a smash hit at an event hosted by Pershing Prime services in Manhattan following the Nov. 8 election. "It ended up being a really timely and interesting discussion," the source adds.
The lingering question remains: Just how did Scaramucci manage to lose his company, his conference and his bid for the White House all in one Trump maelstrom. The likely explanation, say people on Wall Street, is that his standing either with Trump or SkyBridge was never quite what it appeared to begin with.
Production bogeys
They say that Scaramucci found it a challenge to hit the "private wealth" production bogeys required at Goldman Sachs, which may have led to his departure from that firm. At SkyBridge, he amassed $12 billion of AUM.
The Washington Post reports his career start at Goldman Sachs includes being hired, fired, and rehired in a single year before leaving in 2006 to start a hedge fund.
A previous version of this article stated that Scaramucci will not speak at the next SALT event despite being advertised on the event website. Scaramucci may in fact be speaking and RIABiz may have inaccurately presumed his separation from the event meant that the speaking gig was off.
---
---
Jeff Joseph
March 15, 2017 — 11:16 PM
In a very recent on-air interview Scaramucci disclosed that the Skybridge sale is expected to close around 4/15. He also implied that he was still in play as a candidate for a role within the administration, pending the disposition of those assets. He has also declared that he would not accept any salary, if appointed, We spoke with Scaramucci several months ago for our annual hedge fund issue (see June 2016: <a href="http://www.futuresmag.com/ModernTraderMag)" rel="nofollow">http://www.futuresmag.com/ModernTraderMag)</a> and again in the past few weeks. I won't speak to the probability of an appointment, but i certainly would not rule it out.
Charlie
February 15, 2017 — 5:18 PM
SALT 'giant profit center'..well, Brooke, if you also account for that probably half of the attendees come for free (VIPs, allocators, etc) and significant production costs, then the bottom line becomes far less impressive... As such Skybridge Capital was to reap the meaningful windfall, coming from AUM clients gained from the event.
Jeff Joseph
March 15, 2017 — 10:36 PM
No disrespect here. Your platform is consistently the single best resource for the RIA Biz...and aptly named! But, having interviewed Mr. Scaramucci, this article is woefully inaccurate in many instances. The most material fail is questioning Scaramucci's gravitas within the new administration. It is apparent, that in the absence of any actual sources, this article was written entirely from other articles. I also sense some editorializing...for example, is it fair to characterize a high-multiple sale yielding in the neighborhood of 9-figures as "losing"? We should all be losers.
brooke southall
March 15, 2017 — 10:46 PM
Jeff, No offense taken! Yes, this was not an ideal sourcing circumstance and I tried to be clear about what I knew and what sourcing I used. I felt it was important to connect what dots could be regarding somebody so openly hostile to the DOL rule. I am open to any information that would document that Mr. Scaramucci does indeed have influence over Trump and his administration. Am I wrong in contending that he is no longer tied to SkyBridge or Trump in any official capacity?