As dust settles on Scaramucci story, a different picture of DOL rule nemesis takes shape: A ladder-climber who slipped on the top rung
The SkyBridge Capital founder may have found an alleged conflict of interest as preferable to a less glamorous truth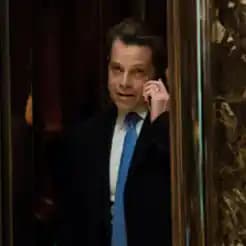 Sources question whether Scaramucci has ever even met Trump. Hundreds of photos exist of him in the Trump building lobby. Google images failed to find one with him in Trump's company.
---
---
Charlie
February 15, 2017 — 5:18 PM
SALT 'giant profit center'..well, Brooke, if you also account for that probably half of the attendees come for free (VIPs, allocators, etc) and significant production costs, then the bottom line becomes far less impressive... As such Skybridge Capital was to reap the meaningful windfall, coming from AUM clients gained from the event.
Jeff Joseph
March 15, 2017 — 10:36 PM
No disrespect here. Your platform is consistently the single best resource for the RIA Biz...and aptly named! But, having interviewed Mr. Scaramucci, this article is woefully inaccurate in many instances. The most material fail is questioning Scaramucci's gravitas within the new administration. It is apparent, that in the absence of any actual sources, this article was written entirely from other articles. I also sense some editorializing...for example, is it fair to characterize a high-multiple sale yielding in the neighborhood of 9-figures as "losing"? We should all be losers.
brooke southall
March 15, 2017 — 10:46 PM
Jeff, No offense taken! Yes, this was not an ideal sourcing circumstance and I tried to be clear about what I knew and what sourcing I used. I felt it was important to connect what dots could be regarding somebody so openly hostile to the DOL rule. I am open to any information that would document that Mr. Scaramucci does indeed have influence over Trump and his administration. Am I wrong in contending that he is no longer tied to SkyBridge or Trump in any official capacity?
Jeff Joseph
March 15, 2017 — 11:16 PM
In a very recent on-air interview Scaramucci disclosed that the Skybridge sale is expected to close around 4/15. He also implied that he was still in play as a candidate for a role within the administration, pending the disposition of those assets. He has also declared that he would not accept any salary, if appointed, We spoke with Scaramucci several months ago for our annual hedge fund issue (see June 2016: <a href="http://www.futuresmag.com/ModernTraderMag)" rel="nofollow">http://www.futuresmag.com/ModernTraderMag)</a> and again in the past few weeks. I won't speak to the probability of an appointment, but i certainly would not rule it out.