John Rourke: The name of the game is 10-person startups actually having a chance of taking down huge, established players.
Brooke's Note: We often leave the software parsing to the specialists like Messrs. Bruckenstein, Winterberg and Kitces. But when venture capitalists buy in we like to try to know what compelled them to pry open their wallets. The advance of Wealthbox remains improbable but $6 million says something is going right by using a go-with-the-Mark-Zuckerberg-flow approach.
If you can't beat'em head on, join up with their cousins and win that way.
Wealthbox CRM never seemed to have much chance coming late to a customer relationship management software party dominated by Salesforce, Microsoft CRM, Redtail and Junxure. How, after all, do you out-CRM the CRM giants, never mind the niche industry players who know RIAs and IBD reps backward and forward?
The answer if you are John Rourke, CEO of Wealthbox, is to go make really good friends with the bigger cousins of your competitors -- the social media giants, especially Facebook and LinkedIn, which in many ways are just everyman's CRM. The Silicon Valley monoliths are much more fun and with bigger, better teams of engineers.
"Wealthbox CRM is in that real sweet spot," says Bill Winterberg of FPPad.com in Dallas. "They've really grown in the CRM category like no other CRM provider I've seen grow. They were at zero in 2014 and now they're in the top four among all the other CRMs that are built for advisors." See: How exactly I started a specialized RIA for under $10,000
Pie in sky?
Sounds like a wild, pie-in-the sky approach but since 2014, Wealthbox has gained marketshare. In three years, the New York City-based company has already earned 8.9% of the financial planning CRM market share for "indie RIAs", according to Financial Planning.
The fast move out of the gate and the appealing plausibility of the plan just won Wealthbox a recent round of funding to the tune of $6.25 million.
It's a small ante for a big potential reward.
"The name of the game is 10-person startups actually having a chance of taking down huge, established players," says Rourke matter of factly when asked if he thought this his "social" approach would continue to gain market share. See: After spending millions and getting cozy with Salesforce, United Capital is morphing, maybe big-time John Rourke.
Gotham Labs (subsequently named Starburst Labs in 2015) created Wealthbox in 2014. Starburst received this infusion from from BEL45 Capital last month, taking the full total of its stake to $10.25 million. See: VC-backed RIA CRM firm bursts onto the T3 scene looking to knock off Redtail, Salesforce etc.
Scary for oldsters
Wealthbox has already enjoyed some success in gamifying CRMs but such a millennial play may have demographic drawbacks, according to Winterberg.
"It requires buy-in of technology in general. So you're not going to see it in an archaic, large, private wealth manager who still submits trades with a paper fax machine," he explains. See: The ironic reason robo-advisors aren't gorging on assets -- a determination to dictate bloodlessly to millennials.
Not so, says Rourke. "We have people who talk to us who are advisors in their 70s and 80s using this just because it's simple." See: Review: How Redtail got hot fast among RIAs and how it plans to leapfrog itself.
Clearly, the firm is doing something right. This puts the startup just behind industry leaders Microsoft Dynamics, Redtail Technology of Gold River, Calif.; and SalesForce in San Francisco, who have 21.9% and 16.4%, respectively and just ahead of Junxure, by the Financial Planning methodology.
Word-of-mouth...for now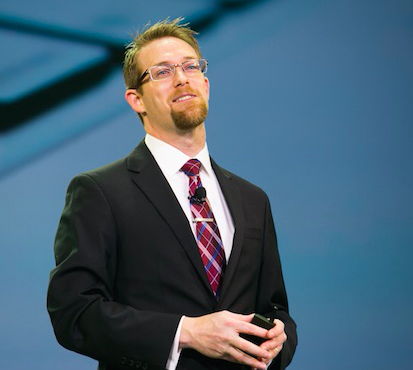 "Wealthbox has grown virtually all by word of mouth." See: The spoonful of gamifying sugar a 33 year-old CEO took to make the boomer-ethos T3 conference go down and the robo-bonobo mentality that she observed
But the firm will not be relying solely on word-of-mouth going forward as it is currently hiring. Starburst Labs plans to increase WealthBox CRM's 10-person team with four more sales and marketing positions. The effort is aimed at increasing the size of its average customer's AUM," Rourke says.
Back in 2014, Wealthbox introduced "activity flow," which is a Facebook-style timeline so an advisor can stay up to date with what its network is doing and interact with other advisors to stay abreast of the progress made on any client's case.
Since their first steps toward social integration, Wealthbox has some disciples like FormulaFolios of Grand Rapids, Mich.
Jason Wenk, the CEO of FormulaFolios, which he says he grew to $2.1 billion in AUM with 300 Wealthbox users on his team. See: How a 33 year-old advisor ditched the Midwest for California and used mad blogging and SEO skills to hijack annuity-bound web traffic to propel giant growth. The FormulaFolios ADV shows $935 million of AUM.
For those folks who don't like to learn new systems, Rourke's social CRM does not only look like social media, it links to it. By pulling information directly from clients' LinkedIn and Twitter accounts, Wealthbox hopes to save advisors time on researching their customers.
"All those things have been 100%, seamlessly integrated into Wealthbox," comments Wenk, who qualifies that by explaining, "You basically click a couple of buttons and suddenly your entire LinkedIn connection database is integrated into your CRM. Click another couple buttons and your entire Twitter feed, all of your connections on Twitter, are linked into your CRM."
When asked if he ever considered switching to one of the goliath CRMs, since some view Wealthbox as solution geared toward startups and members of the XY Planning Network, Wenk says that he did but was disappointed by their complexity.
"A lot of it is about simplicity and stuff CRMs are supposed to do, and," he elaborated, "there are other CRMs that can do it, the problem is they're so hard." See: As advisors flunk social media 101, CRM makers are starting to pick up the slack.
'Slack'ers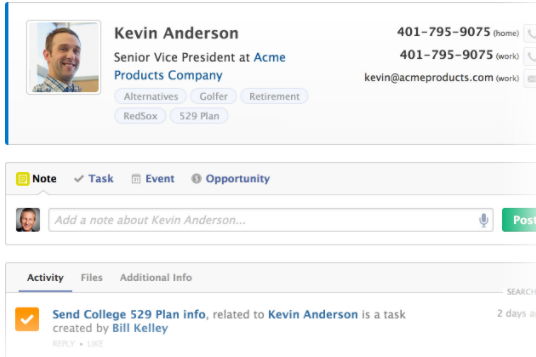 Another explanation for the rise of this CRM likely stems from the rapid attrition of financial advisors from the industry.
This attrition is, for Rourke, an open door into a market where technologically savvy financial investors will step up to fill the vacancies. Winterberg agrees that young advisors will begin filling the empty roles and demanding nimble software.
Wealthbox's CRM he hints, will dance circles around the legacy CRM providers when it comes to gathering information about clients and accelerating task completion. Which is exactly what Wealthbox hopes to do by linking to social accounts into a CRM. See: Scrutinizing -- and celebrating -- Schwab's plan to build 150 branches, at $1 million per throw, and people them with thousands of home-grown advisor talents.
So why would being "social" be so successful in customer relationship software social for financial advisors? Winterberg answers this question by comparing Wealthbox CRM software to the most well-known relationship software around: Facebook.
"I think most humans on the face of the Earth use Facebook – it's indicative of just how intuitive that timeline-based feed of what your network is doing is. And so Wealthbox CRM is leveraging that from the premise of customer relationship management." See: 5 ways for RIAs to avoid social media and 'holistic' wealth management overreaches in a share-happy e-world
For instance, It is doing so by allowing users to message each other on Slack, coordinate projects through interactive workflows, and mark tasks complete all from the same seat.
Familiar look
In fact, the way Wealthbox presents its features is quite clearly visually similar to those of Facebook making it "really easy for the field [advisors] to use because financial advisors, by and large, are not particularly tech savvy," says Wenk. See: How Facebook's unfriendly new privacy strictures are edging RIAs into the social media monster's business-page boonies
He adds that this is incredibly useful for financial advisors because it makes their interactions with clients more personable, and ultimately more successful. See: RIAs recount how they reap new clients using LinkedIn and Twitter, stealing a march on shackled wirehouse advisors
Clearly some customers agree that being able to quickly send one another both cute videos and interesting tips on clients is an essential feature. According to Rourke, "The size of our accounts in the last six-to-nine months has been increasing tremendously."
Complementary programs
Although Wealthbox is their primary offering, this CRM software is by no means the only software available from Starburst Labs. "We see a bigger playing field in wealth tech in which to ply our modern SaaS expertise, and it's in building a suite of complementary products," explains Rourke.
Besides Wealthbox, Starburst Labs is developing InvestorSay, PaperTrade.io, and Wealthbase. "Each of these Starburst Labs properties are separate products yet are complementary to each other," says Rourke, who emphasizes that each web application is intended to integrate with the others
Winterberg adds that it is in fact this by-the-way suite of add-on products that is driving this latest investment in Starburst Labs. "Investors see an opportunity to contribute to an organization with several irons in the fire with Wealthbox CRM being one of them."
Wenk packaged the appeal of this technology to the financial world into a sentence. "The simplicity of it is what makes it so cool," he claims.
It remains to be seen whether investors will continue to think so, too.
---
Related Moves
---
October 5, 2018 – 6:05 PM
---
---
Mentioned in this article:
FPPad.com
Consulting Firm
Top Executive: Bill Winterberg
---
---
---
Stephen Winks
February 14, 2017 — 2:48 PM
The need for innovation that challenges convention and status quo in advisory services has never been greater. In a new fiduciary regimen a more modern approach to portfolio construction, advanced technology and adoption of prudent process based on objective, non-negotiable fiduciary criteria outdates the conventional brokerage approach to advisory services. Disruptive innovation becomes essential for the industries success.. SCW
---