News, Vision & Voice for the Advisory Community
The Fiduciary Network CEO needs a "bigger" investor, he says, as RIA LBO game heats up and he holds upper hand after winning arbitration but Howard Milstein's bank hasn't waved the white flag
November 9, 2017 — 4:08 AM UTC by By Lisa Shidler
Brooke's Note: The age-old problem of financier and dealmaker is that both parties are clear on the other's deficiency. The financier does no work, the dealmaker says; the dealmaker has no skin in the game, the financier says. We see that problem here even as we go to pains to show that this dispute between Howard Milstein the banker and Mark Hurley the dealmaker comes after 11 years of relative tranquility and success. But the arbitrators in the case take pains to express how "toxic" the relationship has been for a very long time and how the dispute boiling over now is a symptom of what has simmered beneath the surface. It's what happens next that's important. Likely Mark Hurley will achieve his orginal objective of removing his banker and 75% partner and replacing it with a bigger, better one. After winning an arbitration, he has the inside track. But Milstein may have the final say based on how big a check he is willing to write. Lisa Shidler's quest to find third-party sources to comment for this story were fruitless. People prefer to steer clear of this type of controversy. But two sources in the M&A business said in the past year that Emigrant Bank representatives had reached out directly to them, which they found surprising. It suggests that the financier may have some intention of running Mark Hurley's deal shop without Mark. In fact, when Lisa asked the company about that matter, it said that after riding shotgun for 10 years, it could manage the firm. Stay tuned.
For 11 years, the partnership of Mark Hurley and Howard Milstein was the envy of the RIA business.
Now, the seemingly placid and certainly lucrative marriage between the CEO and founder of Fiduciary Network and the owner of Emigrant Bank is taking on many of the toxic characteristics of a high-stakes divorce as the struggle for tens of millions -- or hundreds of millions -- of dollars spills into the public eye via a well-documented legal battle.
For a year now, the banking scion and the maverick Texas dealmaker have been lobbing recriminations back and forth as they rack up millions in legal fees.  And there's no end in sight. See: Small Florida RIA fights for its name as litigious $10 billion Chicago fund-picker Ariel Investments sues for brand infringement
Milstein, 66, is a billionaire who oversees a real estate fortune largely built by his father. He's a key business partner of Jack Nicklaus and spearheaded the replacement of New York's Tappan Zee Bridge, the largest public infrastructure project in New York State history. Emigrant Bank has about $7 billion of assets.
Mark Hurley, 58, co-founded the Fiduciary Network LLC in 2006. The firm, which does internal transitions, acquisitions and MBOs, owns big minority stakes in 23 RIAs that have more than $30 billion of combined assets. See: Mark Hurley's comeback to Veres: Fiduciary Network is investing millions in wealth management businesses -- it's just that few in the industry make the grade
The same dynamic that made the ace RIA Dallas-based dealmakers and their financiers in New York such an ultimately combustible combination is the  same that allowed it to function profitably for so long. Emigrant Bank, through its subsidiary, EB Safe LLC, owns a whopping 75% of Fiduciary Network with Hurley's firm owning the other 25%. EB has provided more than $200 million in financing for the past 11 years. Simply put: Emigrant Bank mostly put up the money, and FN mostly made the deals.
Underpaid, underappreciated
But as will happen with power couples who have been together a while, one party may wonder if they can do better.
In this case it was Hurley. About 18 months ago he decided to look for bluer oceans -- to trade up.
"We need a bigger boat," Hurley says. "We need a larger investor because there are so many opportunities." See: After more than two years of radio silence, Mark Hurley pings with a stake-taking in an under-the-radar RIA
Unlike partnerships where the majority owner holds the whip hand, in this case it is Hurley who has outsized control -- or at least more than EB was prepared to accept.
Still, resentment by the Dallas firm towards its richer New York partner ran deep and went back years.
Yvonne Kanner, Fiduciary Network's president and chief operating officer, testified that in 2013 the FN management team was "about to walk out" until "Friedberg came down to Fiduciary Network and met with each of us and our compensation was adjusted."
"FN management for its part, felt underpaid and underappreciated," accoring to court documents.
'Well orchestrated' and 'wrongful'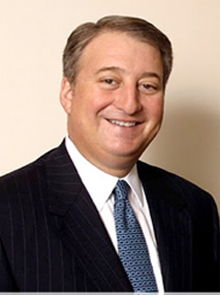 Hurley and EB agreed to sell Fiduciary Network. But when such a firm gets listed for sale with an investment bank there are predictable flash points: Who gets what lucre and who gets custody of the "kids" -- in this case managerial control of Fiduciary Network.
Court documents show that Hurley did a road show of sorts for deep-pocketed investors that included Abu Dhabi Investment Council, Ontario Teachers, OMERS, Mubadala, Temasek, Invus Opportunities, Hudson Hill Capital, Blackstone, Pinebrook Partners and Cranemere, Cynosure, Everwatch, Pritzker Organization and MSD.
Legal sparks began to fly after Hurley got EB Safe to waive its right of first refusal on offers that might come in from these parties.
EB Safe indicated that it did not want to pay the steep 14-times earnings price that also included a "break-up fee" of more than $10 million, a source says.
What followed was an extensive and expensive tussle that cost Hurley more than $2.2 million in legal fees. EB argued in court documents that Hurley had engaged in a "well-orchestrated wrongful scheme to steal from EB the value of its right to acquire Fiduciary Network LLC or the company pursuant to EB's Call Right."
EB filed arbitration in January.  On Aug. 7, arbitrators declared that Hurley and Fiduciary Network was the winner in a 40-page ruling and ordered EB Safe to pay FN's legal fees.
EB executives argued in arbitration that they made the decision without having all of the facts in place -- namely that Hurley had been seriously courting a number of potential investors.
"To date, EB has refused to pay Mr. Hurley's costs and expenses as directed by the Arbitration Award," court documents show. See: Silicon Valley $300-million RIA strikes back at $30-trillion BNY Mellon with act of counter-intimidation.
EB has filed an appeal of sorts with the United States District Court Southern District of New York. Technically, it's called "a petition to vacate the arbitration award." EB Safe LLC argued that Hurley actively pursued a management-led buy-out and prepared an extensive marketing document showing a value of $135 million to $170 million for Fiduciary Network.
Shhh.
In early 2016, Hurley spoke with Friedberg and asked his permission to talk with a number of wealth funds to educate them about a possible sale, court papers show.
"Unbeknownst to EB, Hurley proceeded to prepare a 70-plus page confidential information memorandum" involving a management-led buyout proposal accompanying financial models, summaries and sales pitches," documents show. This data shows an equity value of the firm ranging from $135 to $175 million."
Court documents show an email from Hurley to Eric Rosen at New York-based private investment firm Hudson Hill Capital Management LLC with the confidential memorandum attached read: "Please do not share with anyone (at least yet). I am managing Milstein's guys and before sharing it with anyone outside of sovereign funds there are a few steps I need to take first."
EB executives wrote in court documents: "To use an analogy from the real estate market. If a person believes their house is worth $5 million and the broker recommends putting the house on the market for $10 million -- it is material information for the homeowner that someone came and looked at that house at that $10 million asking price. And, it is particularly material if that potential buyer asks to come for a second visit with their spouse."
In a long marketing summary presented to potential buyers, Fiduciary Network stated it was seeking capital partners that would acquire a 61% ownership stake for $120 million of equity capital and provide up to $1 billion of Fiduciary Network's current and future investment. Fiduciary Network was not interested in selling its stake but rather wanted to replace Emigrant Bank. 
Do your homework
But if this evidence was intended as a smoking gun proving Hurley had gone around his majority owner and acted in bad faith, the arbitration panel was having none of it. Essentially, the ruling said it was incumbent on EB to know whether Hurley and Fiduciary Network had been shopping the firm around.
"...this was not a matter of Hurley or FN management not being honest with EB. Instead, EB assumed that it understood what was in the minds of Hurley and FN management but actually misjudged the factual situation and failed to reach out and clarify what the true facts were. After the fact, EB has sought to justify its actions based upon alleged misrepresentations when, in fact, the situation EB found itself in was due to its own choices." See: Louis Navellier ready to present 'extremely strong defense' to daunting SEC fraud charges.
The arbitrators said his forced sale notice was timely and followed all of the written agreements. That means the full 12-month sales process to gain a letter of intent will begin on Aug. 7, 2017 and sources say investment bankers are already being interviewed.
The scathing finding against EB Safe went so far as to cast aspersions on the competence of EB and its representatives.
"EB claims that it interviewed each of the members of the FN managements, under what were admittedly false pretenses, but did not perceive their lack of interest in working for EB any longer. This is not the conduct of such highly sophisticated businessmen."
Furthermore, the arbitrators wrote, EB's representative to the Fiduciary Network board of directors, Barry Friedberg, should have done more homework about a potential sale.
"Friedberg could have called Hurley to ask further questions including whether Hurley knew something that EB did not know. Surprisingly to us, he did not," the final ruling states.
Off the ledge
Friedberg, who spoke to RIABiz for this article on behalf of EB, declined to comment about pending legal matters, but did say that in the event that Emigrant Bank ends up buying out Hurley's 25% stake, that it could manage the company and its portfolio without Hurley.
"There are two of us that have been on the investment committee for 10 years," he says. "We know all of the projects and the documents and we feel quite comfortable." See: See: Mark Hurley drops a new wealth management prognosis on the industry with a zero-sum flavor
Friedberg reportedly told others, including Jesse Watson, partner at Virgo Investment Group in Burlingame, Calif., in January 2016 that selling the company without management was a "serious issue."
Arbitrators wrote that tension indeed notched up in early 2016 after the management team failed to receive raises. Kanner at one point said she was "done" with FN and Hurley 'had to talk her off the ledge.' "
"FN management was angry because of a 'very negative compensation proposal.' FN management was convinced that Hurley was being a patsy, that EB was going to screw them and that Hurley had kind of let them down the primrose path," according to testimony from the arbitration.
It appears that FN management wanted to separate from Emigrant. "In Hurley's words, he told Friedberg that FN management was 'less enthusiastic about working for Emigrant than I was, and I was not at all enthused. If anything, they were much angrier.'"
Nothing personal
Hurley declined to discuss details of the legal dispute but, despite all the apparent bile involved in the dispute, characterized it as more of a negotiation among friends and a high-class problem that reflects his firm's success.
"We had a disagreement that is not remarkable in any way of any business of this size. Partners will often disagree. When we set it up, we decided to go to arbitration if there was an issue that we couldn't solve. The business is doing great. We've done the largest deal ever and both sides are continuing to grow the business," Hurley says.
"The real message here is we're continuing to do deals. We had a disagreement and it happens between partners. But we're continuing to build the business together."
Right now, Financial Network is still looking for another lender but both Freidberg and Hurley agree that Fiduciary Network is growing.
"We've got a great business and we're doing long-term planning. It takes a long time," Hurley says. "You've got to find the right partner. There have been some disagreements but that's normal. How do you find the right partner and get the right price for the investor and that's what we're working on right now."
That's not the way the arbitrators saw it. Describing a dysfunctional relationship, they noted: "The parties have been engaged in a toxic relationship for many years."
In 2007, Fiduciary Network agreed to acquire minority stakes in two leading wealth management firms, RegentAtlantic Capital LLC of Chatham, N.J., and Evensky & Katz of Coral Gables, Fla. Terms of the transactions were not disclosed. Back then, Hurley said he was looking to make "passive long-term intergenerational investments" in about 15 advisory shops through Milstein's wholly owned Emigrant Savings Bank and was staked with $600 million, according to a release at the time.
Where it all started
When the firm was founded, the LLC agreement states that EB could purchase the company using its "call right" after 10 years, or in the event Hurley should seek to trigger a sale for the company pursuant to his "forced sale right."
If EB waived its call right, then it would have to pay steep fees to purchase the firm from a potential bidder.
"If Hurley exercises his forced sale right and EB elects not to exercise its call right, EB retains a right of first refusal, the exercise of which would require EB to pay a substantial break-up fee to the highest bidder in the sale process," court documents show.
EB sent an email saying it would not exercise its call right in November 2016. But Hurley announced his intentions in December 2016 to exercise his "forced sale."
EB executives on Dec. 19 changed their minds and said it wanted to "exercise the call right."
It was too late. See: Why RIA clients packed a courtroom on behalf of their young 'Money Guys' advisor facing a lifetime ban
---
---
Share your thoughts and opinions with the author or other readers.
Jeff Spears said:
November 9, 2017 — 8:10 PM UTC
Barry S. Friedberg said:
November 11, 2017 — 8:06 PM UTC
Lakia Banks said:
September 3, 2018 — 7:21 PM UTC
---
---