Mike Allard: I like having LPL as the big brother.
Brooke's Note: Interviewing Mike Allard and Jack Hillis at the same time revealed much of the advisors' warmth and enthusiasm. Both are old-time, rugged and individualistic producers who plan to keep much of that spirit in their new configuration. Both firms have small staffs but neither man believes in too much delegation. And indeed, who is to argue with $875 million of mostly fee-based assets and prospects for continued good growth? They have no interest in forming an RIA, they say, precisely because they do so much of the client-facing work themselves. It's hard to argue with that, too. Both men allowed that the uncertainty injected by the DOL rule made them want to be part of a bigger firm and that fees will likely come down as they strive to meet the new fiduciary standard. See: Pro-DOL rule forces sharpen knives now that DOL rule's 18-month delay is carved in stone. Still, an unspoken aspect of the fiduciary rule is an advisor's very real connection to a client and this pair seems intent on never letting up on fulfilling that aspect of the pact with investors.
Mike Allard is known in the Bay Area as a super-competitive guy who thrives in the friendly competition of producer rankings at LPL Financial where his firm is number nine but may climb to number five or even four after a deal he just completed.
Yet the 51-year-old Danville, Calif.-based founder of CalBay Investments Inc.'s latest competitive move looks like cooperation as he merges with Hillis Financial Services, a practice run by 73-year-old John L. (Jack) Hillis, to create an $875-million AUA firm where about 90% of the assets are held on Charlotte, N.C.-based LPL's corporate RIA.
LPL rates the firms number one and two in the Bay area.
The deal is part of a trend at LPL Financial "We continue to see increasing volume and expect to close over a 40% increase in acquisitions over last year," says Jeremy Holly, senior vice president, business consulting, for LPL. "Around 25% of our deals are LPL buyers acquiring external businesses. The remainder are LPL-to-LPL."
One tangible outcome of the CalBay-Hillis merger, which happened in June on paper but is now being made public, is that the two parties are now both using Black Diamond software for high-net-worth clients.
CalBay and Hillis expressed pleasure that LPL's proprietary performance reporting software is no longer their only choice for planning investments. Among the benefits, Allard says, is that it helps to advise clients who have assets assets at places like Charles Schwab & Co. and The Vanguard Group. Black Diamond helps to advise on these held-away assets. Those held-away assets are not counted in the $875 million. See: SS&C solves its Axys problem -- for now -- by acquiring Modestspark.
Surface and soul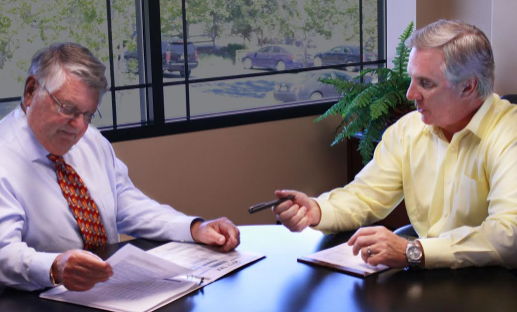 Allard and Hillis clicked on surface and soulful levels. Hillis was friends with Allard's father and became the younger Allard's mentor when he transitioned his assets to LPL from National Planning Corp. in 2005. Each has offices in Silicon Valley -- Santa Clara and San Jose, respectively -- and both firms primarily serve mass-affluent clients. See: Silicon Valley $300-million RIA strikes back at $30-trillion BNY Mellon with act of counter-intimidation.
Neither has an RIA or any intention of getting one and both men consider themselves old-fashioned in the sense that they take on clients directly rather than shunt them off to a junior advisor.
"I like not taking on a more compliance-oriented world," Allard says. "I like having LPL as the big brother." Hillis echoes the sentiment, saying he aims to "spend 90% of his time with clients."
Allard's firm operates under a Sacramento-based OSJ called The Network that had $99 million of revenues from about 200 reps last year. It's through this OSJ, which he joined in 2015, that CalBay-Hillis uses Black Diamond.
99 and counting
The deal was struck in principle at an LPL top-producer event in Hawaii. Hillis says he read about a 99-year-old financial advisor in InvestmentNews and he plans to out-endure her. "I said [to Allard]: "I have no plans to retire. I plan to keep going."
The two advisors got in touch with LPL Financial to seek help. Since 2013, LPL has had a strategic business solutions team that has grown to 11 staff members dedicated to advisor mergers & acquisitions, succession planning and valuation consulting.
Holly concedes that his LPL M&A staff mostly fields walk-on deals for now but not necessarily going forward.
"Historically reactive, but shifting more and more to proactive as we perform more matchmaking and as we expand our valuation consulting capabilities to work with advisors to understand the value of their business and the ways they and can grow and ultimately unlock that value," he writes in an email. "We also leverage our balance sheet to provide capital to help facilitate the transactions."
LPL renaissance
The focus of the tactical unit has a strategic purpose.
"The ultimate outcomes we strive for are to retain and grow existing assets and attract new assets to the firm," says Holly.
Allard and Hillis are high on LPL these days -- more so than they've been for several years. "We've been on the same page, which I haven't seen in a long time," Allard says. "It had just been lip service." Both Hillis and Allard say they expect to be lifers at LPL.
The difference, both add, has been in the level of responsiveness since Dan Arnold took over the CEO spot. "Dan's getting back to basics," Allard adds. See: New LPL CEO Dan Arnold thrills Wall Street in debut by laying out vanilla vision
For now, the partners are acting autonomously for the most part, with Allard keeping his clients and Hillis keeping his. New clients coming aboard become shared customers of the firm.
Hillis founded his firm, which includes three additional advisors and two office support staff, in 2001.
Allard has been a planner since 1990 and says that as an insurance salesman he didn't feel comfortable about his lack of a continuity for his practice -- but not so his family can cash out in the event of his death. See: How a solo RIA sold his 20-year DFA-based practice to an IBD rep
"Probably my family is the last thing I'm worried about because I own so much life insurance," he said wryly.
---
---
Mentioned in this article:
---
---
---