Bernie Clark: We are at an inflection point where new technology craves data, a scenario where incumbents have the advantage.
Brooke's Note: Tim Welsh artfully draws a picture of what happened to 4,000 people in Chicago over a three-day stretch by reducing it to a few broad strokes. Schwab IMPACT 2017 hammered home the point that Charles Schwab & Co. is very, very big and that RIAs are very small. This could be viewed as a disingenuous and tone-deaf chutzpah on the part of a $1.4-trillion RIA custodian lording its scale over a bunch of mom and pop RIAs. Or it could be seen as a big, sophisticated company warning the kids about things you worry about in a big adult world. I give Schwab the benefit of the doubt. Surely Schwab's size and obligations as a large public corporation make it mindful of problems us pikers can put out of our minds. I also give Schwab credit because it is showing more signs than ever of observing best 2017 practices. Shoot-from-the-hip characterizations of Schwab are as likely to cite its convergence with The Vanguard Group's model as often as its convergence with Merrill Lynch. It truly knits together both. Big Schwab producers work $1-billion books in nice branch offices and those brokers have no Broker Protocol card to play in leaving. But Schwab also cranks out cheap ETFs and cheap, effective financial advice like a Vanguard. So what Schwab execs say on a gray Chicago day is worth hearing and Tim clearly was listening carefully.
IMPACT 2017 felt smaller this year than many of its previous 25 iterations -- perhaps because even thousands of attendees can rattle around in the cavernous McCormick Place.
Then again, the speakers literally got larger, the images of their torsos plastered on screens that towered over the audience -- pixel perfection that belittled the flesh orbs taking it all in. The screens even allowed keynote speakers to phone in their speeches -- an effective, if eerie, act of dematerializing.
Charles Schwab & Co. itself is getting larger and more than ever is a scale player. More than ever the $3.5 trillion broker is a Vanguard Group disciple with cheap its ETFs, capped fees on some offerings and a willingness to allow profit centers like OneSource or Windhaven gracefully decline.
It was point the Joe Duran, CEO of United Capital made pithily in his talk.
"Vanguard is our Amazon," he said.
The religion of big.
Incumbents have the advantage
The central point of the brief evangelizing remarks by Bernie Clark, executive vice president of the Charles Schwab Corp. and head of Schwab Advisor Services, was to show how all of that scale accrues to RIAs.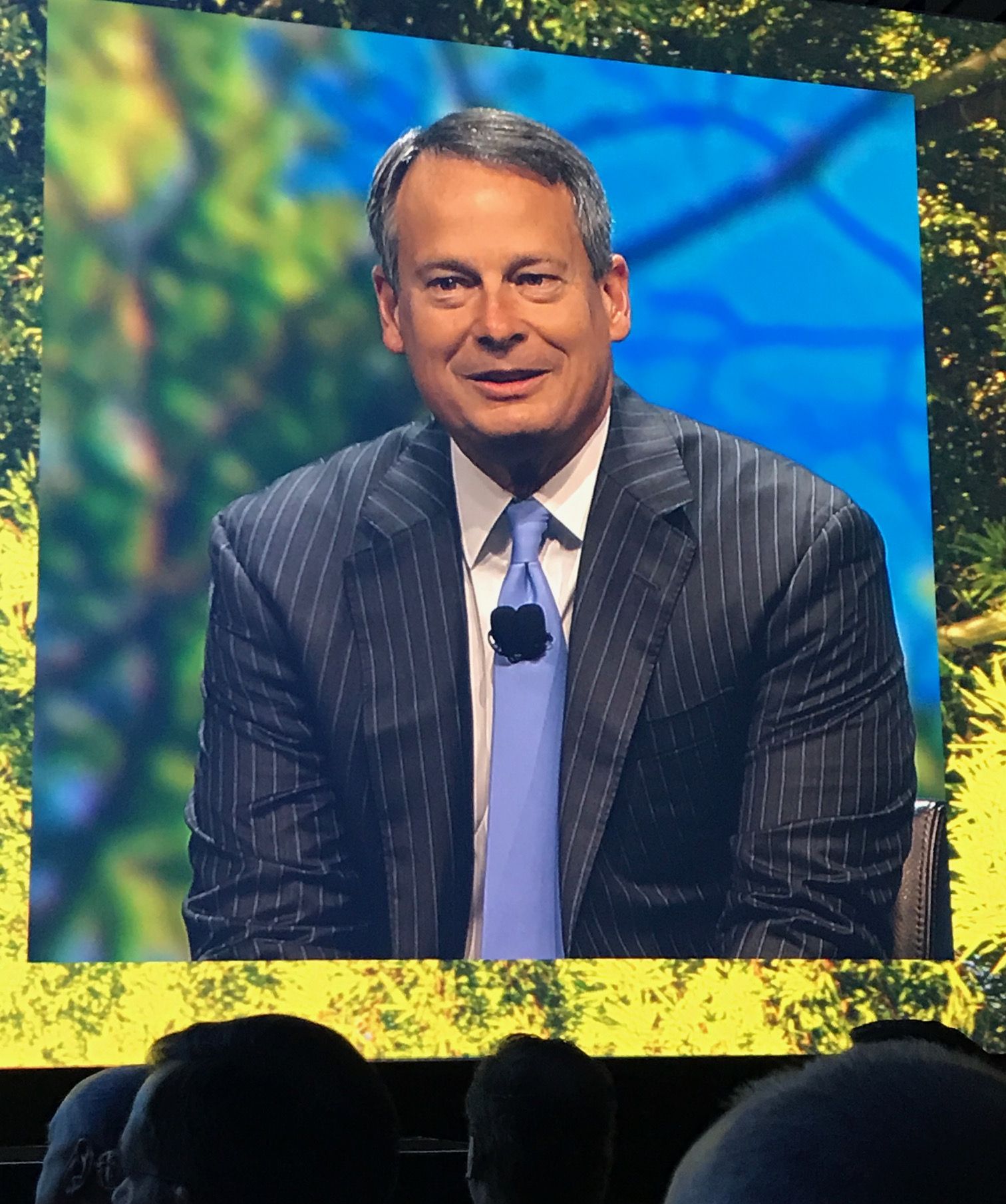 "In the past, technology disruption was dependent on the small startups. Now, we are at an inflection point where new technology craves data, a scenario where incumbents have the advantage," he said. See: The T3 Enterprise Conference showed the dark side of the RIA software business in Vegas.
Duran was more specific in listing six rules for advisors to follow to avoid a Vanguard steamrolling. They centered on establishing a presence on clients' most miniature desktop.
"Geography and time are becoming irrelevant, so you need to be omnipresent and on-demand on their phones."
Picking up on that big boy theme, Schwab CEO Walter Bettinger explained that one advantage of Schwab's scale is that it obviates the need for him to do goal-based planning in the same vein as RIAs or investors.
"We don't do goals here at Schwab," Bettinger noted when asked about the expected asset levels of the Intelligent Portfolios platform. "If clients use them, we will support it and so far we are approaching $25 billion in the robo." See: Exploding to near $24 billion* of assets under automation, Schwab creates robo-exec slot and fills it with ex-Betterment unit chief.
Lest RIAs wonder why Schwab Advisor Services, which dwarfs its competitors with $1.4 trillion of RIA assets in custody, needs a giant bulwark against change, Clark underscored the dystopian possibilities arising from rapid onset of the phenomenon of machines outthinking people.
Three times worse than 2008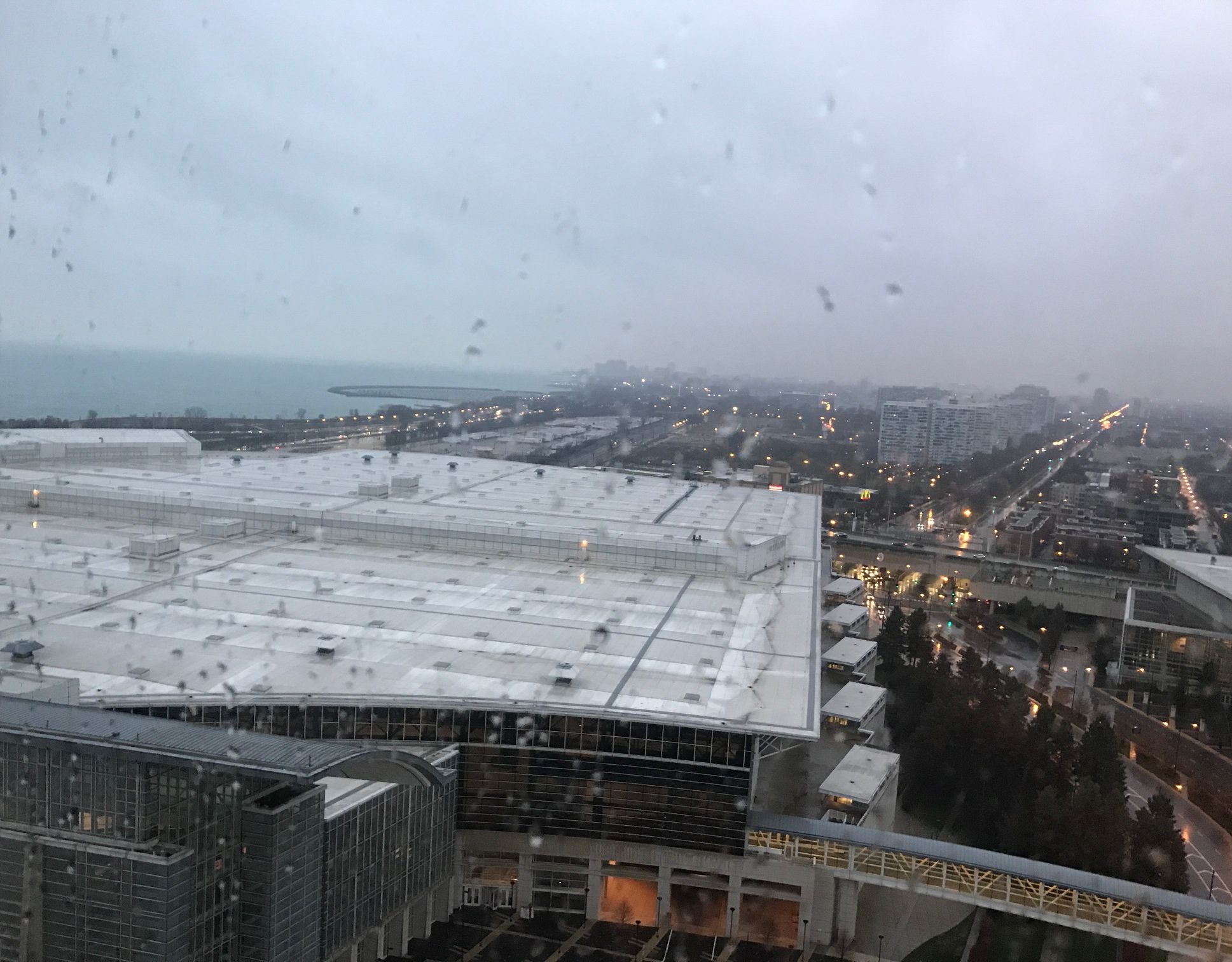 "Twenty-five million jobs will be lost due to automation over the next 10 years, a number that is three times the impact of the financial crisis," he said. "We will be living in a robotic economy."
Clark continued: "The enormity of change and the speed of change will increase the challenges. People are living longer, there will be social and financial impacts raising the question, will your children be able to afford their lifestyles?"
Still, Bettinger also foretold challenges for big players. "At the brokerage and investment services level, there is excess capacity," he said. "Pricing has become commoditized and over time, consolidation will happen to areas in the business that are dependent on transactions."
As for his expectations about blockchain, Bettinger advised that from the processing and operational standpoint, blockchain will have some disruptive aspects in financial services. See: Addepar deal may salve big, lingering pain point for RIAs who use alternative investments. Blockchan gets defined much the way crypto-currencies do. It is a decentralized, always growing list of records, called blocks, which are linked and secured using cryptography. Each block typically links to a previous block, a timestamp and transaction data. Got it?
Sun for the body!
If Clark intended a wake-up call for RIAs oblivious to the gloomier, blockier, less knowable world coming down the pike, he got a boost in this regard from Chicago's gray, wet, heavy lake-effect weather, which would later spark a Q&A question about why Schwab chooses sun-challenged venues. The combination of themes, hyper-technology and weather drained some energy from the 26th annual RIA conference of Charles Schwab & Co. Nonetheless, it remains the supernova on the annual RIA calendar.
In a departure from previous years, no platform enhancements for the custody business were addressed, For a number of years, Schwab has announced plans to advance its software ecosystem -- something competitors like TD Ameritrade, Fidelity and Pershing continue to do in press releases and at their own conferences. See: Why Schwab execs are 'proud' of holding at $1-trillion custody mark first achieved in 2013 -- and what makes them pleased with its existing 25% RIA custody market share.
In another change, instead of the usual opening keynote Q&A with Bettinger run by Clark, this year's conference organizers let the audience take charge through a "social wall" of questions voted on by attendees.
Because the questions were visible on the big screen, Schwab could demonstrate it wasn't ducking questions. See: 9 questions to ask Schwab execs when you buttonhole them in Boston at IMPACT 2015.
Not that that proved to be an issue.
Some of the audience-favorite questions: Where does Walt shops for his suits? Why doesn't Schwab hold IMPACT in warmer cities?
Then again, questions arose about blockchain technology, retail advertising campaigns, industry consolidation and the latest with Schwab's robo.
Phoning it in
At least one advisor asked about Schwab's previous advertising campaigns with "satisfaction guarantees" for money management services. Advisors were happy that those had ended. Regardless, Bettinger made a point that those ads were not about performance and refunding investors' fees if they were not happy about losing money, rather the refund guarantee was solely related to the service experience, a subtle difference that many advisors were not aware of. See: How Schwab is calling out wirehouses with its 'accountability' blitz and what collateral effects could hit RIAs.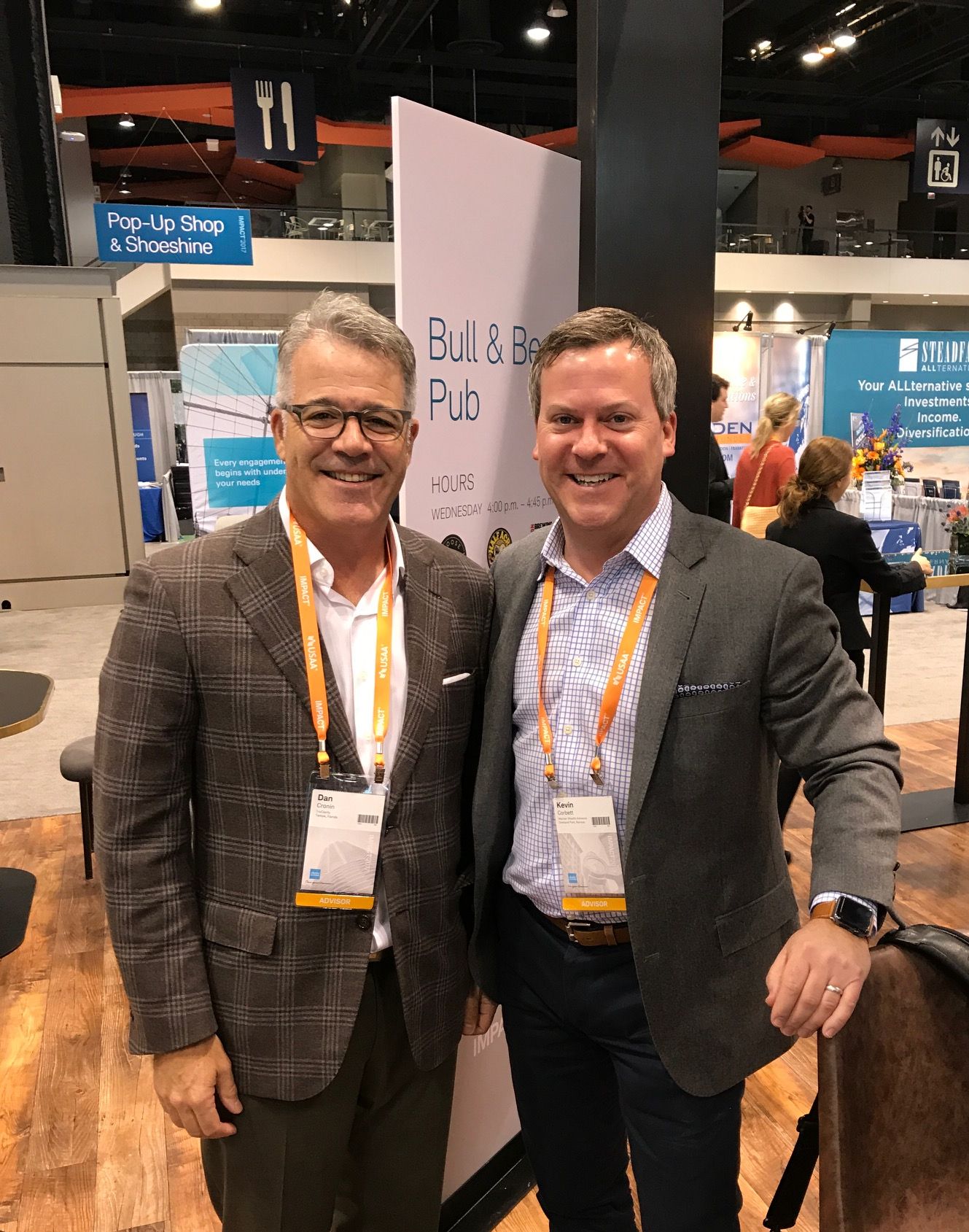 What passed for news at this IMPACT is that Schwab is going to do more for investors who want to establish health savings accounts. Wrapping up the audience Q&A, Bettinger commented on the success of the Schwab Advisor Network, Schwab's retail referral program to select RIAs.
"We have $70 billion in the program and are on pace to close $10 billion in net new assets this year alone."
Up next on the opening morning session was an engaging presentation from Mick Ebeling, founder and CEO of Not Impossible Labs. In a keynote twist, Ebeling was not on stage; rather he presented from an offsite studio and his image was displayed on a huge video screen, creating a very unusual visual experience.
By "phoning it in" Ebeling's keynote had the feel of a national geographic television show being watched by thousands of attendees.
Ebeling's inspiring remarks focused on the work his company is doing by solving human health problems through "enlightened capitalism." Ebeling shared the details about a project his team developed to provide amputees in African war zones with prostheses that were specially made onsite, something that just wasn't formerly possible given the geography and circumstances.
"Doing good is good branding and doing good is good for growth," he said, inspiring the audience to find ways to solve problems that seem unsolvable.
Good things to light
Continuing this inspirational theme, United Capital Financial Advisers' Duran captivated a breakout session room with his story of coming to the United States with little means in his youth and going on to build, sell, and build again, million-dollar businesses.
"I went from $200 in my pocket to sell an asset management business to General Electric and from that grow United Capital to $20 billion AUM, 87 locations, 607 employees and $180 million in run rate revenue. Every thing I was able to accomplish was because of America." See: United Capital begins recapitalization and continues repeopling exec ranks -- both prompted by asterisked $6.9-billion of 'contracted' assets.
Duran provided his vision for the future of the advice industry, echoing Clark's premise that the advantages in technology going forward would all accrue to the incumbents, in his session titled, "Competing in the age of Vanguard."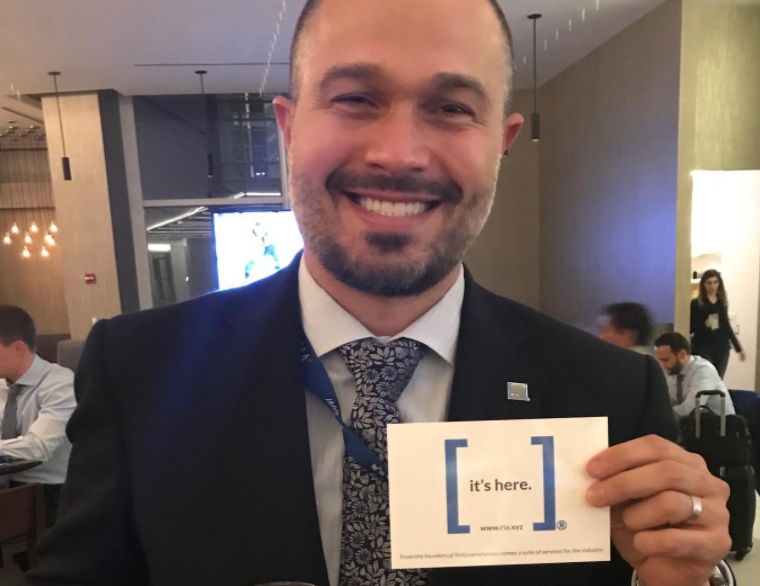 "Vanguard has a brand and none of you do. Despite being a latecomer to the ETF industry, 90% of the ETF asset flows now go to Vanguard," Duran said. "In the past four years $900 billion of the $1 trillion in ETFs ended up there and now they are setting their sites on wealth management." See: Vanguard RIA's growth leaps to $5B of assets per month in 2017 as Schwab's RIA robo jumps to monthly $1.3B.
Duran also argues that advisor's value proposition is not related to investments, rather it is helping investors "live where client's lives and money intersect." Thus, his approach is to "charge clients for managing the changes to their financial plans" as clients make their journey through their financial lifecycles versus trying to provide investment services.
With all of the talk around the future of financial services technology at the conference, it was very helpful to have Lex Sokolin, global director of fintech strategy for Autonomous Research, give a deep dive on the effect fintech was having on all aspects of wealth management.
Sokolin provided a commonsensical and jargon-free (as could be expected) explanation of blockchain, how human judgment was being digitized by machines and what that portends for advisors.
His takeaway? Fintech change is underway, but due to the slow nature of a regulated and complex industry, it is still a ways away so advisors can still keep their jobs for now. See: Five RIA principals with $60 billion of combined AUM form ScratchWorks as 'publicity stunt' and serious effort to fund fintech startups.
12(b)-1 fee-fueled bashes
In typical fashion, IMPACT brought with it high-profile keynote speakers including former United Kingdom Prime Minister David Cameron, Chicago Cubs president of operations Theo Epstein and best-selling author Michael Lewis. Cameron was a clear attendee favorite receiving multiple standing ovations for his thoughts on how western democracies can regain their leadership status in the world.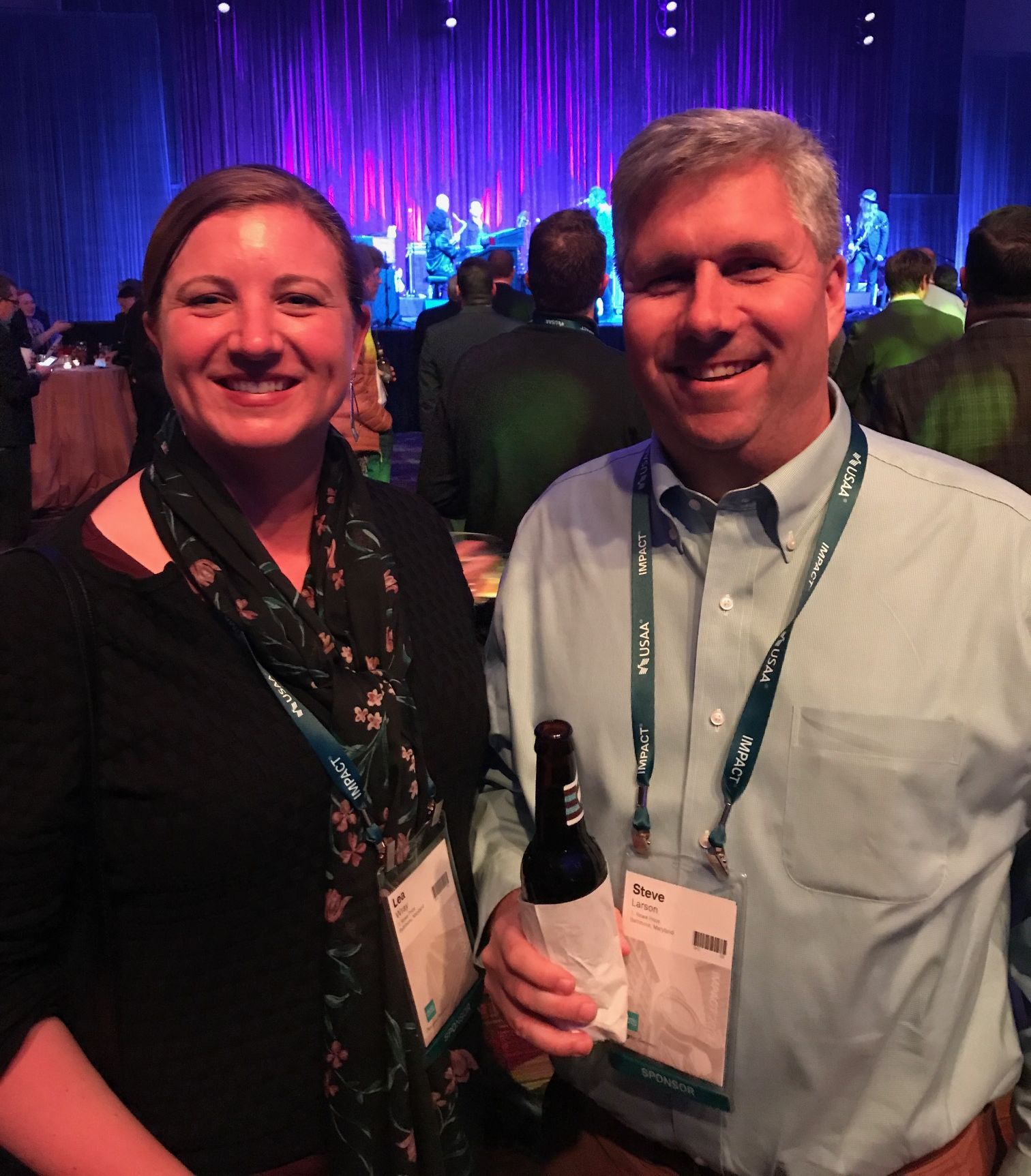 Despite the somewhat somber notes from the conference content, IMPACT still radiated with action in the vast exhibit hall where over 400 vendors vied for a piece of the RIA-industry success story. While there were no performance artists attracting crowds in the exhibit hall, as in past years, conference organizers did add in a "pop-up" clothing store where advisors could enhance their wardrobes, sipping on craft beers and get their shoes shined.
The party scene at IMPACT, which is known for its non-stop action, was in full force. The asset managers, flush with 12(b)-1 fees, held extravagant offsite receptions, while the technology vendors put together consortiums to create fun networking events. It was definitely an indoor IMPACT as the final night party featuring blues musician Leon Bridges, emulated an old-time Chicago Social Club back inside the cavernous McCormick place.
Of course no IMPACT would be complete without the highly sought after invitation to the ETF Afterparty, the capstone event organized by ETF guru Tom Lydon. Advisors, vendors and speakers celebrated the industry's success by dancing into the wee hours of the evening at a cool local nightclub, however there were no Schwabbies present – they were advised by their no-fun, Schwab HR reps that they were not allowed to attend.
To learn more about what went on at the 2017 Schwab IMPACT conference, check out the many tweets on the #SchwabIMPACT hashtag on Twitter.
Timothy D. Welsh, CFP is president and founder of Nexus Strategy, LLC, a leading consulting firm to the wealth management industry, and can be reached at tim@nexus-strategy.com or on Twitter @NexusStrategy. In writing for RIABiz, Welsh has potential conflicts relating to his book of consulting clients, which include (or in some instances previously included) custodians who compete with Schwab or other vendors mentioned in the article.
RIABiz requested a press pass for IMPACT and our Chicago writer was put on a waiting list where she remained.
---
---
Mentioned in this article:
---
---
---
Stephen Winks
November 18, 2017 — 4:30 PM
The Schwab leadership is speaking of a disruptive low-cost advisory services utility which supports expert fiduciary standing. This is a massive departure from conventional brokerage and may be more easily executed by Google and Amazon which do not fear (1) streamlining cost, (2) eliminating institutionalized advisory services inefficiencies. (3) adoption of expert prudent process simplifying advisory services, (4) advancing a more approach to portfolio construction. SCW