News, Vision & Voice for the Advisory Community
Speakers fresh off making RIA headlines, including ex-Morgan Stanley president who is launching Rockefeller-backed RIA, will address uncomfortable issues, which sends demand up; $1,000 tickets til Monday
November 10, 2017 — 11:09 PM UTC by Brooke Southall
Brooke's Note: The MarketCounsel Summit hit a heat-check peak in 2014 when it got Tony Robbins and Mark Cuban to show up in Las Vegas. Until this year with the booking of former Morgan Stanley ex-CEO Greg Fleming -- a coup calculated to answer the unanswered question in every RIA mind: What the hell are these wirehouse shot-callers thinking? See: RIA lawyers cry foul against Bressler, Amery & Ross -- keeper of the Protocol flame -- after Morgan Stanley exit throws sunlight on attorney behavior. Frustratingly, ex-wirehouse execs rarely clean up enough to offer real insight but if Fleming strays even a millimeter off script we'll learn something. This year's Summit will far surpass 2014's because it's all centered tightly on the RIA business itself. Conferences are often centered on marketing but when organizers like Brian Hamburger put on their journalist hats and attract news headliners then journalists and marketers alike must tip their caps. He knows that. The price of admission is set to go up -- unless the discount code, which is in the body of this article -- is used.
The wattage of the MarketCounsel Summit just shot up with the announcement that Morgan Stanley ex-CEO Greg Fleming will speak in the wake of Broker Protocol changes -- though he was booked ahead of that event. See: Timing of Morgan Stanley's Broker Protocol withdrawal sends shocks through RIA legal and recruiting circles.
TD Ameritrade's ex-retail and ex-RIA chief Tom Bradley will speak in the wake of his departure from that firm and Hightower Advisor chief Elliot Weissbluth will talk partner choice after gaining a giant new one. See: HighTower finds hundreds of millions to cash out itchy shareholders.
Adding to the electricity at the Dec. 4-7 event in Miami: In addition to Ric Edelman giving a TED-style talk, his former, short-lived partner David Bach, will do the same, albeit separately. See: Ric Edelman and David Bach go their own ways after super-partnership dissolves.
Shooting up to reflect the rising value proposition is the price of attending the event.
Until Monday midnight (Nov. 13), it'll remain at $1,000 for an individual and $2,500 for a sponsor but given the relatively few spots remaining of about 600 targeted, the fee will then rise to $1,200 for individuals. [Beginning at midnight through the end of the week, RIABiz readers can use RIABIZ as a discount code in registering and receive $200 off the, by then, $1,200 price.]
Fourth-quarter strategy
In an interview, a reporter told Brian Hamburger it wasn't something they had heard of happening outside of the StubHub world.
"We hadn't either," quipped Brian Hamburger, CEO of the Englewood, N.J.-based business and regulatory consultancy for independent investment advisors, who expressed relief and joy that his strategy of playing a "fourth quarter" game of speaker procurement was panning out.  He had waited until near the event to get the kinds of speakers who wouldn't commit months in advance.
The big "get" is Fleming who got pushed out of Morgan Stanley by James Gorman after being made his heir apparent. See: What the deletion of no-drama Greg Fleming bodes for Morgan Stanley, wirehouses and CEO James Gorman
In early October, Fleming reemerged after about 18 months on the sidelines as head of a startup RIA, Rockefeller Capital Management, which gets a running head start from the Rockefeller Financial Services family office. It managed $10.9 billion and advised $5.3 billion as of June and about a third of the assets were "Rockefeller" assets. The plan is to aggressively grow the wealth management services to ultrahigh-net-worth investors with mega-support from $25-billion Viking Global Investors, a Greenwich, Conn.-based hedge fund. Fleming is an investor in the venture.
Despite Fleming's RIA epiphany, Hamburger says Summit attendees should expect a talk that downplays the black-hat-and-white-hat polarity between RIAs and brokers.
"Greg is very open to having an open dialogue," Hamburger says. "He said he wants to share his perspective."
'Jersey guy'
Not to be outdone in timeliness-plus-influence-derived speaker voltage are Bradley and Weissbluth.
But will they speak up about what's really going on?
"Tom's a very Jersey guy," Hamburger says. "Which is to say he's plainspoken. He's not one to keep his cards close." 
Bradley is expected to share knowledge of what it was like to spend nearly a quarter billion dollars on marketing financial advice to the American public. The hope to is that RIAs will get a better sense of where he's headed and what to read into the moves of TD Ameritrade of late -- including Bradley's unforeseen departure. See: A look inside the agonizing decision to cut Tom Bradley from TD Ameritrade and what doesn't seem to add up.
No less agonizing was the semi-public struggle HighTower Advisors had in replacing impatient original investors and no doubt Weissbluth was at the eye of that storm that finally got resolved. Hamburger says he counts on Weissbluth bringing his best material.
"He's willing to stare right into the sunlight," Hamburger says.
Weissbluth, as part of panel that includes rivals like Marty Bicknell of Mariner Holdings and Shirl Penney, will address the hot subject of choosing the right partner.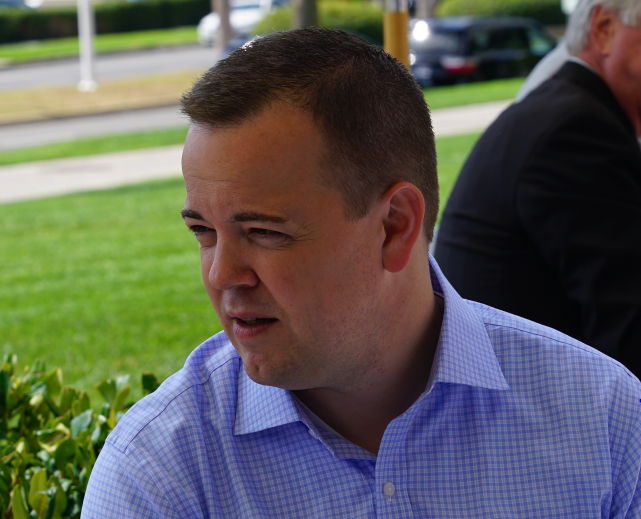 Bicknell himself is the subject of fresh headlines as he returns to the RIA M&A game with a vengeance. See: Marty Bicknell sells Tortoise stake for '$150 million' with cash already earmarked for four or five RIA purchases.
Penney, CEO of Dynasty Financial Partners LLC, meanwhile, has been signing deals at a torrid pace, including one this week with near $4 billion of assets. The deal has cachet given that Dynasty went through 18 months of being vetted as the outsourcer for Geller Family Office Services, which is itself the outsourcer of CFO services, namely accounting, for Bloomberg. See: Hitting $20 billion of RIA assets in six years, Dynasty Financial hires its first chief AUM-booster, the better to get to $40 billion faster.
Other notable speakers include Aaron Klein, CEO of Riskalyze, who is riding a tide of success selling his risk as measured by a number. See: How Aaron Klein plans to make Riskalyze the epicenter of the RIA business with $20 million of fresh private equity money
But he is also a bit of social media star. Klein will lead a discussion about how that works and why it might be risky for women to follow the same playbook as men in sharing intimate life details. See: As a self-aware Sallie Krawcheck launches at TechCrunch Disrupt, Ellevest embraces the peril of selling algorithms to women
Think like a terrorist to succeed
Former CIA director John Brennan will take a controversial approach to RIA succession by looking at how terrorist organizations thrive despite continuously being decapitated -- and showing that such constant succession yields lessons.
Tony Scott, now CEO at TonyScottGroup LLC and formerly CIO at Microsoft, and who served the Obama administration, will show just how much the United States has succeeded in disrupting foreign governments and such methods may be used with devastating results against the United States.
He'll also offer practical thoughts to attendees. 
"He'll have solutions so advisors don't go home with their hair on fire," says Hamburger.
---
Mentioned in this article:
Mariner Wealth Advisors
RIA Welcoming Breakaways, RIA Serving Endowments/Foundations, Advisory Firm
Top Executive: Martin C. Bicknell
MarketCounsel
Consulting Firm, Specialized Breakaway Service, Compliance Expert
Top Executive: Brian Hamburger
Riskalyze
Compliance Expert
Top Executive: Aaron Klein
---
---
Share your thoughts and opinions with the author or other readers.
---