Jon Stein unleashes elite RIA referral unit as crown jewel of grand Betterment plan to sell virtual fiduciary advice
Robo's CEO names Vanguard, Fidelity and Schwab as market-share targets of his advice offensive across the full spectrum of affluence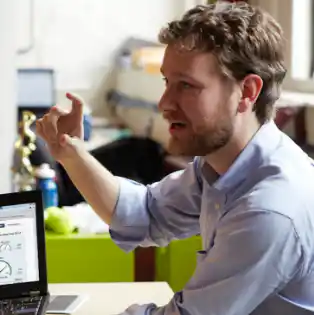 Jon Stein: We realized we needed to productize this to overcome the notion that robo means: no humans. No matter what the situation, we can help you.
---
Stephen Winks
February 1, 2017 — 3:02 PM
Let's hope Stein has fully fleshed out fiduciary duty as to claim fiduciary status and fall dhort will give ROBOs a black eye. There are a number of specific duties Stein has not accounted for which can be readily managed if one wanted to. This is where an expert authenticated prudent process is helpful--an easy fix. Agree with Pat Mulvey's (FAA) comments above. More diligence is required to achieve prudent expert standing. SCW
FAA
February 1, 2017 — 7:22 PM
This makes no sense. Shouldn't the 'fiduciary advisor' decide whether the ETF flipper is in the best interest of the client? Wonder if it is not? Seems like these guys are making the decision on what's best for the client not the advisor. You're a fiduciary advisor, here's a referral, now you gotta use our stuff whether it is in the best interest of the client or not. LOL
Tim Baker
February 1, 2017 — 7:56 PM
"Betterment collects the fees from the investor and distributes it to the advisor" essentially making them a Turnkey Asset Management Program by default. In these arrangements the advisor technically acts as a "solicitor" receiving a portion of the total fee with the RIA (Betterment) maintaining the fiduciary capacity. Therefore, the question is: should clients referred to an affiliated RIA advisor have to sign a Best Interest Contract Exemption under the new fiduciary rule?
FAA
February 1, 2017 — 8:06 PM
That's a good question...one of many. Betterment and/or the advisor need to be able to back up and defend their claim. Seems pretty casual in my view
Stephen Winks
February 1, 2017 — 8:25 PM
Stein's conception of fiduciary s in the vein of a product, not prudent process, which leaves a lot of holes to fill. Either you are or are not a fiduciary, being close does not count. SCW
FAA
February 1, 2017 — 9:07 PM
---
---
Mentioned in this article:
Wealthfront
Portfolio Management System
Top Executive: Andy Rachleff
Kitces.com
Consulting Firm
Top Executive: Michael Kitces
---
---