My inauguration day promise to Conservative friends: Give Trump a chance.
Brooke's Note: There was one great reason not to write this column. We are an RIA publication, not Politico. A second reason: I lean a little left and my observation is that our readers lean a little right. Still, we agree on the bigger issue of wanting a society that gives entrepreneurs every chance to succeed against large companies prone to blunting innovation; of introducing more heart and a better ethos in regard to products and service as part of that innovation process.
When people ask me why stockbrokers make so much money, I explain the power of salesmanship.
All things equal, the single most important thing that any investment advisor can do for a client is to make sure that they invest. Better salesmen get more people's assets invested in stocks and those salespeople get paid handsomely for delivering that service to humanity and that liquidity to the world economy.
A hyper-ethical RIA is less valuable, arguably, than a semi-rapacious broker -- but only if they fail to inspire. The RIA fails when they let would-be clients idle on the sidelines with maybe hundreds of thousands of dollars in their checking accounts withering away. See: What is the value proposition of a financial advisor -- and how is a budding RIA culture upping the ante?
Here's how I make sense of it all: I am going with the idea that here in the United States we tried to get too European and sophisticated with the hire of Barack Obama eight years ago and that a healthy dose Trump's salesy energy will be a tonic to our American oversoul; that while the tribal energies of populism that put Trump in office have sharp edges, that their sheer velocity will mostly nullify them.
Such a perspective is my way of fulfilling my inauguration day promise to Conservative friends to "give Trump a chance."
Sales nation
But I digress.
Getting back to stockbrokers, there is a reason that they have been slowly going extinct for decades -- the growing realization by consumers of the costs of overreliance on sales. Those consequences become more evidently dire as a culture grows up around the entitlement of the person doing the selling -- a culture that is increasingly comfortable with low transparency, low accountability, low regulation and low oversight. Salesmanship especially thrives in the atmosphere of low information. See: Why a broken RIA sales strategy is more of a repairable passion problem.
That presents a paradox for RIAs: They've risen on a tide of higher consumer information and expectations as investors seek the best service for their money. But to the extent RIAs fail to thrive, much can be attributed to their continued failure to market and sell effectively. Stockbrokers still command all the big brands, big advertising budgets and big sales training budgets. Enough low-information investors exist to assure this business model has a long glide path. See: Six tips for avoiding a disastrous broker-dealer decision.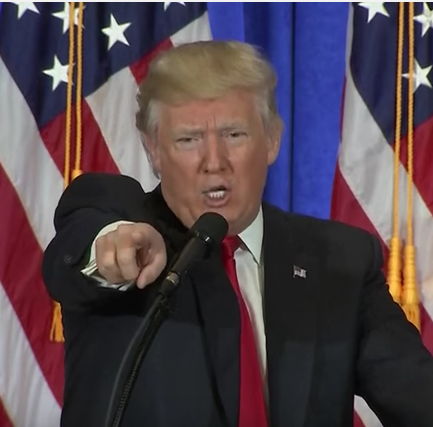 But there are also plenty of high-information investors who will continue to choose big-brand stockbrokers. I submit that relates, in part at least, to the effluent of a sales culture -- animal spirits. Never doubt the power and very real need for this energy source.
Trump and the DOL rule
That brings us back to Donald Trump, who is transparently non-transparent. When he tells us to pound sand when we request his tax return or his ties to Russia, he does so with a compensating twinkle in the eye. See: The DOL rule is DOA -- and that's just the beginning, says RIA champion Brian Hamburger, law school chum of odds-on chief of staff Reince Priebus.
Trump doesn't see why any force should hold him in check. Journalists are corrupt and dishonest. Regulators should be diminished or eliminated. Ethics offices? Please. Conflicts, heh.Even the other giant regulator on the world stage in which all good capitalists place their trust, market forces, may need to take a back seat. The much-advertised Wall assures cheap labor won't be allowed to flow into the United States. Companies like Carrier or GM won't be able to move operations abroad to hire cheap foreign labor without political strife and economic penalties. See: 'Jessie from Pennsylvania' blindsides a monotone Vanguard webcast and CEO McNabb deftly embraces his critic.
Those who talk of rolling back the DOL rule rely on the Panglossian notion that regulations force people to do what they do anyway -- treat other people well -- and that making it law just creates expense and puts sand in the gears. Regulations are bad for the free market. They are even bad for the consumer, the anti-rule faction says. Just let the hundreds of thousands of brokers do what they do best and market forces will sort things out.
When you consider the fact that nearly $4 trillion of assets are managed by RIAs precisely because of free market forces, that laissez-faire argument can't be dismissed as pure hogwash.
The RIA way
But here's the thing: Unlike Trump, stockbrokers have already had their inauguration day -- decades ago. But the model of stock brokerage never got much better.
Is what's playing out in the White House is a signal for RIAs to return to a low-information, low-accountability, sales-dominated culture? See: Top RIA lawyer explains to the SEC why 'harmony' is a harsh misnomer and why the price of its false spin is paid by investors
Continue to follow your own beacon, I say.
And how will we know if the benefits of Trump's animal spirits outweigh the detriment of low accountability and the culture of foisting off costs on the least informed and powerful?
We'll know. It's like clients who left brokers for RIAs. Even if they can't explain the difference, they know. See: What exactly is an RIA?
---
---