News, Vision & Voice for the Advisory Community
As the Boston IBD's annus horribilis continues unabated, PE-friendly directors are joining the board with little opposition
September 7, 2016 — 8:54 PM UTC by Sanders Wommack
Brooke's Note: If Wall Street wirehouses are undergoing creative destruction and RIAs are constructing edifices from salvaged parts, that leaves out the state of the IBDs in the circle of life. In short, independent broker-dealers like LPL, Cetera and Advisor Group are not quite tear-downs. They can, with private equity money and hard love applied properly, rise again as homes for RIAs and brokers. The case of LPL shows that you don't need to be a private company for private equity to find you and force you to drop the nonchalance and make changes with urgency.
Despite LPL Financial's best efforts to keep a tightly screwed lid on their corporate strategy, evidence of increased contention behind the scenes is mounting in what could be a prelude to a major ownership change. See: After stealthily buying up LPL stock, a 'wolf pack' of activist hedge funds has a leg hold.
The last 12 months have been rocky ones for LPL Financial management and its shareholders. Last September, activist investor Marcato Capital Management took a 6.3% stake in the firm. In response, LPL announced it would be issuing debt to repurchase shares. But that action has failed to check encroachments by a group of Bay Area-based hedge funds.
After a terrible earnings report in February, LPL's stock plummeted to an all-time low of $16.50. See: Goldman Sachs and Wells Fargo analysts ask unobsequious questions as LPL shares fall below 2005 private equity levels and Mark Casady pleads the 'Spanish Inquisition' defense. LPL was subsequently sued for securities fraud. See: The odd logic 'Enron' lawyers are relying on to sue LPL Financial for securities fraud — logic that's attracted five potential copycat investigations in 10 days.
At the same time, the country's largest independent broker-dealer continues to see its senior leaders depart for rival companies. Non-executive personnel who have stayed found out last month there would be no merit-based wage increases this year. See: What to make of LPL freezing the wages of most staffers — and some reaction to the company's explanation.
Throughout LPL's annus horribilis, one constant has held steady: Stakes in LPL Financial stock among a group of hedge funds in the Bay Area continue to rise.
Buying and selling
On the theory that misery loves company, LPL can take some heart — it's been a lousy year for enormous IBDs in general. Cetera Financial Group closed out the last unofficial week of summer by replacing CEO Larry Roth with board chairman Robert Moore. See: Sources: Larry Roth is out at Cetera, supplanted by ex-LPL president, Robert Moore. Back in January, private equity firm Lightyear Capital bought IBD AIG Advisor Group. See: Why Lightyear's purchase of AIG Advisor Group isn't a Cetera-type fixer-upper case and how Donald Marron will respond accordingly.
A report LPL filed with the Securities and Exchange Commission last month opens a small window on its battle to hold onto a majority of its stock.
San Francisco Bay Area hedge funds with concentrated positions in LPL stock have dropped from nine different firms to five major players. According to the most recent filings with the SEC, that leaves SPO Partners, FPR Partners, Fairview Capital Investment Management LLC, Dragoneer Investment Group and HMI Capital. Together, they own 31 million shares of LPL, or 34.8%, of all outstanding shares. See: After stealthily buying up LPL stock, a 'wolf pack' of activist hedge funds has a leg hold.
During the second quarter, SPO, FPR, and HMI held their stakes steady. Dragoneer boosted its investment by 200,000 shares to 1.75 million, while Fairview added 868,000 shares to take its total position up to 5.8 million.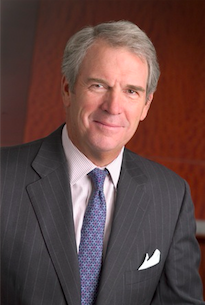 James Riepe, was pummeled by shareholders
who made a serious run at
denying him a majority of votes.

Three funds that abandoned the trade — Bay Area-based Crescent Park Management LP, Watershed Asset Management LLC and Stonerise Capital Partners never owned more than a million shares of LPL combined at any given time.
Marcato Capital Management sold its six million shares at the beginning of 2016 after appearing to have pushed for a disastrously timed share-repurchase plan. In February, following February's terrible earnings report.
But its $250 million accelerated share repurchase program was fulfilled suddenly in December after private equity giant TPG unexpectedly sold a third of its remaining stake back to the firm at around $44.46 per share.
LPL was subsequently sued by for securities fraud, given the massive disparity between TPG's exit price just two months earlier and the market's valuation after fourth quarter earnings were released. See: The odd logic 'Enron' lawyers are relying on to sue LPL Financial for securities fraud — logic that's attracted five potential copycat investigations in 10 days.
Riepe tide
Joining these five San Francisco Bay Area-based hedge funds is Dallas and San Francisco-based TPG Capital, which helped take LPL public in 2010 and still owns 9.6% of its stock. Although these hedge funds have made no formal filing announcing the formation of a group, If these six firms decided to join their shares together, they would own 44.4% of LPL Financial.
Like almost every other U.S. company, board of director elections at LPL Financial has historically been perfunctory affairs. Last year, for example, when CEO Mark Casady earned 98.7% of votes in his favor, he was the least-supported of the seven directors seeking reelection. See: Bill Chetney is back to compete with LPL (among others) and Mark Casady is very much on board.
That changed in May when LPL Financial's lead independent director, retired T. Rowe Price vice chairman James S. Riepe, was pummeled by shareholders who made a serious run at denying him a majority of votes. Riepe had just 43.3 million shares voted in his support, or 57.7% of all votes, compared with 31.7 million votes against him.
Curiously, Riepe enjoyed widespread support among those firms that are required to publicly disclose their votes — namely investment companies. Almost all of the giant institutional firms voted "yes" across the board to LPL's slate of directors, including The Vanguard Group, BlackRock Inc., State Street Corp. and Fidelity Investments. Combined, these firms own just over 10% of the independent broker-dealer. Major mutual fund firms like Invesco Ltd., First Pacific Advisors, Arrowpoint Partners and Dimensional Fund Advisors all voted all "yes," as well. T. Rowe Price also supported Riepe. Combined these five mutual fund firms own another 21% of LPL. See: How exactly Invesco plans to get a return on its Jemstep robo purchase with a TAMP-evoking strategy.
Two-faced shareholders
So which companies did want Riepe gone? And why? SEC filings reveal very few fund companies voted against him. Clarkston Capital Partners, a Detroit-based mutual fund firm, was the only major shareholder to vote "no." Clarkston owns 3.3 million shares, or 3.7%, of LPL Financial. Clarkston's chief compliance officer, Amy Eisenbeis, has not responded to a request for comment.
From there, the picture gets fuzzier. Hedge funds, private equity firms and RIAs are not required to disclose their proxy votes — and there is evidence that at least one mutual fund company fudged its filing. See: How Janus CEO Richard Weil's Bill Gross hire completes the PIMCO-ization of the Denver equity shop.
Denver-based Janus Capital Group, which owns 6.4 million shares of LPL, claimed that its mutual funds abstained from voting either for or against Riepe. But LPL's official proxy vote results showed only 2 million shares abstained from the Riepe vote. Asked about this contradiction, Janus's head of public relations said he would look into the issue and shortly afterwards emailed RIABiz that Janus could not comment on the matter. Without public opposition from institutional investors, it appears most of the total 31.7 million shares that voted against Riepe had to come from the 31 million-share-strong San Francisco wolf pack and/or the 8.5 million shares still owned by TPG.
Chilly ballots
Riepe wasn't the only director to feel a lack of love via LPL's 2016 ballot box.
TPG's representative on the board, Richard Schifter, received 14.8 million votes against his reelection, or slightly less than 20% of the total vote. On the institutional side, over 6.1 million combined "no" votes came from CalPERS and, significantly, T. Rowe Price. The Baltimore-based fund company presumably casts its votes in consultation with him.
Why T. Rowe Price is trying to boot TPG from the board would be interesting to know, but Riepe and LPL Financial are staying tight lipped. Reached earlier this year via email, Riepe declined comment and directed further questions to LPL's press department. See: What to make of LPL nearing a successful — but scaled back — IPO.
Several other LPL directors also had historically low support in 2016, but the final tallies showed spectacular confidence in LPL's newest board members.
Viet Dinh and Marco Hellman faced only nominal resistance in their first elections. Both were elected with 99.92% of shares cast. See: As LPL Financial braces for a share sell-off and loss of two directors, a Citi analyst says it'll be good.
What the wolf pack wants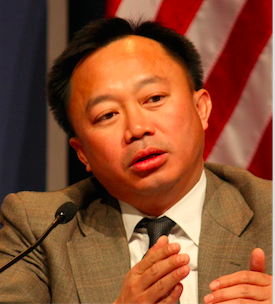 Board member, Viet Dinh has no
apparent to LPL, won a stunning
99.92% of shares cast.
With new shareholders appearing to flex their muscles, the backgrounds of the newest members of LPL Financial's board of directors might contain hints about what the hedge fund wolf pack wants.
In September, Casady installed Dinh on LPL's board of directors. Dinh served as a U.S. assistant attorney general for President George W. Bush from 2001 to 2003. He was also one of the team of lawyers that helped impeach President Bill Clinton. He's currently a partner of Bancroft PLLC, a law and strategic consulting firm that he founded in 2003. See: LPL keeps on stockpiling tip-top compliance execs, with JP Morgan's ex-CCO the latest.
Dinh joined the board less than a week after Marcato Capital Management unveiled a 6.3% stake in the independent broker-dealer. See: Weighed down by nonstop fines, LPL finally buys ounce of prevention by putting ex-FINRA veterans on its payroll.
Dinh does not appear to have any connection to LPL's management or financial industry experience but reportedly has very close ties to the Murdoch family.
Two other directorships might suggest why LPL Financial hired Dinh as a director. He served on the boards of Orchard Enterprises and M&F Worldwide Corp., both of which had a single shareholder who owned either majority or a near-majority of the voting stock of the company. Furthermore, soon after Dinh joined the board of each firm, the companies were either bought by their parent corporations or merged with another firm in complicated, legally complex deals.
Familiar PE face
It's not known for sure what process was used to select LPL's most recent board member, Marco "Mick" Hellman, but odds are good that San Francisco hedge funds were pulling the levers. Hellman is founder and managing partner of one of the wolf pack funds, HMI Capital, which he started in 2009. Prior to that, Hellman worked at his father's company, Hellman & Friedman, the private-equity firm that partnered with TPG to take LPL Financial public. See: How hedge fund control and E*Trade's former CFO helped Mark Casady see that making LPL a blue chip was a fool's errand.
On its website, HMI Capital strikes an activist investor tone, saying the firm "seeks to leave each portfolio company stronger than before HMI engaged. While not all companies will benefit from a high degree of involvement, HMI will work with management teams where appropriate. HMI's strengths in capital allocation, strategy and alignment of interests can be brought to bear through direct dialogue and involvement in a portfolio company's board of directors."
Hellman replaced departing director Dick Boyce, formerly of TPG, who left after the private equity firm sold a third of its stake back to LPL in September.
Of course, it's quite possible to place a far less byzantine construction on these board hires and the increasing share buys on the part of outsiders. After all, many of the same people who worked on LPL's deal at TPG and Hellman & Friedman have, like Hellman, left private equity to join local hedge funds in the intervening years. As such, they know LPL's business back to front and believed it was a good buy at one time. It's not hard to imagine many of them pushing their new firms to invest in LPL at prices below its 2010 IPO. See: What to make of LPL nearing a successful — but scaled back — IPO.
And perhaps the annual meeting vote was not so much a struggle for power as an effort to punish some of directors for the poorly timed buyback.
Dinh appears to have a lot of experience in managing majority-ownership transactions, but that could be a coincidence. He may have been sought for LPL's board because of his experience at Revlon and Twenty-First Century Fox, both of which also have powerful insider shareholders but which have never merged or been sold.
These explanations make some sense. But LPL, for its part, declines to comment.
---
Mentioned in this article:
---
---
Share your thoughts and opinions with the author or other readers.
---