Steve Dunlap (with FolioDynamix's Meghan McCartan): The current robos have jumped the shark.
FolioDynamix remains the Avis of TAMPs -- and its new president Steve Dunlap has much to show for trying harder even when it hurts
"We've been punching under our weight class for a while now," said Dunlap, the former Cetera, Pershing and Lockwood executive, as he reflected on his first nine months in the lead role at Secaucus, N.J.-based FolioDynamix. See: Ex-Lockwood CEO Steve Dunlap takes on role at FolioDynamix after being a customer with a bone to pick Envestnet is generally considered the Hertz of the TAMP, SMA world.
After being acquired by Actua Corp. a couple of years ago, FolioDynamix is "seeing growing momentum with over $700 billion in total assets on its platform, from three million client accounts, $20.5 billion of those assets are in its advisory services along with $5.1 billion in overlay AUM. This represents a 22% growth in AUM, year over year," he added.
The 2016 Folio FolioDynamix conference, held earlier this week in San Antonio, Texas was a way to show Dunlap isn't standing still. In particular, the event worked to reverse spin the robo-revolution which is producing some services that bear some resemblance to what TAMPs do.
Free beta
"The future is not about robots or robo advisors replacing human advisors. It is about taking advantage of technology to work efficiently. One of the benefits the industry is seeing is that the early robos were a free beta test to show that technology and automation are being accepted by clients and can play a big role in helping advisors increase capacity and better serve their clients."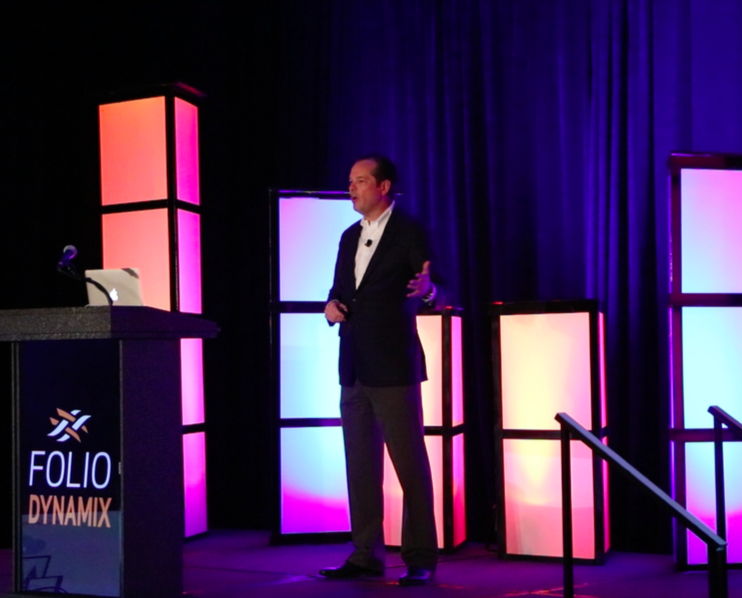 "However, the current robos have jumped the shark," Dunlap quipped. See: Envestnet buys baby robo-advisor to add 'last mile' to its grown-up platform
Backing up this sentiment was Shari Hensrud, president of FDx Advisors and CIO for FolioDynamix. Hensrud provided some very compelling math to show that the direct-to-consumer robos like Wealthfront and Betterment face a highly questionable future.
"Robo asset growth is slowing, their costs are getting higher and the average account size is going down," Hensrud noted from her research into the underlying economics of the top robos today.
Using some linear assumptions about payback to capital raised -- 30% per year is a typical metric venture capital funds require, Hensrud noted -- in seven years, Wealthfront needs to get to $162 billion in AUM to provide those minimum returns to their VCs, while the hurdle rate for Betterment is even more daunting at $257 billion in AUM. See: What to make of Wealthfront's three big hires and why its artificial intelligence bid may be indefensible as a strategy
Trouble ahead
After eight years in existence, Betterment and Wealthfront have only been able to gather around $5 billion each, yet due to their capital raise, operating models and low revenues per client, and there is trouble ahead, Hensrud predicted.
FolioDynamix is making big moves that rely on partnerships with software firms that position themselves toward RIAs and IBD reps. It announced several deals with popular advisor software packages, including MoneyGuidePro for financial planning, RiskPro for risk analysis, Quovo for account aggregation and Scivantage for robo services, all integrated into the FolioDynamix platform to help advisors better manage clients by cutting down on manual processes. While not available just yet, FolioDynamix promises to roll out this one-stop software shop. See: Curian Capital predators position to pounce -- but a few copiously keep their distance to avoid quills
"Given the many trends impacting the industry, advisors need to meld together technology with their personal, human approach into a 'Cybernetic financial advisor' model," Dunlap said, bringing up images of Lee Majors as the Six Million Dollar Man from the popular 1970's TV action series. "To solve for these problems we are coining the phrase, 'fiborg' and our new platform is the 'fiborg Constellation' that brings all of the components of technology needed to succeed in the new wealth management era."'
Magic bullet
Besides the predicted demise of robos, the Department of Labor's new best interest rule was also top of mind for the over 100 attendees made up of large RIAs, broker-dealer executives and asset managers that are part of FolioDynamix's TAMP platform. See: DOL rule still has feet tangled in the struggle to define difference between 'suitability' and 'fiduciary'
Several panels focused on the many changes firms will need to make in order to comply with the new rule, although many industry experts were also suggesting that the new DOL rule would create opportunities.
"For the first time, the government is giving you a reason to finally install a financial planning culture in your firm," said Kevin Hughes, Enterprise Business Development for MoneyGuidePro. "You now have permission to go directly to your clients and ask them about their other assets, as it is now a requirement under the DOL rule to act in their best interests and the only way you can do that is if you know about their entire financial situation in the context of a financial plan." See: The short scoop on Wall Street's claim that the DOL rule is too long
For technology companies, the DOL rule is definitely creating opportunities as recent reports point to broker-dealers spending millions on new technology, upgrades to their systems and a focus on workflow automation.
"The DOL has turned everyone into technology shoppers," Dunlap agreed. See: How Wall Street emasculated the DOL rule with an old-fashioned end game: 'Somebody made a deal' -- and why tort lawyers are licking their chops
One of the more interesting FolioDynamix product developments is Hensrud's Gateway platform, which is a managed account, level fee, low-balance option that in most cases is cheaper than any mutual fund, making it a potential game-changer for the industry.
"At around 30 to 40 basis points, we can take on these small accounts abandoned by the DOL rule," she said, which many of the broker-dealer execs predicted could be the secret tunnel out of their current predicament as they undergo massive transformation to comply with a best interests standard of care. See: The RIA-ification intrinsic to LPL's preemptive DOL policy changes -- yet how tightly to revenue sharing in IRAs it is hanging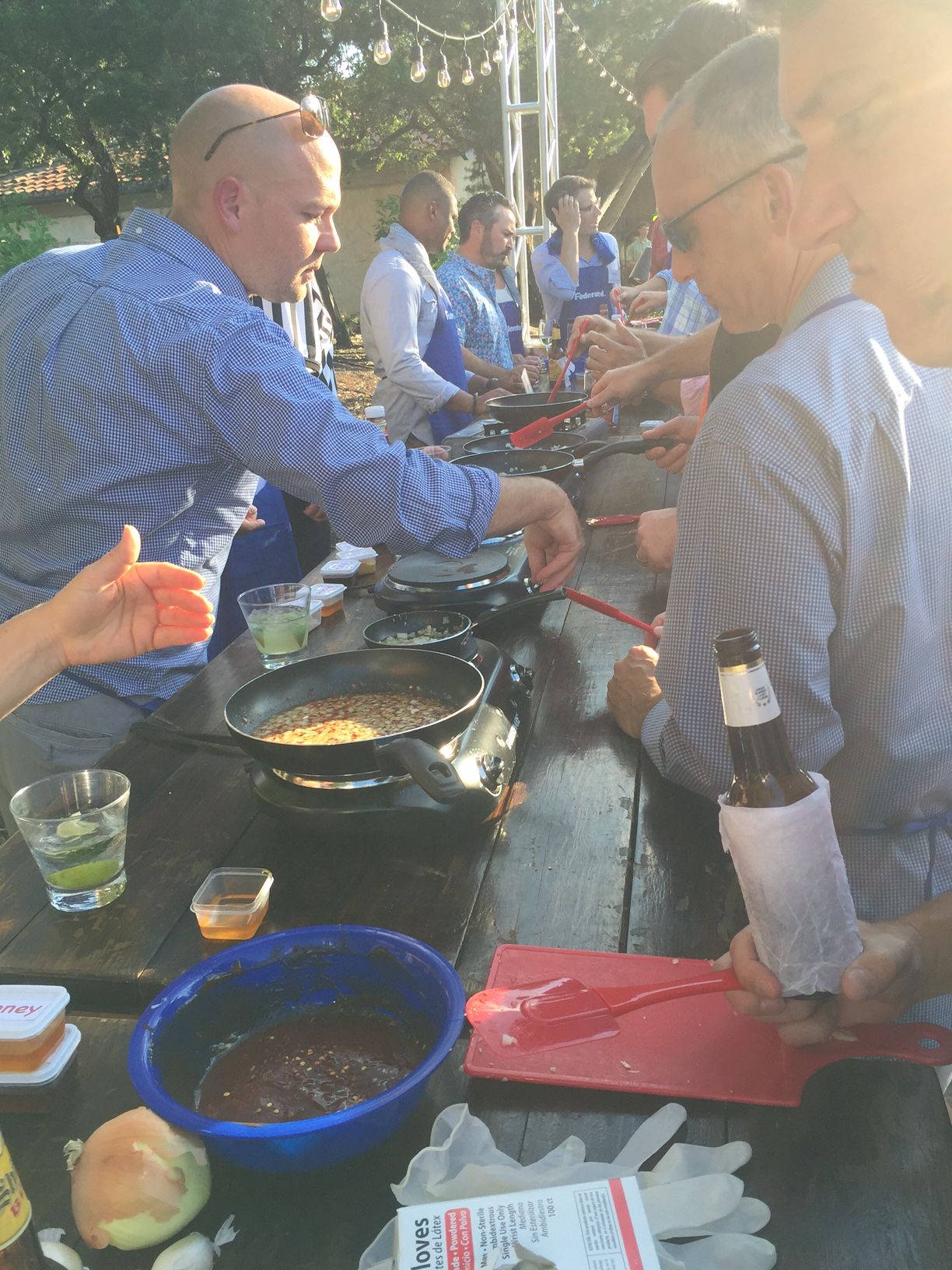 Losing the wholesaler
Mark Kasanke, an advisor at Concorde Investment Services in Troy, Mich., noted that the reason he was attending the conference was to learn how FolioDynamix can to lower his costs.
"With all of the moving pieces we have, our costs to manage portfolios are rapidly becoming non-competitive. We can't operate the same way anymore by having relationships with wholesalers, playing golf and wining and dining to get access to investment managers. In fact, I don't want to have any relationships with wholesalers at all any more. Now, it is all about the numbers." See: How RIAs are forcing mutual fund wholesalers to lead or get out of the way
Dan McNeela, co-head of target risk for Morningstar Investment Management, walked the audience through his outlook for the global investing climate, citing emerging markets as an attractive place to invest. "U.S. stocks are getting riskier, way above normal valuations, although not as bad as the tech boom in 2000," he said. "Given the low and even negative rates in developed countries, we also like emerging market fixed income."
Do you barbecue?
Headlining the conference was an opening keynote address by former New York City mayor Rudy Giuliani. Giuliani has been a lifelong friend to Donald Trump and commented on his candidacy, supporting him strongly. Rudy took more than a few shots at Hillary. "If we had done what she did, then we would all be in jail right now," he exclaimed. Despite his political bias, Rudy regaled the audience with his stories and posed for pictures with attendees after, making him a crowd favorite.
The other general sessions focused on the investing climate, technology integrations, industry issues and investment strategies.
The opening night reception included a competitive cook-off where attendees competed to create the barbeque sauce from random ingredients, forming instant bonds over the open fire pit. The second evening featured a casino night and the event concluded with a golf tournament on the links of a former PGA tournament site, the Resort Course at La Cantera.
To learn more about what went on at the 2016 FolioDynamix conference, check out the tweets on the #FolioDX2016 hashtag on Twitter.
Timothy D. Welsh, CFP® is president and founder of Nexus Strategy, LLC, a leading consulting firm to the wealth management industry, and can be reached at tim@nexus-strategy.com or on Twitter @NexusStrategy.
---
---
Mentioned in this article:
Wealthfront
Portfolio Management System
Top Executive: Andy Rachleff
---
---
---
FAA
September 24, 2016 — 12:00 AM
All of a sudden everyone is a fiduciary expert... careful. Don't tout what you can't defend