Brooke's Note: As the RIA business moves inexorably ahead, you might ask yourself why there basically isn't an RIA association out there. NAPFA comes close but it remains small and seemingly unlikely to gain mass and momentum. The FPA has the strength and self-limiting aspect of being tied to the CFP designation. It's limited by what the CFP stands for and what you need to learn to get a CFP. Basically any advisor can and does become a CFP, it seems. But the upside to that inclusivity is that the advice business needs to encourage, not discourage, young people. In Baltimore, the FPA showed that it is beginning to connect with young people. Just as importantly, it seems to be tapping into a broader spirit of internal rejuvenation that was palpable to Tim Welsh while he was in Charm City. My regret is that I wasn't there near where I learned my trade at The Daily Record on East Saratoga Street.
Disclosure: Tim Welsh has done consulting for many of the organizations named here including TD Ameritrade and the FPA. To our knowledge, he has never done a gig for either Cal Ripken Jr. or the Baltimore Orioles.
The CFP Board has long been the richer, sleeker, stronger -- but ultimately benevolent -- cousin of the Financial Planning Association and as such their fates are loosely hitched to each other.
While sometimes the Washington, D.C.-based designation-maker and the industry association of CFP holders can be the albatrosses around each other's necks, they can also lift each other on eagles' wings.
Liftoff exhibit A was evident as the CFP Board stormed the FPA conference in Baltimore last week and led a parallel charm offensive, one which included holding media briefings, open sessions and networking opportunities to show off their 75,000th CFP certificant as a display of the "future of the profession."
This future was embodied in Gigi Guerra, a 27-year-old newly minted CFP who CFP Board CEO, Kevin Keller, proudly paraded around the convention center as evidence that a more diverse financial planning demographic is finally making shore.
"We believe that financial planning is a terrific career choice, but it can't just be made up of people with blue eyes," Keller said in a sit-down interview with Guerra. "Gigi is a great example of what the future CFPs will be – young, female and ethnically diverse." And also apparently wirehouse as Guerra works for Morgan Stanley on a family team based in Miami. Keller's recently formed Center for Financial Planning is tasked with bringing diversity to the industry as well as building out the body of knowledge needed to truly make financial planning a profession.
Millennial non-machine
Guerra, meanwhile, took a swipe at the other category of up-and-comers in the advice industry.
"Millennials will gather wealth and want competent human advice, not from a machine." Guerra optimistically said in response a question of where the next generation of clients will come from.
The University of Miami grad was one of the vital signs of what, for the first time in a number of years, was a palpable buzz at the Financial Planning Association's annual conference.
"The FPA is back," said newly installed president-elect, Frank Pare of PF Wealth Management Group, based in Oakland, Calif.
So is its national event after a period of years when it made attendees feel they ware going through the motions at a Soviet Bloc version of Schwab IMPACT. This confidence and energy of the members and executive leaders came through in the dynamic content of the program, networking opportunities, product launches, new task forces and the many conference reception open bars that were actually open and didn't require drink tickets.
Held over three days last week at the cavernous Baltimore Convention Center right next door to the Baltimore Orioles' Camden Yards in "Charm City," the FPA "BE" conference gathered over 2,000 advisors, international attendees, and hundreds of vendors tucked into a bustling exhibit hall.
One example of that newly found swagger is the FPA is getting back to what associations are supposed to do -- help members stand their ground in a complex and competitive market. Key to that stiffening backbone is the recently formed FPA Member Advocacy Counsel that will face off with other industry organizations and regulatory bodies that haven't always seen eye-to-eye with the 24,000-plus member FPA, most notably the CFP Board.
Led by former FPA president, Nick Nicolette of Sterling Financial Planning, the MAC will be a "sounding board for FPA members and executives who have concerns, suggestions and opinions on the efforts by those entities that regulate and certify them."
FPA is also getting into the software business by announcing a joint venture with True Profile, a risk profiling and goal analysis software platform. True Profile is creating a mathematically based methodology to better help advisors and their clients understand risk. Through an "Economic Fit" number, True Profile and the FPA will have a new tool to better gage client risk tolerance.
"Current risk tolerance questionnaires are dead on arrival," said Bernard Del Rey, CEO of Capital Preferences, the consulting firm that developed True Profile. "Client risk surveys are broken – they have no mathematical support, clients hate them and there is no ability to customize them to individual client situations. Relying on them for asset allocation and model portfolios simply doesn't make sense."
Game theory
Using game theory and interactive mobile technology applications, True Profile and the FPA are developing a new way to get at the thorny issues of how much risk clients can truly handle and the best ways to prioritize goals.
Adding to the event's vitality were keynote presentations from United Capital CEO Joe Duran and pro baseball's "ironman" Cal Ripken, Jr.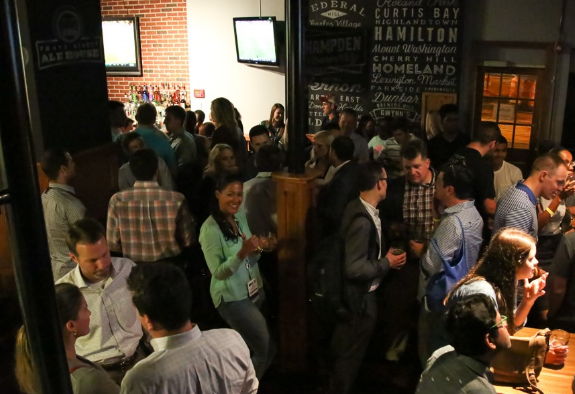 Duran addressed a gathering of major firm executives in a pre-conference event. Duran challenged this group -- in a de facto stump speech he has given going back several years -- to think differently about the business of wealth management and prepare for a radically different technology driven future. See: Why Joe Duran believes that classic RIA firms face extinction https://riabiz.com/a/2011/5/17/why-joe-duran-believes-that-classic-ria-firms-face-extinction
"Forty percent of businesses will cease to exist in the next few years," Duran said, speaking about technology disruption, pointing out that we are now in an era where geography is no longer a factor in the delivery of services. "Amazon has wiped out geography as I can now get anything I want wherever and whenever I am. Services are no longer bound by geography, an historic competitive advantage for advisors. Everything we thought to be true is not anymore."
The cause of this disruption that has been foreseen but never seems to arrive, according to Duran, lies in how elegant mobile technology applications are training people to become programmers. As such they can now customize and have complete a la carte control of the service menu. This level of streamlining doesn't yet exist in the delivery of wealth services, so advisors need to change quickly or be yet another industry that gets destroyed by technology, such as travel agents, taxi drivers, book sellers, movie rental and music stores, etc., he explains.
"The key question we need to help clients answer is, "Am I ok?' not "how are my investments doing," Duran said. "The way we approach and charge for our services is completely upside down and if you are not on your clients' mobile phone than you will become irrelevant.
Duran even takes a swipe at the worth of his audience's service. "Advisors are wildly overpaid for what they do." Duran is in the business of selling software that he claims will keep advisors relevant.
Art of failure
While Duran challenged the group, former Orioles Hall of Famer, Cal Ripken Jr. inspired them. Based on his experience in playing in 2,632 consecutive games over 21 seasons, Ripken delighted the crowd with stories and anecdotes of his playing career and now in his role as a business executive.
"Baseball is a game of failure and frustration, so that has taught me how to persevere in any situation. You can't accomplish anything from the bench, so you need to get out there every single day."
"Baseball is also a game of intimidation, so when you get in a situation where you are not feeling confident, the best thing you can do is just get to know the people you are working with," Ripken said in recounting his experience facing Goose Gossage, a fast throwing pitcher for the Yankees that Ripken initially feared. "Once I sat down and had a few beers with Goose and got to know him, that intimidation went away and I was able to hit him successfully."
Confirming that the aging of the industry remains a top concern, the FPA conference agenda featured numerous discussions, panels and presentations on succession planning, just like it has done for the past decades. One of the more notable, standing room only sessions featured industry guru and Pershing Advisor Solutions CEO Mark Tibergien, consultant David DeVoe and famous advisor Tim Kochis who leveraged succession strategy to create RIA powerhouse Aspiriant.
Numerous questions were discussed on what constituted "scale" these days for advisory firms that they will need to get to in order to become sustainable in the new, post-robo, post-DOL world.
According to Tibergien, the definition of scale is determined by whether your profits are growing faster than expenses, there is redundancy or succession at every key management position and profit margins are at least 25% after owner compensation is paid, which in today's world translates into roughly $10 million in revenues.
"Whether you plan for your succession or not, it ultimately really doesn't matter as the industry is on pace to develop 10-12 national firms and 200 super regional firms, that with their scale and professional management, will meet client demand from advisors that exit or just wind their businesses down," Tibergien forecasted.
For advisors who have procrastinated and were wondering where to get started, Kochis advised that, "It is never too late to start planning for succession. After all, 73 is the new 63," he quipped but did offer up that the best place to begin is with sharing equity with younger advisors.
The FPA's exhibit hall was the center of the conference for receptions, networking events and educational sessions. Winning the cool factor for the newest advisor technology development was ScreenMeet, a screen-sharing platform, optimized for mobile devices.
Next time no BWI
ScreenMeet CEO, Ben Lilienthal, a former Go-To-Meeting executive, amazed attendees with the simple ability to share screens from desktop to mobile devices as well as mobile to mobile.
"For financial advisors, sharing content through existing web conferencing systems for portfolio reviews or prospect presentations is cumbersome. ScreenMeet just works," Lilienthal said in multiple advisor demonstrations.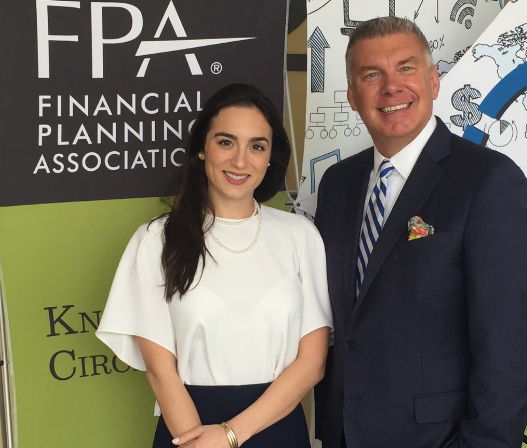 "With ScreenMeet, advisors can share their screen from their phone, tablet or desktop, with just one click, meeting their client wherever and whenever they are, simply and easily," echoing Joe Duran's "elimination of geography as a constraint to doing business" theme.
FPA also announced newly elected Board members, including FPA's new President Elect, Frank Pare. Joining Pare were Skip Schweiss of TD Ameritrade, Molly Balunek of Laurel Tree Advisors, Ann Reilly Dowd of Fidelity, Tony Mahabir of Can Fin Investment Group (Canada), and Martin Seay of Kansas State.
Pubville
Revitalized Baltimore provided an excellent backdrop for the many vendors exhibiting to take advantage of the eclectic Fells Point and Inner Harbor neighborhoods for client entertainment.
Dan Skiles, president of fast-growing custodian SSG, hosted the "Next Generation" advisor reception at a local pub that was filled to over capacity, visually demonstrating that there is a big presence of younger advisors joining the profession, proving that with focus and effort, the FPA is bringing in new advisors to the industry.
Top sponsor TD Ameritrade held a large gathering at a local brew house, while Advicent and YoureFolio hosted outings to the Orioles game on the final evening. Attendees were seen frequenting the many bars and nightclubs in Fells Point into the early morning hours.
To learn more about what went on at FPA BE, check out the many tweets on the #FPABE hashtag on Twitter.
Timothy D. Welsh, CFP® is President and founder of Nexus Strategy, LLC, a leading consulting firm to the wealth management industry, and can be reached at tim@nexus-strategy.com or on Twitter @NexusStrategy.
---
---
Mentioned in this article:
---
---
---