Ben Johnson, Joe Mansueto and Tom Lydon at last week's Morningstar ETF confab
Brooke's Note: It's not easy being a traditional asset manager in a world fast turning to ETFs and particularly ETFs based mainly on indexes. It is arguably even harder to be a company like Morningstar that earns its bread by distinguishing between these fast-vanishing funds which are migrating to more look-alike counterparts. Fortunately, Morningstar does not seem to be acting victimized by all this change that arguably it had a hand in bringing about as a critic of mutual funds. This chin-up attitude not only helps assure that the researcher, tracker, data and software company sticks around, but sets a good tone for its constituency of fund managers. Morningstar's positive, forward-looking attitude comes across as contagious in Graham Thomas's article. Full disclosure: Graham sells advertising for RIABiz. But you'll see that when you retrofit his high-level sales skills and energy into reporting/canvassing skills, then overlay his credentials as a grad of writing hothouse Kenyon College, you get a hell of a report.
Overshadowing even the installation of Kunal Kapoor as Morningstar's new CEO -- the first to become chief executive since Joe Mansueto founded the company in 1984 -- the big takeaway from 2016 Morningstar ETF Conference, held at the Hyatt Regency Chicago last week, was the announcement of Morningstar's forward-looking analyst ratings for ETF's. See: How Joe Mansueto's CEO hand-off to Kunal Kapoor could be more than a succession play for Morningstar
The fact that these ratings rate all products -- mutual funds, separately managed accounts, exchange traded funds -- together is a seminal event for the asset management industry. Not only does it encourage the search for more cost-effective products, but with the new ratings -- represented by shields of differing metals -- Morningstar itself has made a credible bid to bring order to an ETF industry that, despite its growth, sometimes feels like the Wild West (check out Ben Johnson's eloquent take in a piece titled "Ready, Fire, Aim: The ETF Industry Blasts Its Spaghetti Cannon)
For now, the forward-looking ratings apply to only 300 ETFs, while plans to add more are in the works. Now that the rating is vehicle-agnostic, similar strategies can be compared on a cost basis. While this will likely hurt bad active managers, good ones will shine all the more brightly. In his article, Johnson somewhat cryptically uses the metaphor of "a field of flowers without fences" to describe the philosophy behind the adjustment. Still, the ramifications of this change on advisor recommendations will be worth monitoring, especially in such areas as select lists at larger brokerages and retirement planning with the DOL rule. See: The 'other' Morningstar conference shaped up as a true ETF summit with principals of exchange traded fund programs on the prowl.
Johnson states that ETFs over 50 basis points would be "hard pressed to prove their out-performance" at the pre-conference event. He presented data showing some $700 billion of AUM had moved from active to passive strategies over the last year.
"Any investment decision starts at the asset class level, and then extends to how we implement investments within each asset class. Typically, ETFs offer a good starting point in most traditional asset classes, given the low fee, tax-efficient nature of ETF's and index funds," said Peter Lee, founding partner at Summit Trail Advisors in Chicago. "That said, active management can also add tremendous value in certain asset classes and market conditions. The key is that the active vs. passive decision really needs to be addressed within each asset class and not as an 'all or nothing' decision." See: An advertiser's chats from the Inside ETFs event and the Vanguard-versus-the-world chess match they depict
Culture of collaboration
Despite cosmetic similarities, ETF conferences differ from their mutual fund counterparts. An ETF conference serves to connect traders, index providers, issuers, marketers, PR firms and, of course, distributors. ETFs tend to self-identify as building blocks for a process, and less as a process sold in a product box. The Morningstar ETF Conference had a more collaborative feel than its older and larger cousin held earlier in the summer – with less fixation on FA booth traffic as its metric for success. See: At mostly morose Morningstar conference, mutual fund wholesalers play cards face-up on perma-dislocation -- and the glimmers of hope that innovation provides
With sales quotas set aside, attendees can take hard look at where they stand in regards to fee compression and "me too" product proliferation, while figuring out the real needs of their clientele.
Dan Draper, managing director of Invesco PowerShares ETF's noted: "Many industries have achieved better supply chain efficiency and a customizable solution through the digital experience. The same is happening in asset management -- everything [in] the investment process -- returns, packaging and distribution -- are impacted by advancements in digital trends [and] are being brought closer to asset owners. Our B-to-B clients are facing more demands, and we need to up our game and adapt to best client experience [to be] faster, more transparent, since the end- asset owner expects and demands more. Where do we go in the future? We look back at the evolution of the fee-based RIA industry, and the ETF industry that grew alongside each other."
Indeed, nobody knows the sales tricks and pitches of asset managers like people who work in the industry.
"There has never been a negative backtest" quipped Rolf Agather, managing director of North America Research for FTSE Russell, echoing one of the regularly mentioned inside jokes of the trade. "As an index provider, the promise we make is to provide exposure – not a claim or guarantee of excess performance." See: Has indexing become too popular?
But Agather and Ken O'Keeffe, who is managing director and global head of ETFs at FTSE Russell (now both owned by the London Stock Exchange) noted the industry has morphed from traditional indexes licensing to a solutions-based relationship where ideas come from the active and passive sides. For instance, O'Shares Investments came to FTSE/Russell with a request for an index that includes higher relative dividend yield, lower relative volatility and high quality companies, which eventually became the basis for OUSA. See: TD Ameritrade wins a $2.5-billion RIA custody client on the strength of its delivery of B-to-B capabilities using Orion, Veo and API
With $10 trillion in assets benchmarked against their indexes globally, there is a growing sense that showing self-restraint as an asset manager on behalf of clients will avoid the fate of bacon.
To the slaughter
"Pigs get fat, while hogs get slaughtered" is a traditional axiom, warning of the potential pitfalls of being too greedy, and it might serve as a prescient view of the industry trends. Lee, for one, maintains a healthy skepticism of both sides.
"Much of the active vs. passive debate can be broken down by business model. Traditional Wall Street firms have charged a 'bundled fee' of around a 1.5% fee for managers plus the firm's advice, so it is difficult for these firms to make money if they use passive ETF's," he said. "On the other hand, many of the robo-advisors and retail oriented independent firms don't have the due diligence teams to properly source and evaluate active managers, and therefore, focus solely on passive implementation. These models are not necessarily driven by advice, but rather by each firm's business model and how they make money." See: Now come the robo-alts firms -- a full flock of 'em as unwavering as the robo-advisors
While much of Morningstar's research centered around cost and a candid concern about the factor, multifactor and smart-beta asset product explosion, not everyone agreed with all of Morningstar's predilection for erring on the side of indexing.
"You pay for value not for cost – it's smart beta, not low cost benchmark exposure," said Marc Zeitoun, head of strategic beta for Columbia Threadneedle Investments, a global firm with $460 billion in assets under management. "There is no discrimination, no forethought, no future promise for growth with benchmark indexing. Why should you pay for that large of an investment vehicle?" See: Hard numbers that show the zero-sum advantages of RIAs over wirehouse brokers as told by fund flows.
Zeitoun continued: "The market is going to determine the appropriate price point. Pricing sensitivity is what people on the sideline talk about before investing; people who have benefited from a positive investment experience rarely have the same objection. However, I do think there is pricing pressure on the yardstick and unimaginative end."
... branding is hard
No Morningstar conference can exist without some focus on technology, and the programming team did not disappoint with a fantastic panel on robo-advice.
While the PR has been good to the robos, Wolf noted that the tone has changed, and the main players are "moving from gung-ho to realizing brand is very hard." He noted established brands like Vanguard and Schwab that easily surpass the market share of the VC entrants. See: Vanguard's white-hot 'hybrid robo' just added $4 billion in three months -- a heat that may cast a chill on 'pure' robos
But though big brand robos might win some easy assets upon launch, VC-backed players may win the longer game with the technology itself by pushing past the basic asset allocation and using ETFs that really requires little technical finesse -- and hence are more brand-dependent, according to Reiner.
More complicated are situations that involve multiple goals, optimization around many factors (i.e. tax loss), integrating artificial intelligence and being able to predict when a customer might make a planning mistake, he explained.
"When you look at the ability to link up accounts from 13,000 institutions, encompassing all expenses, analyz[ing] all of the past transactions, and finally integrat[ing] apps that make it more fun with gamification, it's very powerful."
Of more immediate interest to advisors are the tedious middle office work solutions like marketing and e-signatures, according to Wolf. "Less sexy but critical to making this a more efficient business." Interesting to note that all this data might just result in the advice to "pack a lunch instead", she said. Kudos to Morningstar and Tricia Rothschild for bringing on two companies that might be competitors for the benefit of the attendees. See: How custodians Folio Institutional and Equity Advisor Solutions keep on ticking -- Part 3 of 3
Sonders on deck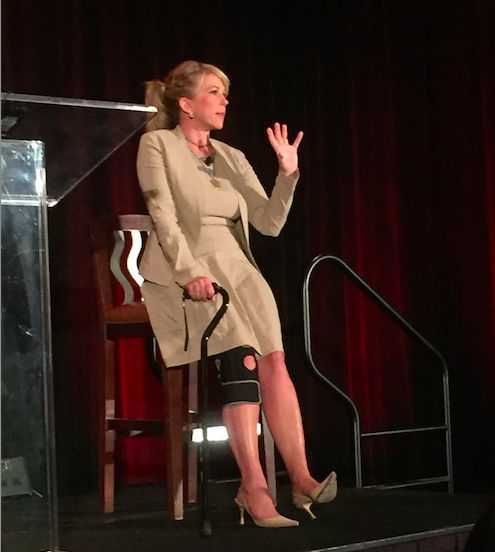 Despite travel delays and a recent knee surgery that required the use of a brace and a cane, Liz Ann Sonders, chief investment strategist at The Charles Schwab Corp. and CIO of its ETF manager, Windhaven, gamely discussed her view of the current economy. While generally upbeat ("global leading indications [are[ good – performing well, fairly sluggish growth and some leading indicators of minor stress"), Sonders was less sanguine when discussing U.S. debt. See: With Stephen Cucchiaro out, Liz Ann Sonders takes the Windhaven reins
"High debt equals low growth – biggest restraint on our ability to grow moving forward," she said. In regards to the current interest rate situation, Sonders commented: "I generally have skeptical view – [it's] not the success they assumed. Savings are going up not down."
And then, later, "the Fed needs to ... move toward normalization ... since they are crushing savers." Schwab analysts have said repeatedly for several years that Schwab's future success depends in no small part on the Fed raising rates.
Sonders expanded that last thought later in speech, noting a "generational shift toward higher saving, which is a long-term secular change." She later pointed out that the economy is changing "so low productivity numbers might be due to some mismeasurement – transactions [that are] not the same as they have been." Sonders pointed to Uber as an example of the new calculus. Displaying refreshing plain speak from an economist, when asked about her view of emerging markets, she answered "I don't know – too early to tell." See: Bill Gross and Liz Ann Sonders are Dr. Gloom and Ms. (Fairly) Optimistic before Schwab IMPACT crowd
Sum of all fears
Continuing the academic theme, behavioral economist Dr. Sarah Newcomb of Morningstar (part of the Morningstar acquisition of HelloWallet -- see: With a 'unicorn' as the stated objective, Morningstar hijacks its own venture founder, backs him with VC funding and sends him out into an annuity world) shared research from her book "Loaded: Money, Psychology, and How to Get Ahead without Leaving Your Values Behind" (Wiley 2016) on how advisors can "nudge" people to making better decisions.
As advisors face price compression and disruption from robo-advisors, investors are stressing over their finances -- in fact, it's the No. 1 source of stress in the United States is finances, and its why 62% of people lose sleep, according to Newcomb.
That's an anxiety that only human advisors can alleviate.
"Robots are great at asset allocation – any advisor who does only that will be replaced – but once you have assets, the human side affects your relationships (spouse, kids) based on their sense of identity," said Newcomb. "By its nature a robot cannot do that. Advisors need to make space for robots to do rote tasks, and [use the windfall of time savings to] be a source of financial therapy."
Newcomb cited major client anxieties as what is going to survive them and the loss of loved ones and possessions.
"When we think of money, we think because it is numbers there is logic, but logic is only a part of the story. But there are costs and benefits that are reflected – there are intangibles in the cost/benefit analysis. Advisors don't manage money – they manage fears."
Products RISE and satisfy
Two unique products of note on display at the conference, one currently available and one still in filing, deserve mention.
First, RISE, from the ETF Managers Group team, is a 33 Act Fund that uses futures that act as an insurance policy against rising rates. It is priced at 150 bps (the management fee is 50 bps, but includes 100 bps for futures contracts). Barney Karol, president and co-founder (incidentally the lawyer who wrote the first prospectus for iShares) calls RISE a product "insuring against an inevitable event." Another new comer to the field is ACSI Funds. CEO Phil Bak (former head of ETF's at NYSE), looks forward to launch of a new ETF that will track the relationship between customer satisfaction and earnings. A long/short hedge fund of 40 firms already exists, but this will be a broad market large cap fund of 150 stocks.
Typical of Morningstar, the conference ran exceptionally well. When Sonders was delayed, organizers hardly missed a beat, moving the cocktail hour before her scheduled remarks. Last year, snarky journalists noted the design flaw in the exhibit hall, and Morningstar adjusted accordingly (crow eaten!). Morningstar personnel on all levels and stages were accessible to media, and the speakers first rate. A job well done at all levels.
---
---
Mentioned in this article:
---
---
---