Mark Casady continues to pull big levers to cut costs, regain momentum and get the stock price back to where it once was.
Brooke's Note: The topic of wages is a touchy one that is likely to bring out the socialist in all of us. Who doesn't want to see rank-and-file workers get pay increases? In that same vein, who wants to see the guys at top who earn wages in the millions of dollars get healthy bonuses when the worker bees get wages frozen? But in a free enterprise system, that is not the dynamics to analyze. The question is what makes the most sense strategically. What appears to be happening here is that LPL is calculating that it'll get more bang for its buck by investing in its managerial stars by paying them more — and letting the chips fall where they may with existing employees who are merely adequate. But people I interviewed on and off the record say that the compelling logic of a more bare-knuckled merit-based system may not necessarily make sense here. Besides obvious morale issues, they point out that LPL already has high staff turnover and that the people who get targeted most readily by headhunters are the more promising young prospects still in the seasoning stage of development at LPL. See: Edelman Financial gets its CEO from LPL but the chief executive's job description isn't exactly what the old one was. This wage freeze may be the signal to some LPL employees to cast their gaze on other career opportunities.
LPL Financial is managing widespread discord between its executive suite and 3,400 home-office staffers in the wake of an eleventh-hour memorandum about a far-reaching wage freeze.
The Boston-based broker-dealer, with big operations in San Diego and Charlotte, N.C., emailed its rank and file Monday to let them know it had scrapped merit pay increases, which would have kicked in for many employees starting in September.
"Late last year, we announced that we would move the merit cycle to September, allowing more time for the Management Committee to assess our financial outlook and our ability to increase our labor costs," the memo, forwarded to RIABiz by LPL staffers, reads. "There will not be a firm-wide, formal merit pool for salary increases this year."
This latest freeze is the continuation of one instituted last December, one which had been described to employees as temporary.
The most recent memo continues: "We understand that many of you were expecting a merit increase this year, and we recognize how hard this can be on you and your families."
Bonuses for some
In the wake of the memo, employees have been calling on managers at all levels to explain what is going on, sources say. They also point to heartfelt grievances posted at the time of the original freeze back in December, as well as opinions about the rationale behind it, according an LPL employee who asked not to be identified.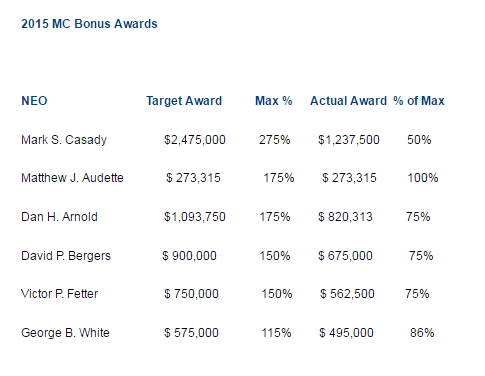 LPL continues to reward top executives
with bonuses.
LPL confirmed the memo and its contents to RIABiz.
"Earlier this week, we communicated to employees our decision to provide one-time discretionary bonuses to select employees instead of firm-wide merit increases for 2016," writes LPL spokesman Jeff Mochal. "While our business remains strong, we believe continued market volatility and uncertainty warrants a more cautious approach to expense management at this time."
Although there will be no pay raises in the near future, there will be bonuses — on a scaled back level — for some non-C-suite employees, according to Mochal.
"Our solid financial results thus far this year give us the comfort to commit to a limited discretionary bonus fund for 2016. Because the bonus is non-recurring, it will not affect our cost structure in 2017. This fund will be awarded to select employees based on factors such as performance, length of time since last increase, and assessment of pay based on market competitiveness. Senior vice presidents and above are not eligible for this reward."
Most line employees can get a max of 5.5% bonus, and the two senior grades can max out at 7% and 9% respectively under the "merit" system, according to employees. "Other than 2009 with the whole economy crashing, merit increases have been reliable year after year," the employee says.
Third step a doozy
The trepidation of LPL staff to the pay freezes is understandable, according to Tim Welsh, president of Nexus Strategy and former marketing director at Schwab Advisor Services.
"It's almost identical to the way Schwab did it before they started laying people off in 2002 to 2004 after the dot-com crash," he writes in an email. "We went from 25,000 employees to 15,000 by the time I left in 2005. These corporate actions LPL is taking result from the board looking to the CFO to push the levers he has available to prop up earnings in the short term so the stock doesn't completely crumble as earnings decline."
Welsh continues: "First step — freeze salary increases. Second step — cut bonuses completely. Third step — mass layoffs."
Google? As if.
An executive recruiter, who asked not to be identified, agrees with Welsh to a point but offers, too, that the freeze may be more specific to a human capital strategy at LPL than a naked attempt to prop up earnings at the expense of employees.
LPL moving away from non-merit-based increases is in keeping with best practices at other top financial firms, according to the recruiter. However, that bonus-oriented pay generally only works at companies with the best cultures and brands. For instance, an employee might risk a guaranteed salary to receive deferred income or a bonus in order to burnish their resume with a stint at a Fidelity Investments or a Goldman Sachs.
As the nation's biggest independent broker-dealer, LPL has some of that cachet — but not enough to assure the success of such an abrupt shift in compensation policy, the recruiter says.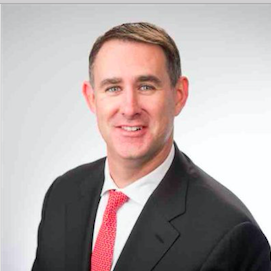 In what could turn out to
be the first in a string
of ringers, in September 2015, LPL
made Matthew Audette, then 41, chief
financial officer.
Indeed, an LPL middle-level manager who reached out to RIABiz via email says internal discussions at LPL point to a company that aspires to a different kind of executive.
"What really bothers me is the whole Employer of Choice nonsense," the employee writes. "You have no idea how much they go on about that here. How much they talk about wanting to attract 'Google-like' employees. Or 'Goldman Sachs-like' employees. But without the pay, or benefits, or culture, or reward, or recognition. Like if anyone had a choice between working at one of those companies and LPL they'd have to think hard about the decision." See: Lehman Bros.' binding ties and culture spur another $1B team — that stayed at their posts as Lehman burned — to flee Stifel-owned Barclays for RIA.
Work already done
In what, in retrospect, could turn out to be the first in a string of hires of executive ringers, LPL made Matthew Audette, then 41, chief financial officer in September 2015 after he was lured away from E*Trade. See: LPL poaches E*TRADE's CFO and turnaround specialist as its chief financial officer
The LPL employee expresses frustration in this way: "The average wage slave who gets a relatively small percentage of salary as bonus, not getting the 2% to 3% of merit increase is fairly impactful. To the management committee making these decisions who don't get merit increases but do get upwards of 275% of their salary as bonus, well of course bonus is the priority." See: Merrill Lynch unveils changes to broker compensation.
The employee continues: "Now here we are two weeks before September and they announce that they're not giving out raises for 2016 at all (for the work already done in 2015) even though we're still just as profitable as we always are, but just in case things may not be as good as we like the rest of the year. LPL is basically reneging on paying out on work already done because of something that hasn't happened and might not happen."
LPL declined to respond to emails that asked about employee reaction to its "merit" pay freeze.
For Charlotte, N.C.-based employees, there may be a heightened psychological blow because they are being moved to South Carolina, which has a higher state income tax. Employees were hoping to use merit raises to offset extra taxes deducted from their paychecks, the employee adds.
---
---
Mentioned in this article:
---
---
---