Brodie Cobb: I saw a lot of similar-sized very successful firms begin to sell in San Francisco like Constellation, Luminous and Bakers Street and the question is: why?
Brooke's Note: They say that you should get your own house in order before looking outside for solutions. Both Presidio and Tiedemann have taken some extraordinary steps leading up to this merger, including firing a primary custodian, hiring Addepar and abdicating a measure of ownership control. I take those signs of introspection as indicators that the parties aren't entering into this marriage unadvisedly. But Lisa's interviews with the CEOs of each M&A spouse reveal another aspect of this union that bodes well. In a word, it looks like "humility." Any platitudes about synergies and scale advantages are tempered by authenticity surrounding recent turmoil at the firms and the hard questions of who holds the reins and which name goes on the collective door. A merger of this size and this kind of West Coast-East Coast geographical divide can be managed to a degree but certainly not controlled with fingertip precision. You'll be grateful for how much Brodie Cobb and Michael Tiedemann shared with Lisa Shidler so she could pass it along to readers.
Two firms, roughly alike in AUM, but headquartered on different coasts, both plagued by stalled growth and their share of personal strife, have merged in a bid to turn around their respective fortunes.
In all-stock deal, San Francisco-based Presidio Capital Advisors LLC, with just over $4 billion of RIA AUM, is combining with New York-based Tiedemann Wealth Management with $4.9 billion on its RIA ADV.
The deal is a true merger in the sense that no cash changed hands, but it looks like an acquisition by Tiedemann in the sense that Michael Tiedemann will be CEO and Presidio will change its name to that of its Manhattan merger partner. Tiedemann also has an additional $4 billion or so of assets under various levels of advisement, an amount that has the principals boasting of creating a $13-billion bi-coastal firm.
For Presidio founder and CEO Brodie Cobb, 55, the merger is a way to revitalize his firm nearly four years after a devastating bicycling accident left him unable to walk for nearly a year. Part of the collateral damage from that accident involved the defection of a handful of key firm members. See: How the founder, CEO of a $4-billion RIA survived a brutal bike accident and kept his firm rolling.
It's been a challenging time for Michael Tiedemann as well. He stepped into the leadership role of his firm in 2012 when his father, hedge fund-maker Carl Tiedemann, with whom he'd co-founded the firm in 1999, stepped down. Carl Tiedemann served as chairman emeritus until his death in April at the age of 89.
Reboot delivery
In reaching the decision to merge, Tiedemann and Cobb had to assess whether combining two giant firms with sideways drift would create a bi-coastal monster with upward momentum. See: Why the Moss Adams-Rowling Dold merger came apart despite looking picture-perfect on paper.
"This is a reboot for both firms," says Jeff Spears, co-founder and CEO of Sanctuary Advisors of San Francisco. "The challenge is that you better deliver on the reboot."
The merger caps a year of efforts by Tiedemann, 45, to reignite his firm's growth. In an unusual move, Tiedemann took all of his firm's assets from Bank of New York Mellon, where they were kept through an institutional omnibus custody agreement, to Boston-based Fidelity Family Office Services. See: Fidelity is winning family office assets at a terrific rate. Teidemann also switched from InvestEdge Inc. to Addepar Inc. for performance reporting software.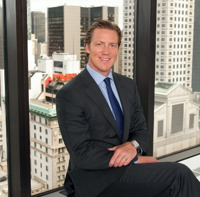 Michael Tiedemann: The decision to move
to Fidelity [from BNY Mellon] was
made in order to provide our
clients with fully disclosed custody accounts
and the flexibility and transparency that
comes along with the fully disclosed
structure.
Fidelity had a level of technology and service for ultrahigh-net-worth families that made the switch from the more institutionally focused New York custodian worth the hassle, Tiedemann says.
Goodbye BNY
"We believe FFOS has a unique expertise in servicing wealthy families and shares with Tiedemann, a commitment to exceptional client service, he writes in an email. "The decision to move to Fidelity was made in order to provide our clients with fully disclosed custody accounts and the flexibility and transparency that comes along with the fully disclosed structure." See: Fidelity arms its RIAs for battle with white-glove brands.
BNY Mellon declined comment on the loss of the multibillion dollar account. See: Spinning 200+ years of legacy culture as a virtue, BNY Mellon uses Pershing INSITE to show its software side, softer side — as it gets beyond NetX360 and men with a hard-wired approach.
"I think stability across the firm will be important for both firms. When people hear of instability and it is against you, it's pretty bad," Tiedemann says.
Executives from the two firms have been in talks for several months. The deal was announced last week and will be finalized by the third quarter. Cobb is now a shareholder and board member and retains his stock, but he will no longer be part of the day-to-day operations of the RIA. Cobb will, however, oversee Presidio's investment banking division, which is not part of the merger, and its staff of 10. The investment bank's niche is the sale and mergers of automobile dealerships.
Handing over the reins of the larger wealth management shop to Tiedemann is a nod to the powers of expediency and relative youth.
"I think it was the right decision," says Cobb. "Mike Tiedemann is an excellent leader and this was a real opportunity for me to take my tired broken bones and not have to have such a big management responsibility. Mike is the right man for this. He's 10 years younger than me. When I was 45, I was charging ahead too."
Research DNA
One augur for the success of the new entity is the fact that the firms share a culture of strong investment research. Cobb spent time at Montgomery Securities, a San Francisco-based investment bank that specialized in the technology and health care sectors. Presidio's co-managing director, Bruce Brugler, is another Montgomery alumnus, as is Kenneth C. Wallace Jr., also a co-managing director, who also did a 16-year stint at Goldman Sachs. See: $2.5 billion roll-up-like entity in San Francisco brings aboard a chairman from its big investor.
Carl Tiedemann began his career at Stone & Webster, a small brokerage firm, and then joined New York-based Donaldson, Lufkin & Jenrette Securities Corp. He took over as president in 1975 and left in 1980 to start the Tiedemann Investment Group. Another co-founder, Craig Smith served as vice president at J.P. Morgan & Co. Inc. After starting his career at his father's firm, Michael Tiedemann joined equity research group in Banco Garantia in Brazil.
"Both firms have all of this boutique research-based mentality coming from boutique Wall Street firms like Montgomery," says Spears, channeling his inner geneticist. "What's unique is both firms built their businesses with the research in their DNA. They're not many other firms that have that type of DNA."
David DeVoe, of "DeVoe & Co."https://www.riabiz.com/d/devoe-company, a San Francisco M&A and consulting firm that tracks mergers, says he sees the possibility that the merger could succeed — or struggle.
"This has the potential to springboard and could take the company to the next level. It's important to not expect that this will automatically unlock the next level of success. Execution will be the key."
Market comes knocking
After his accident, Cobb underwent 10 months of excruciating physical therapy to regain the use of his legs. All the while he was healing his body, Cobb was also trying to steer his RIA in the right direction.
"The accident did take a toll on me and I couldn't walk for a year," he says. "Maybe if the market hadn't presented itself [Presidio would have stayed independent] but it seemed this could be a chance for us to leapfrog and find an opportunity where you're larger and you have more benefits and cost synergies."
During Cobb's absence, Presidio — which was founded in 1997 as an investment bank — experienced turnover and stagnated asset growth. True, its assets under advisement grew from $3.7 billion at the end of 2012 to $4 billion at the end of 2013 — but at a time when the S&P 500 Index grew more than 20%, that was no great shakes.
And, when Cobb returned to work in the fall of 2013, he found some key personnel had departed.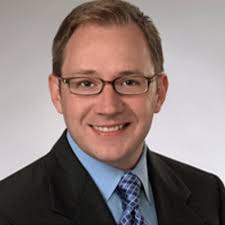 David DeVoe: It's important to not
expect that this will automatically unlock
the next level of success.
Mike Tierney, a San Francisco-based advisor with a giant book of business, left the firm in December 2013 to join Robertson Stephens Asset Management, Joe Piazza's effort to reboot the defunct investment banking brand. See: As Joe Piazza's 'Robertson Stephens' venture gears up for '$40 billion,' he adds Mercer, Addepar, Fidelity and Schwab and subtracts Fortigent.
Message received
Tiedemann admits that the Presidio's personnel churn gave him pause.
"It took us a little while to understand the history of Presidio," he says. "When a team with assets and clients leaves and starts its own firm, you lose a big chunk of money. And, in the grand scheme of things, that is pretty meaningful. The other thing that happens with turnover is things slow down."
On the plus side, however, Karl Schade, who came to Presidio in 2007 to launch the firm's private equity fund, stayed, becoming interim chief executive over Memorial Day weekend 2013. During his time as CEO, Schade spent months changing the ownership structure to give partners more equity — a move that likely made Presidio a more attractive prospect for Tiedemann, according to Spears.
"Under the old Presidio ownership, the structure was dominated over 50% by Brodie and Carl Shade told Bodie, 'you lose value through your ownership structure.' Brodie took the advice and adjusted the capital which also made it more attractive for something like this," he says. See: Partners at Focus Financial check their egos at the door to secure $216 million of hard cash. .
Geographic reach
Fidelity, which tracks big deals, sees this merger as a way to expand both firms' footprint but based on the criteria of its most recent M&A report – Tiedemann would not be considered a strategic acquirer. See: After a five-month deal-making hiatus, HighTower adds a couple of advisors and hints at a busy 2013.
No interruption
Technology-wise, Presidio uses Black Diamond based in Jacksonville, Fla. and Tiedemann will stick with its new technology software provider, Addepar Inc..
"It's very much that we want to make sure the client experience is the least-interrupted one," Tiedemann says. "Both firms have been heavy on service and resources. It's been somewhat organic and non-threatening which is unique. It is unique that 100% of the companies' partners contributed equity and capital into the deal. Most of the times someone is getting out and no one is here," Tiedemann says.
Presidio uses San Francisco-based Schwab Advisor Services as custodian.
"We aren't going to make any changes with clients that aren't considered positive," Tiedemann says. "We know clients changes are viewed negatively and we're very sensitive of those dynamics." See: How I survived switching custodians twice in one year, and how you can, too.
Advisors at both firms are reacting positively to the merger, according to Tiedemann.
"People are energized. This is non-threatening. No one is trying to arm-wrestle for one system to be used. We're open and we're trying to build a great firm. This is a unique deal because no one cashed out. Usually, someone is cashing out and here everyone gained equity."
Looking around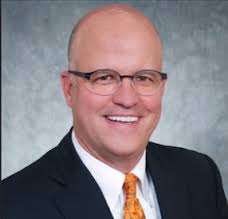 Jeff Spears: This is a reboot
for both firms. The challenge is
you better deliver on the reboot.

Tiedemann is convinced his firm can help ensure that staffers at Presidio stay on board.
"That's one of our hallmarks is keeping people and mentoring them and turning them into partners, he says. "That's a message we're trying to get across with everyone at Presidio. They've been on a treadmill because of some of that. The differences aren't that stark and I don't see them as a struggling firm. I see them as being a good firm that has a couple of groups leave and you can't prevent that from happening. I really do think one of the keys to the future of both firms is creating an environment where the next generation of a talent will want to come and work and attract new and smart talent." See: A veteran DFA exec tells what enduring RIA success is made of — and why the next-gen advisors will not disappoint.
Cobb has never taken his eye off the RIA industry and he saw a number of RIA sales that intrigued him.
"I saw a lot of similar-sized very successful firms begin to sell in San Francisco like Constellation, Luminous and Bakers Street and the question is why. I think one of the answers is to get to the net level we are at now with a combined company, you have to have a lot of changes." See: First Republic's $70B-plus RIA roll-up loses four top executives as its contract with Luminous team ticks down.
He continues: "We thought maybe it's time to knuckle down and see if we can find a partner who has services that we do not offer that are complementary in clients' best interests."
DeVoe says it's only natural for RIA principals — exposed to merger successes of peers — to exercise the sincerest form of flattery.
"In the beginning of 2015, we saw a big spike in mega deals and since then a surge in large deals. One might anticipate we'll see a resulting increase for mid-sized transactions. It's a basic human nature. If you're an advisor leaning toward a sale and you see larger firms that you respect and admire making the decision to sell, it can provide confirmation that selling is a good idea."
---
---
Mentioned in this article:
Addepar
Portfolio Management System
Top Executive: Eric Poirier
---
---
---
Jeff Spears
August 17, 2016 — 5:25 PM
One person I did not mentioned is Mark Guinney, the partner in charge of Presidio's money manager research and due diligence. Several of the ex-Presidio professionals I remain in contact with reference that they have not be able to find a superior replacement to Presidio's research at their new firm.